What dark depths, you ask? PMS motherfuckers.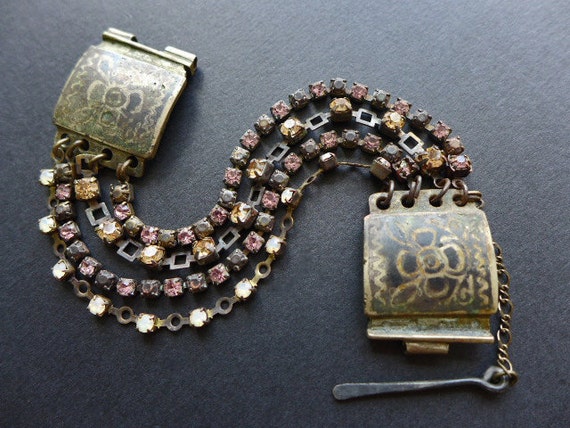 Lookit dis ting I made with an old broken kuchi bracelet and a buncha chain Linda from Teapotsandtelephones sent. Simple, cute? Not so simple to get all those rhinestone chains the exact same length though. Deceptively un-simple.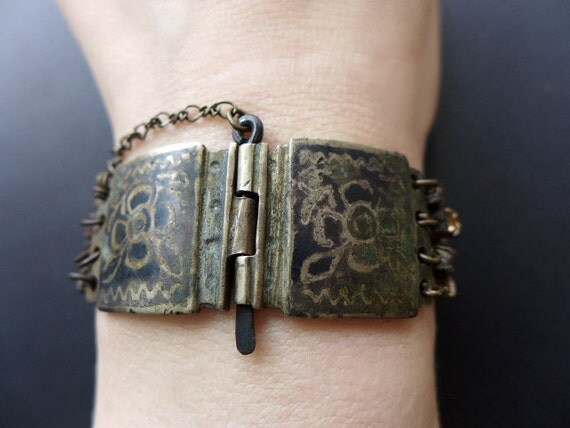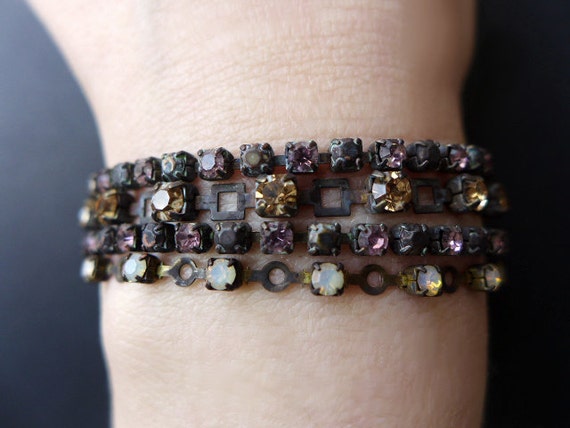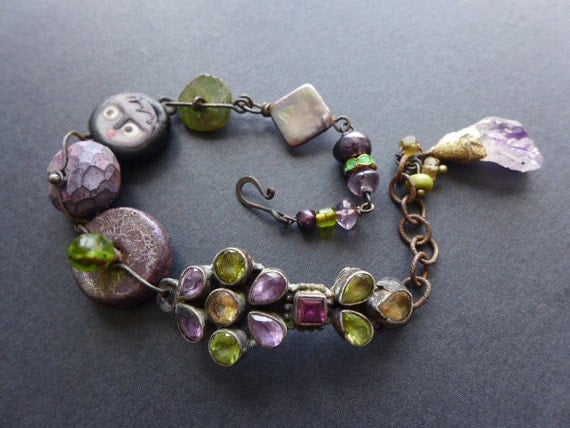 Buncha purple things. Why does the word violet sound so much more elegant than purple?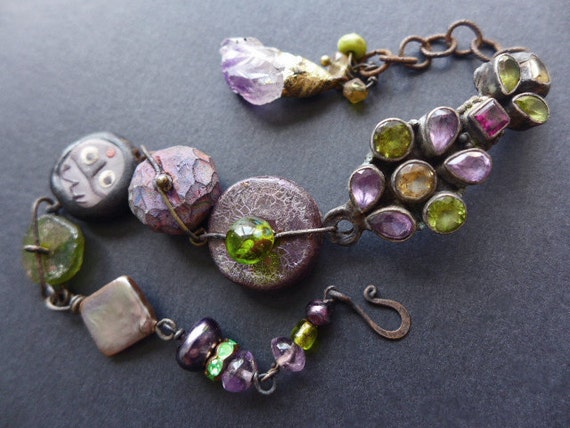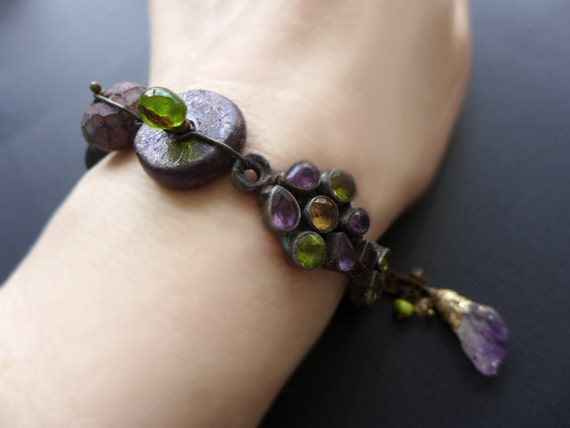 There's a ceramic wheel there that I added crackle to and a bit of iridescent paint and it came out much more interesting than it was.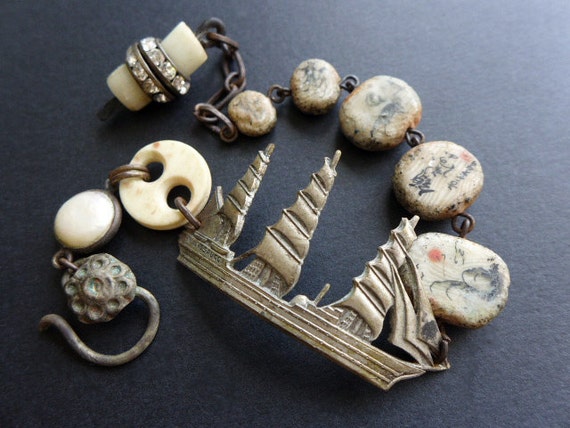 I am so ridiculously thrilled with this. Just the fact that I was able to find a use for these Chinese ink painting and calligraphy beads. Cuz really, what was I thinking making these?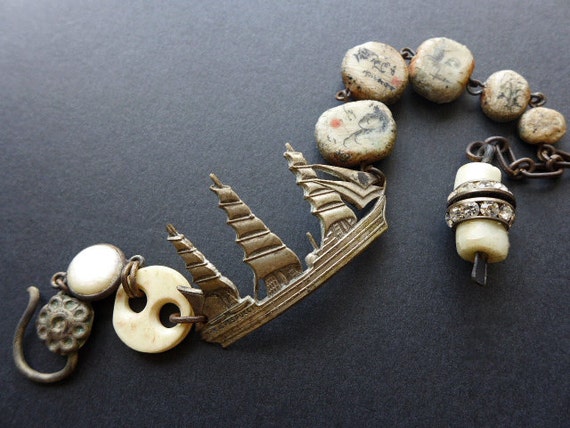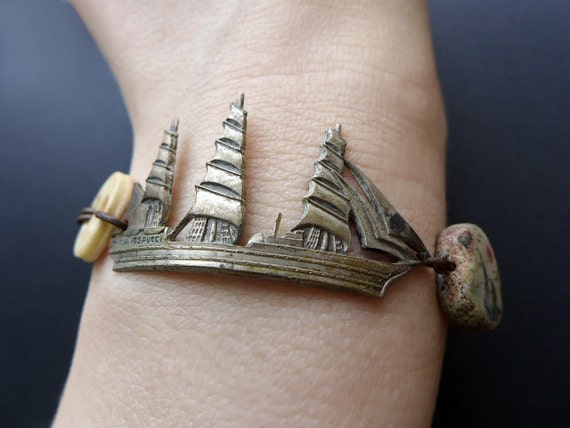 And going with the travel-in-the-days-of-yore theme...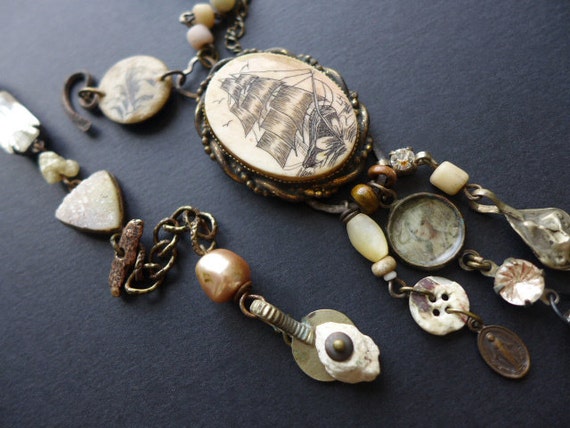 Ok, look at the cab right under the main scrimshaw boat brooch thing. See that little lady? I found that tiny thing in Uruguay. It was like a chip of bone with most of the lady rubbed off but doesn't it look like something someone would've taken to remember their sweetheart?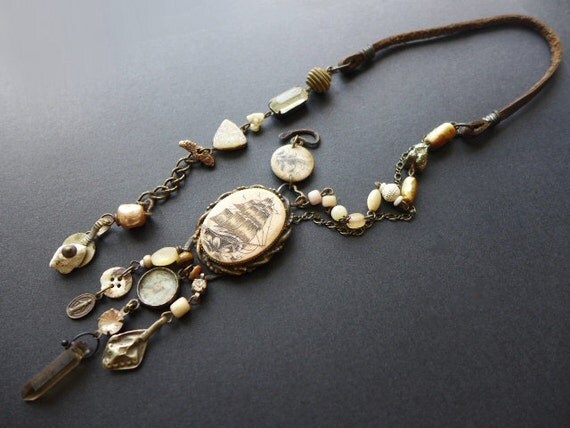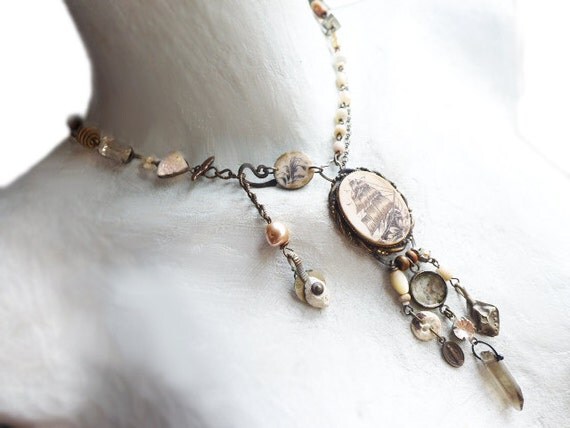 So I imagine this as a collection of trinkets from a journey.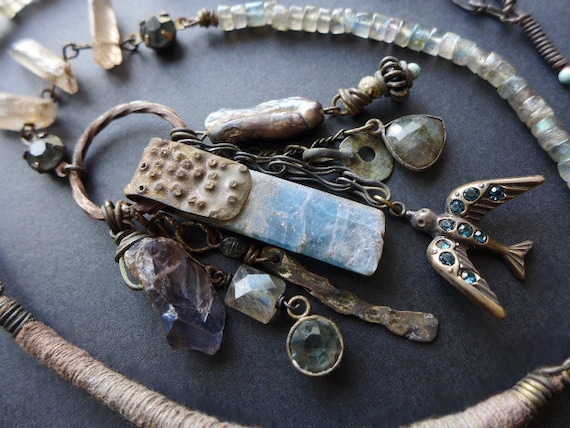 Here's a buncha grey-blues. The tin is epoxied on to the kyanite rectangle. It kept popping off though until I textured the tin to give the resin lots of places to grip.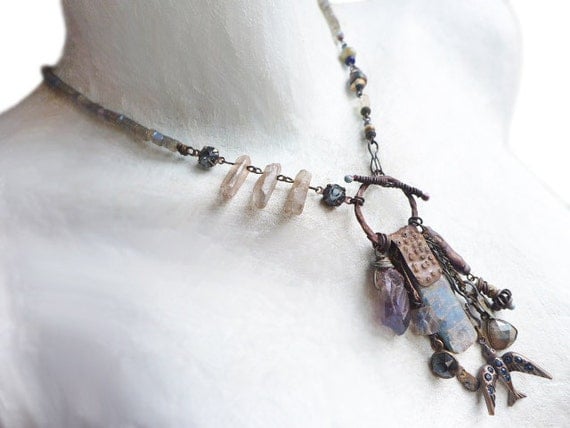 Also I made the toggle by winding together two enameled head pins then hammering.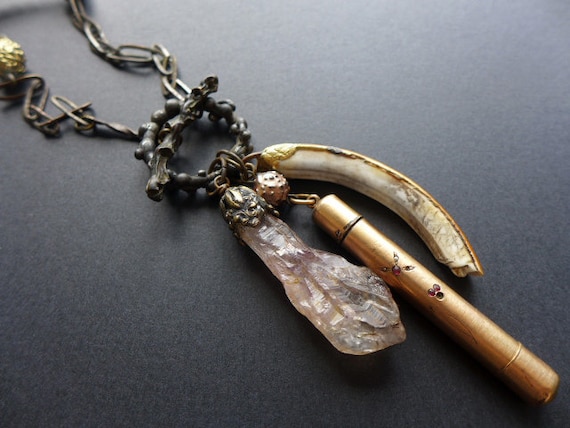 All three of these bits are from Uruguay. Still working through that hoard. The middle one is a mechanical pencil with real teeny rubies and diamond. One of each missing. Rose gold plate. Neat.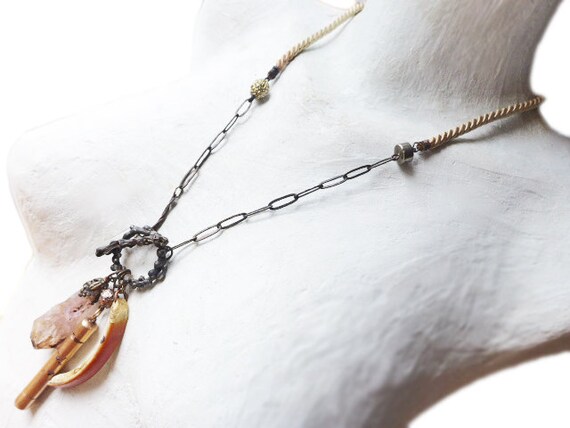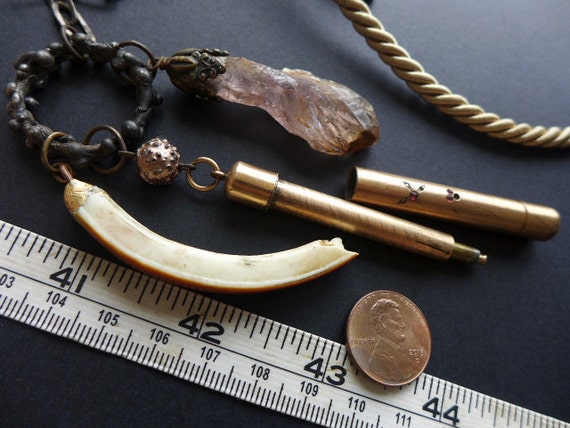 I made it super long, idk.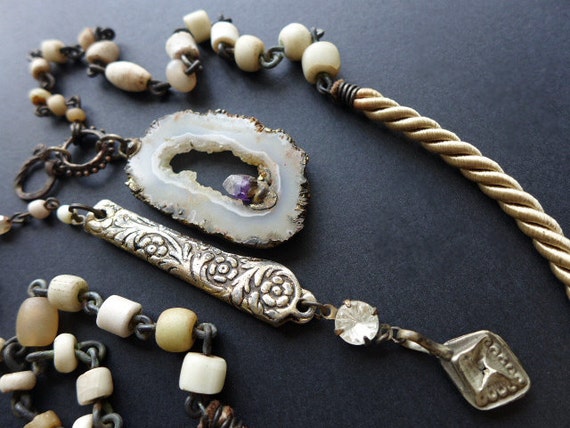 Aware- (Japanese) the bittersweet feeling of a brief and fading moment of beauty.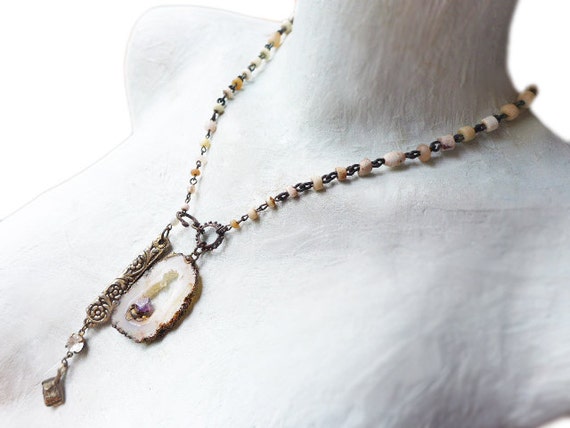 More Uruguay treasures. I had to struggle with this pocket knife for ages to get out the tiny rivet on top holding the knife in. There was a hole at what is now the bottom, but the shape didn't work that way, I had to connect it at what is now the top. I drilled hammered, warped the whole piece, put it back together... African beads but you can't see the crackle all over them.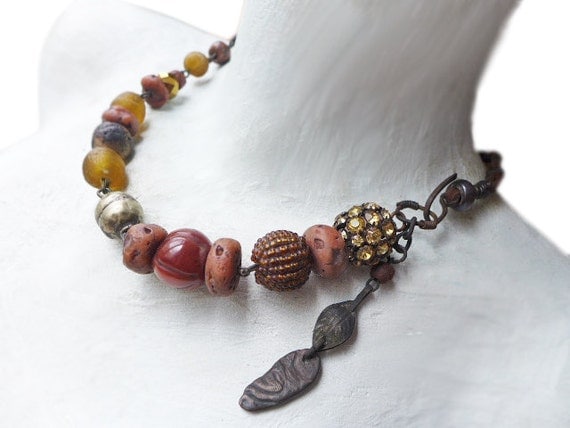 Big, chunky, graduated beads in browns, ambers and oranges.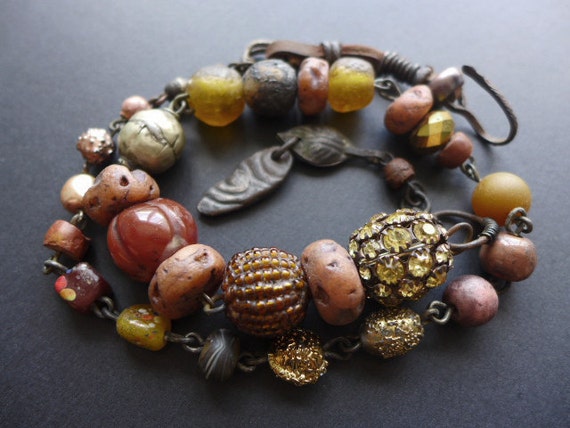 Some of my polies in there.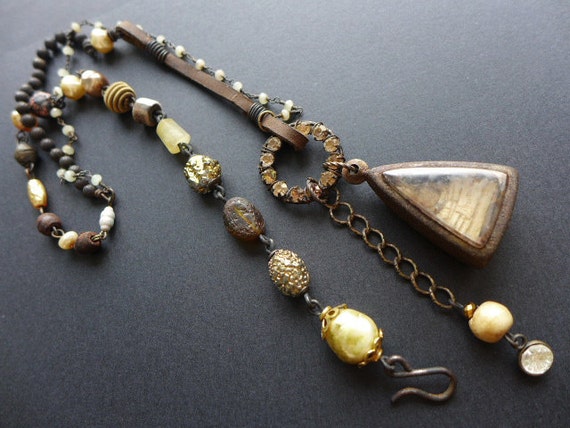 Remember my buddhist reliquary pieces from years ago? Man I wish our sold items were searchable to the public because to find something now would take eons of scrolling. Anywho, here's this.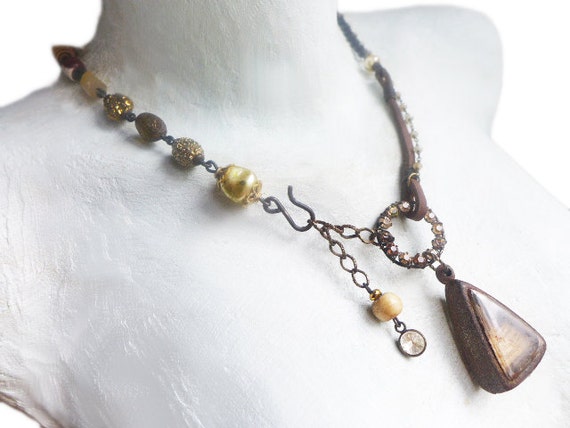 *********************************************************************************
I wanted to show you what I've been doing with polymer the last week or so. I had several ideas for beads I wanted to try and I realized that mostly they involved techniques applied after the beads were baked. So I was buying some findings from those Chinese mega-everything cheapo shops and I just popped some of these guys into my cart, just to try. I know you're thinking, ugh, but wait and see what I did it's alright.
Just so you know when I start babbling about sanding, I mean after you've baked, painted and dried them. Ideally, you could brush on the paint then wipe off with damp cloth before it dries but I think that only works with crackles cuz I kept wiping everything off.
Here's more details on how I made those last ones if you're interested.
Texturizing.
For some reason the hole on this one stayed very tidy throughout the texturizing. Most of them you end up with a big ol' mess of a hole. So now I sorta gave you a tute but all out of order!
I meant to make another video more briefly describing how I made a bunch of other beads but instead of hitting video, I hit freaking time lapse! So if you want an epileptic seizure, here it is:
Swear to god I'm a freaking idiot. All this technology, I feel like I'm eighty. Dasit, I'm done. You only get one animal gif this post, harumph.
(But look at him go! Squeeeeeee!! I've always wanted a pet raccoon.)