Imma list these later today, girls. So chill.
Remember ages ago I made a bracelet with a triangular Kuchi and one of these bird stampings sent to me by
SacredCake
? That everyone went shitbats over? Well, here's another. Took forever to get around to it because it wasn't doing it for me. Then I suddenly had it next to this amazing earring bit that was also sent to me by SacredCake! Don't you love it when things come together like this? Craziness.
Ages ago, you saw this pig piece in my last Uruguay haul. I wasn't planning on making it into a necklace, but there you go. I made a bezel from a tin cigarette case. Except maybe it needs a fiber tassel. Something about it... Actually I think someone favorited a necklace with similar playing blocks and tassels. And as you now know, I love to steal ideas.
Where the hell did I see this thing? Anyone? Some blog somewhere...
Ok, here's this. And yeah, I broke the middle finger off this hand piece by
doters
. I'm not gentle with my stuff. I may have shoved it about along with boxes and such. What should I do? I couldn't find the tip in time to save it, haha. No but I couldn't find it.
ANOTHER piece sent me by SacredCake! What's up with that? And as you can see, I dry-brushed it pink. Idea stolen from
Sparrow
earrings.
Here's this. The metal was some random thing from Uruguay that looked like a book cover. But it didn't open and close so why? So I curved it into a bracelet. And a small chunk of woven belt capped with folded cigarette tin metal and to the links between the 2 I added those Afghan buttons. Or Turkish. Crystal dangle from
Corvid
who is doing some adorable destash listings
. Oh shit! Went for the link and her wacky destash assortments already sold. It's all about the photos.
Look: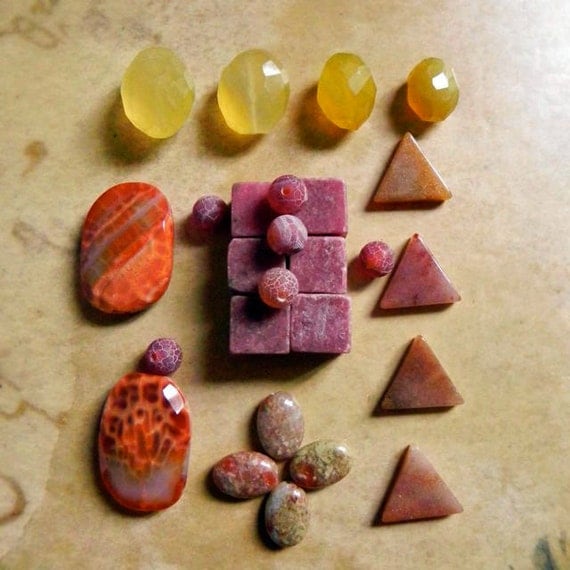 Oh, petra, I don't mess with bones. I tried once and my house still stinks. My father in law who actually does taxidermy professionally thought it was hilarious that I tried to boil the dried flesh off a muskrat skull (it was vile) cuz they are infamously stinky. I got that bone from ShesSoWeird who sometimes actually buys things from etsy to have them sent directly to me to make something from. She's the one that had the idea of the bangles. Actually, the beadcap the crystal there is in is from a repair necklace she had sent to me. Anyways, do a search for 'animal bones' in the supply section, there's tons of lovely specimens,
like so
: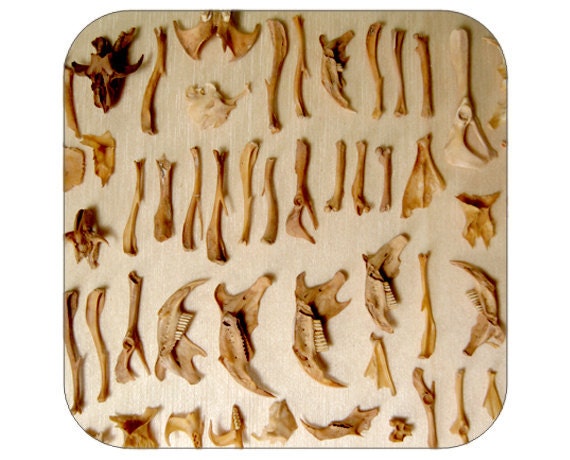 So today is another in a series of insanely grey days here in Chicago. (Cuz guys, I'm
from
Uruguay but live
in
Chicago. Disappointing, I know.) So I thought, if you need a little sunshine in your day, like I do, you can watch this. Before doing so, you have to turn on the sound.
Oh, and Debi- it was $200.