Ok, among other things in this batch I made some BRIGHT ass shit.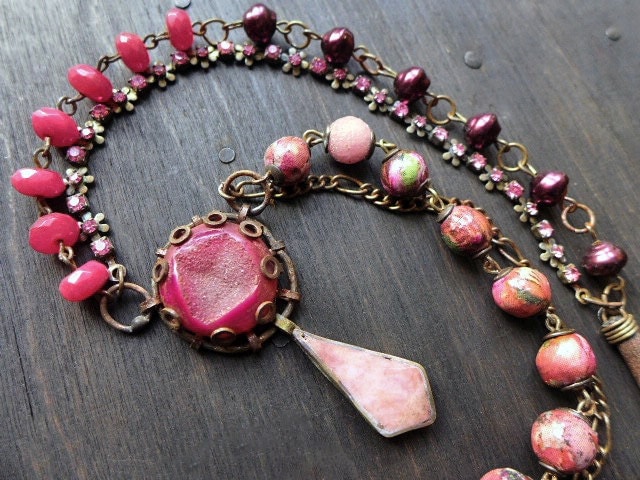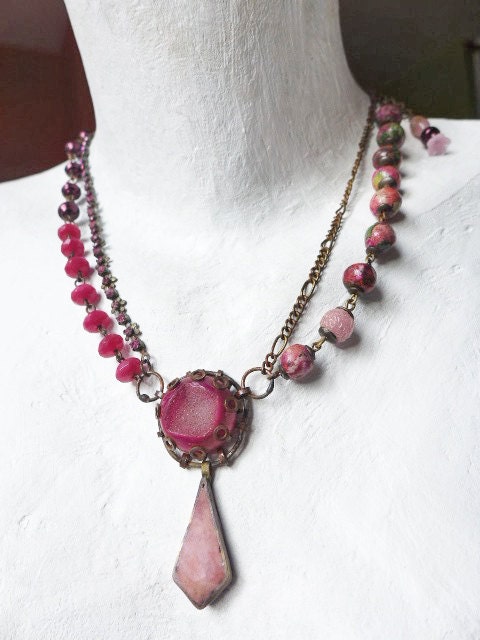 Muitalibun
And it's because I made these wobbly-round polybabies with decoupage of a vintage floral print. That was actually on napkins. But I love them so there. And their lacquered finish is shiny! I know! I went shiny.
What's a good name for wobbly-round beads? Nugget rounds? Oblongoids?
I've had this druzy cab forever from Patroness and I finally found a home for it, yay! Look at that crazy setting. It's one of those 50s rhinestone cluster findings.
Muitalibun is Arabic for treasure hunter. I named it thus because my friend Emmanuelle said this reminded her of a summery Indian treasure.
The other crazy bright piece I did also involves these polies since I made a thousand of them, see Instagram photo.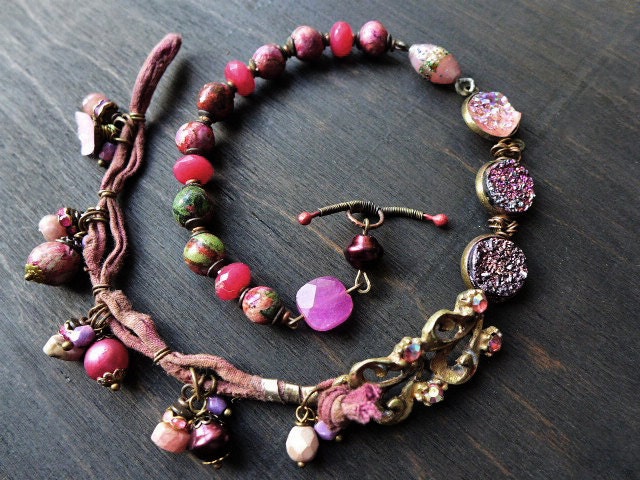 Ludic
- aimlessly playful like a kitten.
I do so love me a double-wrap with a bit of everything tossed in. The links between the druzies would have been to long and spaced out, so instead of using a regular jump ring connection, I did this wacky move with like a hundred little jump rings: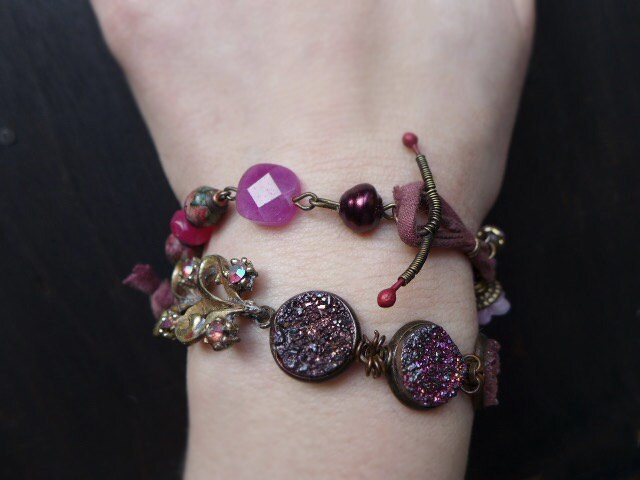 Why yes I made that illustration myself, why do you ask?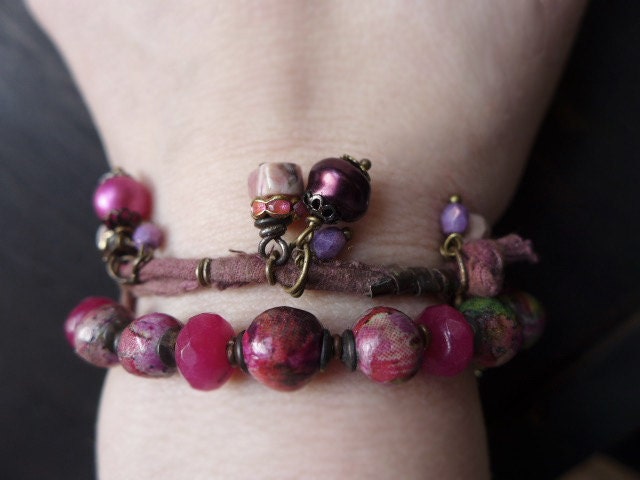 I was actually sick for two weeks so I got back into the studio with a vengeance and made a crapload of fun stuff.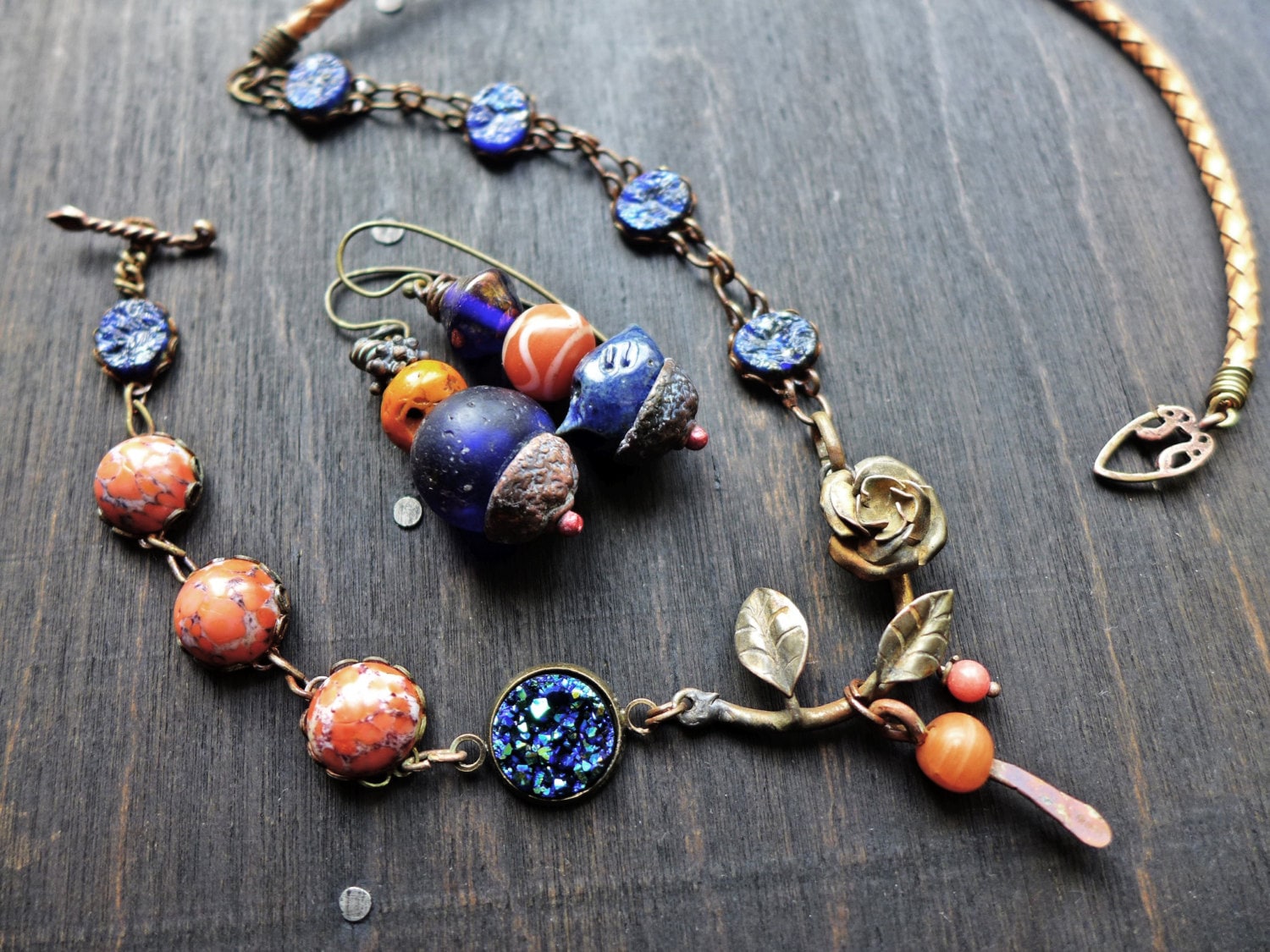 Asobu
- - (Japanese) to enjoy yourself, to be idle, play, hang out
Another fun thing- this bright set I made with a bunch of the colorful cabs Teapots Linda sent me.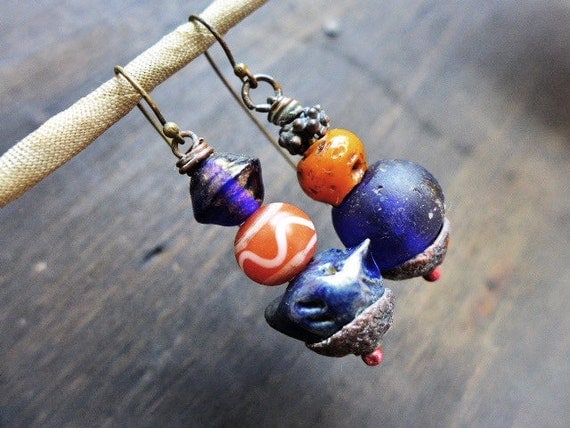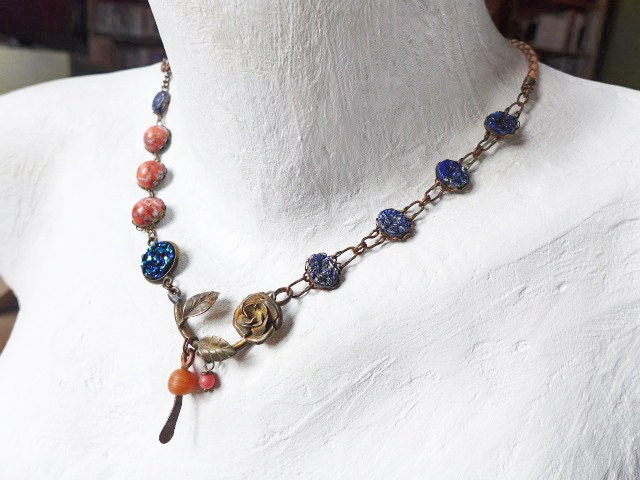 Some people like sets and I think these really complete each other.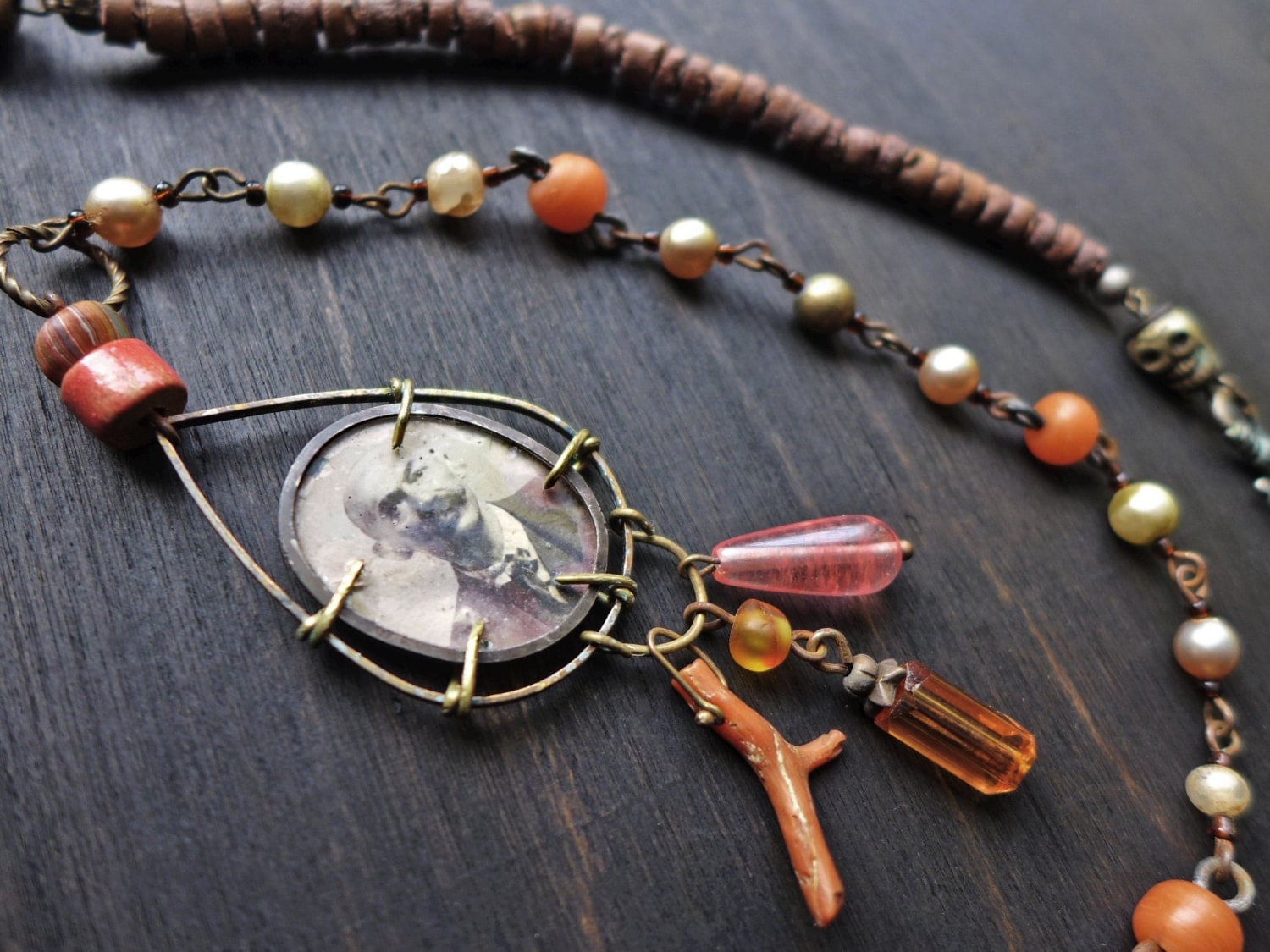 Sunset for Ferdinand
Speaking of sets however, this set of mine wasn't selling even though I love it to bits, so I decided to split it up into two listings.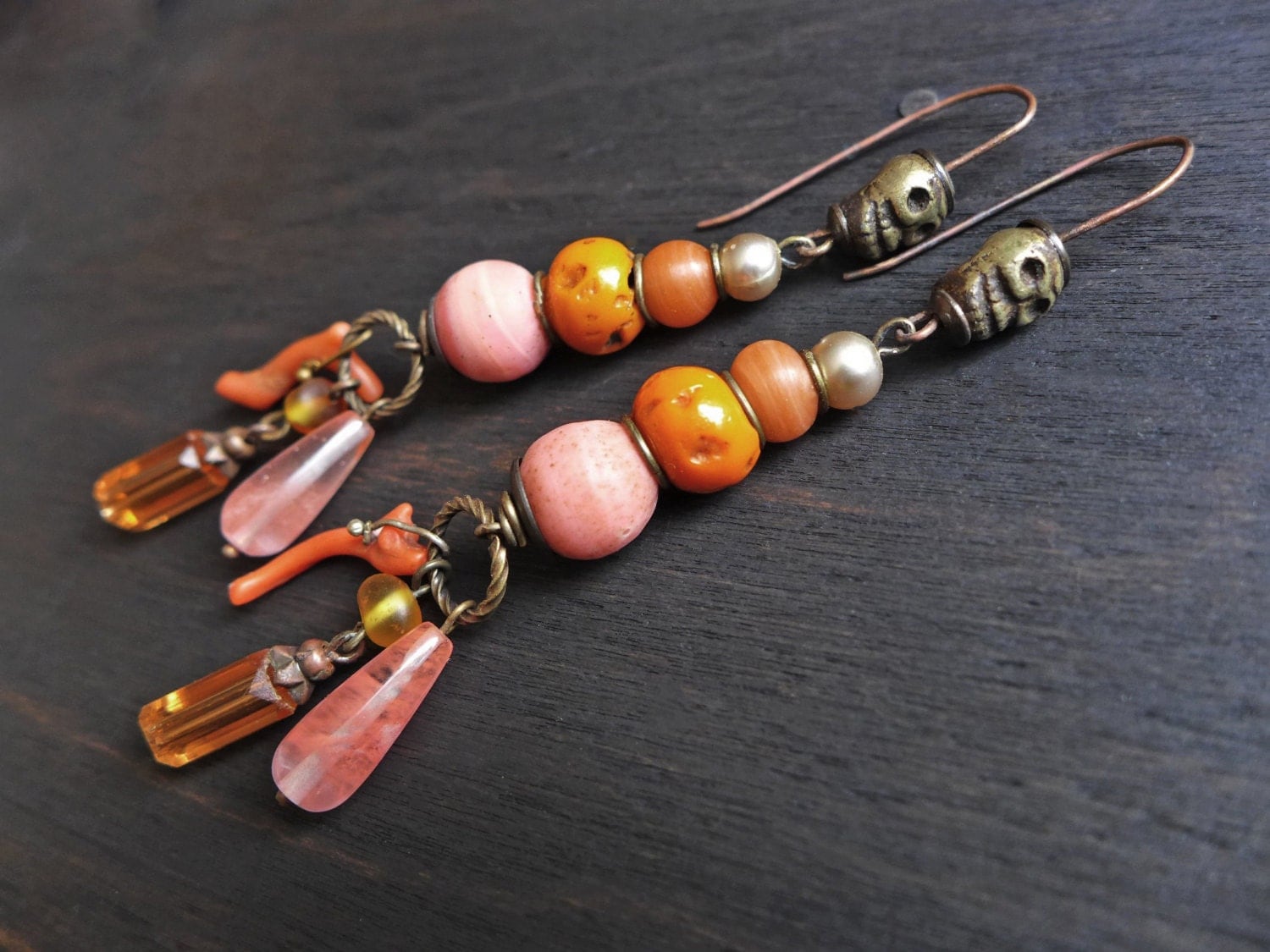 Live in the Sunshine
The bright colors overseen by skulls- it's like they're telling you to live in the sunshine now cuz tomorrow you'll be worm food. Y'all know- memento mori shit.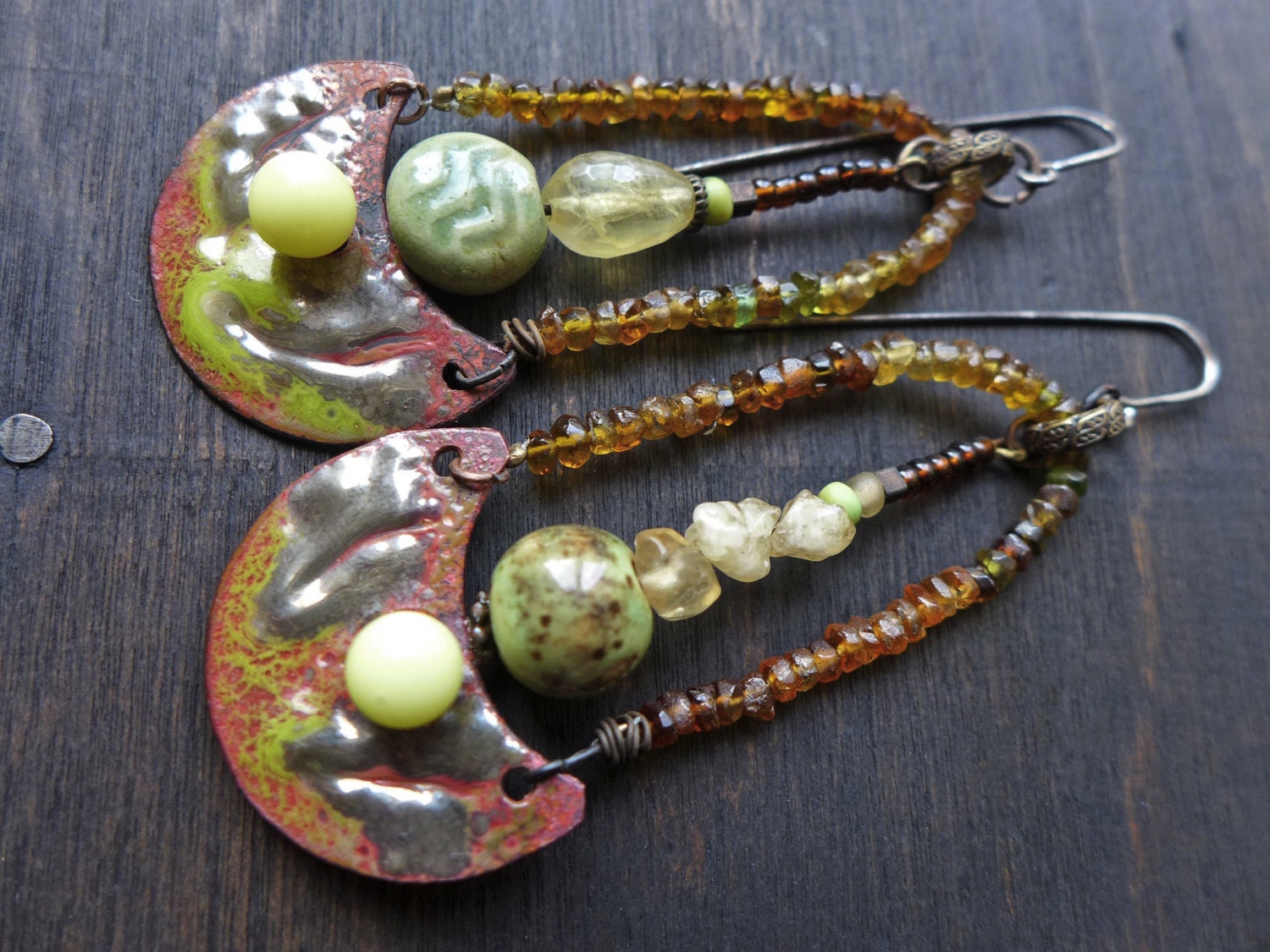 Takes a Village
These earrings have bright apple green accents against more muted browns. Obviously, 4Ophelia enamel crescents there, as well as some of the vintage glass head pins from Teapots Linda, which were the perfect solution to the dilemma posed by the unusual piercing at the top of the crescent.
Add to that ceramics from the UK and stones from who knows where, so I named the piece after the fact that it takes a global village to make these things.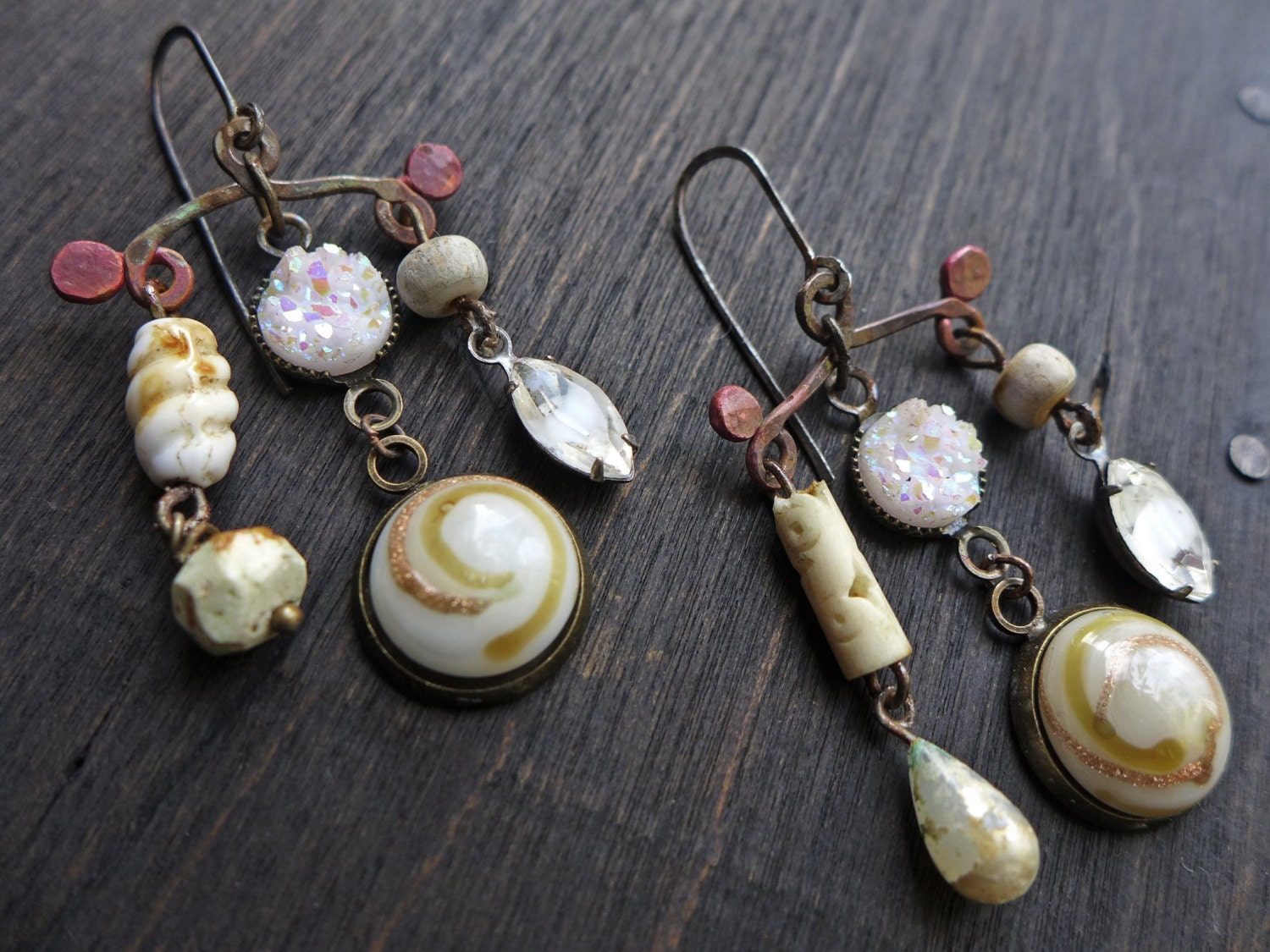 Famn
The rest of this bid-nes is my usual muted tones. Like these chandeliers which use some of my faux druzies and some more Teapots goodies. Famn is a Swedish word referring to the space between two embracing arms. Now look at the top bar of these- my hammered double-ended pins- don't they look like outstretched arms about to hug you? No? Idk, they did to me.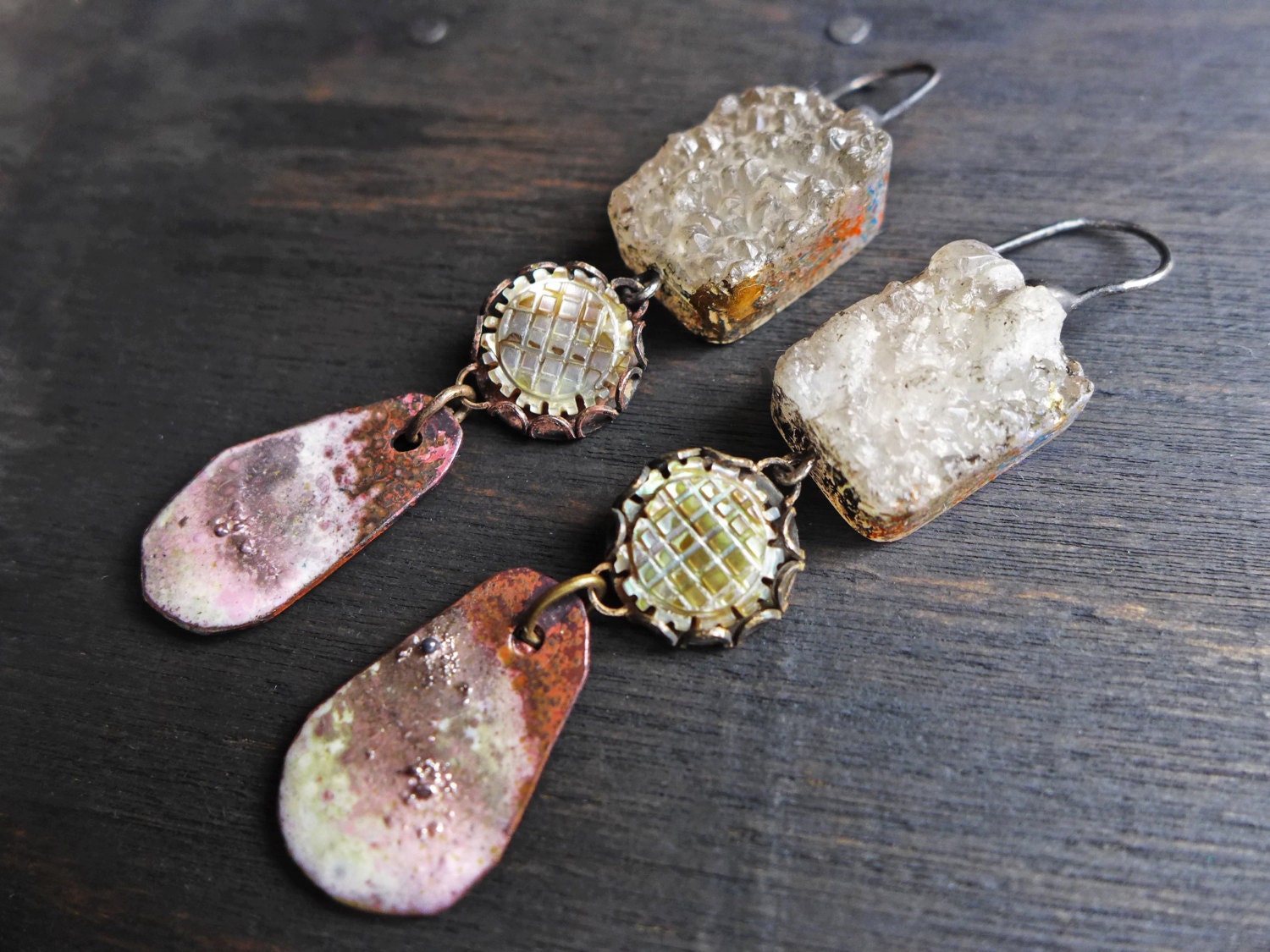 Panglossian
- given to extreme optimism, especially in the face of unrelieved hardship or adversity.
Crusty and elegant- a declaration of optimism against a cruel world. A friend told me today all my stuff can be described in oxymorons which is so right on.
Check it- druzies were a gift from Kathy Barrick, waffle cabs from Teapots and enamel drops from Georgie/4Ophelia/nearlylost. Do I actually buy any of my supplies? Why do I have such awesomely generous internet art friends?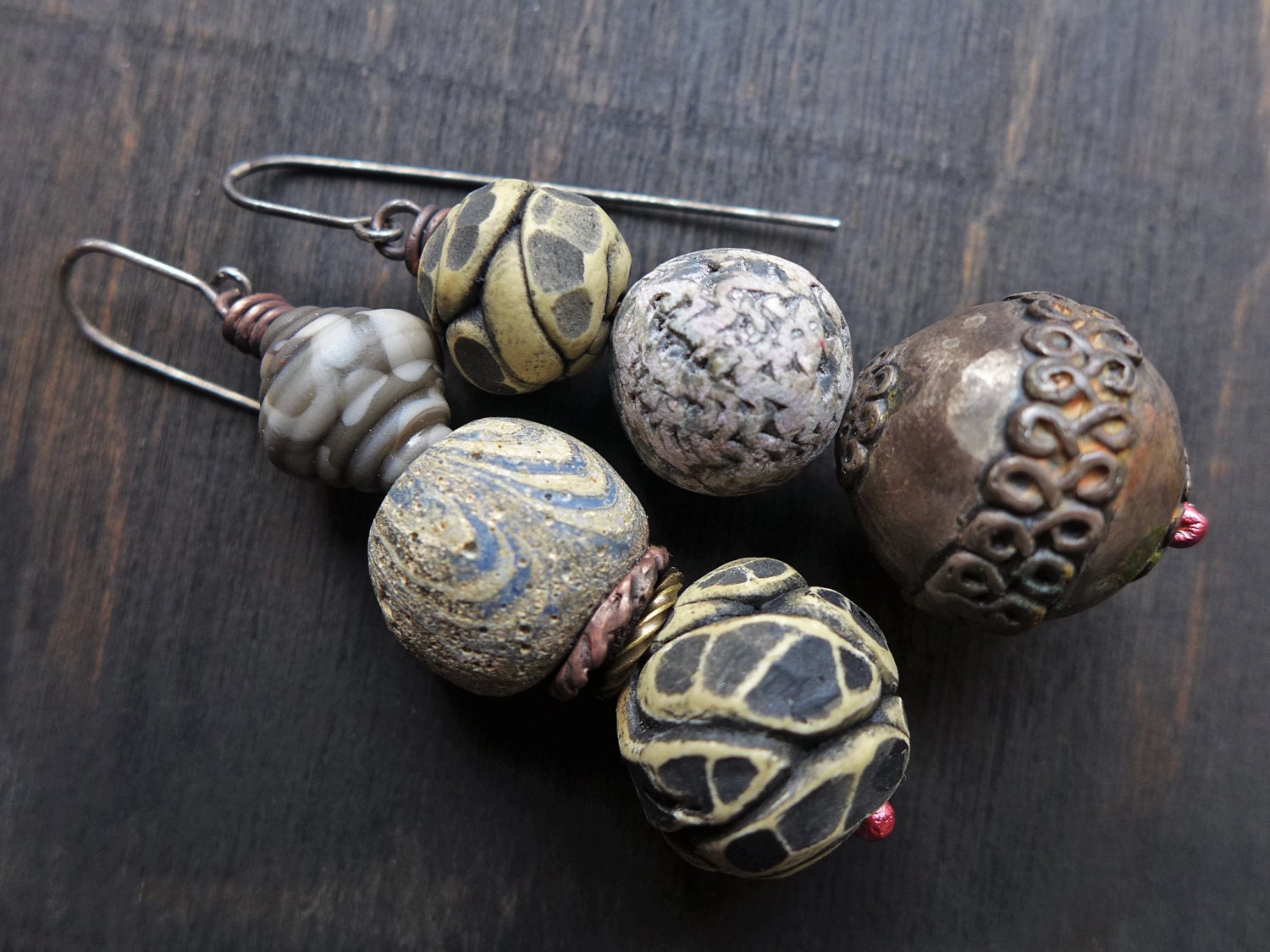 Crepuscular
Look at these!!!! I made three of the beads and I'm damn proud. Sorry not sorry. It's not just grey I'm obsessed with, it's deeply textured grey. Also I can't stop spelling it grey even thought the American spelling is supposed to be gray. (grAy for
A
merican and grEy for
E
ngland, eehhh?)
It took a long time to make those faceted turbans, I scraped the paint off (the yellowish grey where the clay shows) with a blade eeeever so carefully, to capture as much of the shapes as possible. Painstaking but deeply satisfying. Thank you to shipwreckdandy who taught me her method for making the turban shapes and encouraged me in my polymer journey.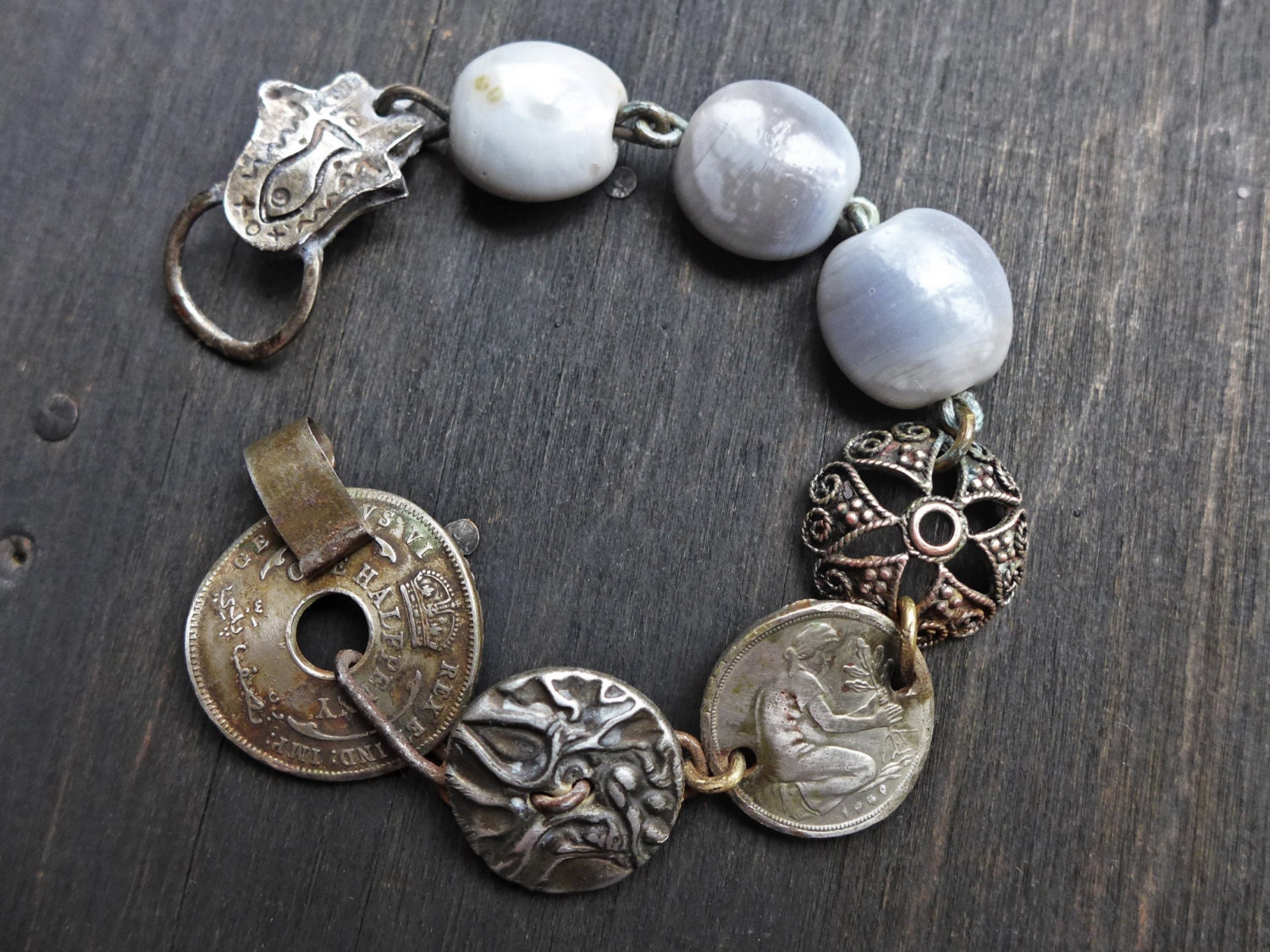 Concatenation
- a series of interconnected things or events. -the action of linking things together in a series.
More evidence of my grey fixation. Simple yet kinda perfect. I don't even really hammer these coins, I bend them using pliers. Seems easier and I feel like I have more control.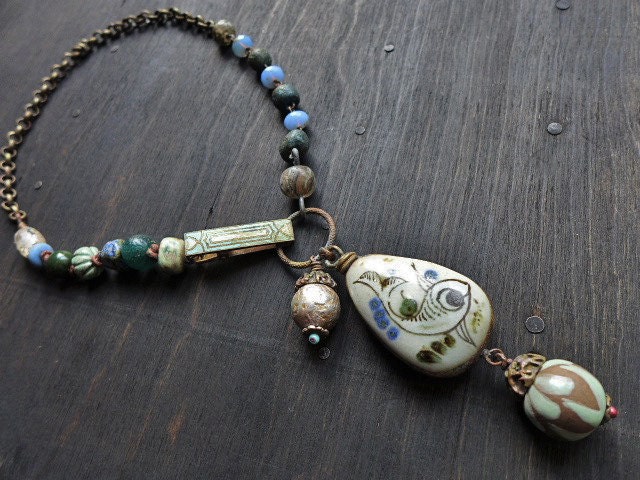 Lacustrine
- living or growing in lakes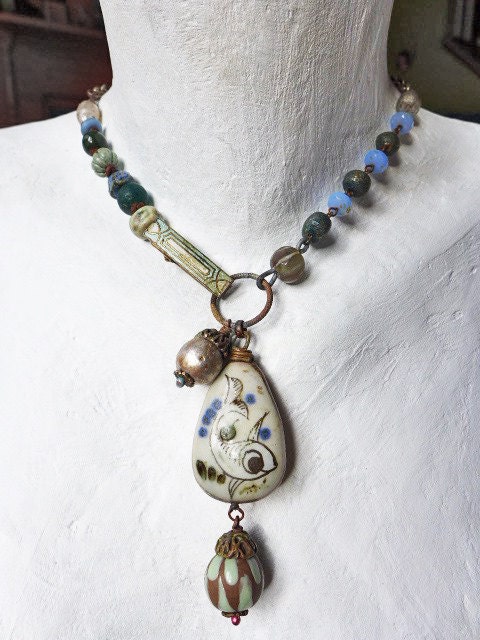 Folksy goodness. Three of the dark green/blues on the right are my polies. Tie pin clasp. Is that from Uruguay or Kathyhaul? I can't even remember anymore.
I kinda sweated over this one, adding alcohol ink to the tie pin enamel to get it to really go with the big ceramic ball bead- a gift from Emmanuelle, my French friend- hey gurl!
Look at how adorable that fish is. I feel like this has a touch of that Lorelei Eurto cuteness. A lot of this batch does, though mixed with my eclectic griminess.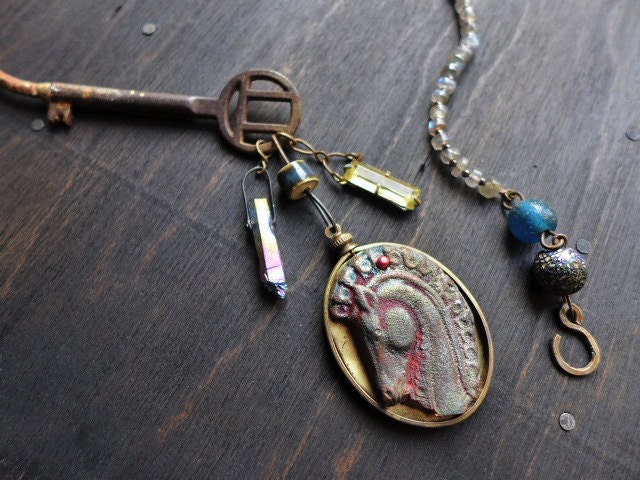 Stelliferous
- abounding with stars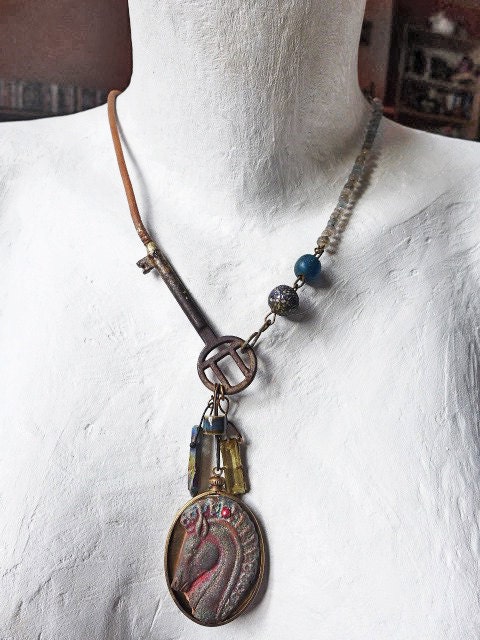 Another leather-in-key bail. The raku horse was a gift from RomAntiqueSoul and she wasn't working at all until I snipped off the bottom tip of her neck and housed her in this screw-top bezel from Teapots, who also gave me that baguette. The crusty disco ball is my polybaby.
Sometimes I'll give myself busy work, like just stringing things on beadalon wire with crimp beads to be used for who knows what and then I quickly find uses for those bits. Like here, this strand of labradorite heishi alternating with teeny metal balls. And below.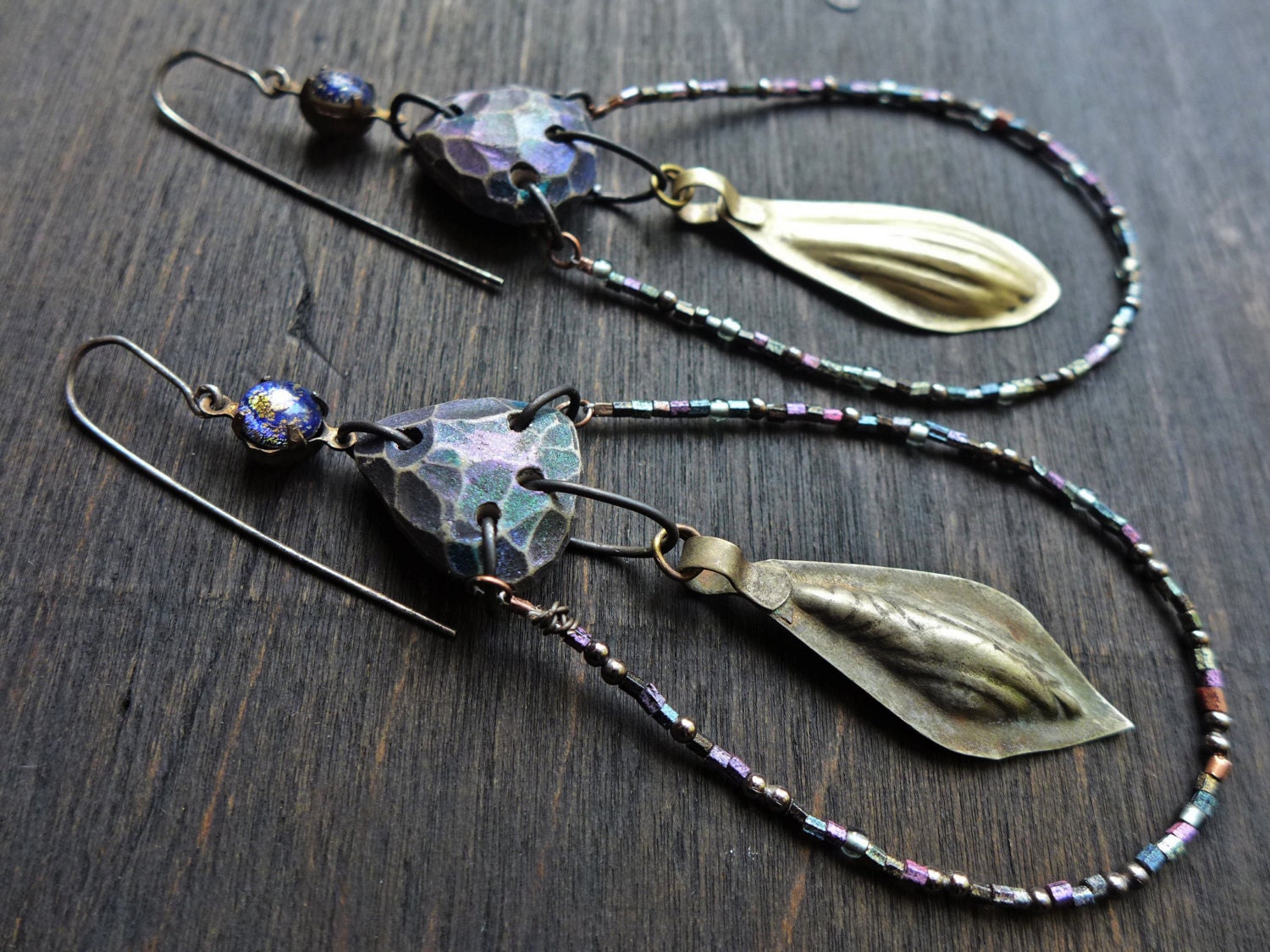 Desert Nights
Here ok so! These strands I put together and only later realized they were perfect for these chunky connectors. They and the opal cabs from Teapots both bring out the dark iridescent colors and extend the triangle shape, as well as add a delicate counterpoint to the rough chunky. These were one of those pairs that came together perfectly even though I thought I'd never find a good use for the connectors, since I never do for polymer connectors. But! I love these.
My thing now where I make dark facets: You facet an already-baked bead using your tissue blade, then paint it black. The black soaks into the rough surface brought up by faceting. Then you polish to bring out the edges of the facets. You can use polishing papers or I also just scrape the paint off with my tissue blade. After that, you can go in with iridescent paints or powders which will pop against the black. Then you bounce up and down on your chair yelling Squeee!
Any of my poly people who try it- send me a pic of your results please! Cuz maybe when I give poly technique details I'm yelling into the void and no one cares.
You know what I haven't yet focused my thirst for cuteness on? Alpacas.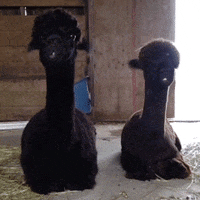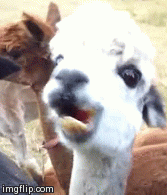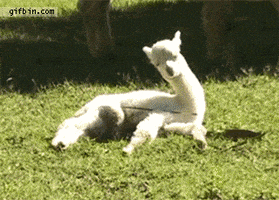 Llamas are awesome too.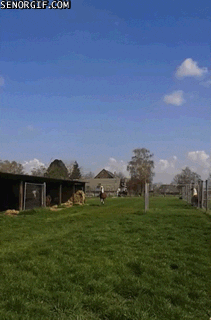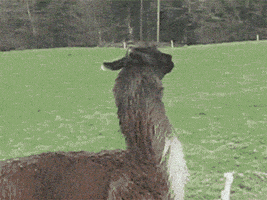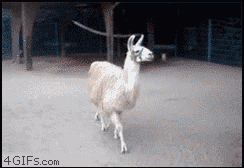 That's all for now, smooches.