Hello my lovely friends. It is such a pleasure to write to you, to imagine you, well, caring what I have to say or am up to or have made. Thank you guys for your encouraging comments they make me happy.
Here's a big ol' bunch of things I just set using my Cosmic Rocks technique. Cuz an etsybud send me the fangs, as well as some lovely stones and other things, so I thought I should get to mounting all these bits I've been letting lie unused and unloved.
Including, on left, stuff I just leafed like the edge of this huge stone left me by Patroness, and these two iridescent leaves from Teapotsandtelephones which I also put wire coils on from some old kuchi to make the skinny antique wires more substantial. Maybe I'll earring them up like I did those purple headpins from last time: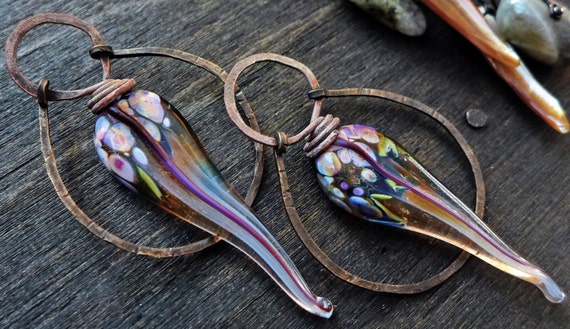 Here's a big ol' pile of necklaces I've made and have been listing all day.
I don't know why lately I've been taking pictures of my necklace batches all displayed together. I guess it's from seeing how popular that kind of thing is on Pinterest. Ladies who pin seem to subscribe to the "more is more" aesthetic I suppose. Even though the vast majority of necklaces purchased in the world are actually quite simple and minimal. But then, my target audience isn't into conservative and understated.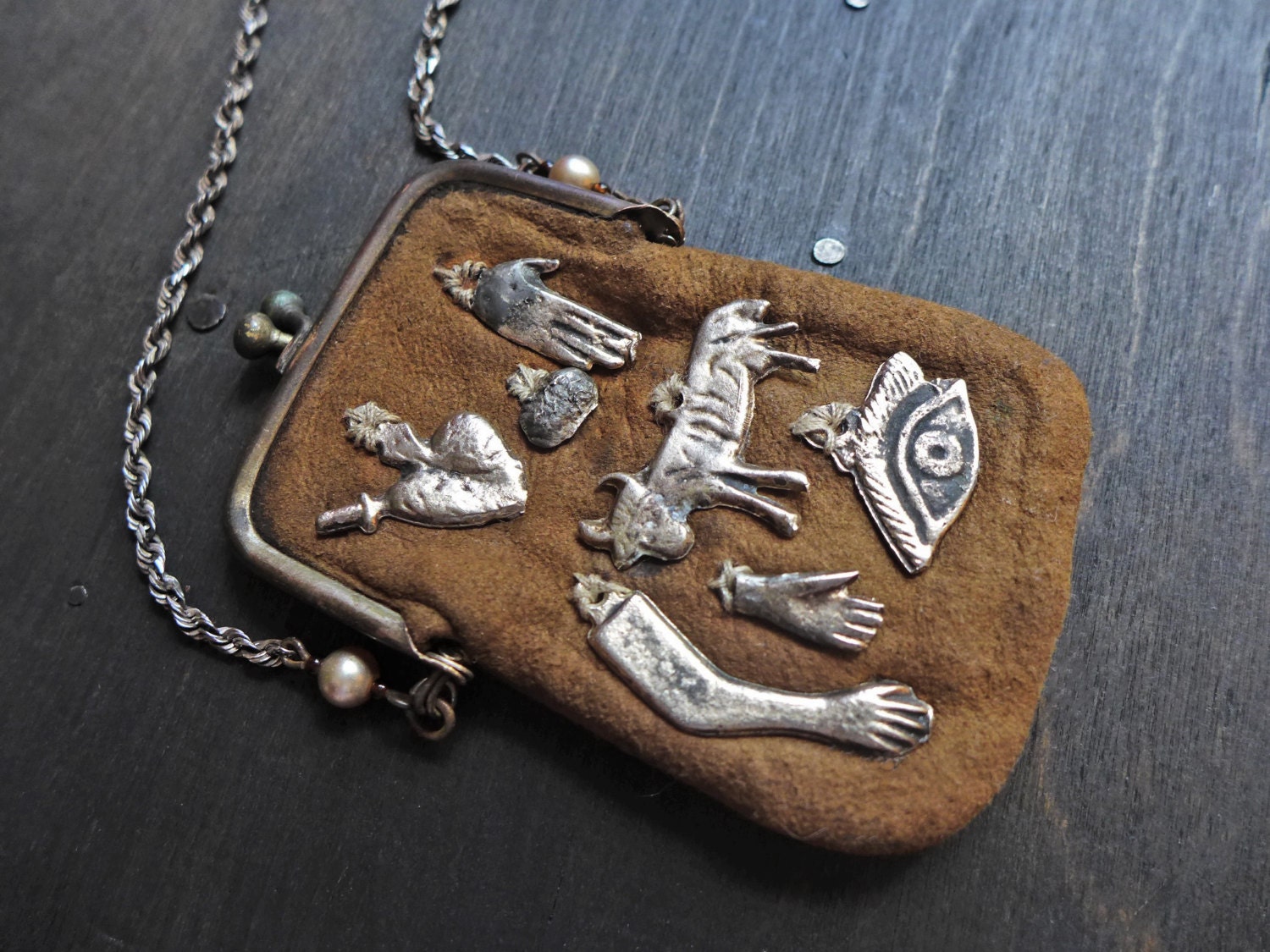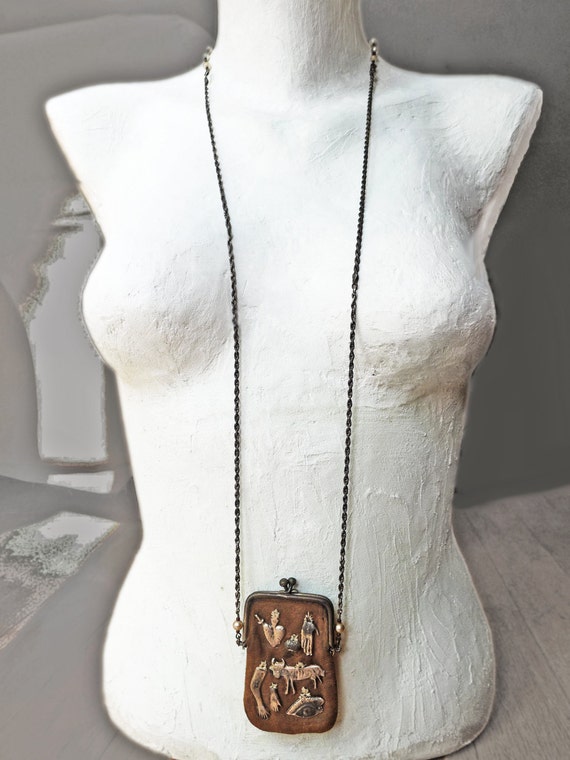 A Happy Miracle.
Check out my coin purse necklace!
OK, we've all seen adorable antique coin purses made into necklaces but my innovation was to stitch milagros- from Inheritance Haul- all over the front. Tell me that doesn't look super special? Cuz it's the look of a bunch of milagros together that we recognize from seeing folk altars and religious pieces from Mexico and the like. The coiled rope chains are all sterling from Peru, also fro Inheritance Haul. Cuz I thought the rest needed to be super simple. Make a good layering necklace I think.
(OMG I'm so glad I raised the price up, fucker already sold!)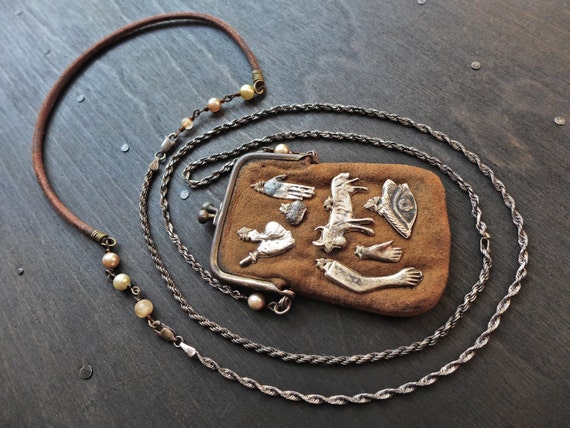 And speaking of locket-type containerish pieces ...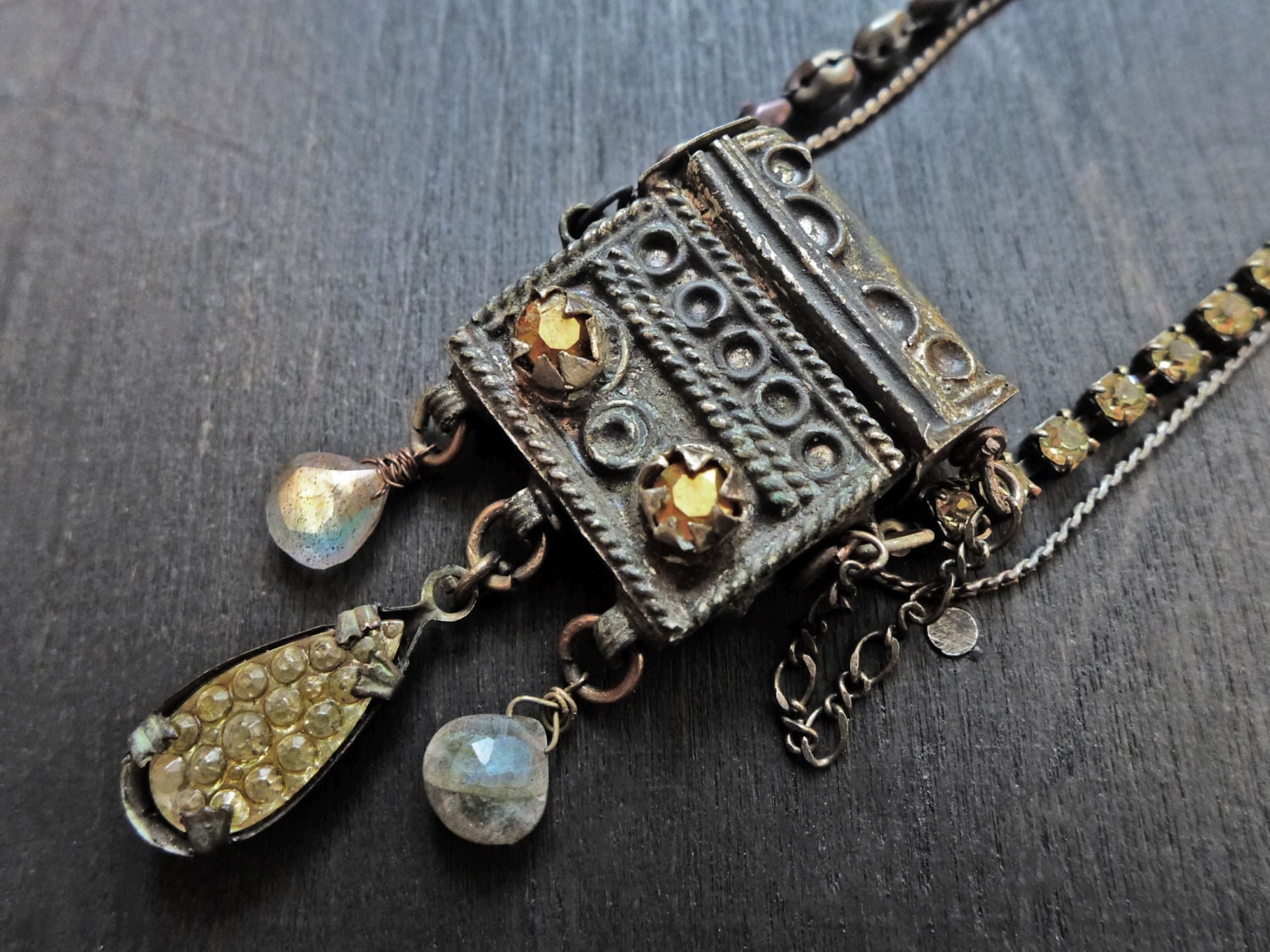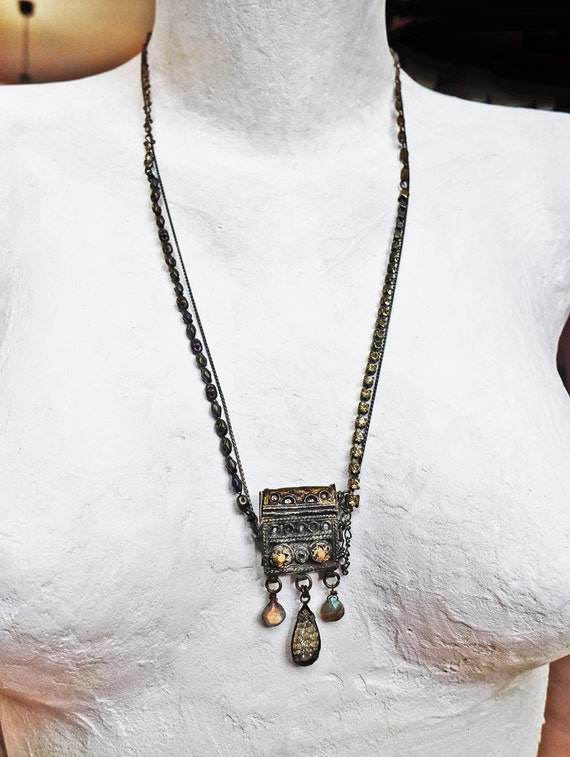 The Smallest Word Can Reach Me.
So this is a little Turkoman prayer box that was also left to me by Patroness. I turned it's siblings into earrings once upon a time: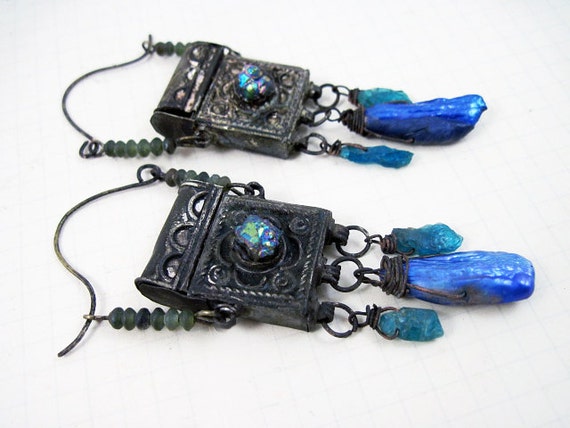 How wild are those?
Here, I removed the dangles for labradorite and textured rhinestone drops (Teapots) and took out the cheap bead cabs to put in vintage gold-painted ones.
Like the purse above, another long necklace with a locket-type focal and minimal chain busy-ness.
But still quite special with a thin sterling rope from Inheritance Haul, jonquil chain from Teapots and these superduo seed beads with dark variegated coloring that I tied into a sort of cord. I think it looks way cool. Also filigree ovals I linked in a long length and scroll chain which I lurv.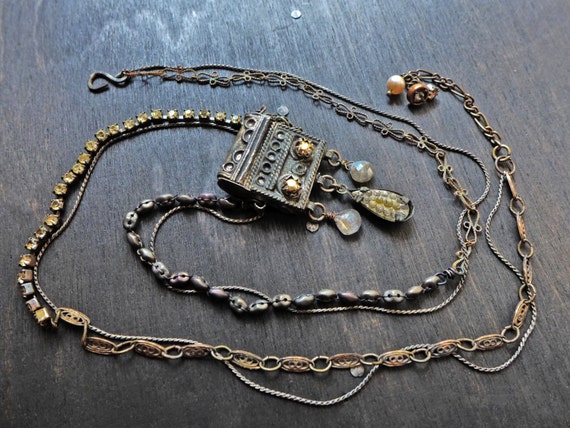 Extender chain dangle has two little post earrings from Inheritance that I made into drops by curling the post wire.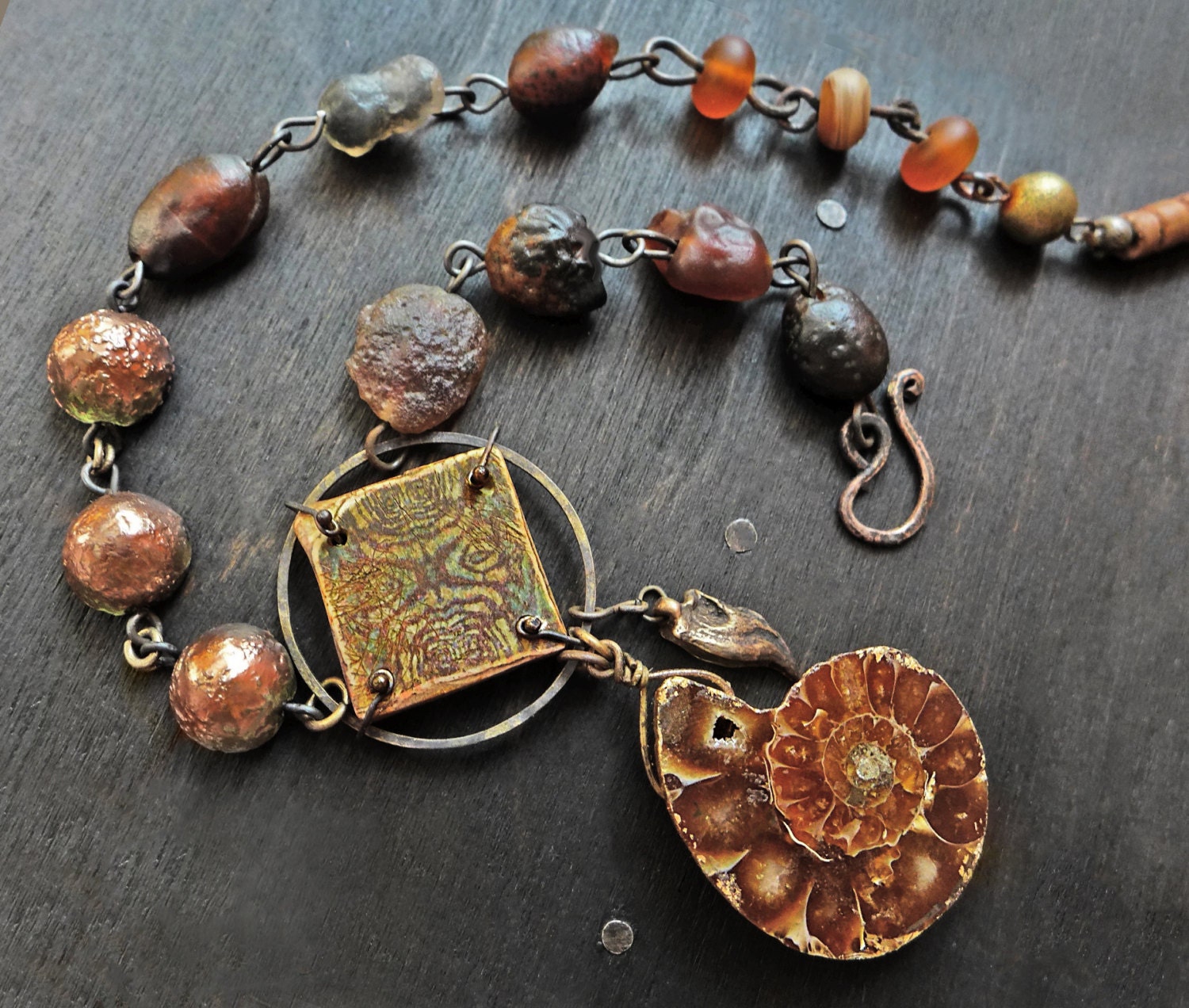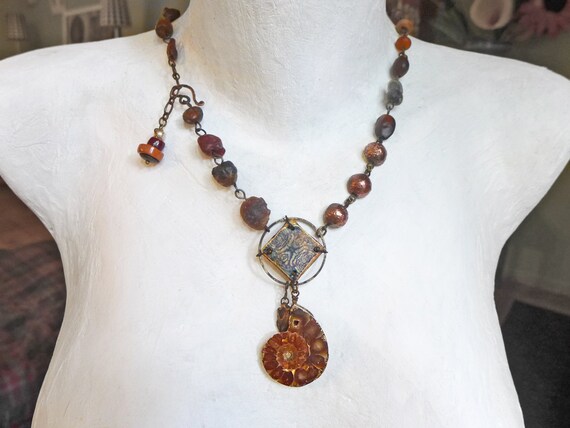 A Dark Patience.
Check out all this glowy goodness.
A bunch of Gobi Desert Agates, tile by JBDRusticOrganic and this ammonite I leafed the entire back of which looks super cool.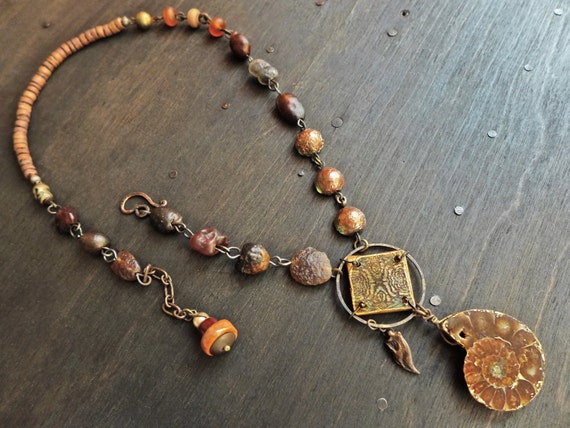 In the same glowy orange/amber vein: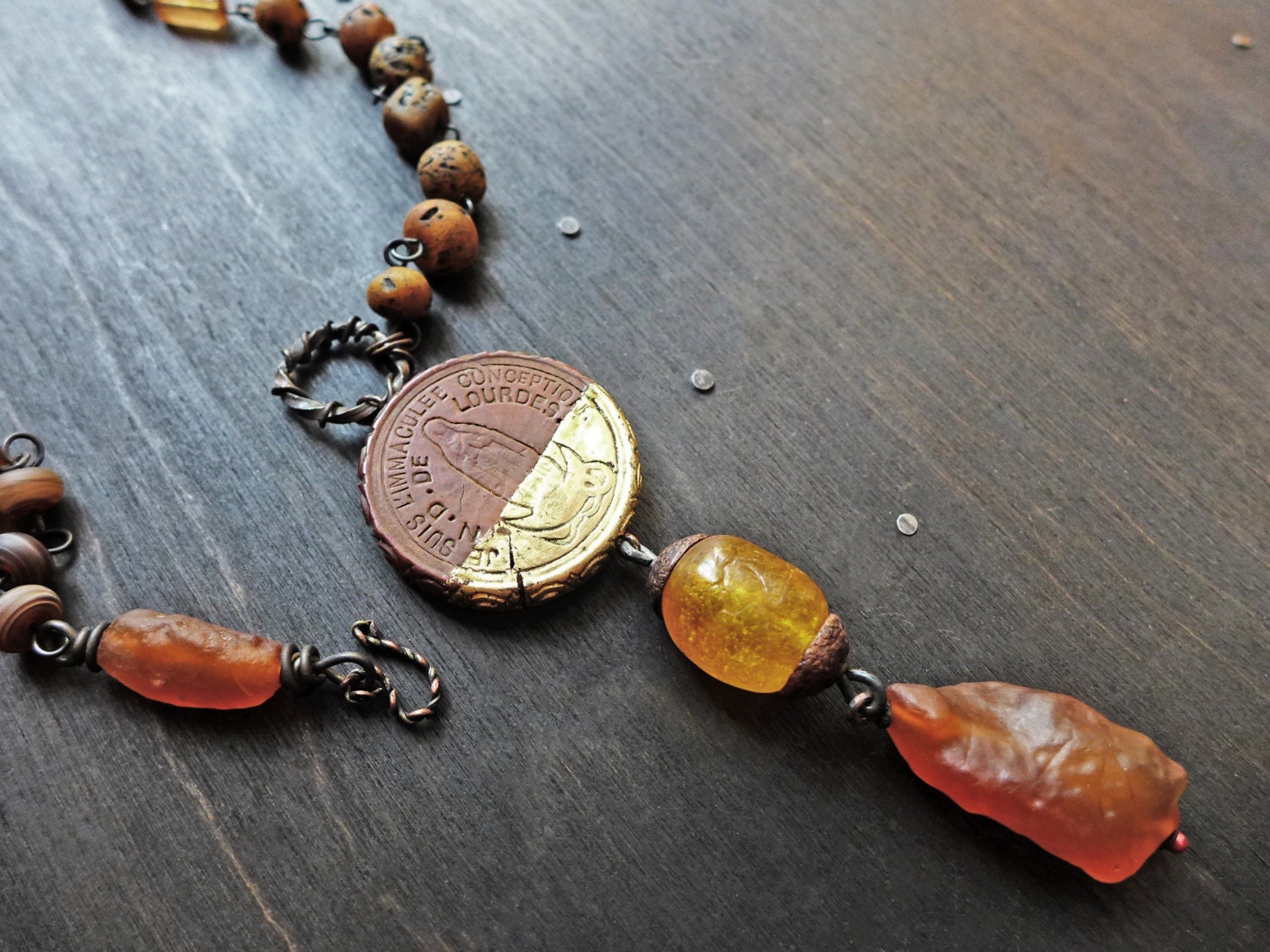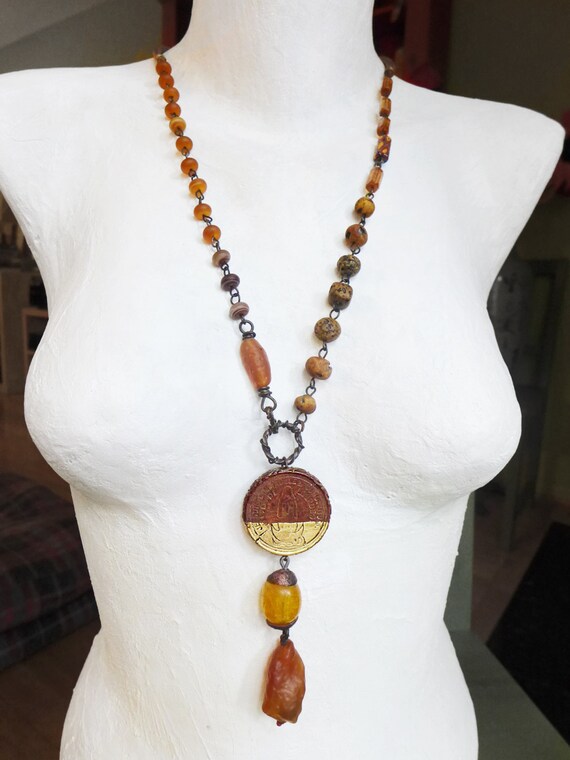 When the World was Luminous.
OK so this wooden souvenir I had gotten from
lumina jewelry
who was previously RomAntiqueSoul. It was, like,
almost
interesting, you know? But frustratingly not quite there. However, as soon as I thought to slap that metal leaf on it, it became perfect. It's from 1875! I added a copal/resin amber bead from Inheritance haul and a chunky drop nugget of Gobi Desert Agate. Also includes a bunch of my faux ancient polybabies, vintage glass and lampwork.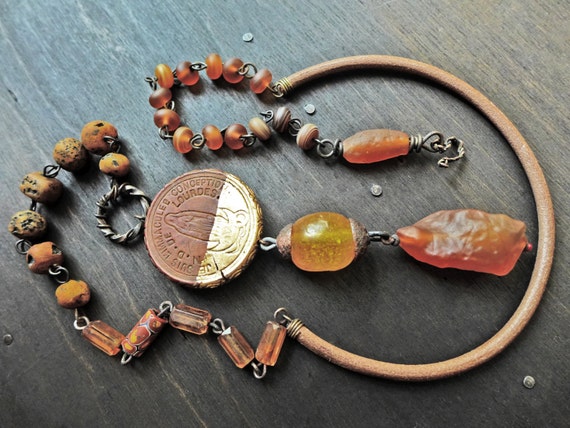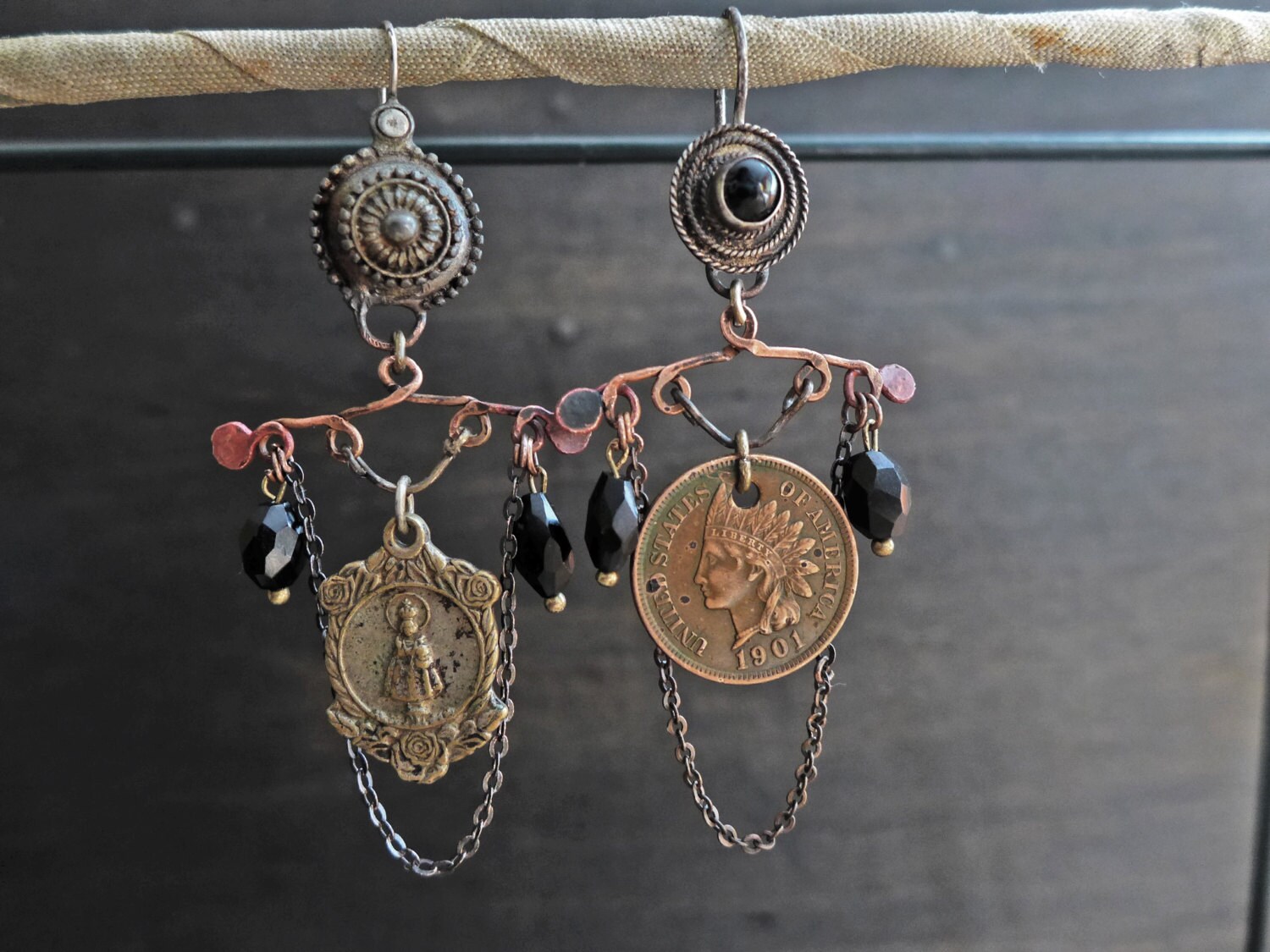 A Final Accounting.
These took FOREVER to get right. The one still looks longer than the other but they at least look like they belong together and they're not tangling up all over or lopsided... They are from Inheritance haul plus faceted tourmaline nugs from my recent friend gift. I had to solder connector loops on to those sterling ear wires. Turns out the one on the left was pewter and I almost melted the whole thing with my insanely hot soldering iron.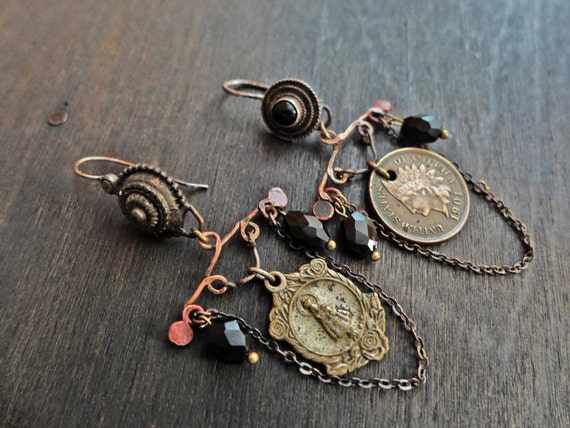 Plus I went ahead and added this nutty babble to the description.
"As for the naming of the pair: after making these, I noticed I'd chosen an American coin depicting the people this country tried to remove from the planet. Not only that, but I paired it with a religious medal representing beliefs of many of our founders, at least widely defined, a belief system that should have prevented that genocide. How ironic indeed. Some of us do care deeply about the ill we do each other in this world, but does it matter? The families who became rich off of slavery, for example, are still rich. The descendants of those humans they owned are still impoverished. So is there any final record, a metaphorical tally in heaved, a filing cabinet where accounts are kept and note is taken for later reckoning? Can there ever be an acknowledging of the injustices imposed upon the powerless by the powerful? Will Karma ever save us?
Heady stuff for a simple pair of earrings yet this is the kind of thought process that goes into my creation of the Victorian tribal aesthetic, as well as the stream-of-conscience associations that go into my naming process."
OK so I was concerned it might be a bit much and that it might even turn off some more conservative buyers but you know what? Fuck it, I'm not doing this for money and it's not like I'm saying something revolutionary there. I mean, people don't maybe want to be reminded of slavery while earring shopping but for me that stuff never really goes away. It they can't handle it, oh well.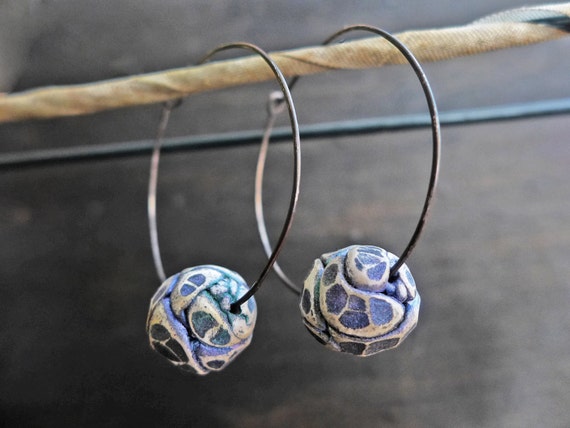 Music of the Spheres.
OK, I could not get the camera to focus on those beads! I made these hoops of real sterling and yeah. Here you go, a simple pair that feature my polybabies in all their lone glory. No other clutter in the way.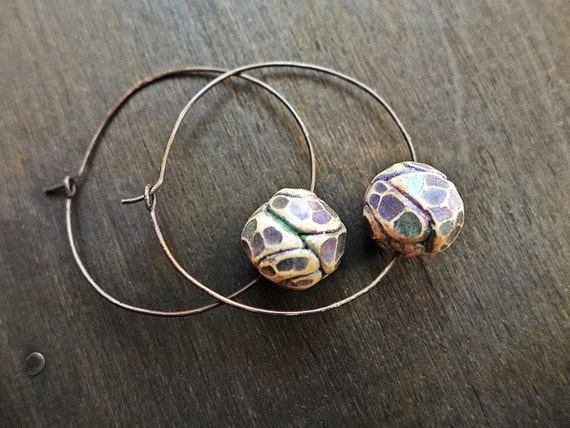 What else? Oh, I went back to the gym. I actually wasn't as bad as I thought I'd be. All those weeks of trying to work out while suffering flu-like symptoms got to me psychologically. But I think I'll be ok.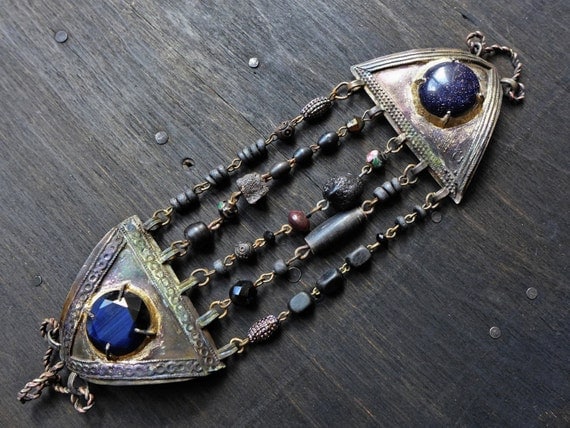 Also, recently I took down a whole bunch of things that had been languishing in the shop. At first it made me fret but I feel much better for it. If something doesn't sell in months, there's probably a reason. I realized most of the items I took down had serious design flaws and I'm either going to address them or use the parts.
Like this bracelet which is good but too long and the razzle dazzle of the focals isn't reflected in the strands of rustic black beads. So I tightened up the end loops and added leaf and blue pigment powder to the beads.
Look! I'm not completely sure how I'm going to finish it clasp-wise but I already like it more.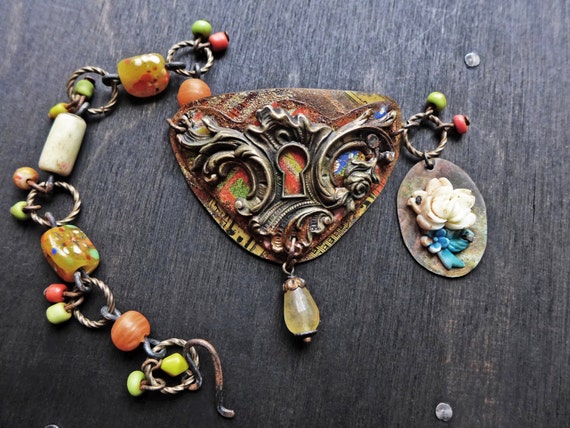 Also this which the celluloid flower dangle had nothing to do with the brightness in rest of the bracelet.
I removed it and went hunting for bright bits. Now I'm not 100% satisfied with it since the enameled ball bead isn't to the scale of the rest of the piece, but I'm certainly moving in the right direction.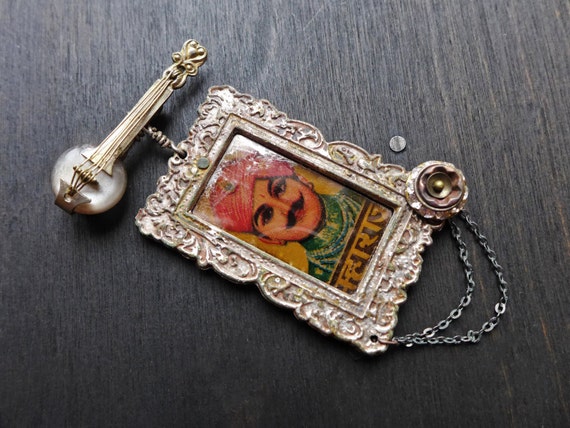 ←Or this piece which on the one hand I really like, on the other I realize the image has nothing whatsoever to do with the rest of the piece- namely, the frame and the mandolin. If instead I found an old art image of someone playing a similar instrument to tie it all together? Ehhhh?
So here I am trying to get fit:
Here's me sharing food:
Save
Save