Look at these.
They were what the burnt nuts were supposed to be:
I mean they're from the same batch, just cooked a 100 degrees lower. Now lets look again.
Again, and this time check out the micro-striations.
And once again just cuz I'm so proud. And it's my damned blog.
Phew. Now I'm working on a bunch inspired by ancient mosaic coral.
Made some simple earrings with my own beads. I feel like I can go simple when it's beads I made.
I also did my cosmic rocks treatment on these little amethyst bits.
Here too.
One with a cap and one on its own cuz I'm complicated and deep.
More with my beads.
This pair I couldn't for the life of me get a single shot of with the polybead and the dangly part both in focus at the same time.
Drivin' me nuts. So here you go, three pictures.
Same problem with these with chunkies by RaggedRobyn.
You guys, the other night I slept 11 hours. And if that's not enough, it's like it made my meds re-set and somehow I was going through withdrawal from them. And crying from so many feels. Just general feels of feelingness. And little things like the fact my stupid printer is broken were really overwhelming.
Anyways, it sucked. I made these because people keep asking if I can re-make those caged pearl earrings from before.
So I did.
But I added more than just pearls cuz why not. And then like here the bottoms of the cage bars I didn't make into regular ball pins, I sorta solderd them flat against the tin.
I made these grey green ones too.
They are large.
These are small. I tried to get clever with them so I wouldn't have to punch holes in the caps cuz they're kinda thick and it's a pain... and ended up way complicating my life and making it 10x harder. But you know me. I'm an artist, which means I'm trying different shit alla time.
Like putting thin plastic sheeting in my printer which wraps itself so tightly around the inner-most roller that none of my fiddly skills cal get it out, thus rendering the printer useless.
Oh I had a cool crystal and base and I brought them together with some epoxy putty.
Which I darkened a touch with alcohol ink.
Even though people think these are too tall, I still like them.
Another necklace inspired by my cluster brooches.
That's right, I inspire my own self. (I guess I should say "in the same vein as..")
But here's something different. I made these collections of earring pairs to destash.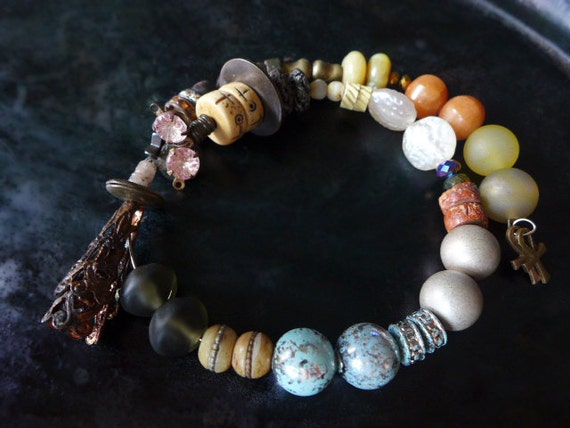 I've always treated beads as more special when I only have the two. I thought some of y'all might like that too.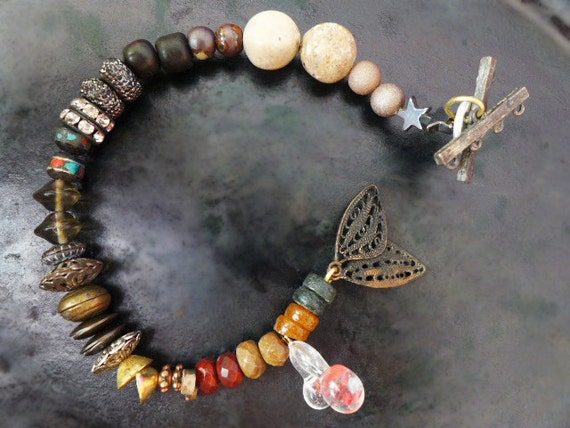 You always end up with these huge strands of beads with no idea what to do with them...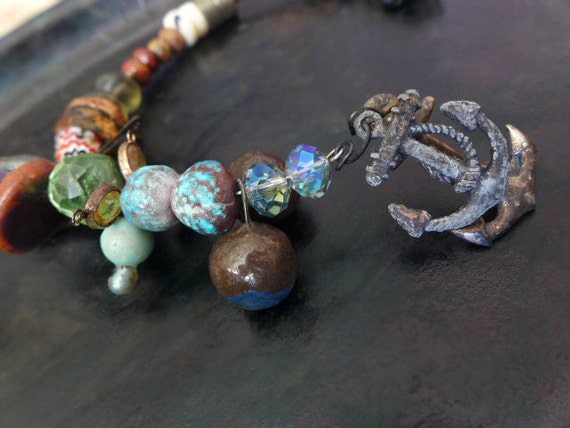 So I went through the trouble of getting these together and taking pix so yeah. They're up now you can click the titles.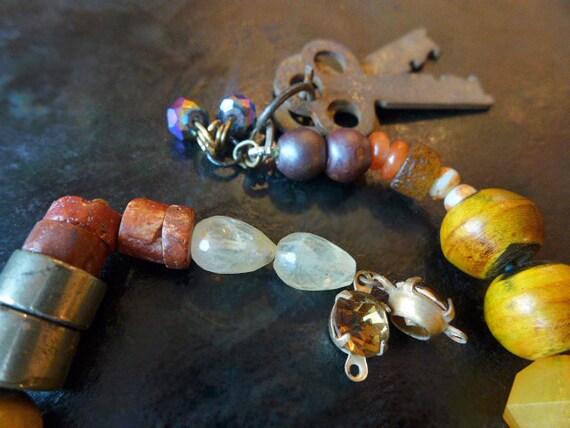 You guys, I'm going to Uruguay in 2 weeks! Mr. Devices and I are so not mentally prepared. You know how you have to mentally prepare for shit? Like picture it and anticipate it? I'm just not good with transitions or anything that takes me out of my little house and little life.... And little internet...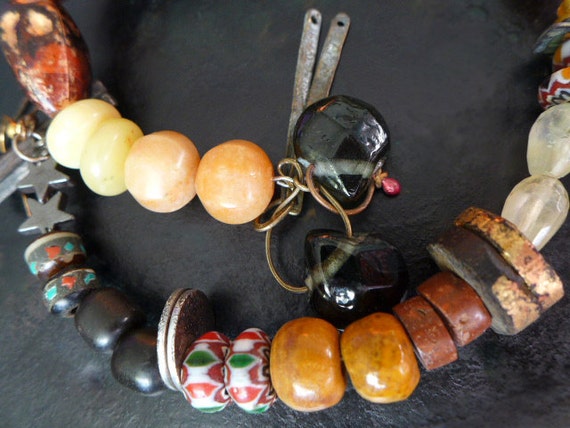 Gotta go take care of Chiquita who's alone at Mom's this weekend because they went to Wisconsin with just the young, sexy cat. They're age-ist. Actually, Chiquita hates to go and yowls the whole way in the car.
Gonna go over, jump in that couch and watch some Dr.Who on netflix. Can't do it while the 'rents are there cuz Dad just makes fun of it. :-(