Jayzuz I have a shit-ton of things to list!!! I guess I was way happy to get back in the studio and went nuts.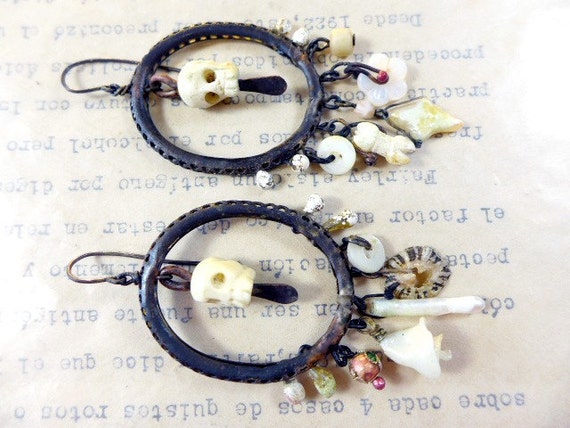 The White Witch.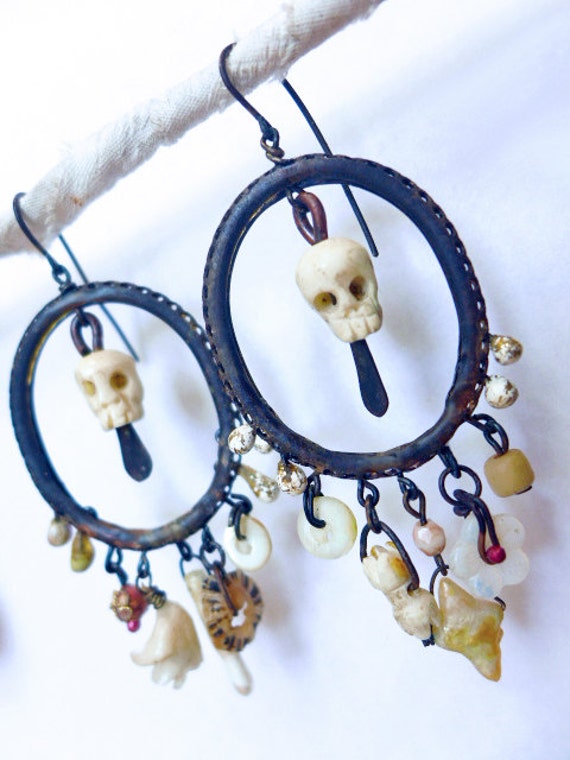 I'm calling these Halloween earrings. Whether you like it or not! It took forever to get all the dangles positioned just right, and I finished the dangle shape with those little nubs of utee headpins. Shoulda photoed them against dark background so you can see it better...
I was gonna hang the following silhouettes in the center but then it was all too much...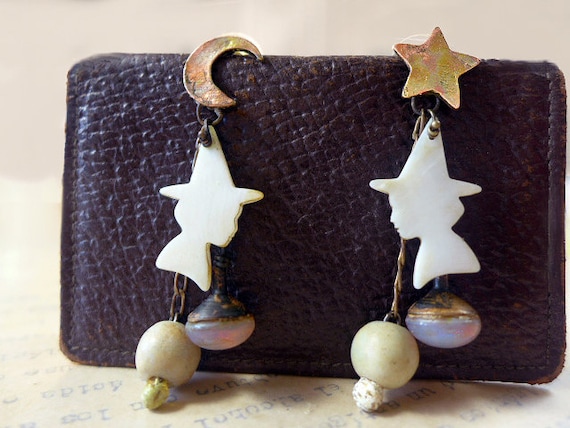 Little Enchantments.
These are little mop witches,
squee
. Also, obviously Halloween themed. It's my favorite holiday by a mile, so I thought I'd do something festive. What's odd about these is there's opal cabs just facing straight down... might be a waste of opal cabs, hu?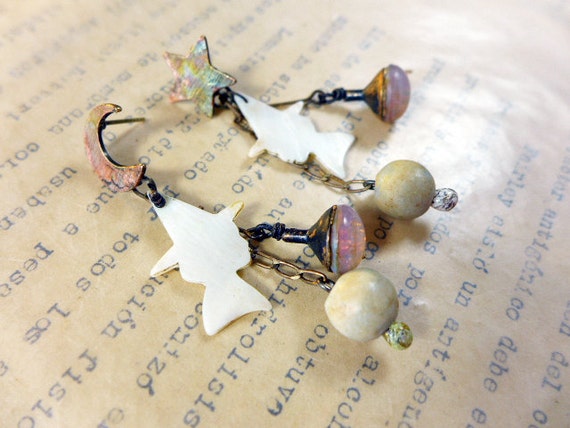 Loooook- lapis lazuli slabulars from
kathyhaul
.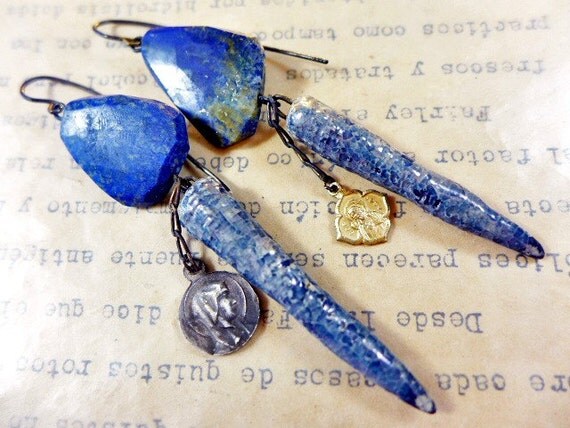 Unrepeatable.
With little Mary medal from Lucy. And of course daggers with luster crackle glaze by ScorchedEarth. Gold medal from Uruguay. Sterling wires. Little bit of everything.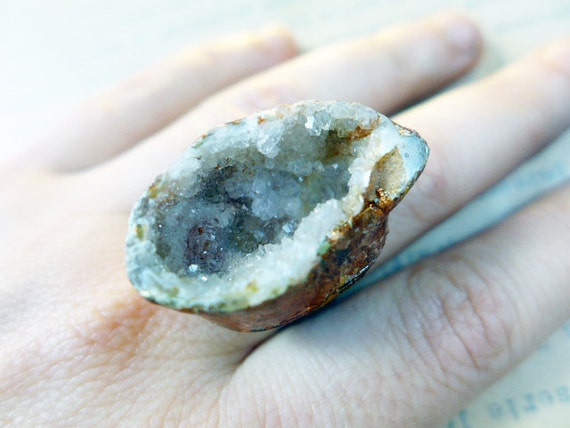 Look Closer.
Is it weird or in some way lame to put things for sale that I made for the tute? Especially so soon after putting the tute up for sale? Cuz actually this one: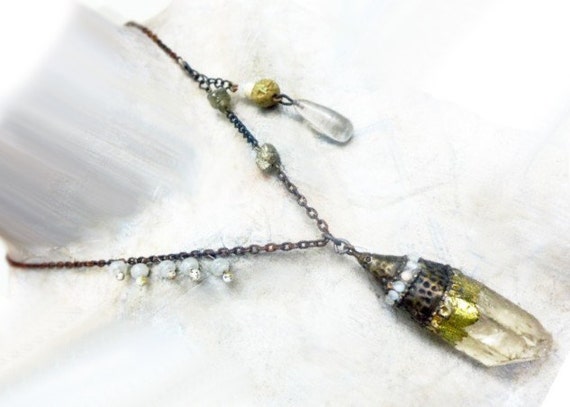 Theotokos.
I listed and already sold! So that's good... Had no idea what to price something with such a simple chain. Not used to simple things. But they're way more wearable so I should make some... But I always feel like I have to put more into them and I have so many supplies waiting to go ...
The Imagination.
But rings are slower to sell. Maybe. Or maybe I'm overpricing them? I never know.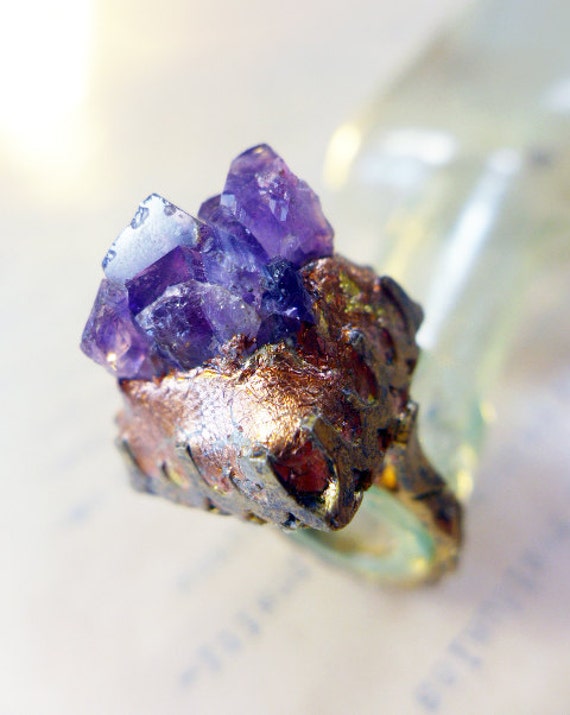 Animate.
Anyways, here's these rings.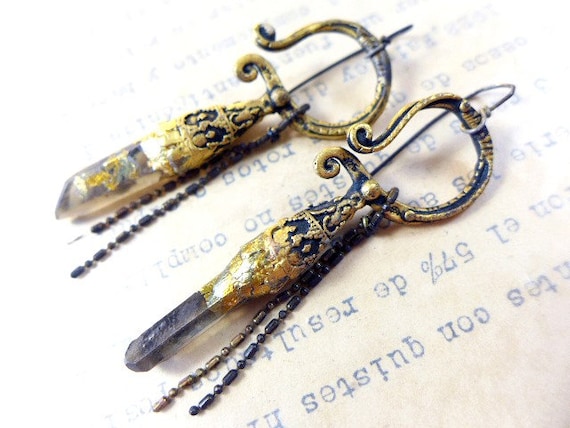 An Idea.
And these I made using the technique from Cosmic Rocks, which, duh, why hadn't I thought of that before? I also made but haven't listed these:
Where the flash comes in with the rhinestone chain and gilded finish. I dunno if they're as successful.
I
like them, I'm not sure others will. Is what I mean.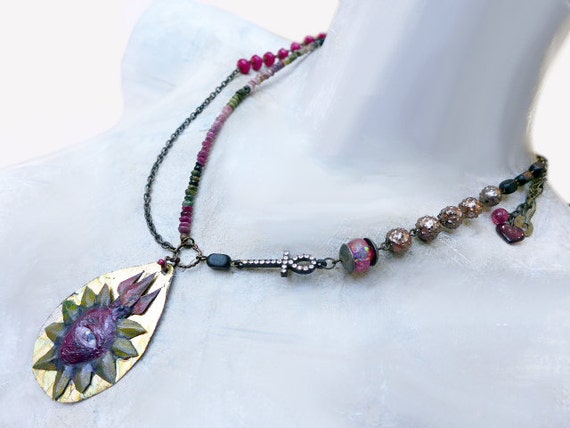 All-Seeing Love.
Finally got photos of my re-make of this. I realize though I forgot a close-up of the milagro. Hm.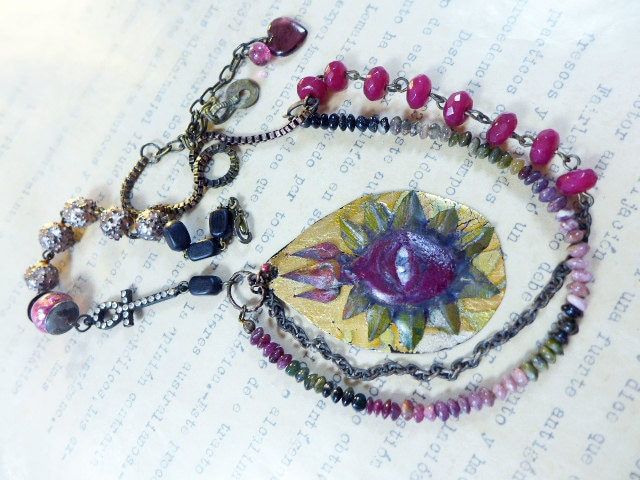 Mom: You sold so many tutors!
Me: Yes, I'm branching out into human trafficking now.
These I haven't yet listed.
Or this final green stack I finally got pix of:
Or these from the tute:
Or these also from the tute:
Or
this
from the tute:
My concern is that I inundate my shop with stuff from the tute and it look as if all that is unwanted crap? (Did you like the use of the question mark there? I picked it up on tumblr. Denotes an uncertain tone. Now I cancelled out my youthful coolness by over-explaining it.)
So yeah. Maybe I'll wait to list these? (Ehh? See that? Question ma... yeah you get it.)
What else? Oh yeah, this necklace that I spent ages on to get hanging just right:
As well as just spending ages on in general. Because look at it!
And no, that's not a kathyhaul carved mop, I purchased it legit on etsy. I was like, "I don't have enough pretty Victorian-type things." Then BAM! Kathyhaul.
I mounted the mop on a ceramic button someone sent me (using epoxy putty!). The doggie is heavy, from Sacred Cake. The thing with it has a monogram on the underside, from patroness. Wow, I really do get tons of gifts. Even the square chain was Pipnmolly.
The leather cord I over-wrapped with linen cord. Just occurred to me to. The white slab is Kathyhaul. It's hanging thick side up to mirror the way the beads get larger as they go up on the other side. Is that nuts? Finally, the keystone shape below that I leafed I think is from SacredCake. I'm happy with the little paddle pin hang thing I devised for it. Adds a touch of.... Whatever. This thing is chock full of details while somehow keeping simple. I guess nothing too crazy, just when you look closer every element is way special. Like these long links are embossed safety pins I sort of bent so they can't open any more.
Yeah, I just showed you a ton of pix of the same thing but it's special to me. So of course I don't know what to price it or how to list it. Should the names I have for items go at the beginning or end of all the jibber-jabber in the title? Sparrow said after to make the searchable words more relevant. But who finds me via word searches anyways? I dunno. What do you all think?
Look at all these things I just got from Ragged Robyn! These are bells. I actually pulled out the little 'clappers' so you could see them. You know I'm going to use separate those and use them for something else, though.
Swoon!!!
I dunno why but I'm particularly in love with these drops.
And now for something completely different. String theory described in an a capella cover of Bohemian Rhapsody. If you don't click play, you're not my friend.
Yeah I don't understand any of it either but I still think it's brilliant and amazing. And honestly sometimes I enjoy feeling stupid about some things. (That.... I just re-read that and it sounds insanium in the cranium. But there you have it.)