I am so sick of hating my photos that it finally dawned on my cheap ass how much I need to get a new camera. I had forgotten I was using one Mr. Devices got 6 years ago in Target for $100. Let's see what hateful photos I have for you today...
My second and final set of these dancing nymphs. This time on archeological dig rings.
Dunno if the chains make them harder to see.
A little pair of soldered Roman glass/garnet links.
Let's clear our palettes with a gif shall we?
Ok, now I'm ready for more images the quality of which fill me with bitterness and regret.
This kinda goofy pair include hollow blown glass and a mis-matched set of pitchers. The fact that the beads are hollow keeps them light for their size.
Here's some kyanite and rhinestone.
And here's a cat with a bunny pillow.
The thing that thrills me about this pair is how the colors match up and play off each other so perfectly, as well as the shapes. It's very hard when you're doing asymmetry to get all that to work, to even find combining elements in your stash, much less combining shapes that reverse each other like this. I should say the sweet papered cab was a gift from
Numinosity Beads
, as well as the paddle pin.
Same thing for this one. I was AMAZED I was able to find all these colors to reflect each other. Basically, I started with the paddle pins that matched not at all and had no idea I'd be able to find items to bring them together. On top of which they were able to remain light weight and EQUAL in weight which is another next-to-impossible goal in asymmetry. But I wouldn't want one ear all weighed down more than the other. I think that'd drive me nuts.
And here's some doggies racing strollers with other dogs in them. Man, if I ever tried to get Bingo to do this he'd just look at me with so much disdain.
What else?
Another pair of these. I ran out of the rainbow titanium points of this size, so I'm trying some of the smokey quartz from Kathyhaul. However, I had to jazz up the color.
Oh, here's a pair I just lost a while back among my listings. As I retook some pictures I realized I still really like these. What lady wants Lyndon B Johnson dangling off their lobes? I don't care, they're still adorable. In fact, this is another example of reverse color matching... Or is it inverse? Cuz the pink face with the pink of the Czech bead and the green clover like the lampwork drop, you get it.
Now look at this.
Two cutouts of my super thin tintype tin with leafing and on top some carved bone from Kathystash which I dakened a bunch. Simple and super lightweight.
Speaking of gold leaf, these.
And now cat cuddles mouse and vice versa.
Here, a gorgeous, mismatched pair of
beatnheart
pods are combined with some Kathyhaul octogonal/ flat/ pillow/ coin shaped beads. A little rosary center I clipped the top loops off of and a link from a Kathyhaul chain. Used some of those on the paddle pin ones above. Like em.
A redo. Originally: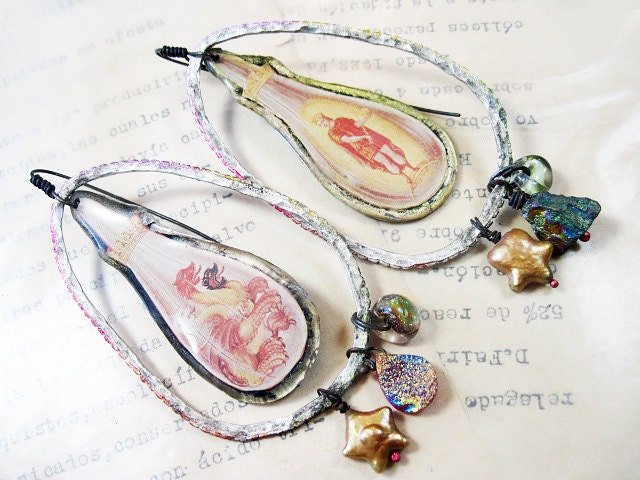 But not only were they hanging wonky, The one teardrop druzy was essential for a different pair of earrings. So now they look like...
And they dangle perfectly.
"Here's how you do it."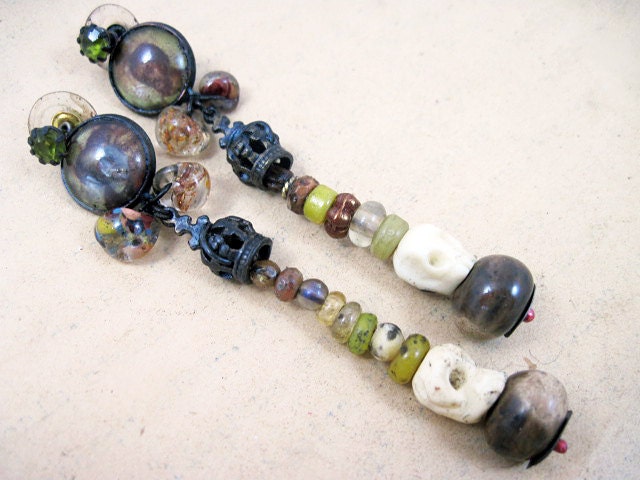 A while ago I took these down because the fucked up face on the right was driving me nuts. Over time though the paper underneath has slowly cured.
Now...
An actual face is emerging. It's still not perfect and making me a little batty though so I just wanna give these to someone. Anyone want them?
If you do, let me know in comments. Just want them out of my hair.
And finally, a patroness necklace with focal from the necklace I've been taking and soldering the Roman glass/garnet connectors from. *panting after that sentence*
Finally a chance to use up all the gorgeous blue stones she sent.
I added a dangle to the focal of Roman glass teardrop and polygon stone.
But in my desire to use up all these lovelies...
I made it ridiculously long. Sigh. And since I didn't add a clasp it can't be doubled. But it also can't be doubled because all the back links are crazy huge and ungainly. I have other blue bits, I'll just get back to it later....
Das all.
De end.