So now I have all these cute little resin bezels to play with from making my tutorial.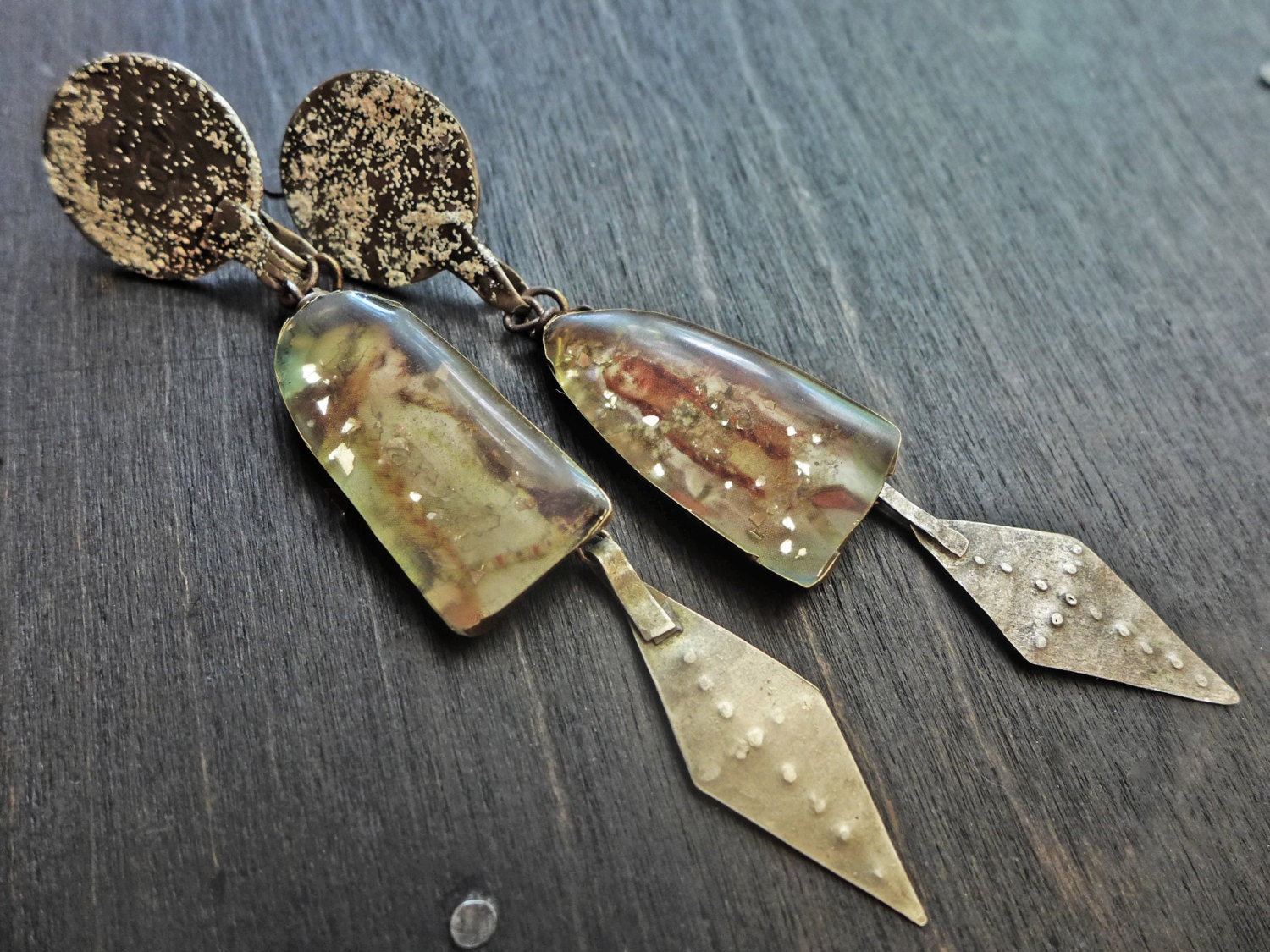 All the Daughters.
I just think these are dreamy.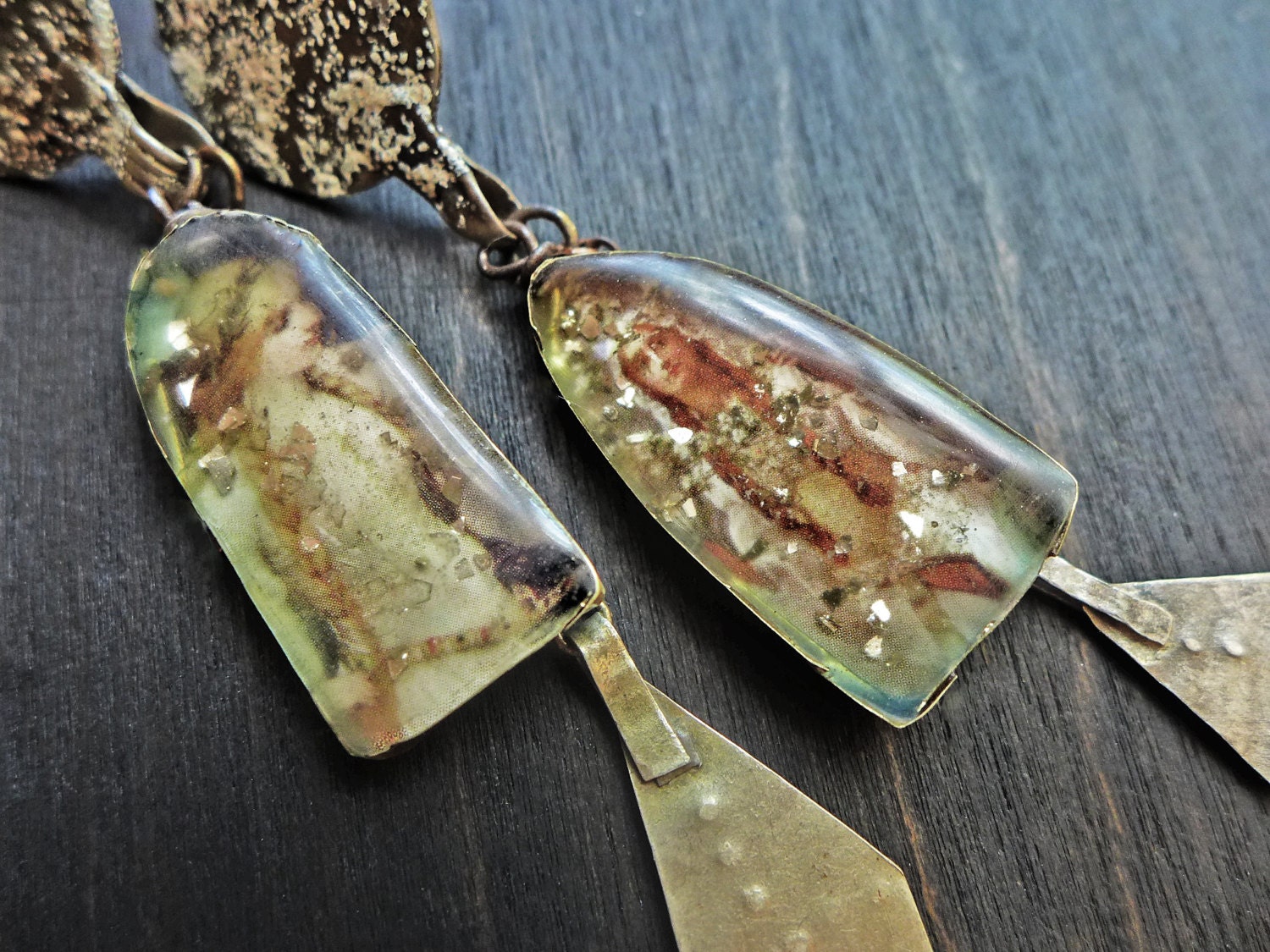 Plus I made a lot of tiny ones in the tute which are great for earrings and smaller things.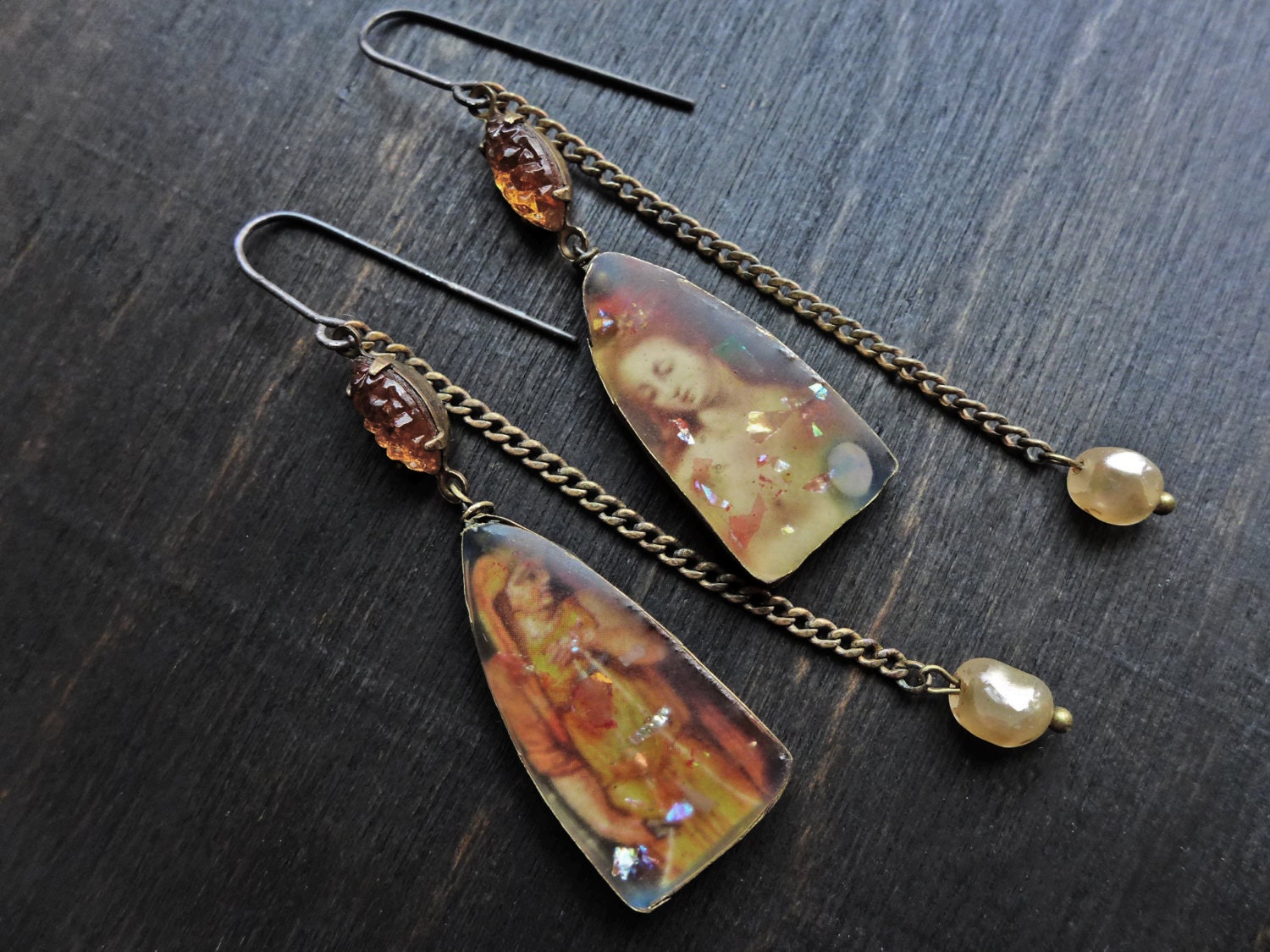 Sultana.
Like the little brooch below. Oh and I stumbled upon a lot of sweet old poems to use in naming them, the kind of stuff you saw in high school English then forgot all about.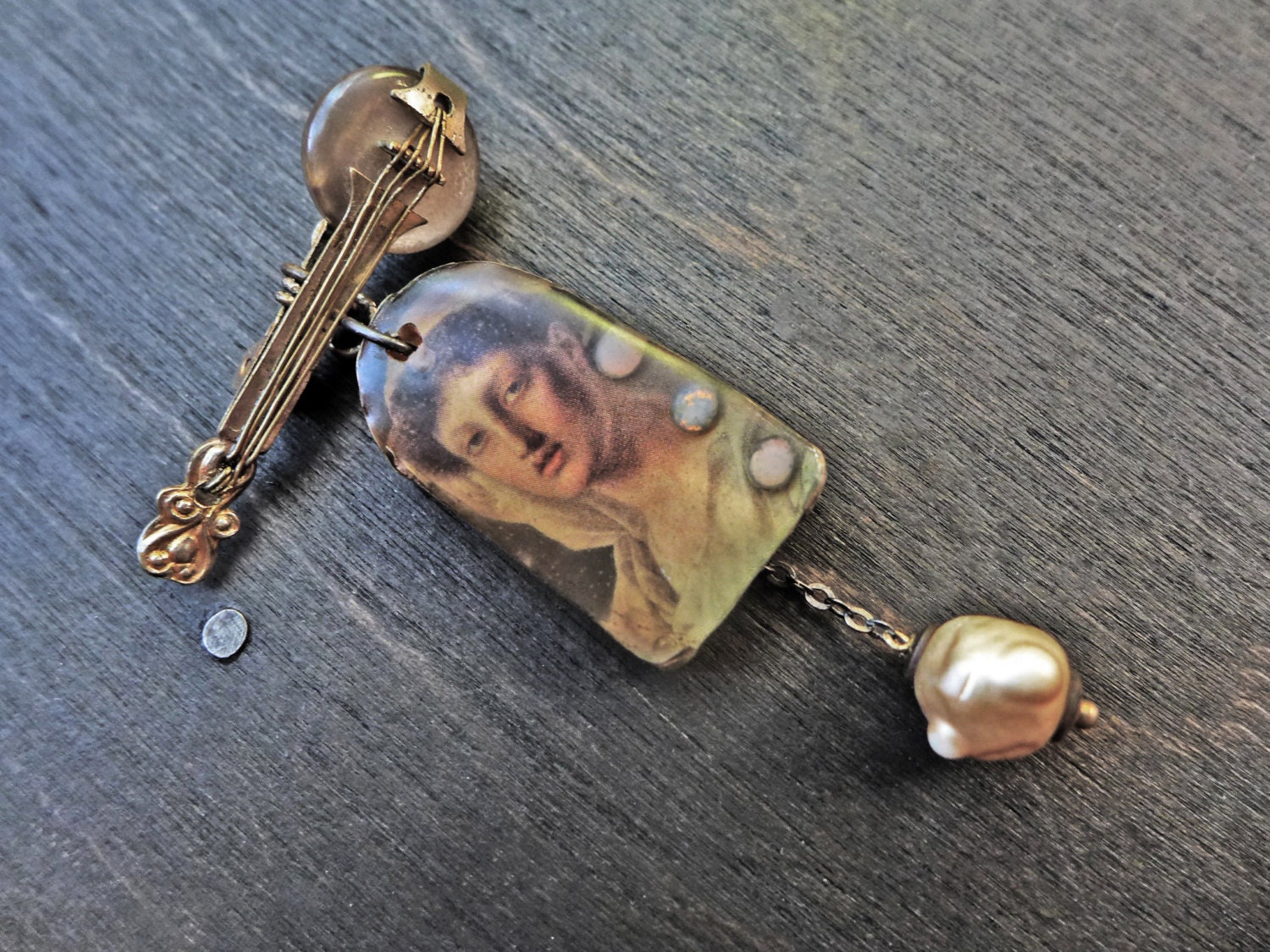 Music when Soft Voices Die.
Music, when soft voices die,
Vibrates in the memory—
Odours, when sweet violets sicken,
Live within the sense they quicken.
Rose leaves, when the rose is dead,
Are heaped for the belovèd's bed;
And so thy thoughts, when thou art gone,
Love itself shall slumber on.
-Percy Bysshe Shelley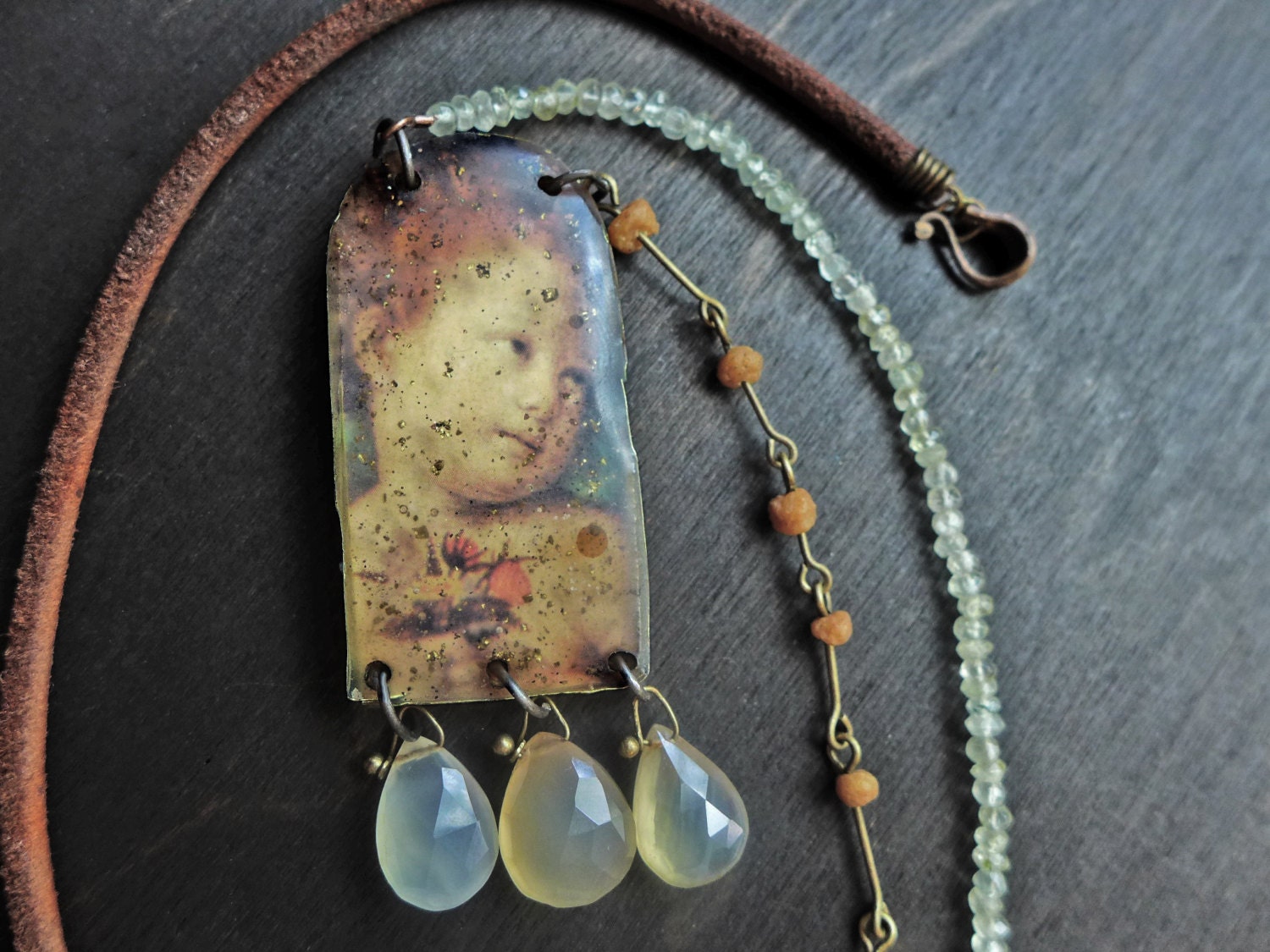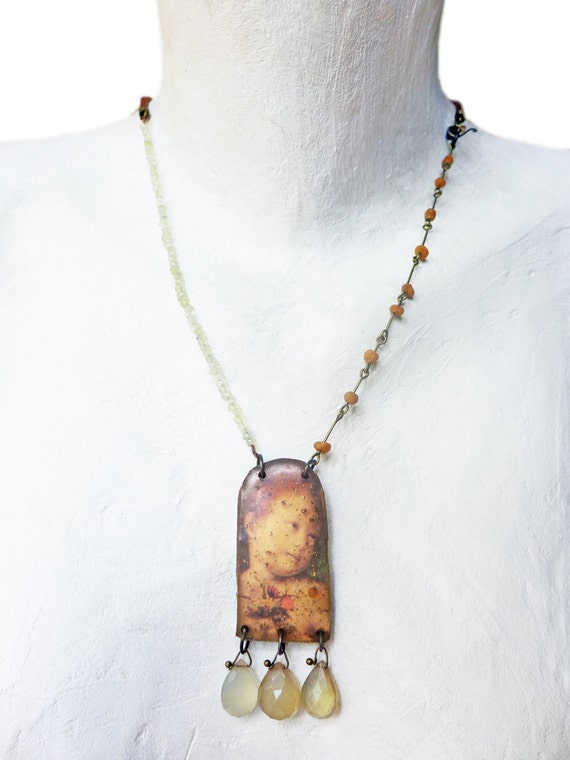 Naught but Love.
Like a hermit poor in pensive place obscure
I mean to spend my days of endless doubt,
To wail such woes as time cannot recure,
Where nought but love shall ever find me out.
-Sir Walter Raleigh
I really love how easy it is to make little trinkets from these bezels. Kind of the same with most of my tutes- after you hand make the focal it doesn't need much more to be a satisfying piece of artisan joolri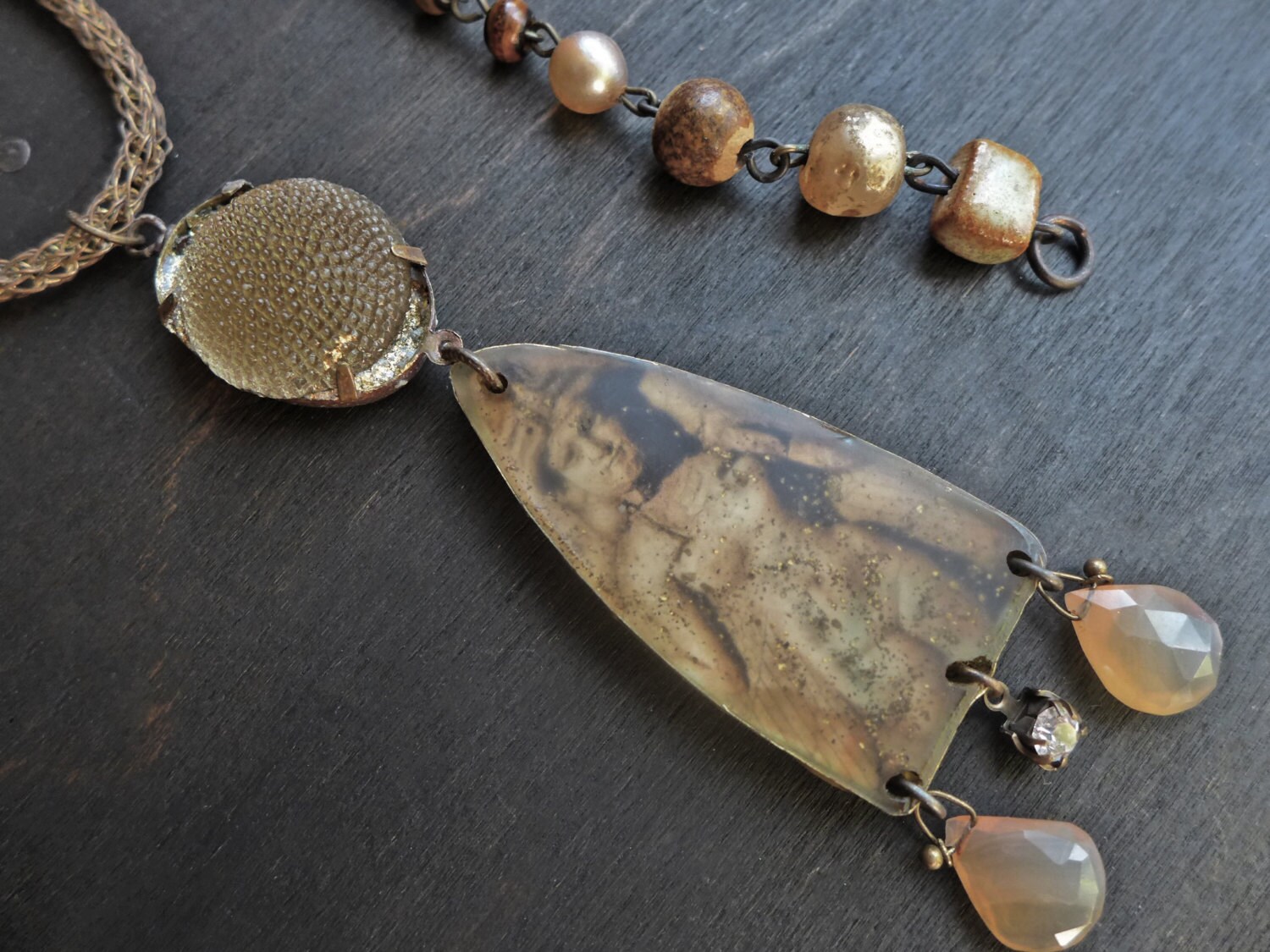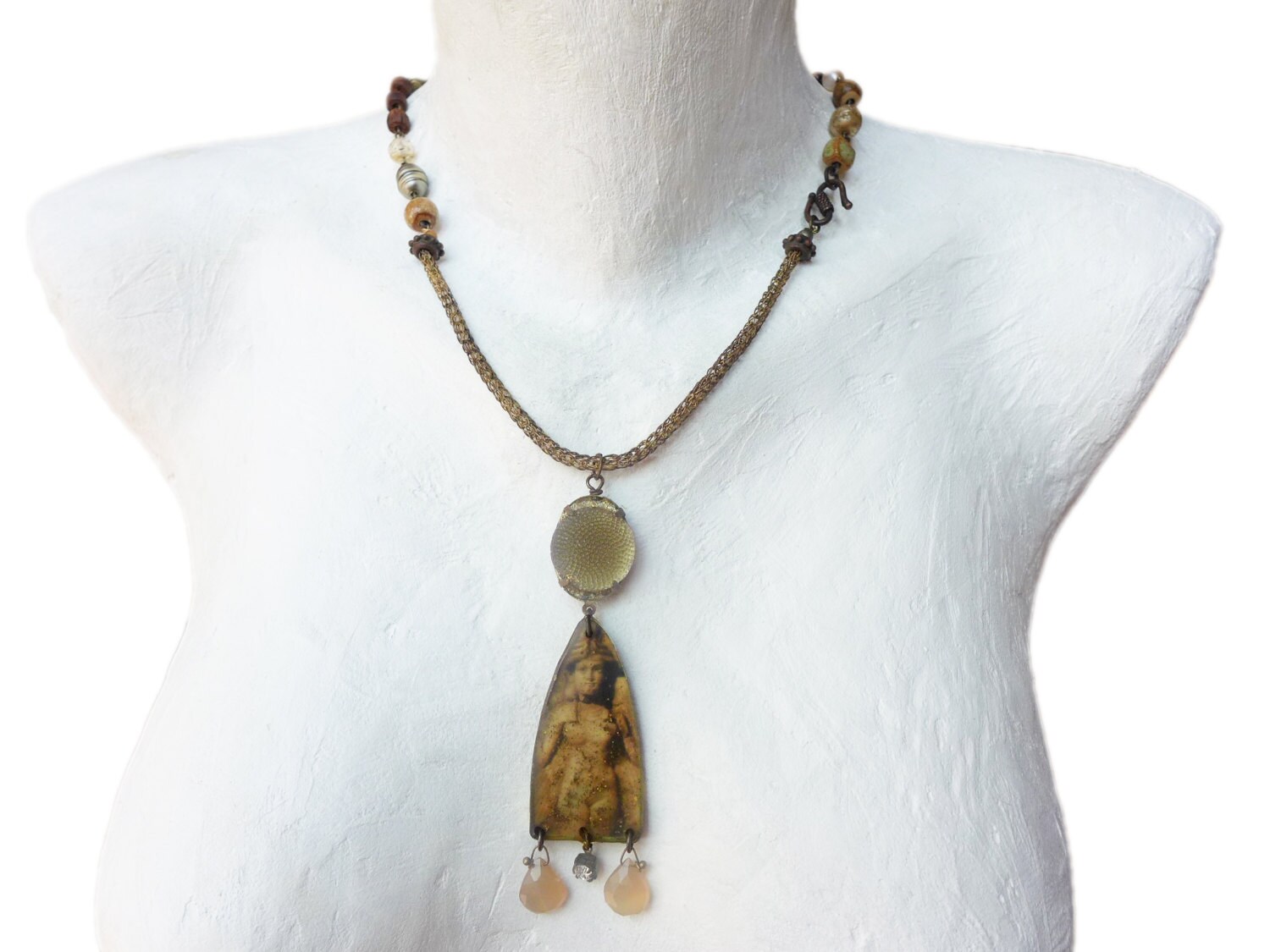 Passage from the Other World.
You who do not remember
Passage from the other world
I tell you I could speak again: whatever
returns from oblivion returns
to find a voice
-Louise Gluck
The chain in this one is a viking knit cord that I had made custom for me by an etsian I found
here
. I ordered her special dead soft raw brass cuz they usually only make them with non-tarnish wire and y'all know how much I hate shiny ol' non tarnish or plated anything.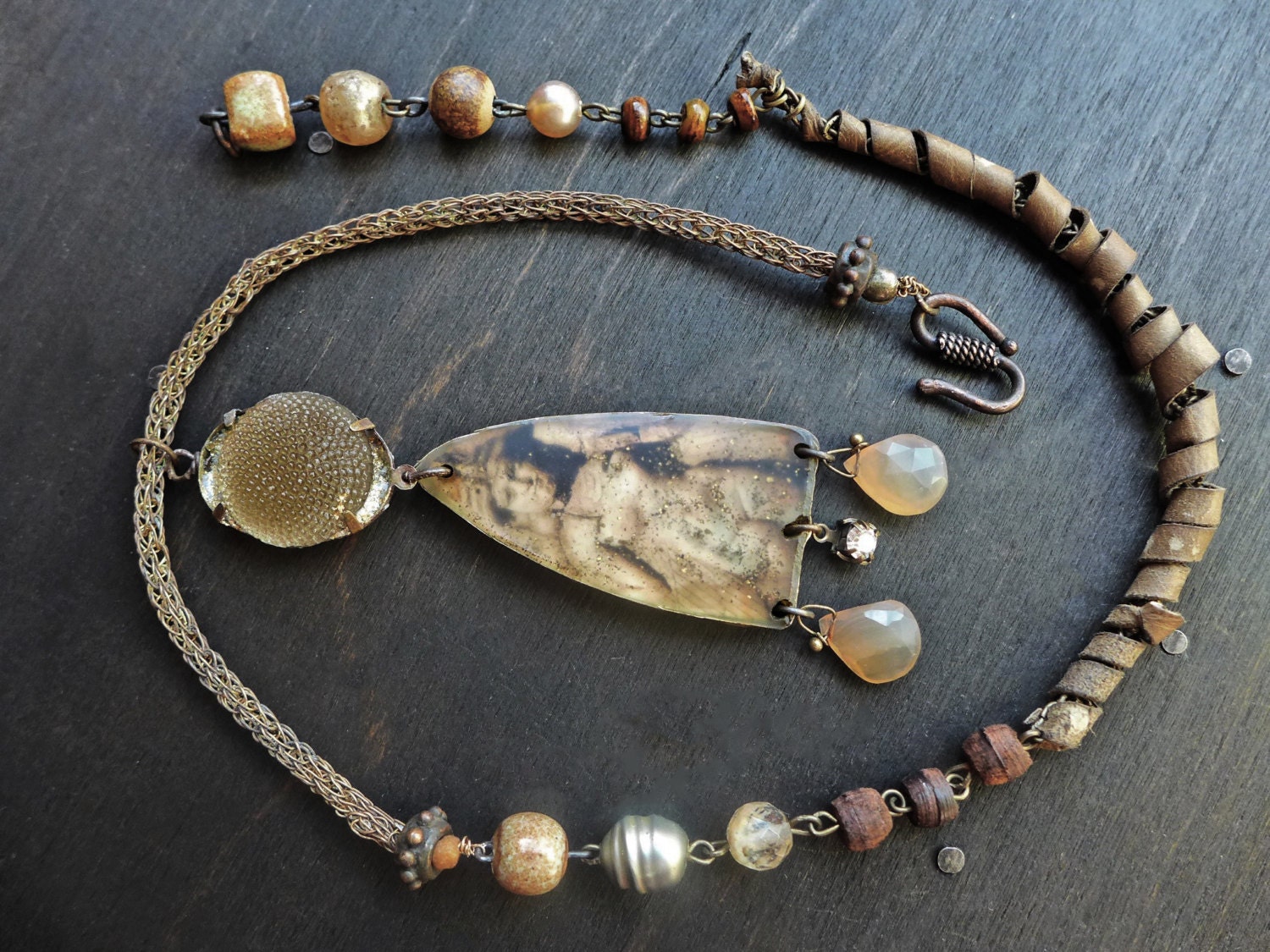 That big bumpy champaign-colored cab was a gift from TeapotsandTelephones. I set it on a completely non-fitting oval bezel for a sort of eye effect. I freaking love setting things in bezels they were not intended for. Why do I love it so much? Idk- it looks handmade and rustic I guess? It brings attention to the mechanics of the way a piece is put together, just like having clasps in front does?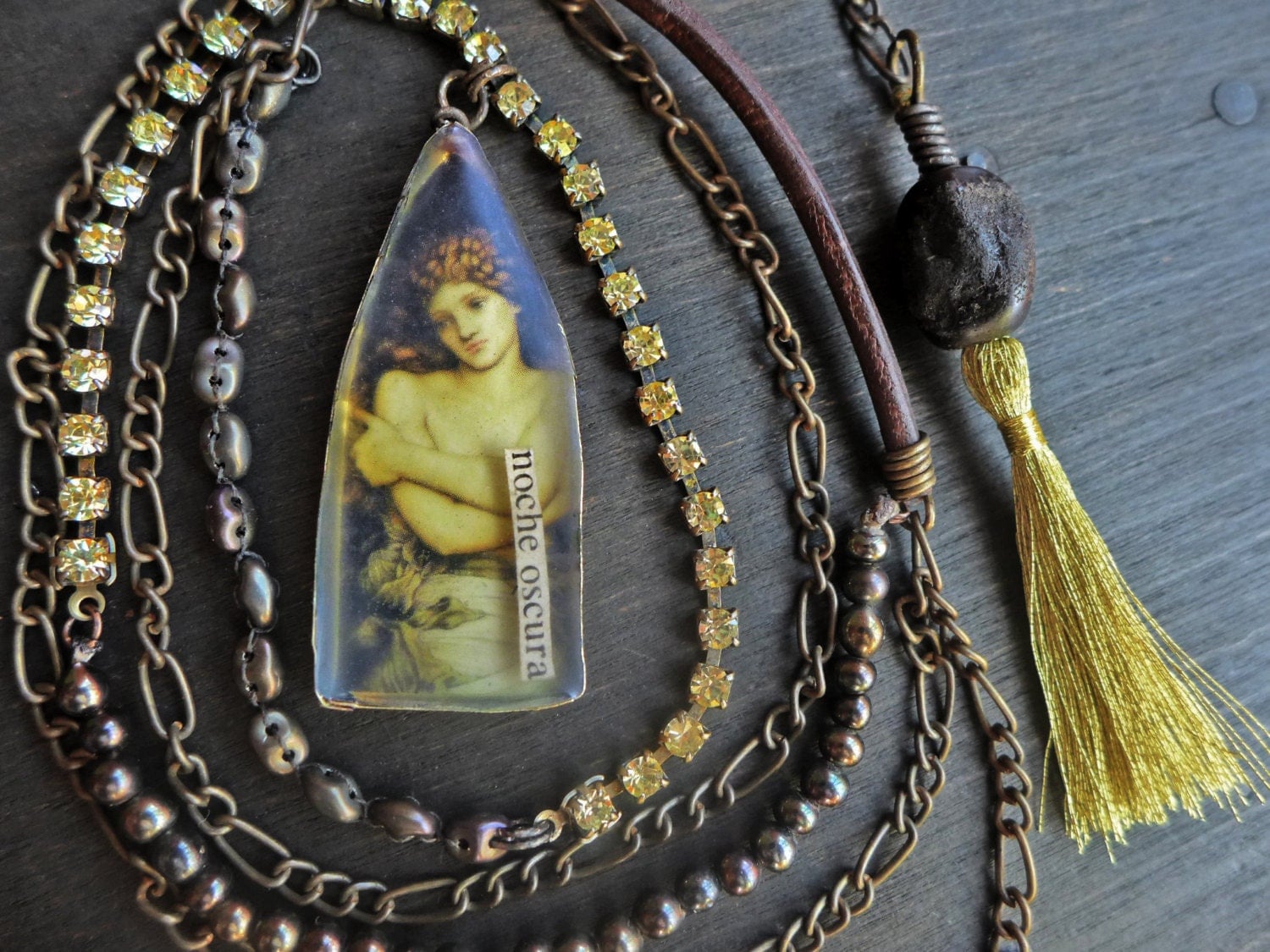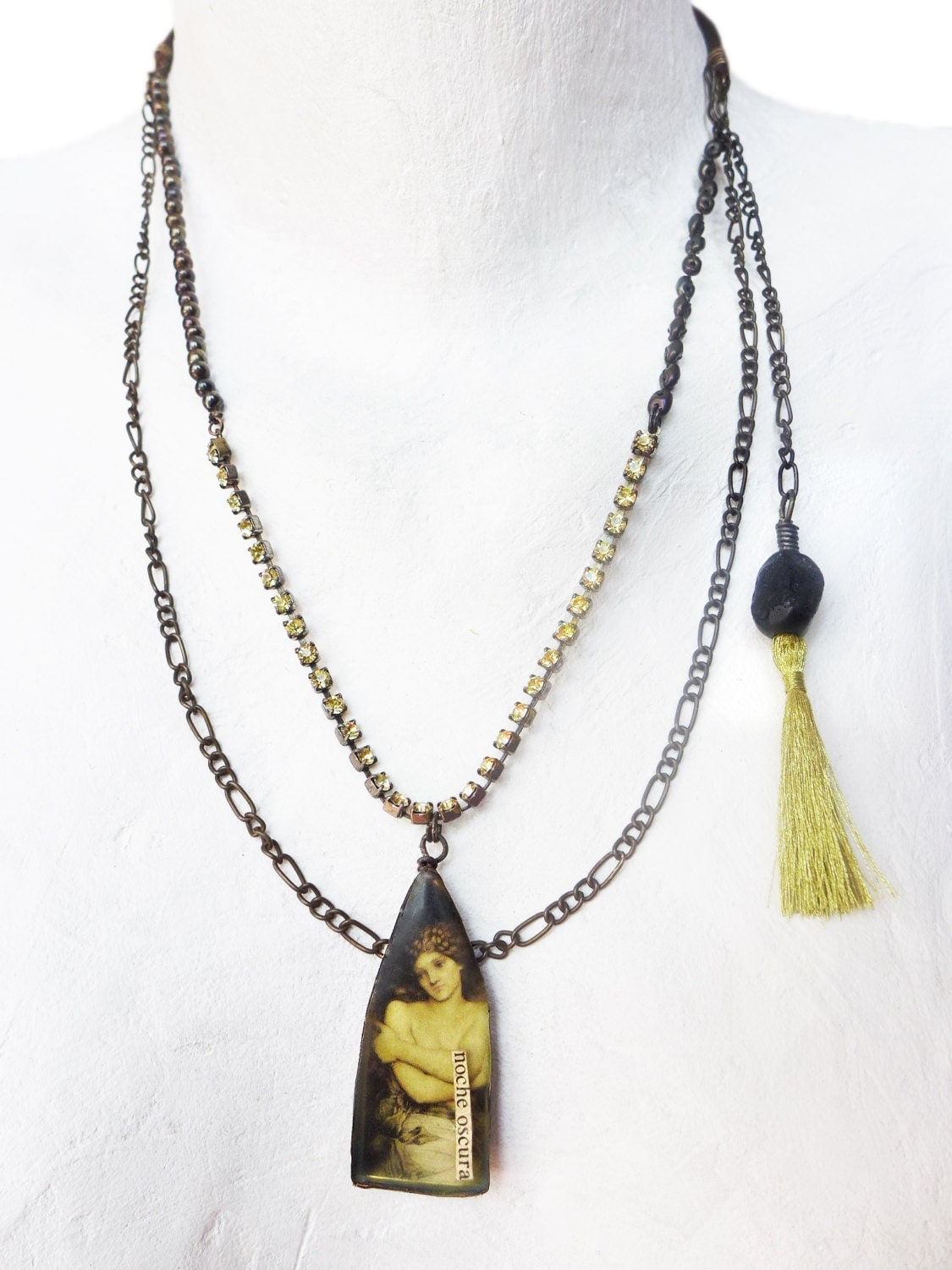 Dark Night.
Thanks also to teapots for the jonquil chain segment. Look at the little wonky rounds
💛💛💛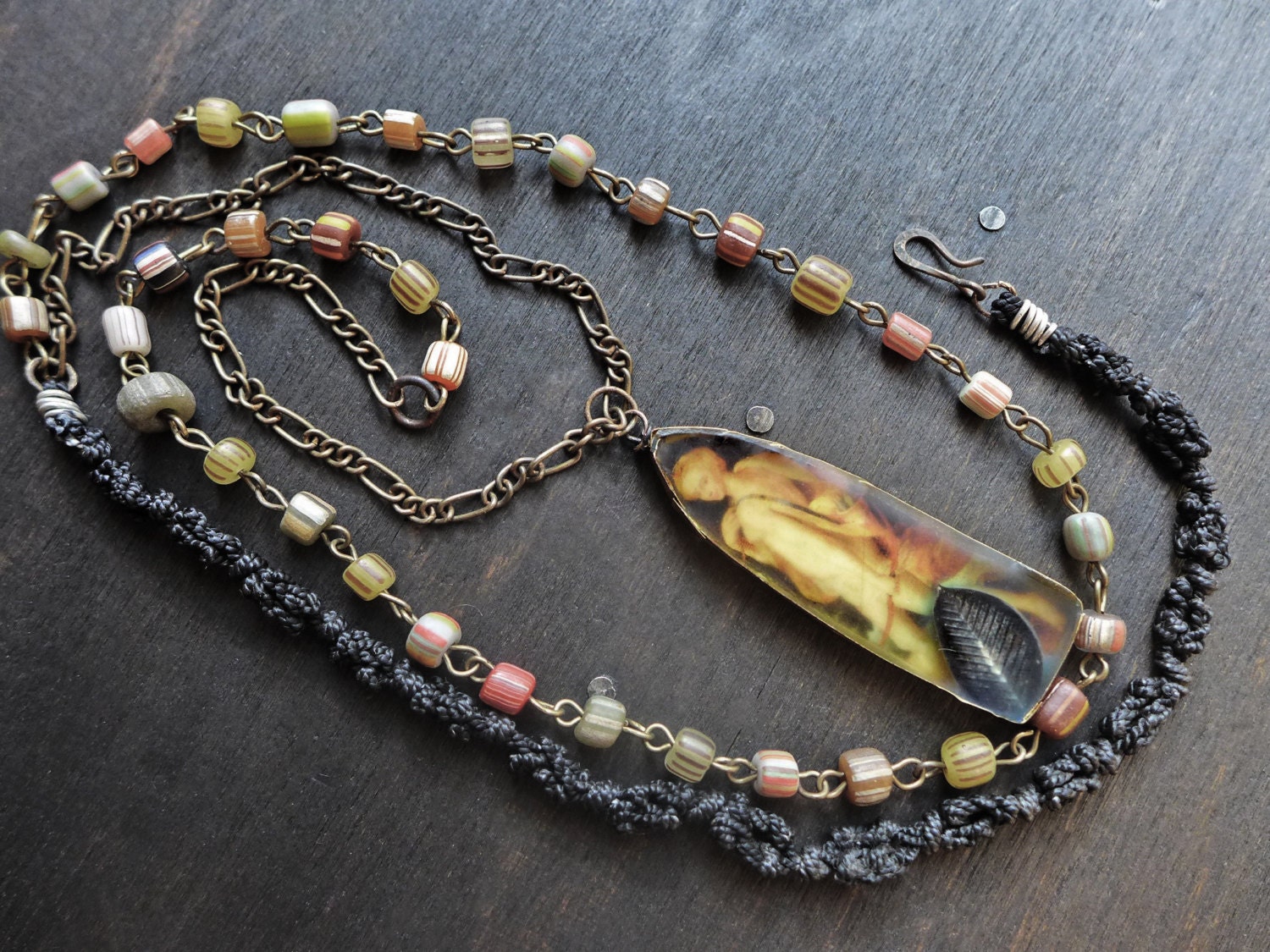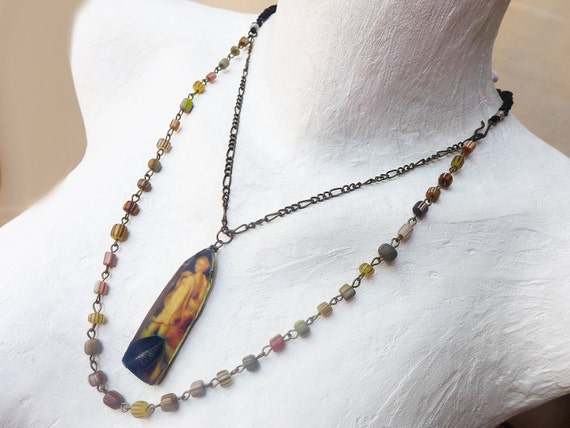 Diana the Hunter.
Bugs me when people call this goddess the "huntress." Unnecessary gendering. Is what that is.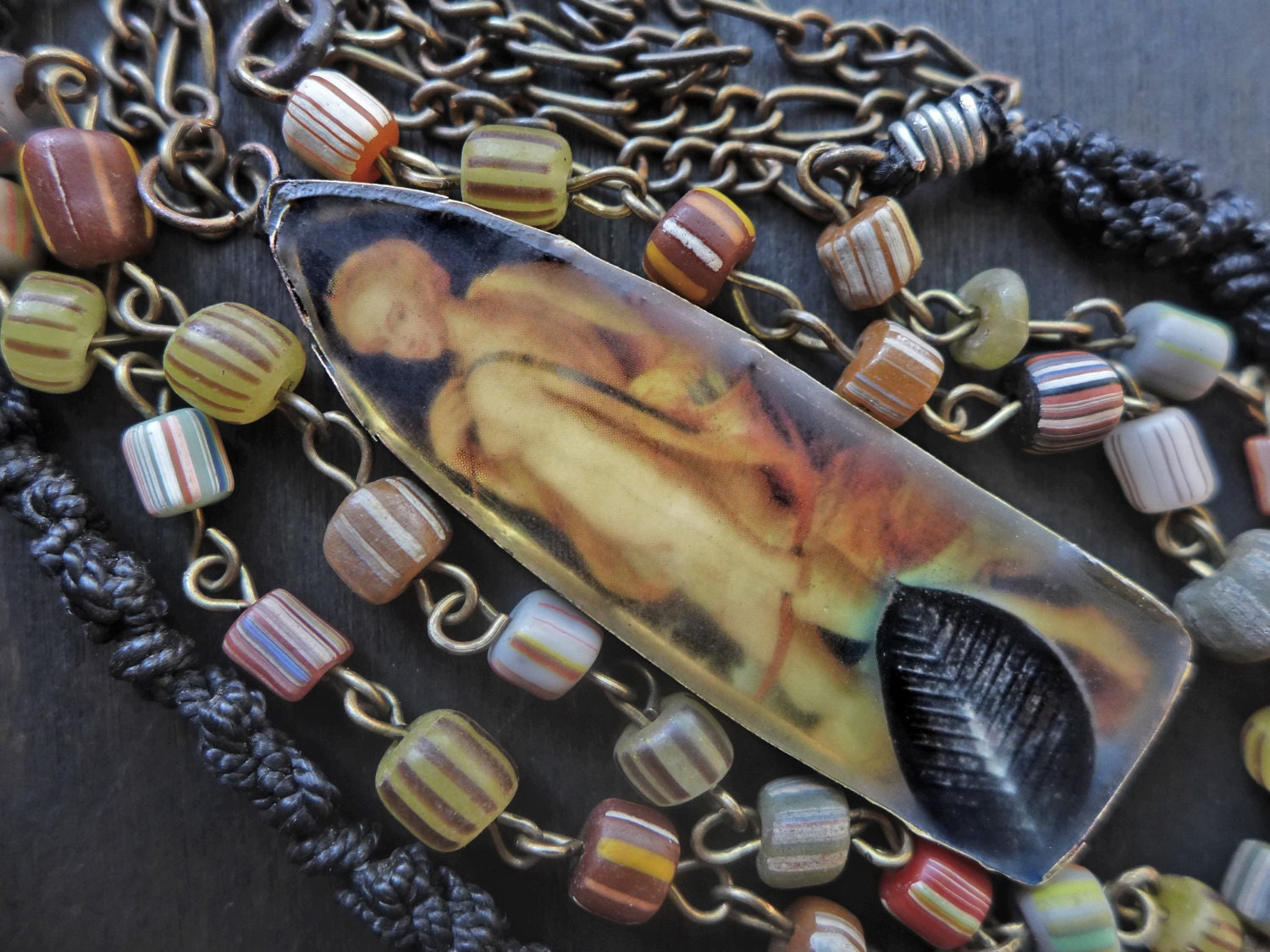 In personal news I'm still feeling good! Woo-hoo! My doggy Bingo sure is getting old and frail and limpy though. He's 14 after all. Mr. Devices worries about him 24/7 but I think he just likes to. Did I tell you guys how glucosamine/chondroitin gave us our puppy back for at least a year though? Anyone out there with old dogs go get you some. You need a high dose but it's a miracle really.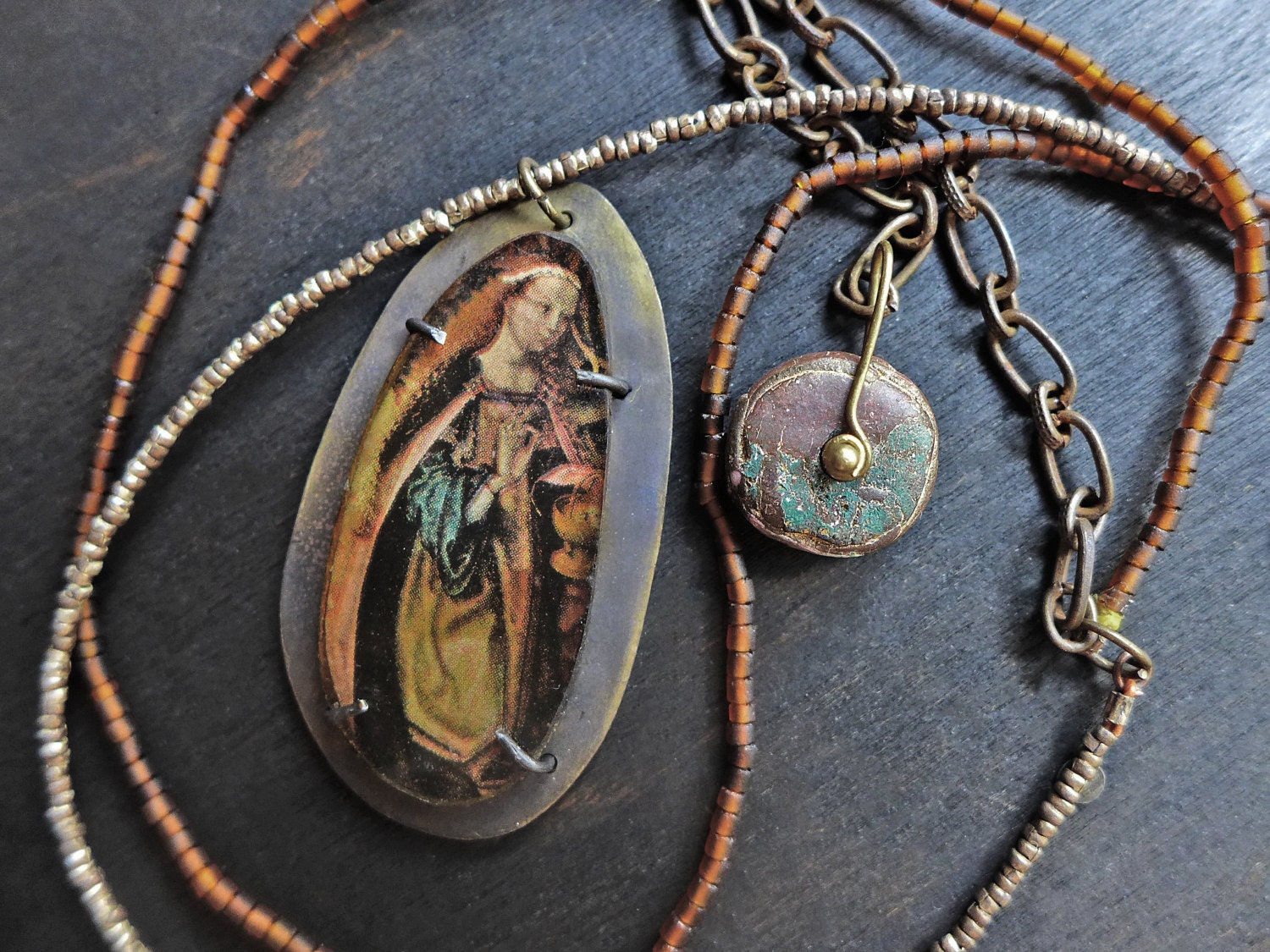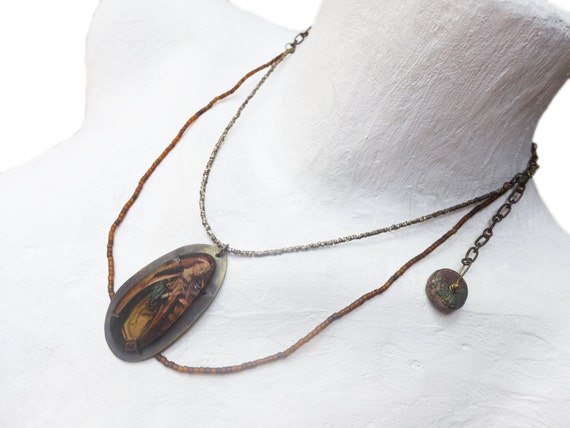 Mother
OMG how much do I love these teeny Ethiopian heishi? New obsession, they are everything. (That's something the kids say now: "It's/They're
everything
". I spend too much time on tumbler and know way too much about what the kids say now.)
And finally, on the resin report: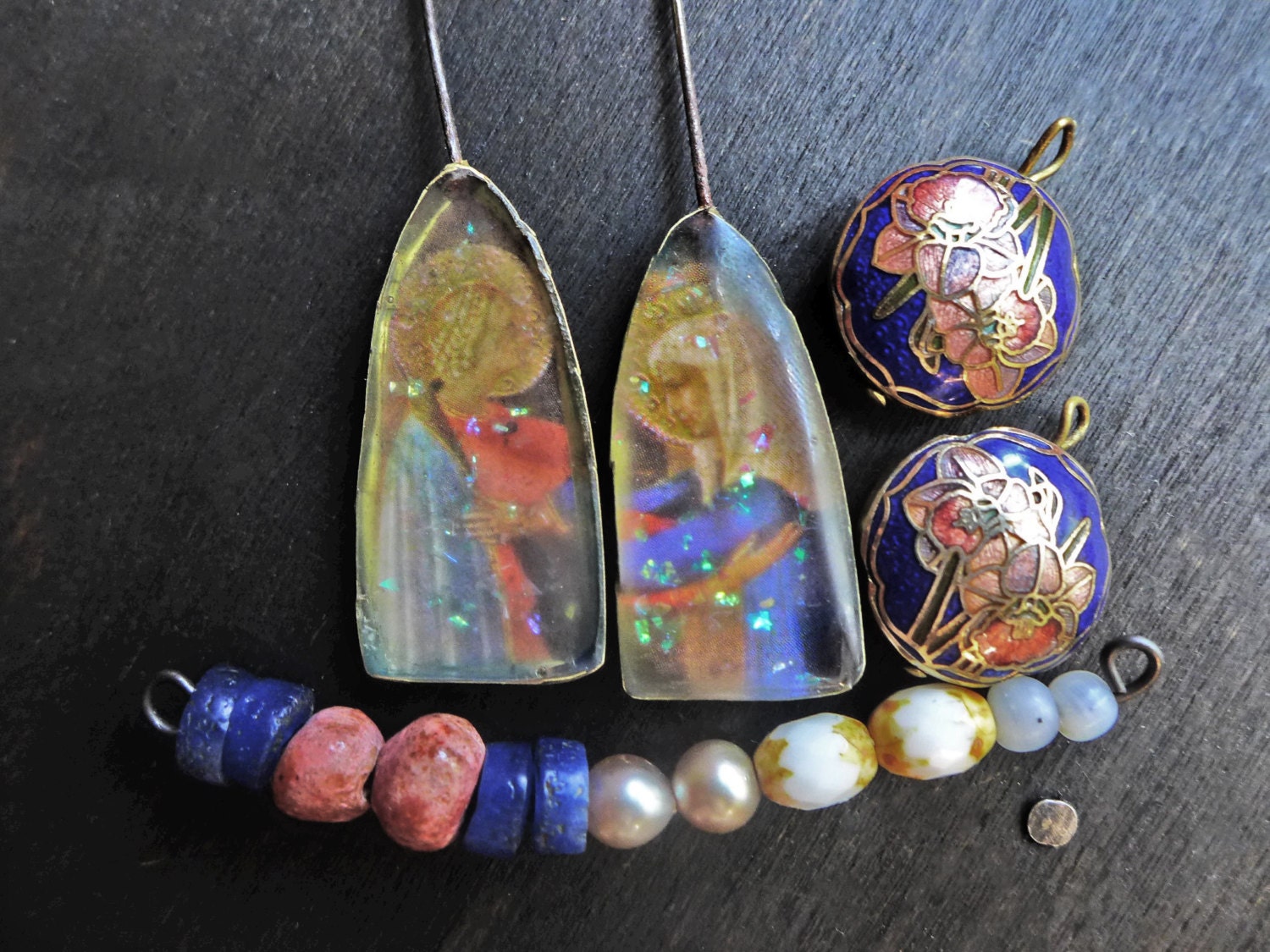 Earring Inspiration Kit.
I realized finding these co-ordinating elements was all I really wanted to do and nothing further. So I'm selling them as kits.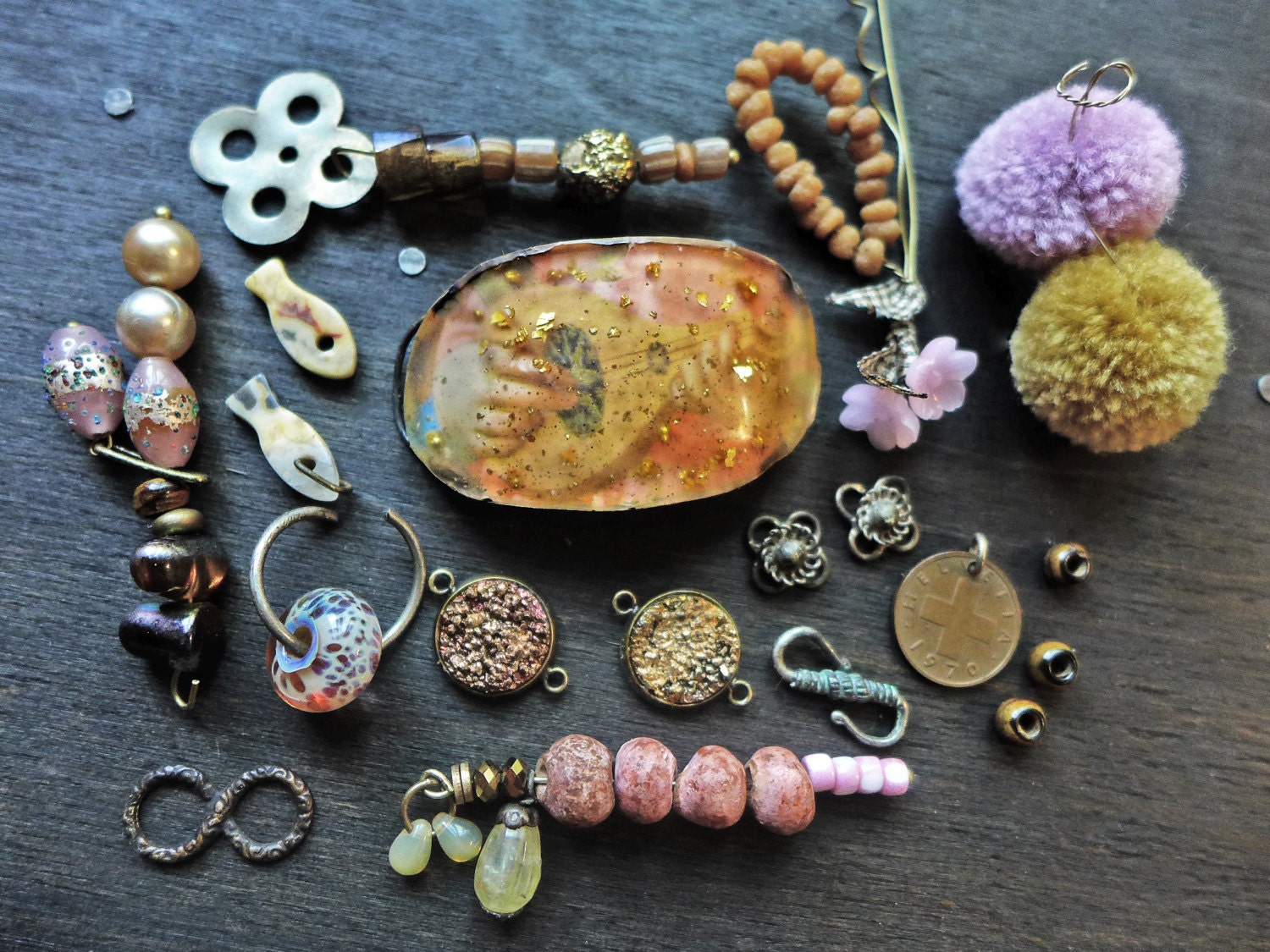 Bracelet Inspiration Kit.
I found way too many things to go with the bracelet kit though. But aren't they cute? I'm selling them for not very cheap though cuz screw it the bits are all really special. Like here the faux druzy, I painted it to combine with the colors of the bracelet connector.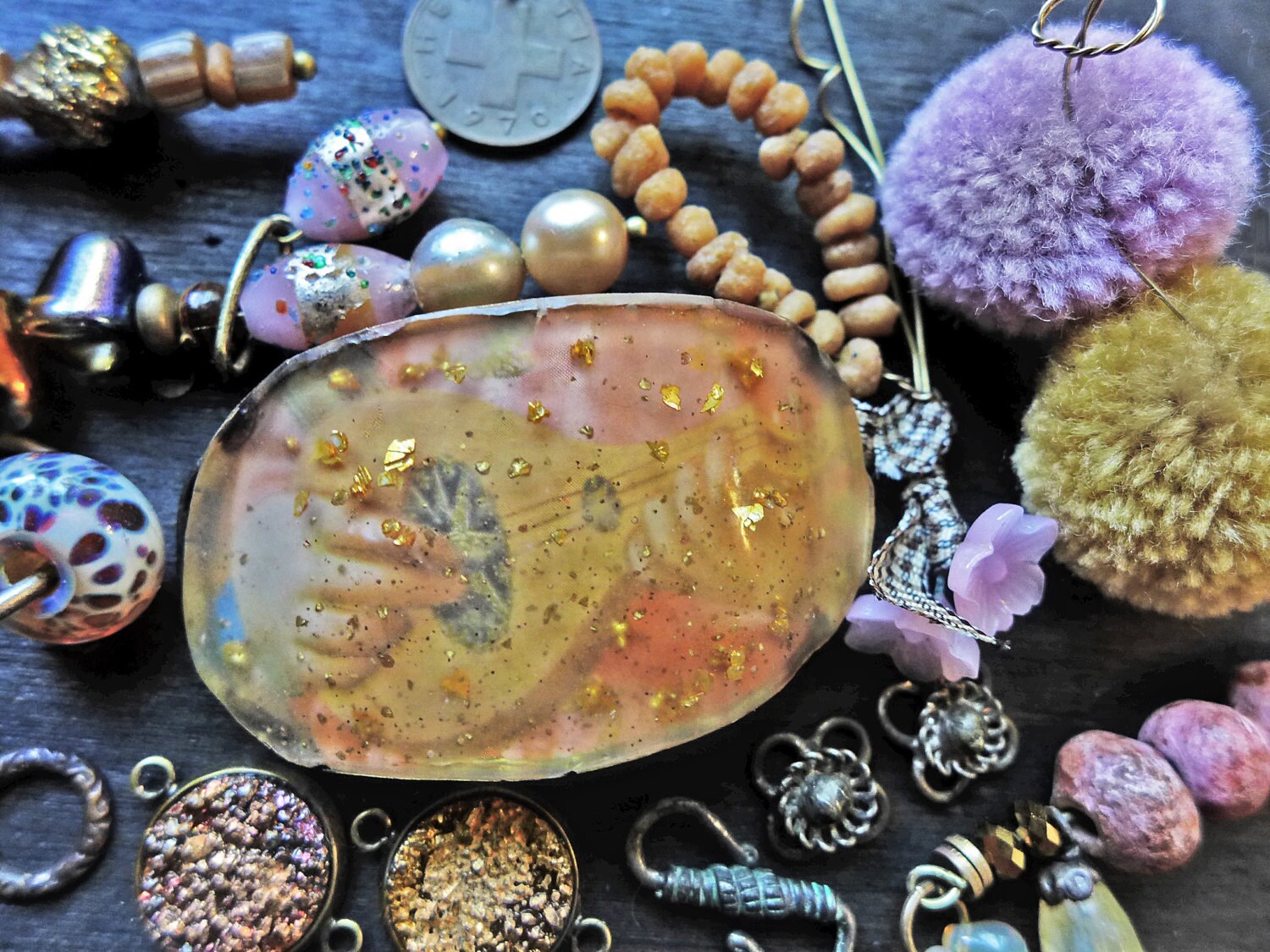 In non-resin-related news: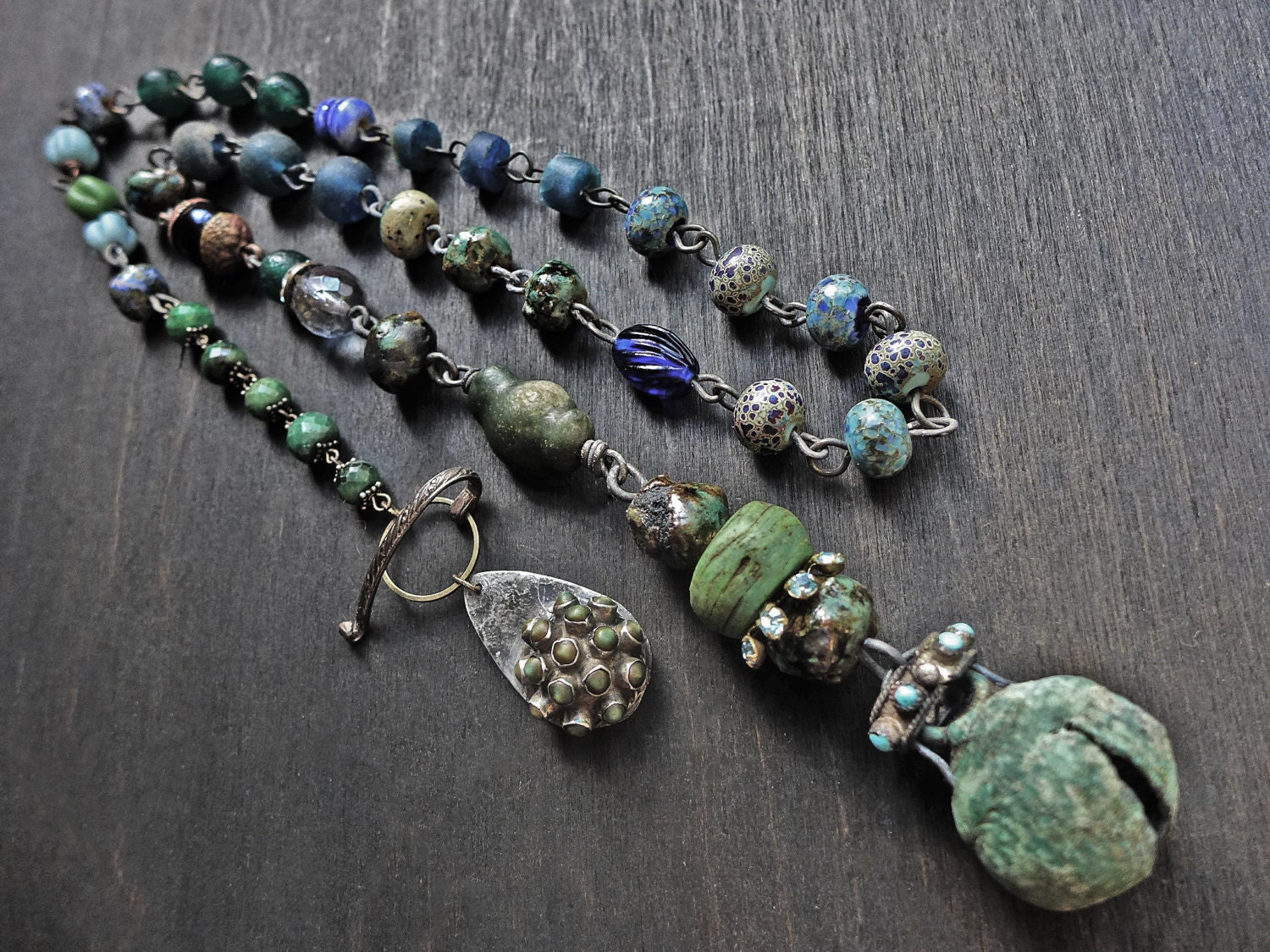 Thaumaturge- a Worker of Miracles.
This is it! My last big chunky blue/green lariat. Uses ancient Roman bell and a couple pieces from my Inheritance haul. Like the drop that looks like half a mine? It was a clip on earring I soldered to a piece of brass I cut out.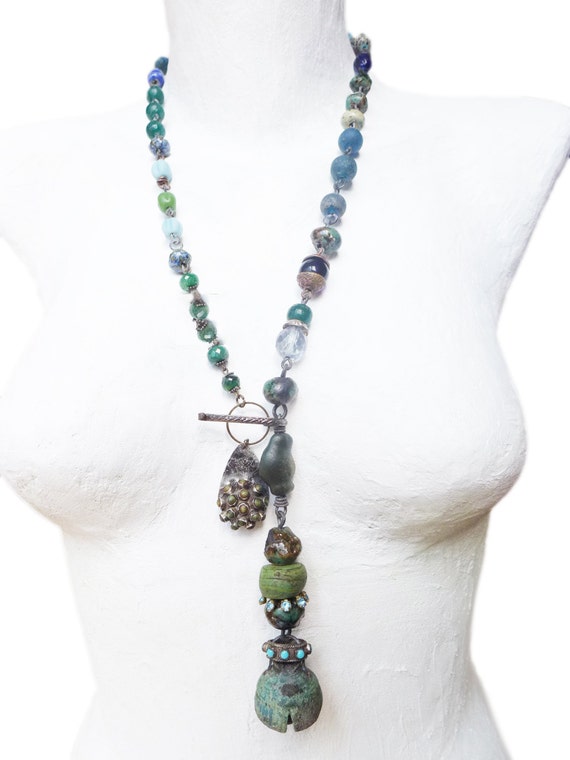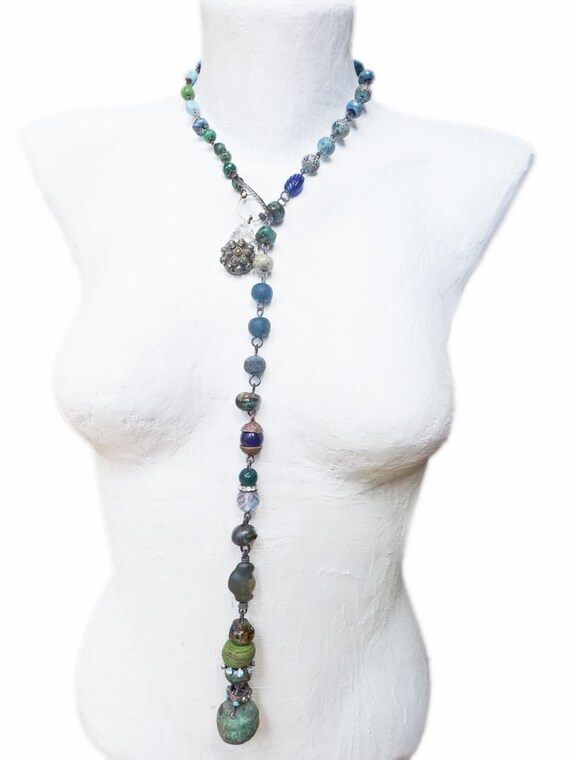 This is actually one of two lariats I made upon request of a buyer. Well, she wanted one but as I made it, it evolved into two. The other she's already purchased: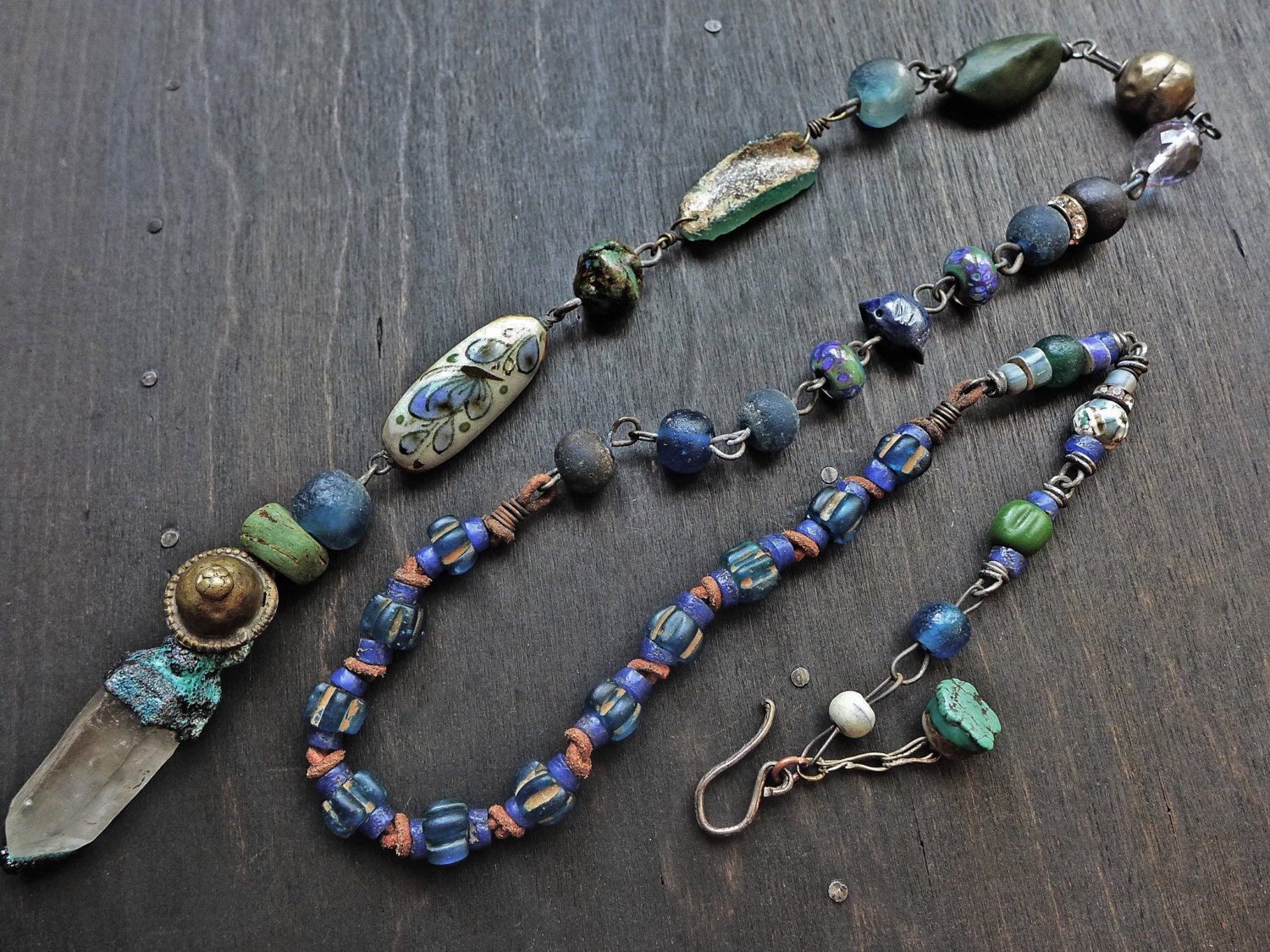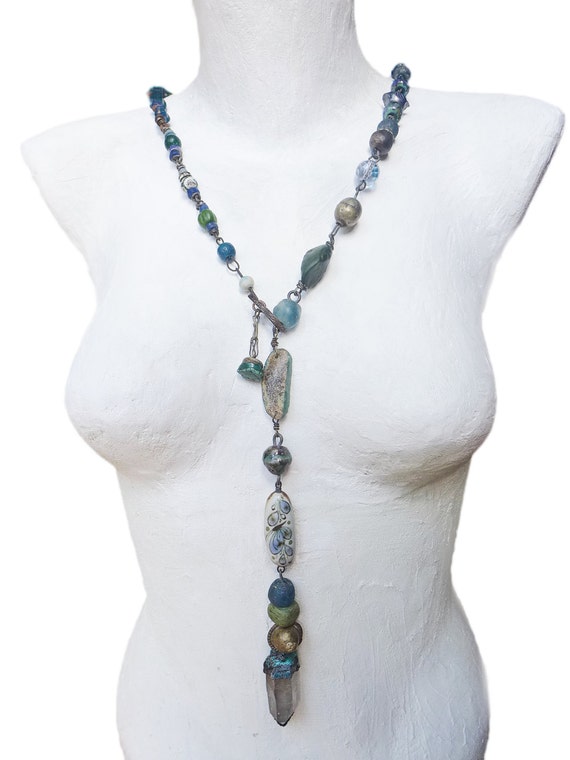 So I finally used up all my big chunky blue/green supplies and it's a relief. There's still a bunch of things in my red pile I need to make but yeah.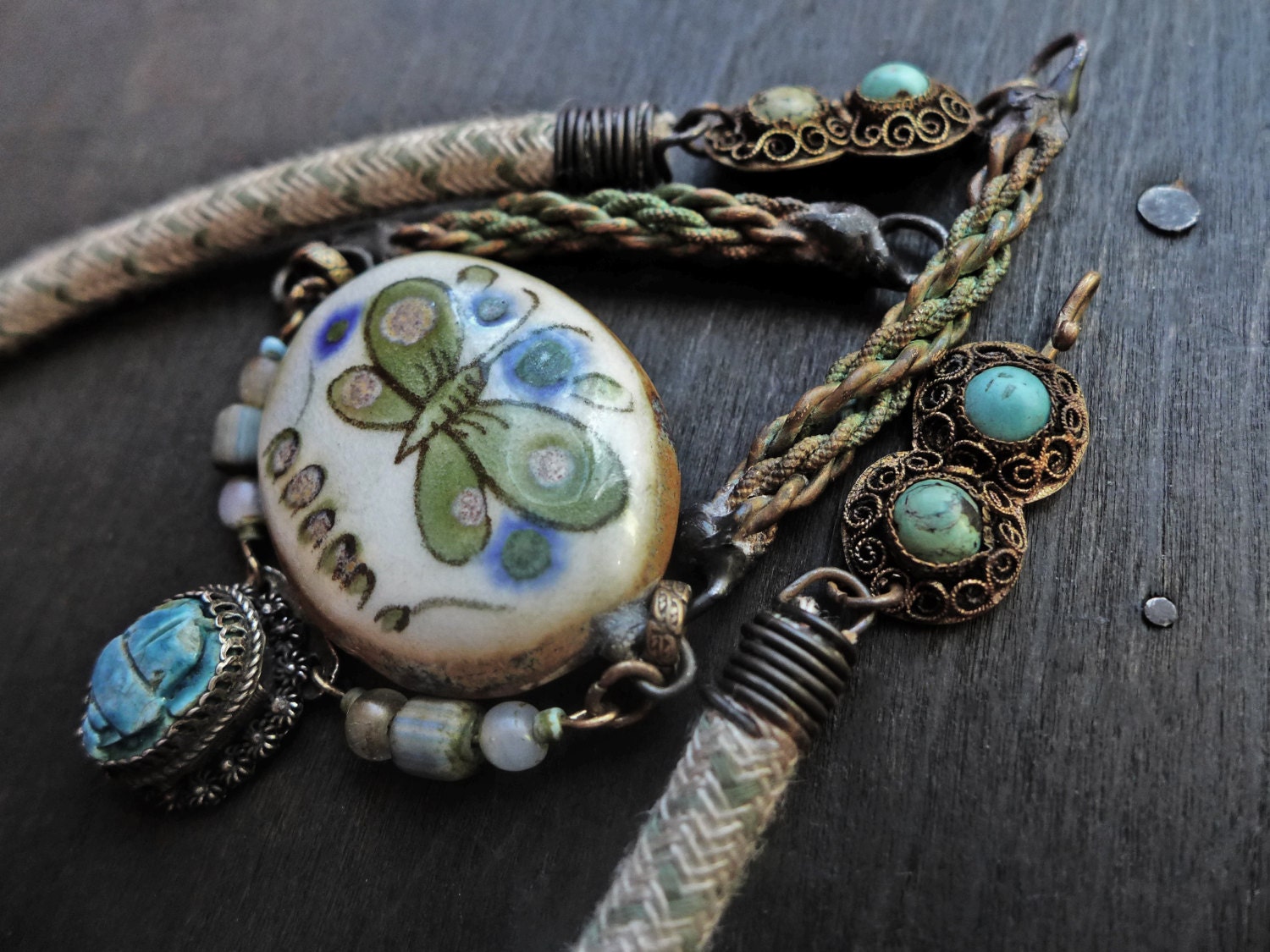 Metanoia.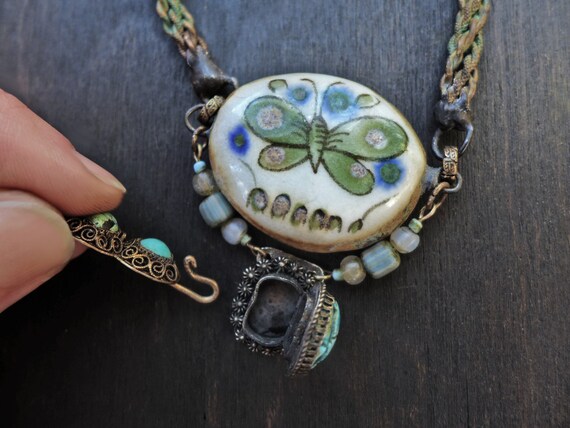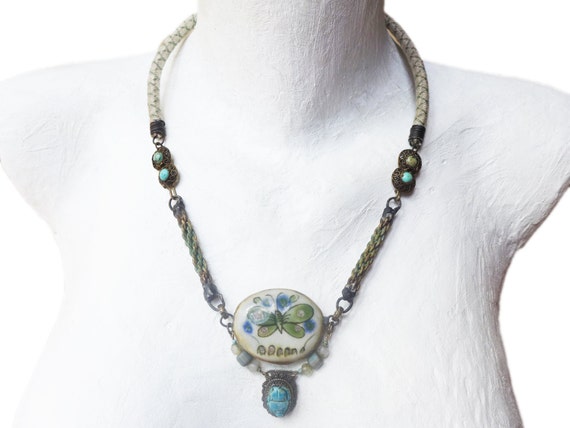 Check this shit out- that cord is a cloth-covered electrical wire cord for renovating antique lamps!! I found this shop and had to buy a bunch of 1 foot segments. I mean, they're thick you can't use them for lots of things but sheesh I just love them.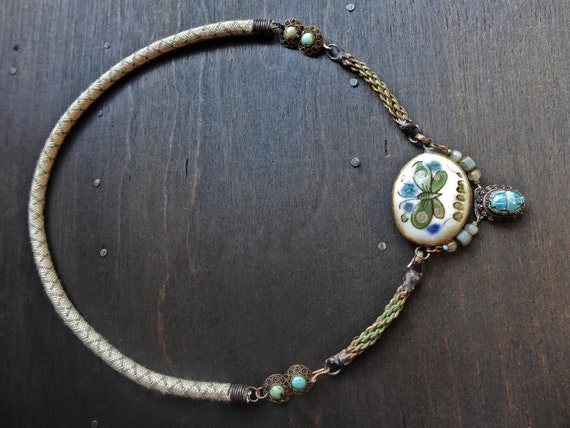 Plus that scarab is from a poison-ring-style clip-on earring. For when you want to store your poison powders right at your ear lobes. It and the dual turquoise cab segments there are Inheritance haul.
Next, non-resin related earrings.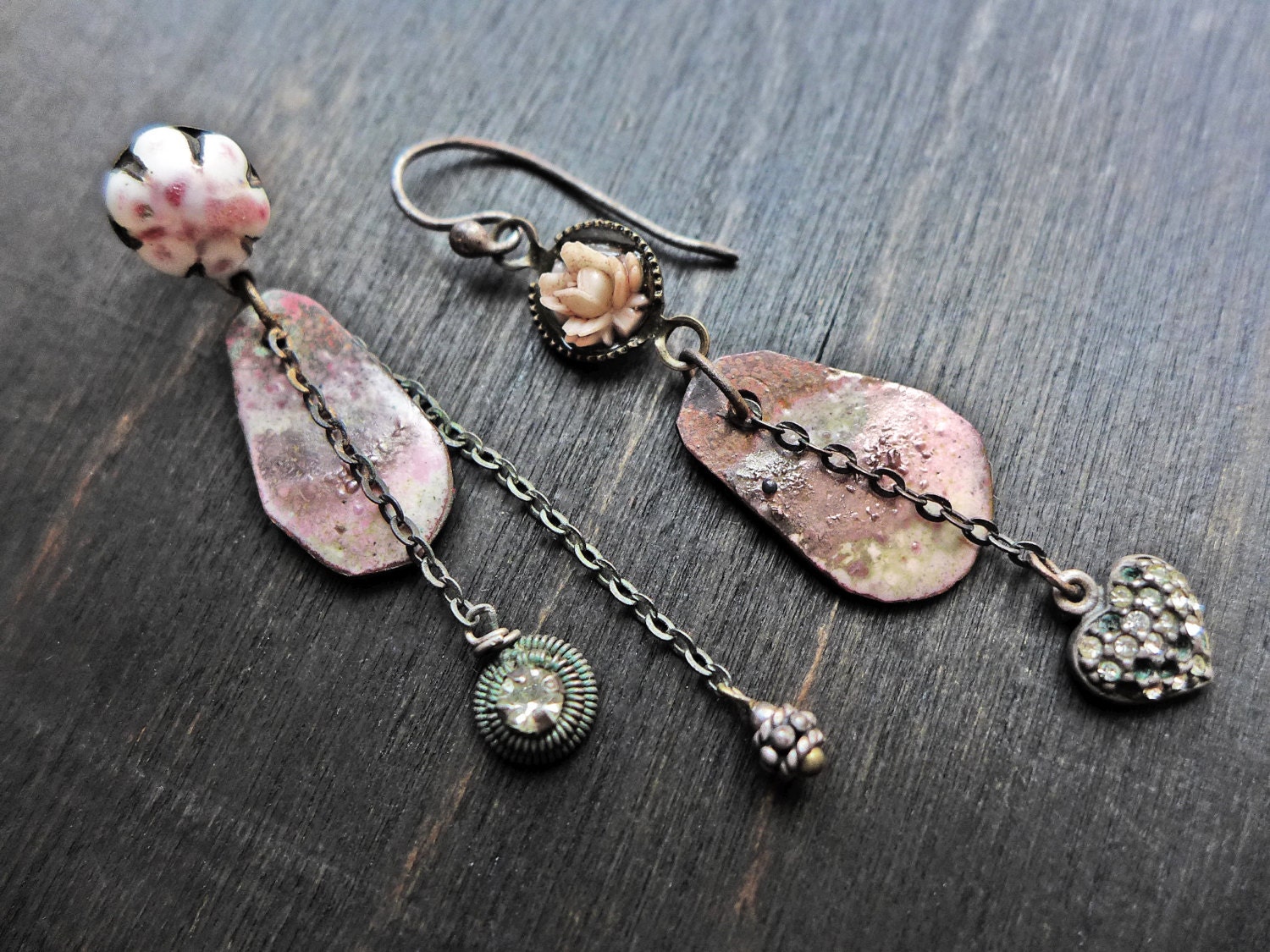 Compassion.
Torch enamel drops by 4Ophelia, other bits from inheritance haul.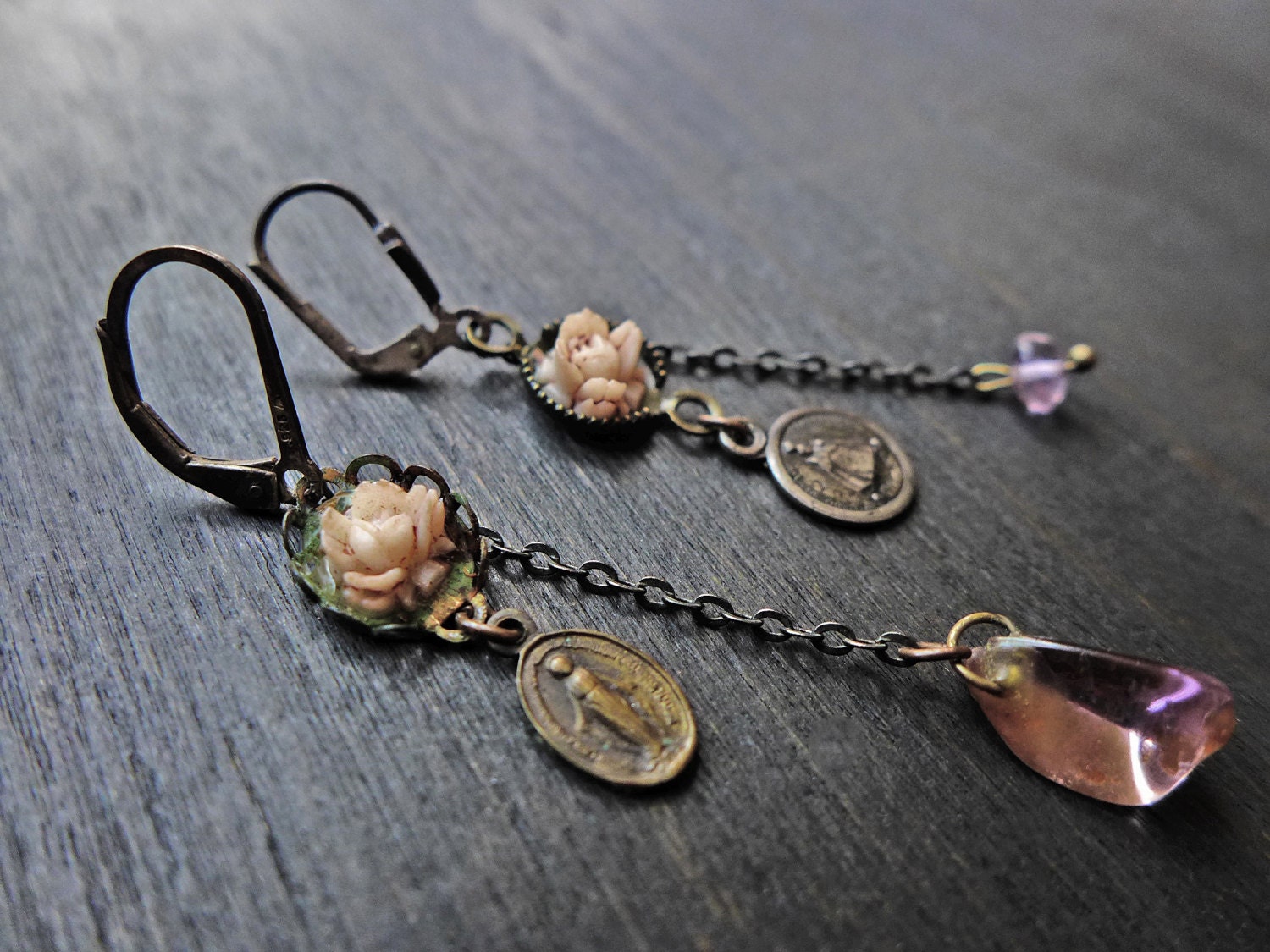 Mother and Child.
Like these bits! Even the sterling leaverbacks. Except not the celluloid flowers, those I just bought on etsy.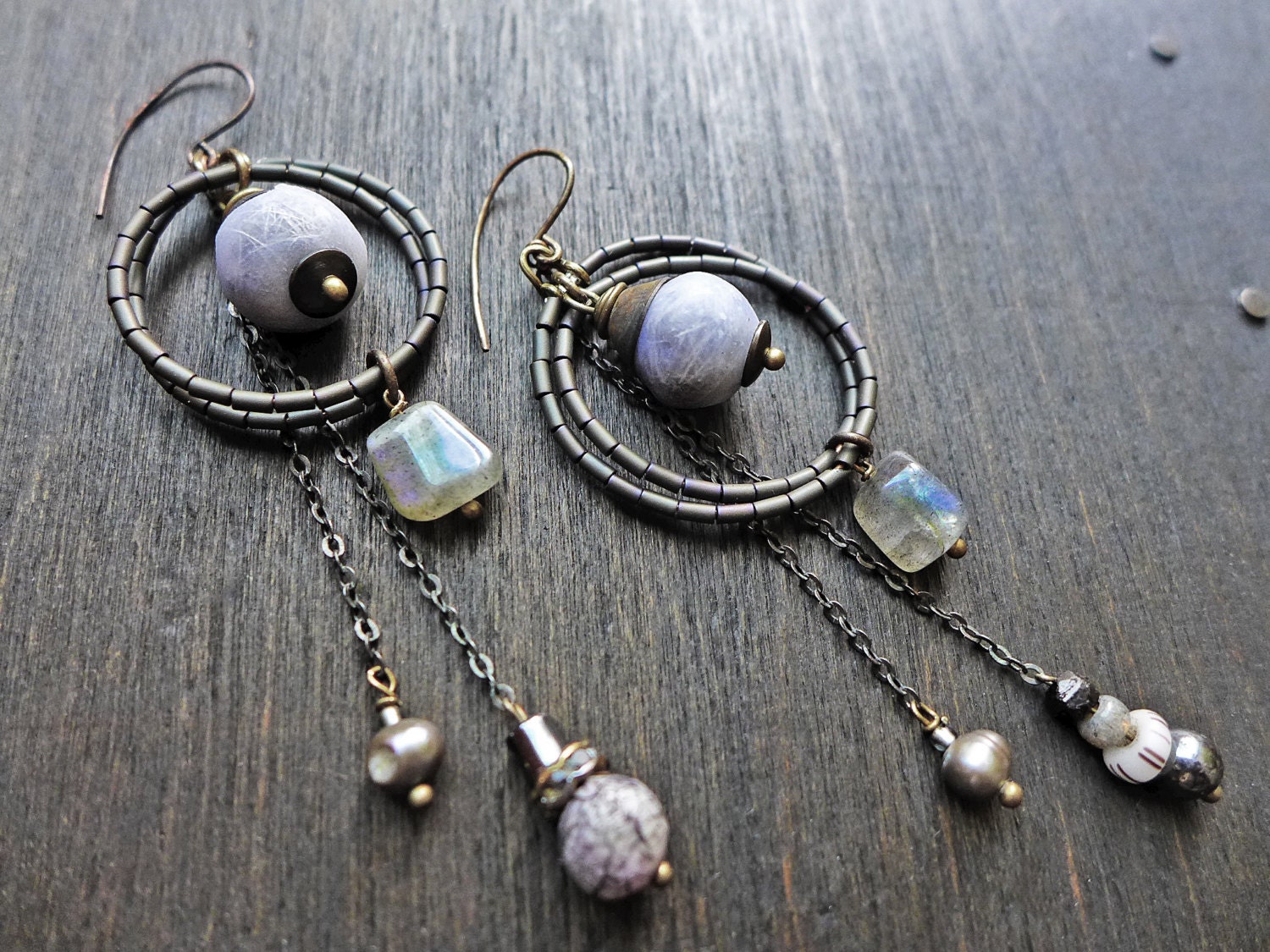 Petrous.
Oh these are some polymer experiments that I had abandoned but then I looked at them again and decided I liked. The rounds are coated in a layer of semi-translucent clay through which you can just make out these shiny silver Angelina fibers.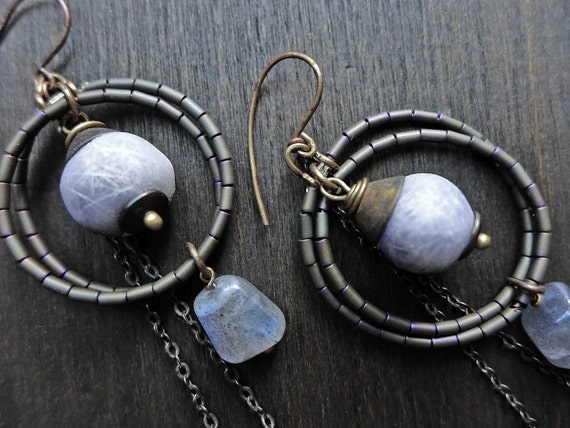 What else?
I was finally able to list three of the necklaces I blogged about last time.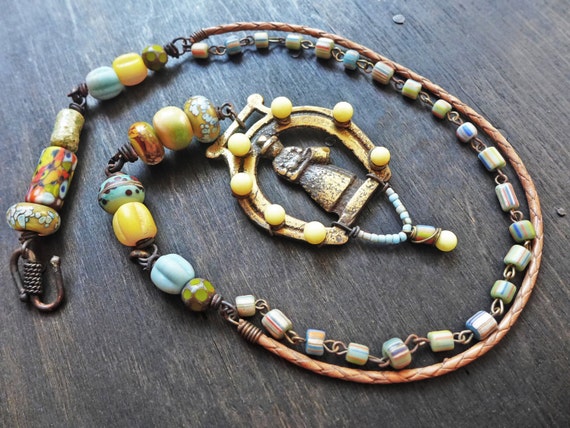 The Coming Day.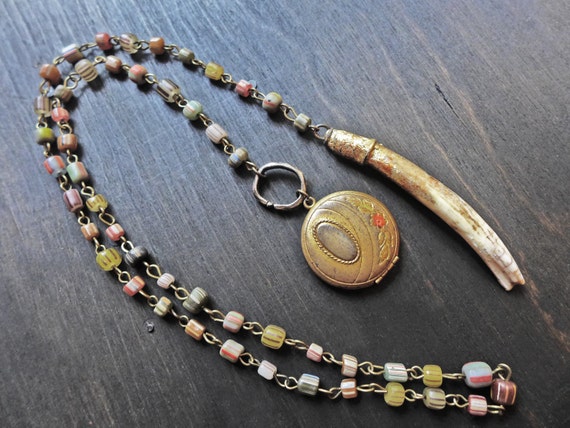 Pregnatress.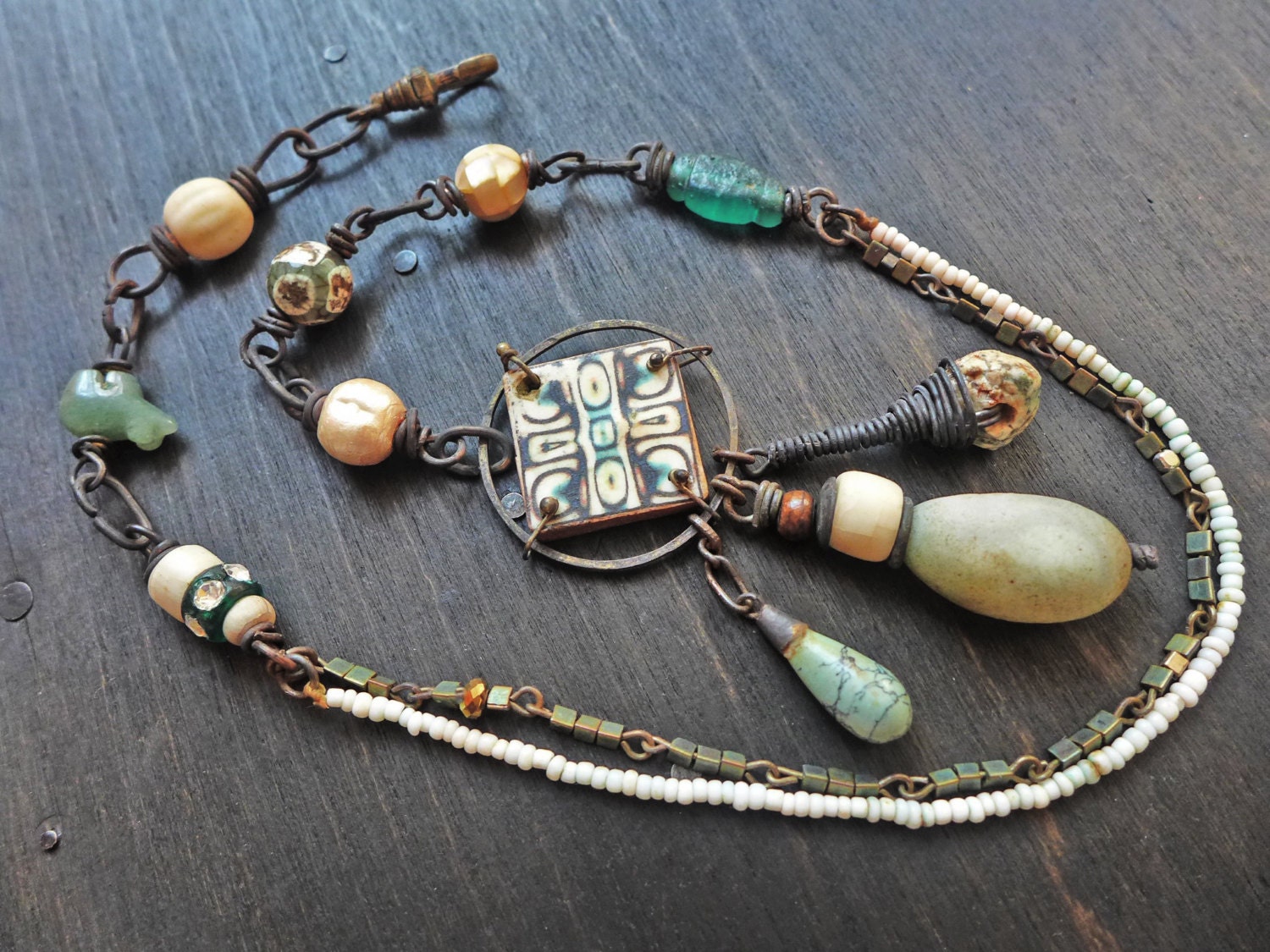 Winterfield.
And that's it for now. See y'all on the flip side.