Have I been blogging? No. Have I been making? Yes. Am I recuperated from the surgery? Sorta. It's not going as fast as I would've wanted and I seem to have some serious dizziness issues now cuz I wouldn't be me without issues!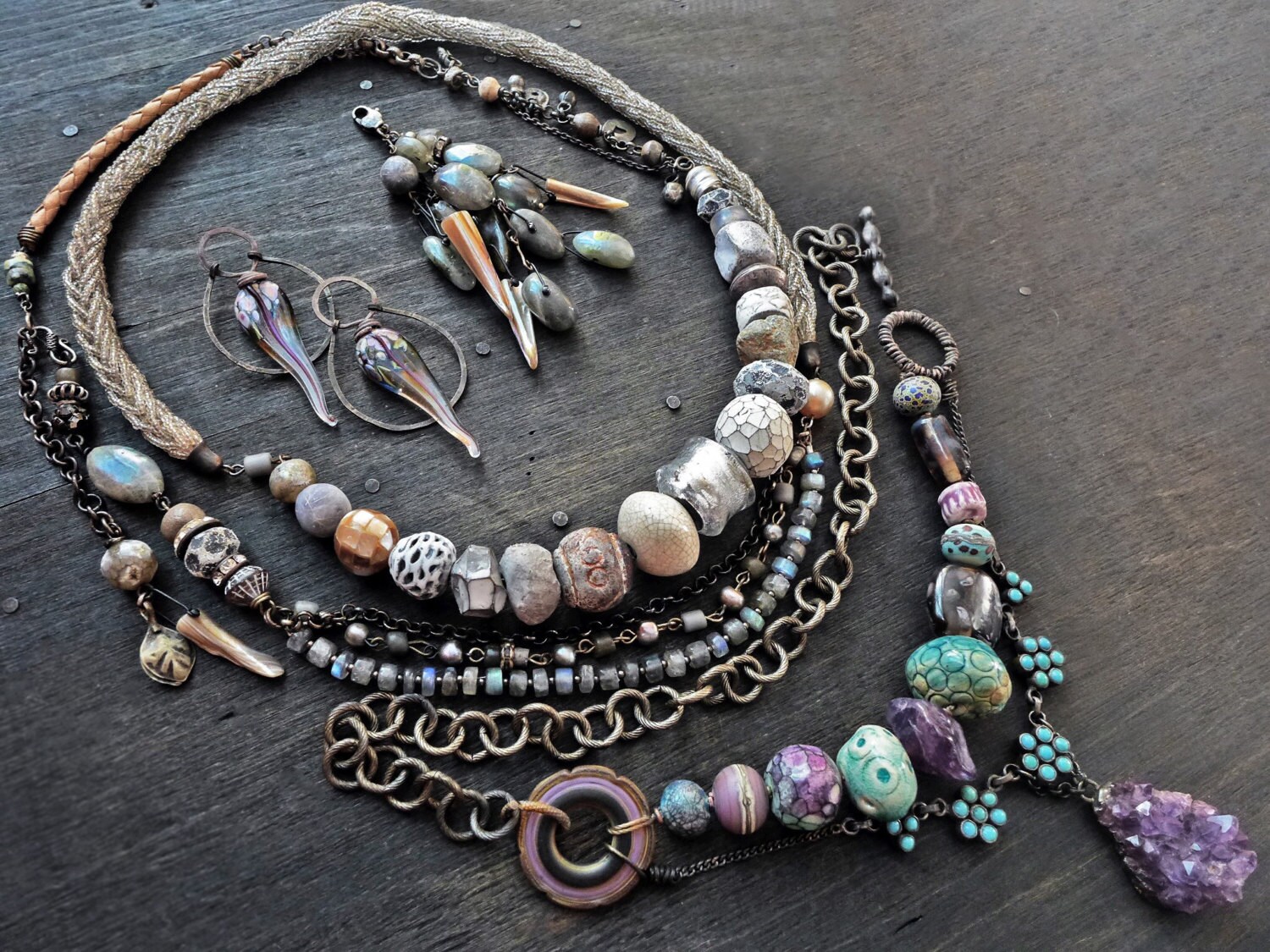 One lovely customer sent me a bunch of her theeengs to make something out of. Kinda funny because I can recognize all my etsy peeps among her stash, and I just got to play with her pretty stuff!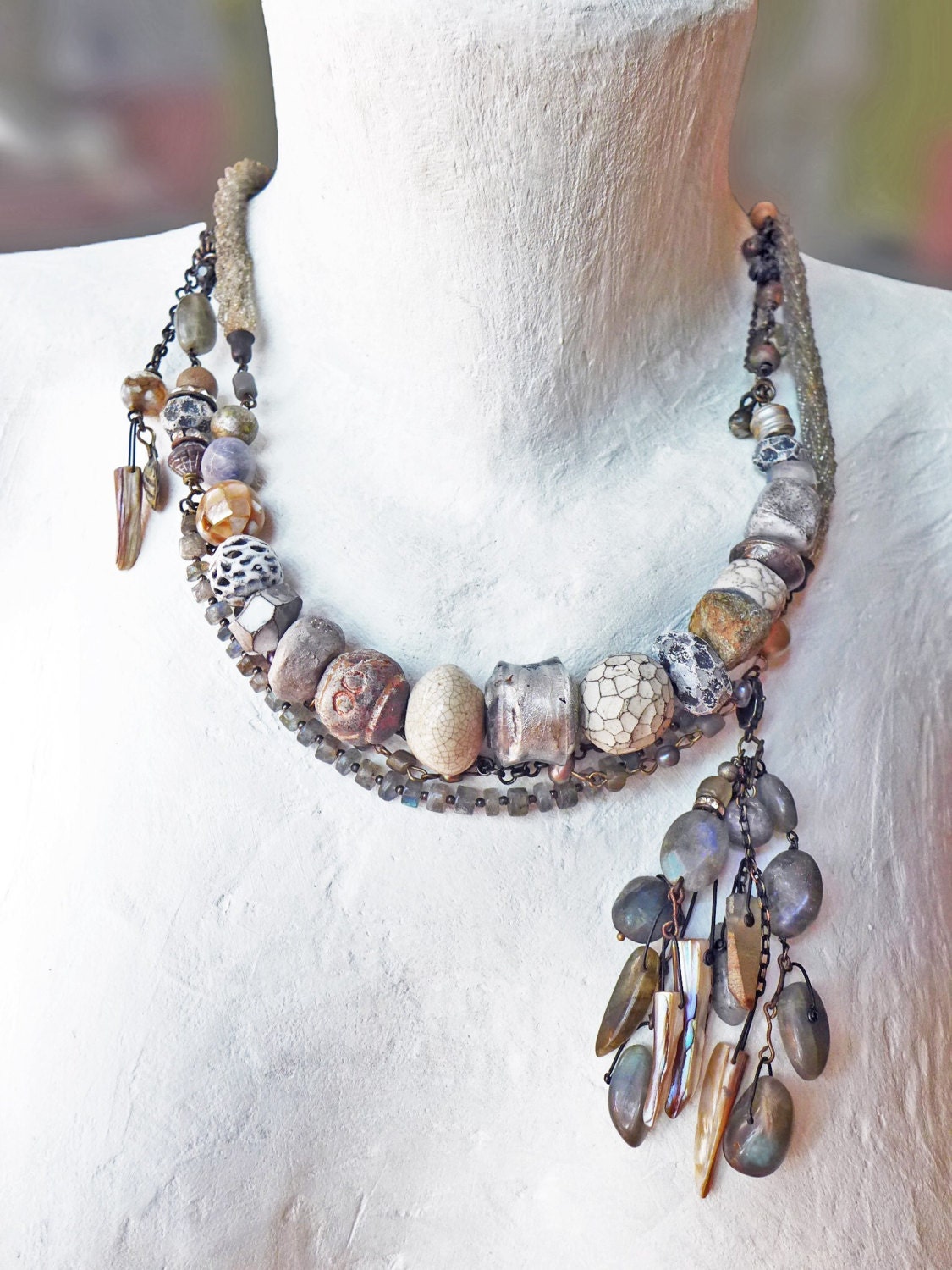 Here's a double-wrap grey choker with optional cluster pendant fall.
I made these just to fill out some gaps in the necklace above, though I only ended up using three.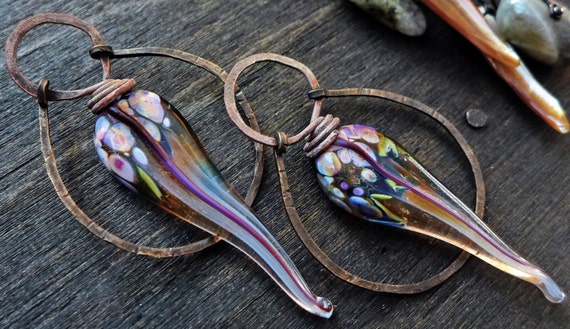 Here are some headpin earrings before I added the ear wires. The pins are by
Lori Lochner
. I'm very proud of these actually. Like, with these kinds of headpins, it's hard not to make them
worse
by trying to do anything with them, they're so lovely as is. So you have to do something that frames them, even improves upon them, without taking anything away.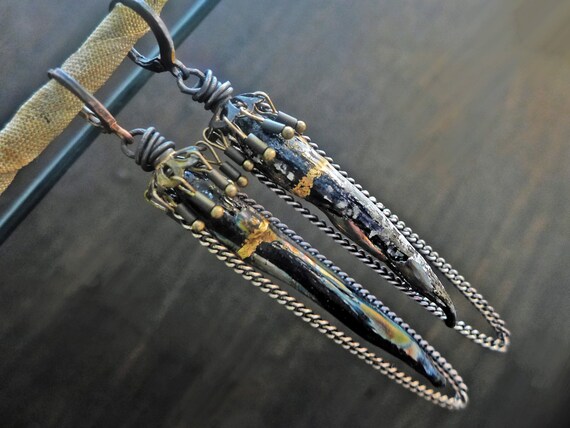 The same is true for these beauties by
numinositybeads
. PLUS I managed to break one, so yay. However, I was able to fix it with a bit of kintsugi-inspired magic.
←Kitsugi
So I added a strip of gold around the other pin as well, draped with some of the customer's own sterling chain, and topped with dangly caps. Again, trying not to overwhelm. Now I'm thinking if the sterling were yellow metal it might have been better but I didn't want to waste all that lovely sterling.
I also made this with beads by Happyfallout and shipwreckdandy, a ring from Outwest and the client's amethyst pendant and turquoise flower necklace.
I had been planning to make some architectural sort of constructionist earrings with my own beads for a while now.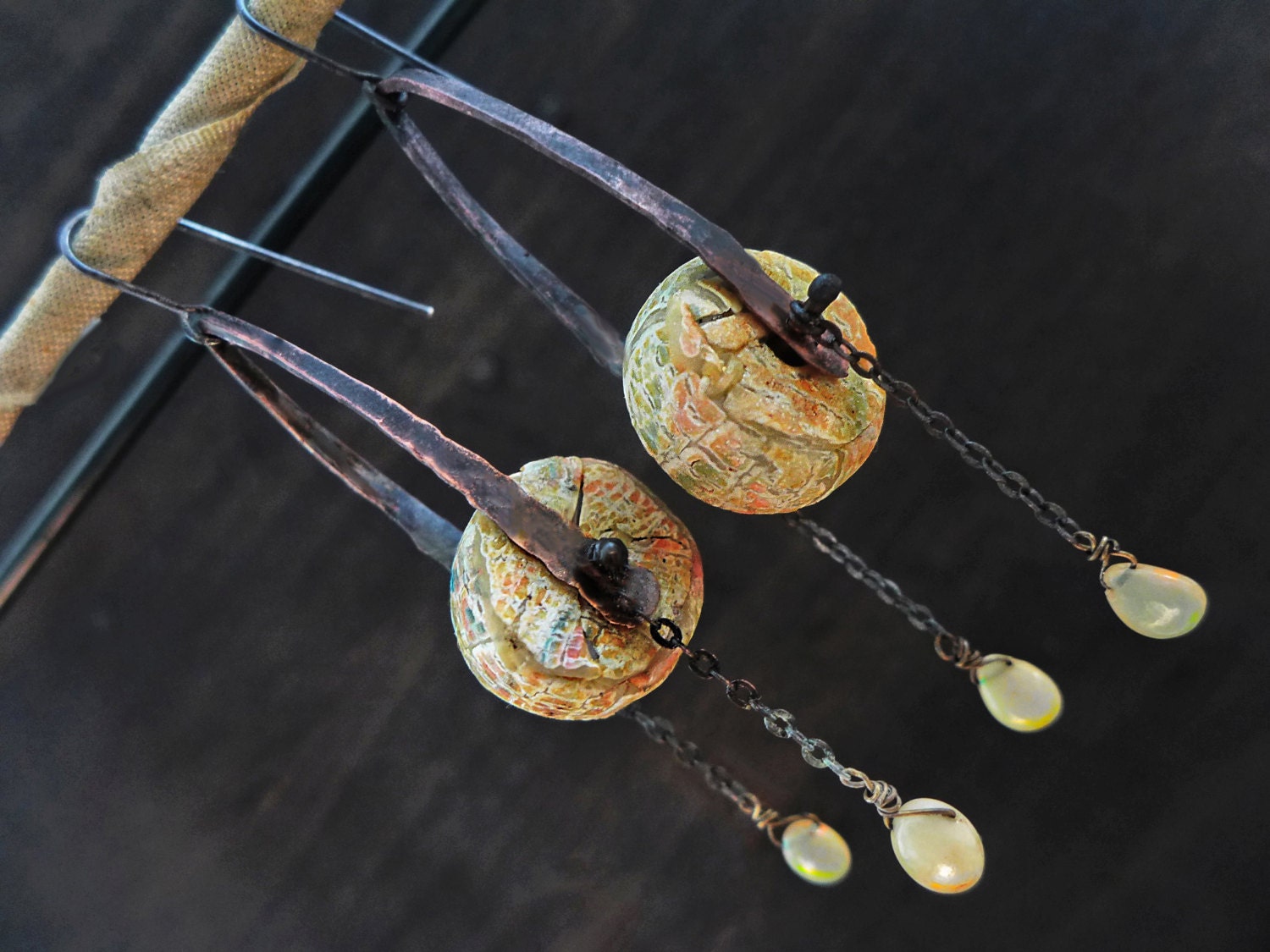 Stelliferous-
abounding with stars
I did these with my style of soldered ball pins.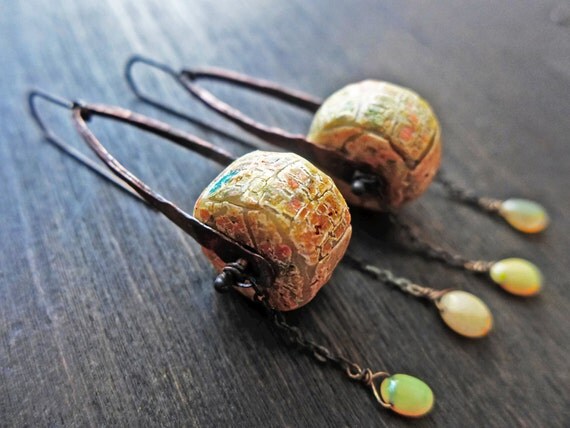 Also Ethiopian opals which are impossible to capture the strange flash of, so I approximate by upping the saturation around some of the edges.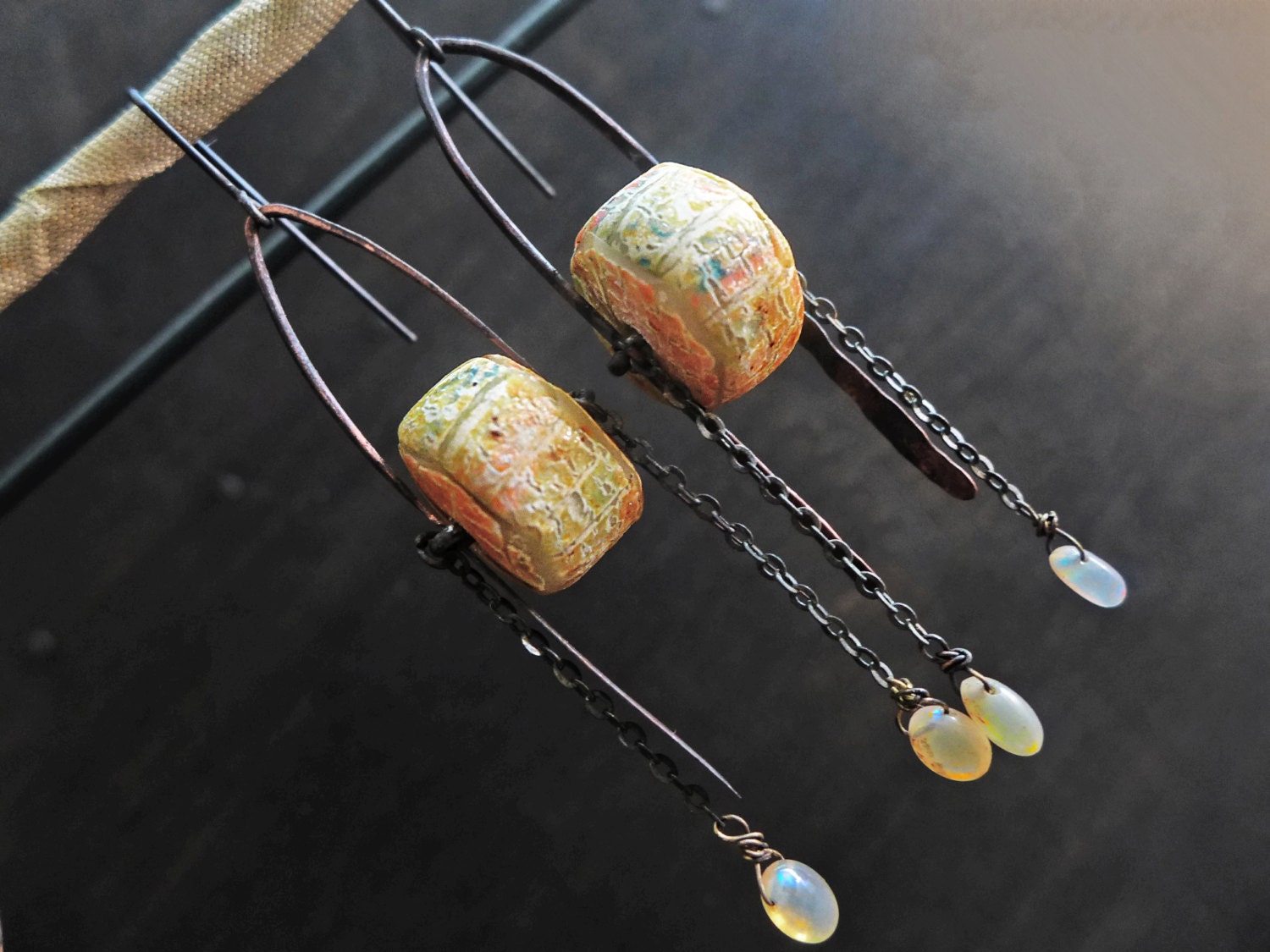 Ichor
-
ethereal golden fluid flowing in the veins of the gods like blood.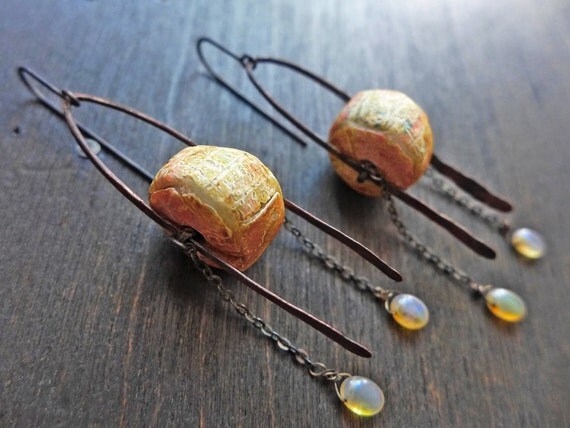 These are with longer, finer hammered arches (upside down Vs?).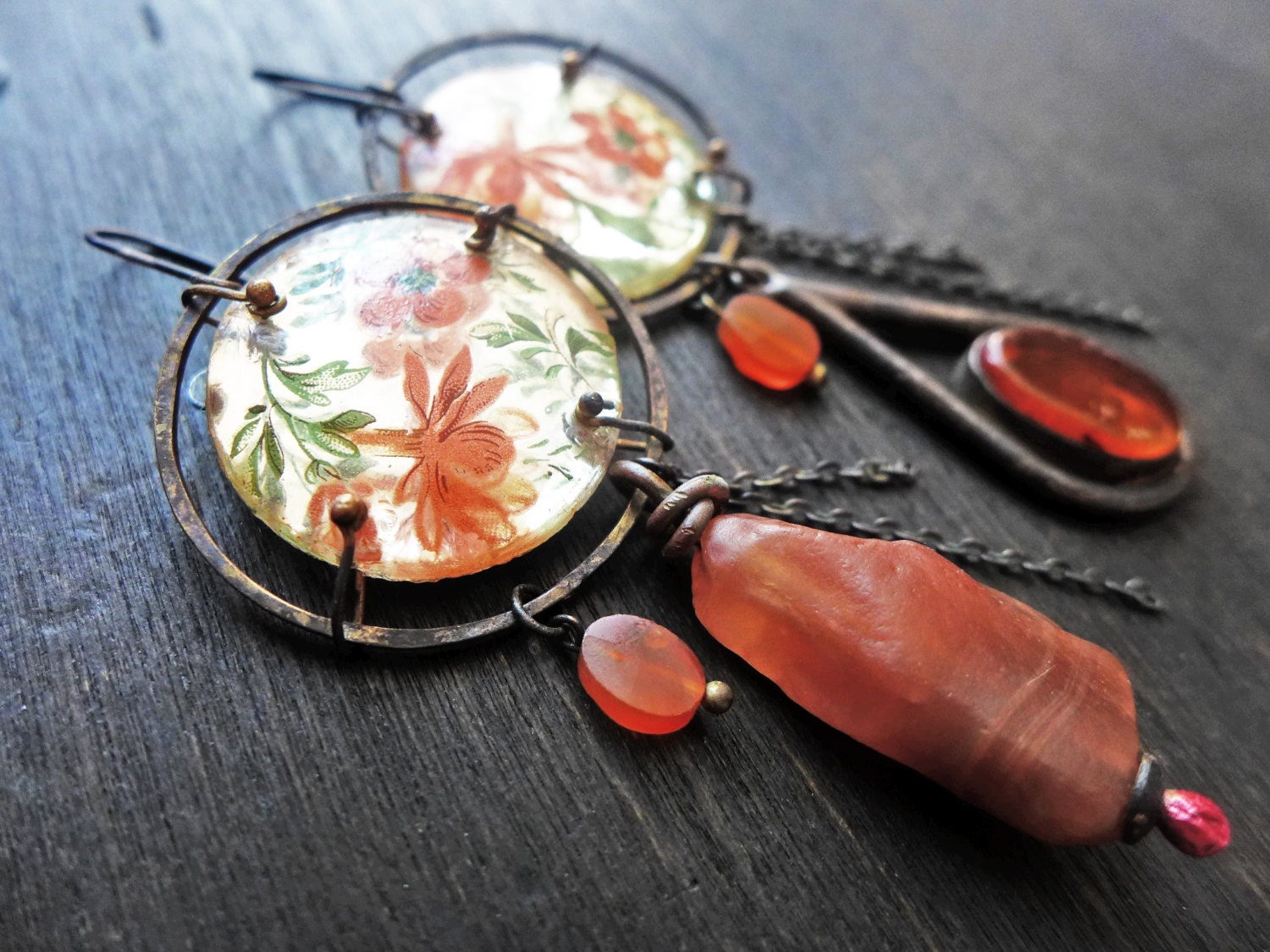 Esemplastic
-
having the ability to shape diverse elements or concepts into a unified whole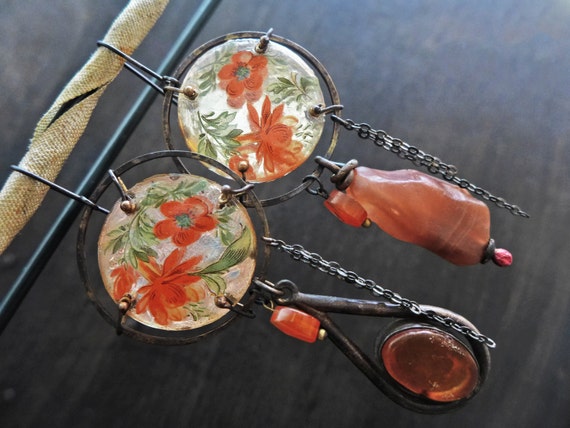 When I shared
TeapotsandTelephones' gift haul
a while back I showed you these big glass discs. I embellished them with some orange flowers from her gift decals as well. Unfortunately, the adhesive necessary to keep them on made the little glass facets disappear. But yeah so then I hung the discs on rings and below, a big chunky Gobi Desert Agate and an amber glass drop pendant from Inheritance haul. AND
another
friend sent gifts including those carnelian ovals wich dangle to the side.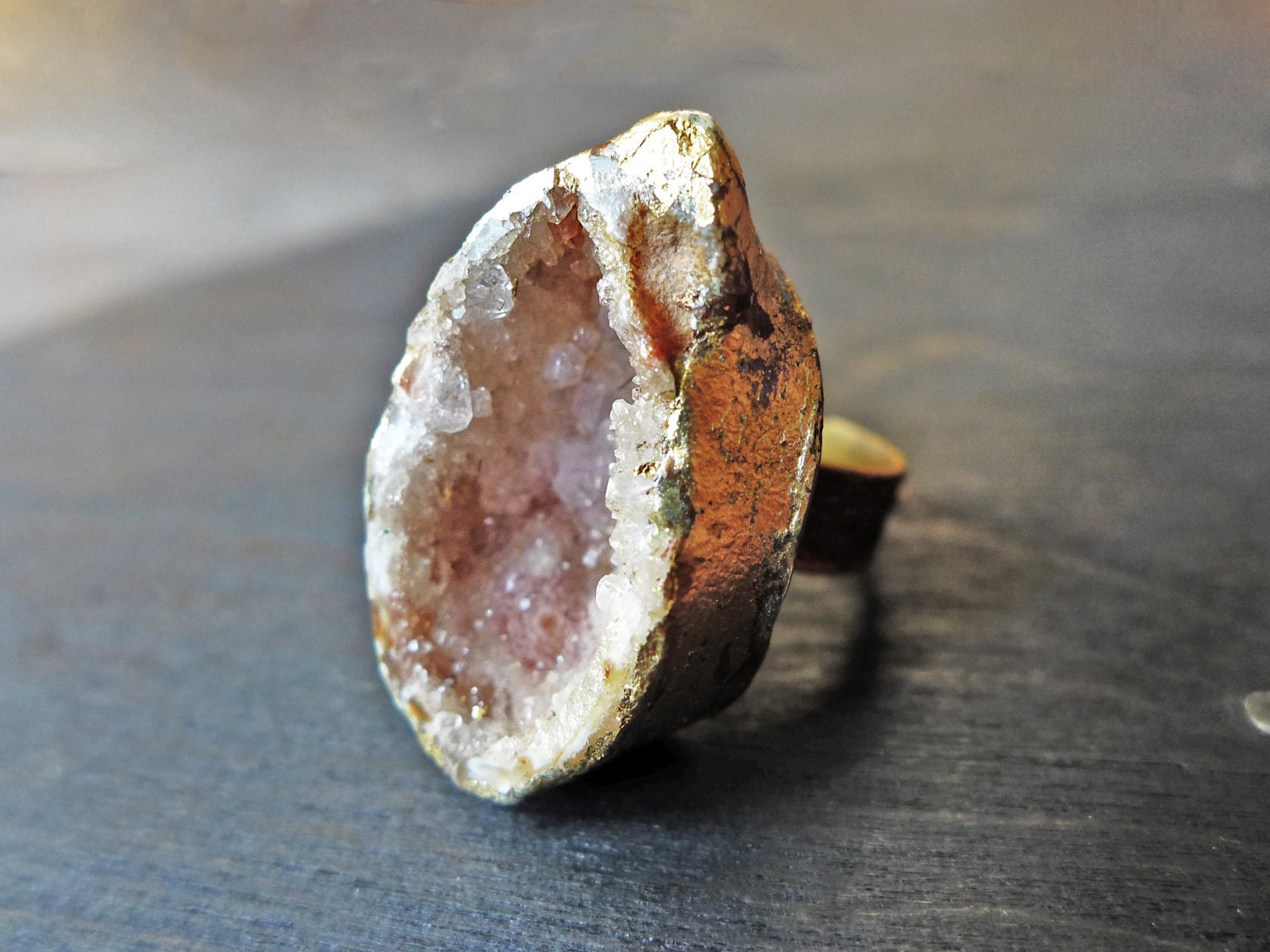 Earthy
. Geode (from the ancient Greek for
earthy
) set in a cupped ring using my
Cosmic Rocks
technique.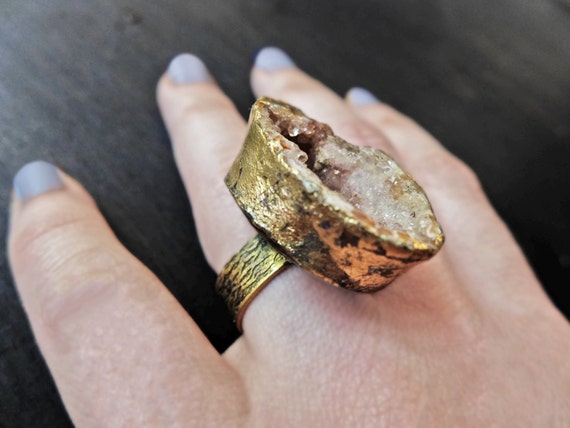 Y'all I actually had this listed a million years ago. It got misplaced but now it's back. I made the finger band smaller and painted my nails grey cuz grey.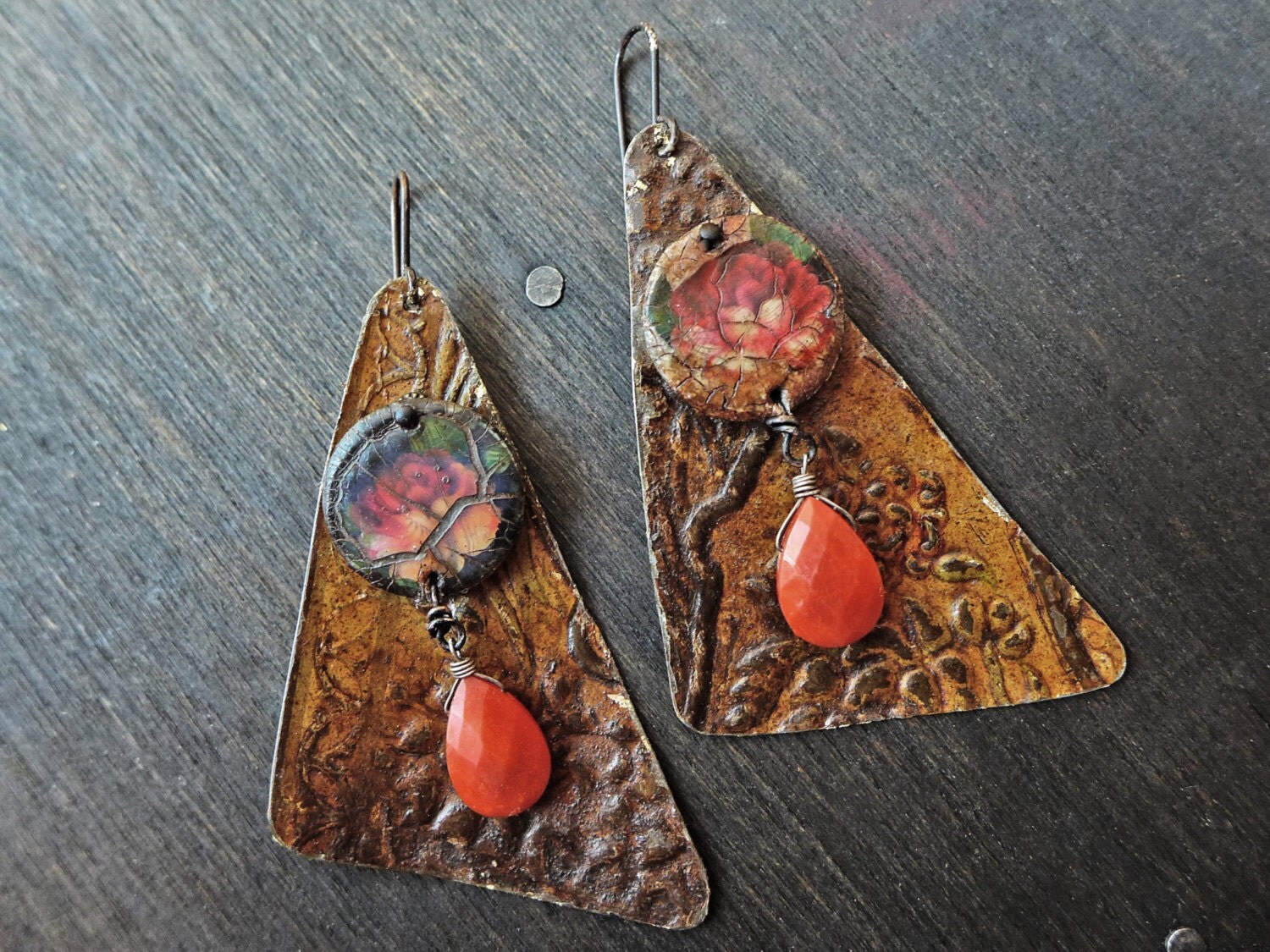 Love's Vast Filed.
"Each moment from all sides rushes to us the call to love.
We are running to contemplate its vast green field.
Do you want to come with us?"
― Rumi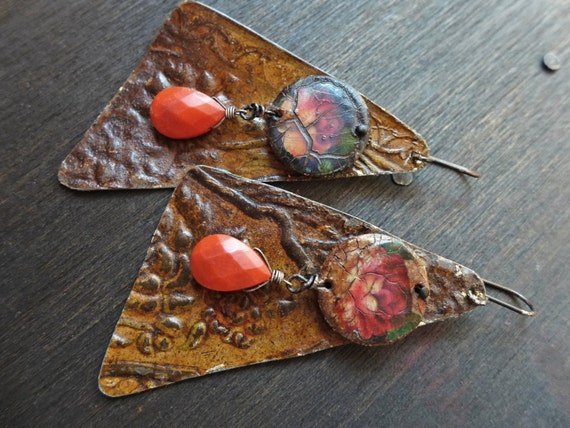 The best tin ever, from Uruguay, along with two mis-matched polybaby connectors and sterling-wrapped briolettes from Inheritance Haul. Honestly I think they're coral cuz I don't know anything else that looks like that. But I've never seen coral cut so precisely.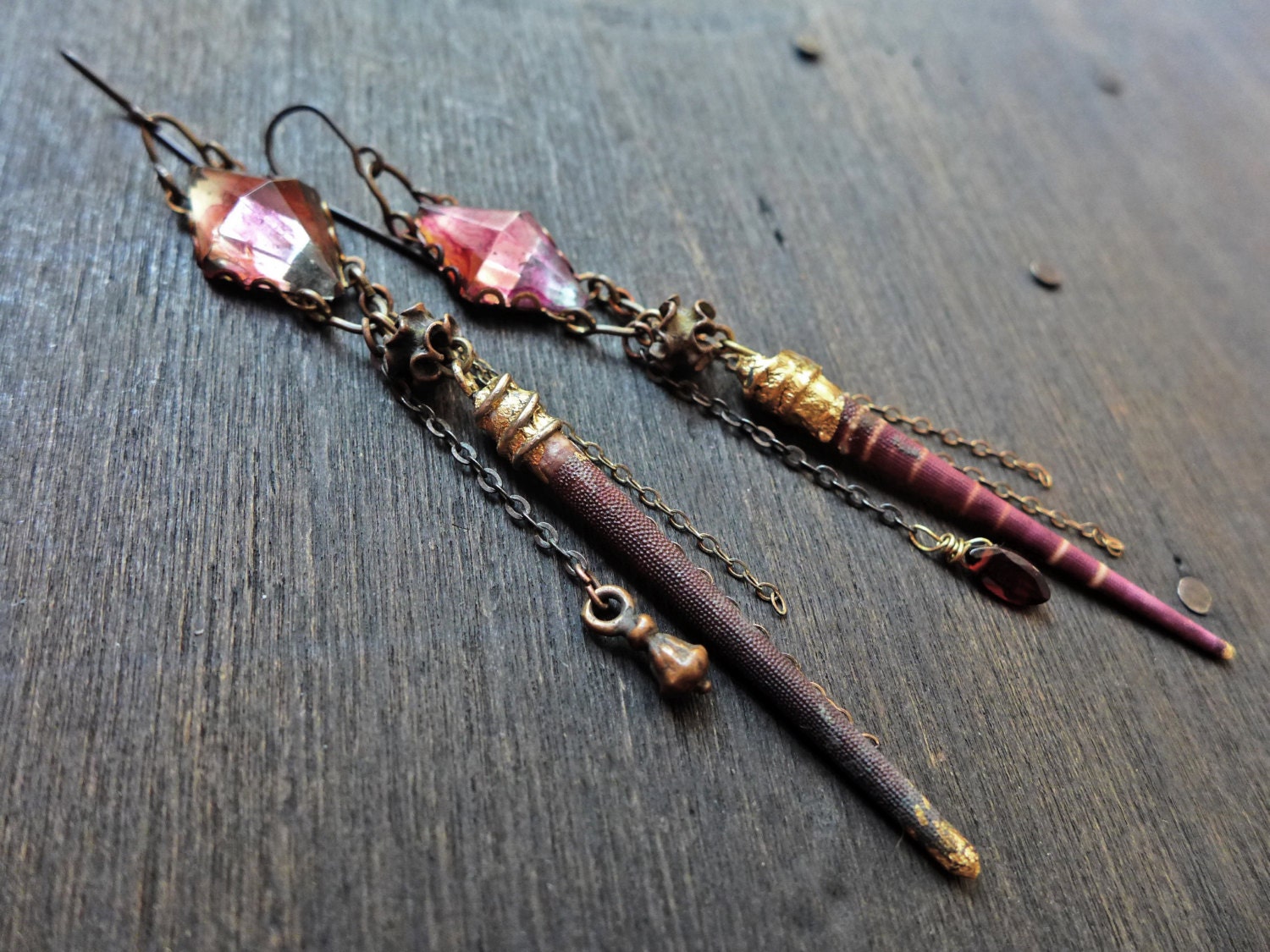 Soul's Destiny.
"It is the soul's destiny to be loyal to its own desires. It must abandon itself to its master passion."
-Rebecca West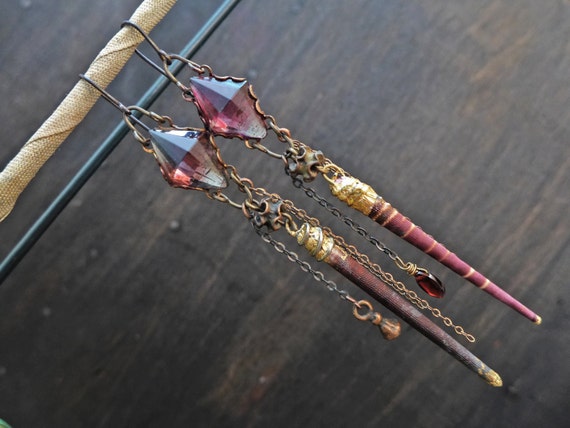 You've seen similar to these before. The ladies love 'em. They're already gone.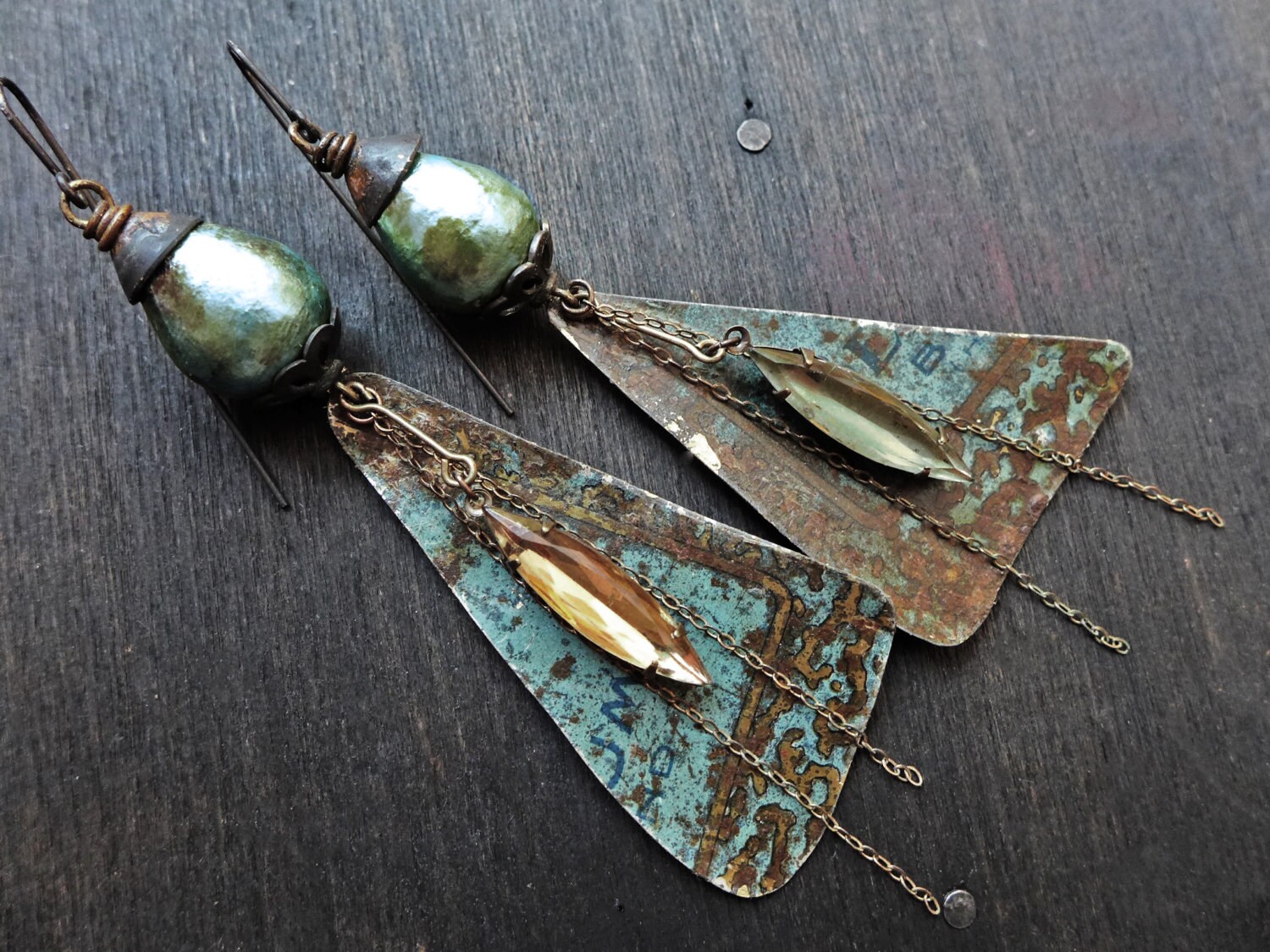 These are gone too. Navettes were from aforementioned Teapots haul. Also Uruguayan tin and Japanese cotton pearls which I finally tried alcohol ink to tone down the electric sea foam color and it worked.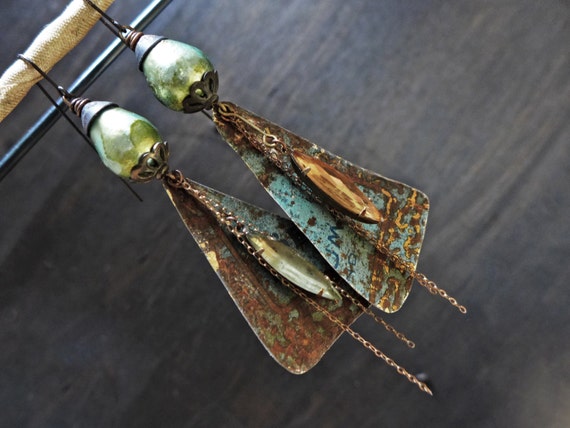 I have a bunch more to photograph tomorrow.
How have I been this productive while still feeling not 100%? Be
cuuuuz
I finally fixed my coffee problem! Mom read a bunch on it and in one tiny corner of the web, one chick was saying the irritable bowel caused by caffeine isn't in the intestine, it's in the stomach- the caffeine signals the place to flood with tummy acids. So guess what? I take two omeprazol (pepcid) about 1-2 hours before caffeine and I'm golden. Sure, it means I have to wake up two hours before I wake up to take it but I'm just that light a sleeper. Sort of, sometimes it ends up being 4 hours and it still works. I'm not even in mouth-pain from being parched!
I know you wanted to hear all about that in great detail but dude, this is huge for me. All us artsy people are riddled with vague health issues, as you well know.
Check out my baby's paw tufts. Doesn't he look a tad affronted to be bothered mid-nap?
Also this baby: And this actual baby:
I can't thank you guys enough for all of your lovely encouraging comments. You are all such kind souls I feel so lucky to have drawn you all to me somehow.
I know how to thank you! An extra long cute animals section.
We haven't seen dogs for a while 'round these parts.
The other day I was feeling so dizzy I actually started to cry (didn't I say something about never crying last post? Crap.) So I just googled cute dogs and scrolled and smiled.
I think the still photos capture just as much of a story as the gifs.
Aaaand it's 5:30 AM and I'm somehow still awake. Cuz of course I am. Crip crap paddywack.
Save
Save