Look at this lovely thing! Even though it's kinda minimalist- for me- every bit of it is so precious.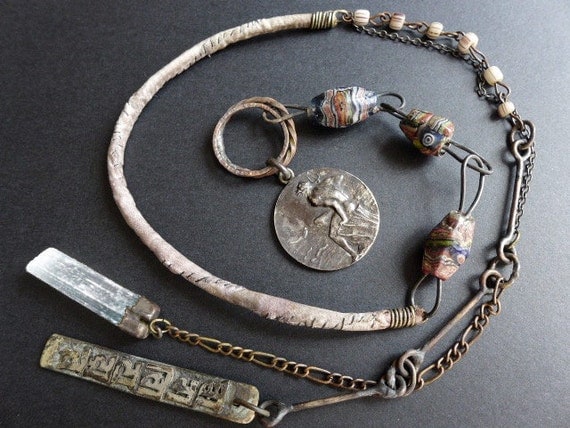 Apanthropinization.
It centers on this swimmer's medal from Uruguay.
How to explain though, in the concise language of my listings, that Uruguayans are crazy and would take this gorgeous thing and engrave "LOSERS" on the back? Yup. What we have here is a participation medal from 1929.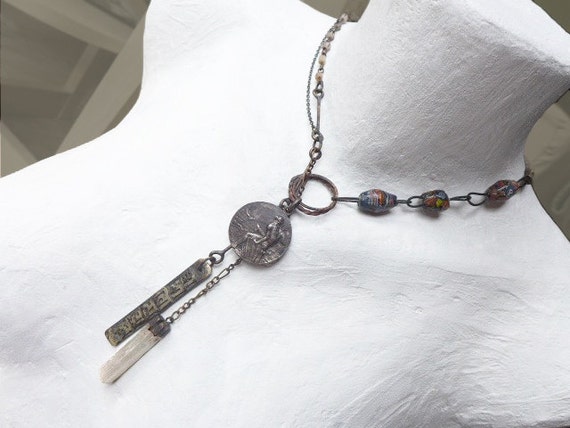 I was looking back through my old pieces and realized the ones I liked most were the minimalist ones, so there you go.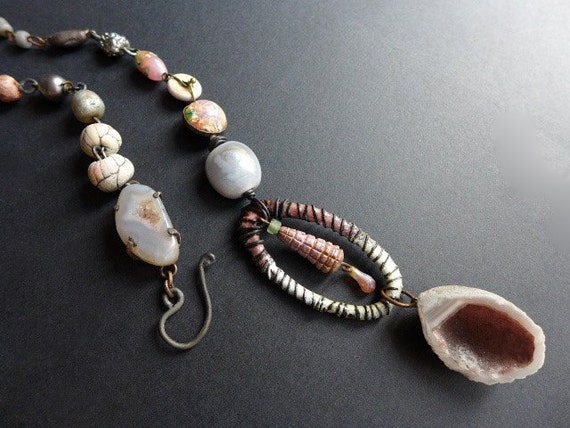 Humanity's Dilemma.
The essence of humanity's spiritual dilemma is that we evolved genetically to accept one truth and discovered another.
—E. O. Wilson
I love this freaking quote so much! And look at that enamel ring- RomAntiqueSoul made it and just gave it to me for no reason!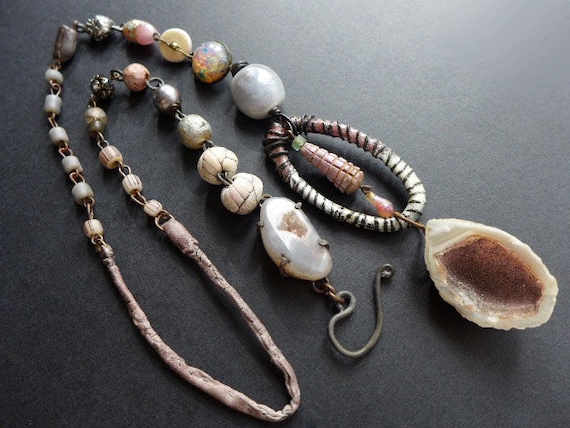 The reason I've been blogging less and less, if it isn't already clear, is that the creative frenzy I've been in over the past six or seven years has been winding down in the last year or two.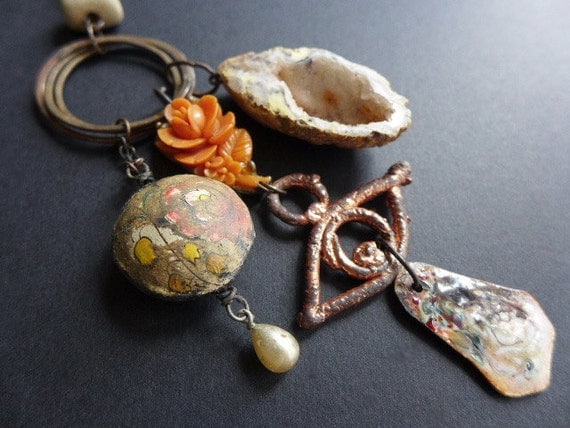 Gaudiloquent.
I've been making on etsy since November of 2008, when I opened my shop in a flurry of inspiration. Before that I'd never made jewelry and in this medium I found my perfect artistic niche.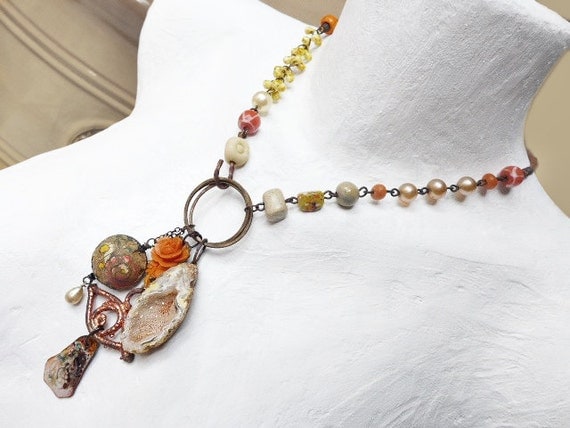 Inspiration came at me like a fever, like an attack. I'd go some days without eating for 8 hours a stretch just because I couldn't leave my work space. I'd furiously fiddle at the bits all around me, in such a rush that despite wanting to grab something just out of reach, I couldn't get myself to get up and grab it because I couldn't stop whatever I was doing in the spot I was in. My poor bladder, I won't even tell you.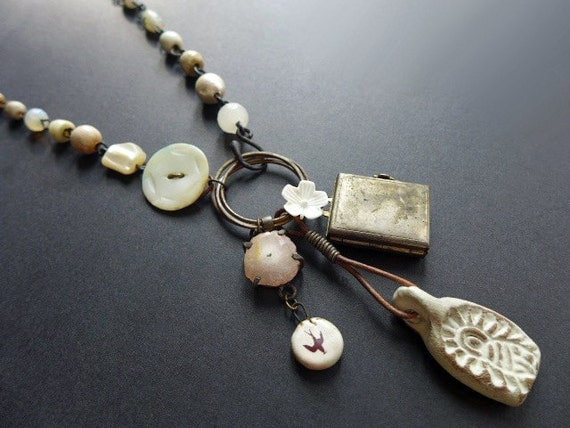 Pregnatress.
I was stupid happy. my supplies made me squeal in joy. My learning curve was nuts, my success humbling. I devoted myself full-time to scratching that itch.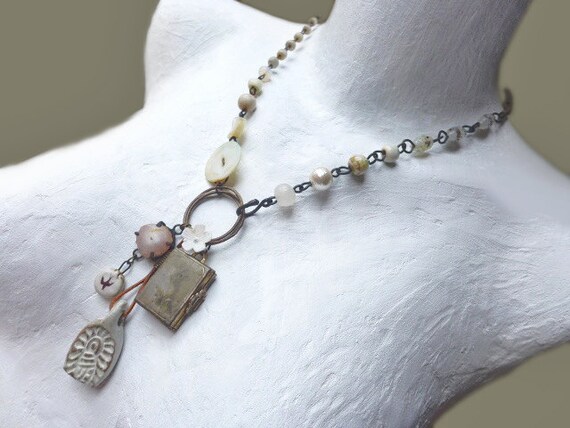 Well, it's been scratched. My listings manager page shows I've sold 948 necklaces, 1,125 pairs of earrings, 335 bracelets/bangle stacks and however many rings/brooches/pendants/beads. So it's no wonder.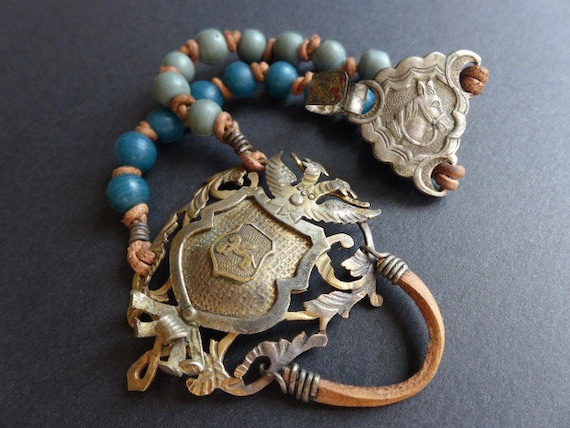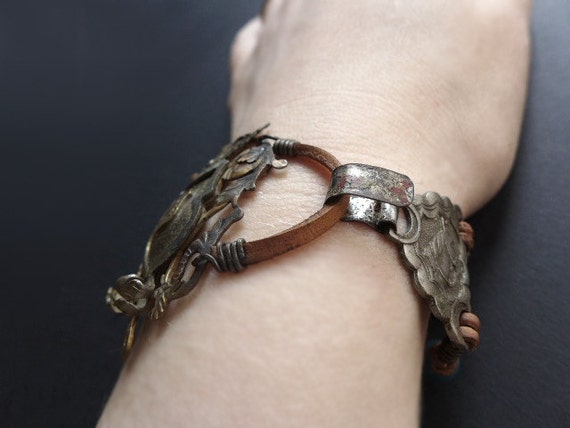 Ephydriad.
Yeah, all is as it should be. Except that when artists are... lets say between inspirations, we are absolutely in mourning. The world is colorless and life has no point.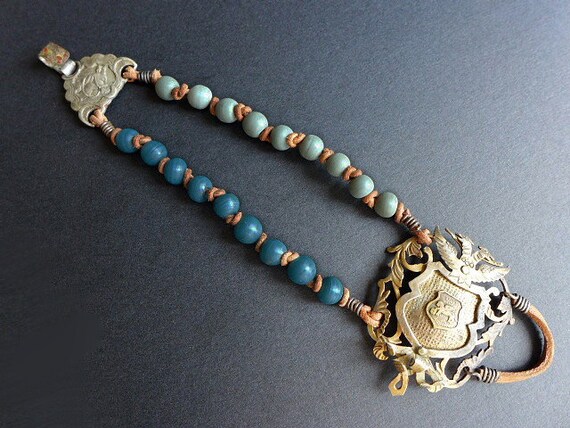 And the thoughts are all: what if it never happens again and life reverts to this endless grey tunnel? What if I'm a sham, etc. You are all probably intimately familiar with this whole rigamarole.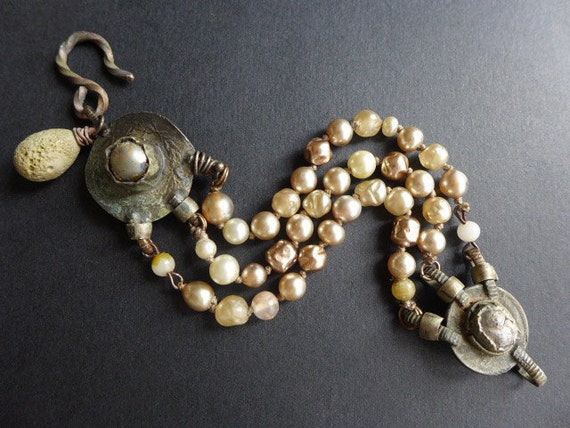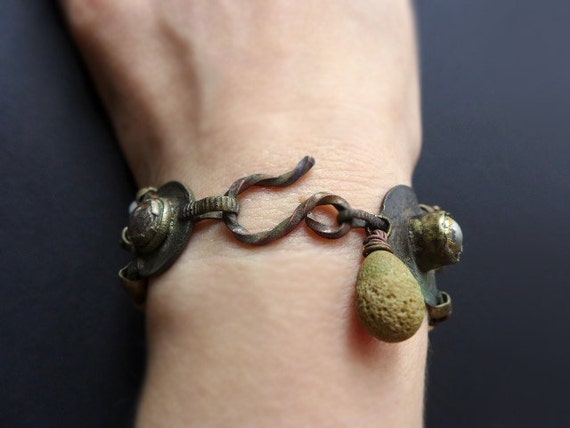 Isangelous.
Not to sound dramatic. I mean, I'm ok, I'm down though not depressed. If I weren't medicated I would be for sure, so thank god for that.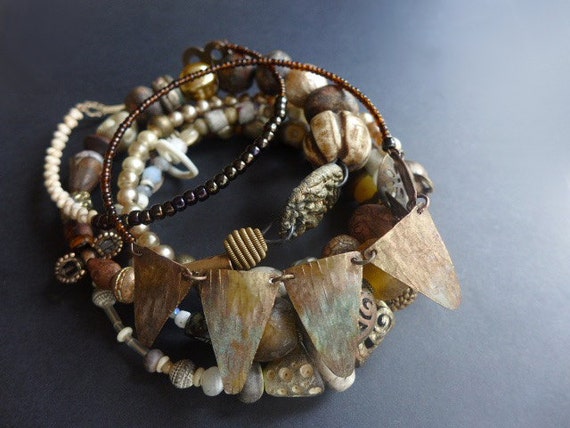 Pandemonism.
And its funny cuz so many times when other artists and makers on line have reached out to me with these same concerns it was so easy for me to be all, "This is a natural part of the creative cycle and the fact that you're upset about it proves that you
are
an artist.." Blah blah. God I'm unbearable.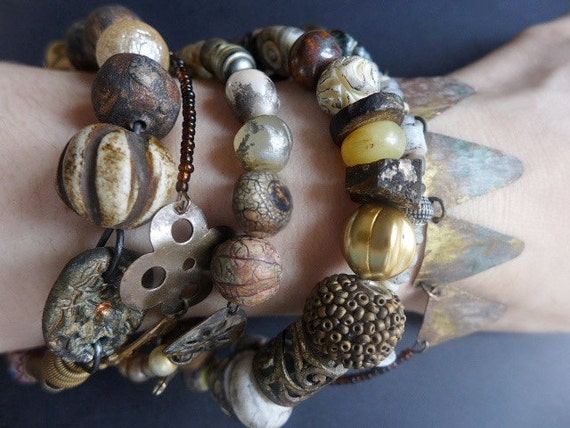 So yeah, obviously when it's
you
going through it... not so "natural" a creative cycle...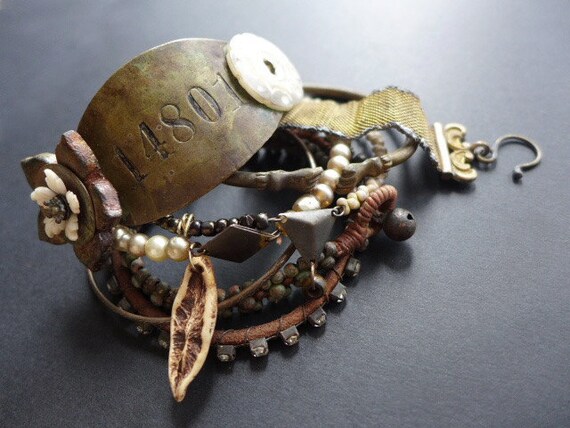 Palingenesis.
But because I
am
medicated and stable and I have counseled so many artists through similar things, I know to go easy and not fight myself. I always loose, lol.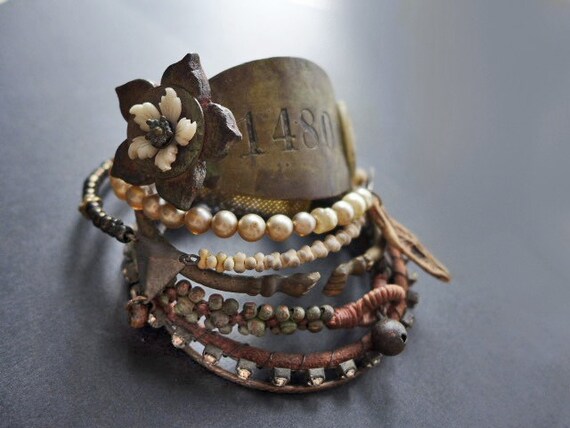 My issue is that when I'm not motivated by my muse, I'm not motivated at all. Meaning, I don't do anything other than stick my head in my ipad all day. And I read about refugees and immigrants working 3 jobs and single moms and I just can't, I can't. I have no excuse for myself, but I know if I even try to become a contributing member of society I'll just get the flu or something and be laid out for a month.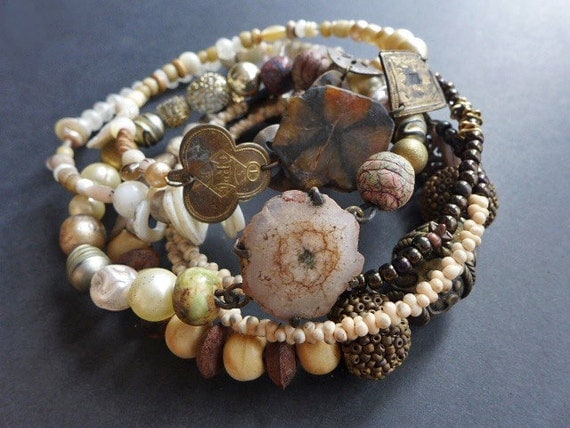 Oblivion Ends the Coil.
Which by the way, yeah. During this stretch between posts, right before my cat bite, I was laid out for two weeks with just a cold. The kind of thing Mr. Devices gets and still manages to function through, going to work and being on his feet for 8 hours, etc. Meanwhile, I'm like delusional with fever dreams.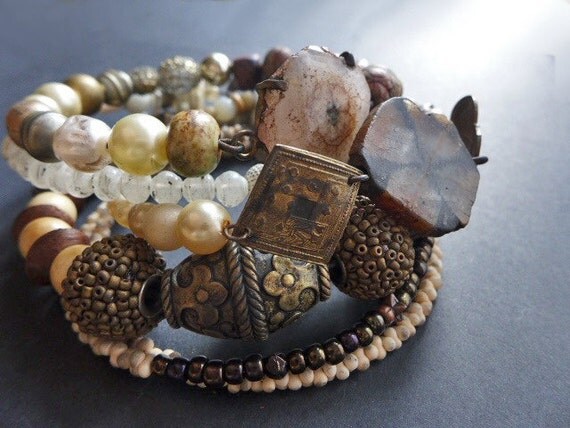 So yeah. And don't think I haven't tried a different medium or whatever. It's like I'm tired of all of it and not interested in any really new thing enough to get me active on doing that.
(These aren't listed because I only just realized the size of the bangles is huge, while the cuff is tiny and women with two very different sized wrists aren't a huge customer base.)
I have had some minimal motivation to do a bit of cooking and go to the gym, though with recent health I've been gone for like a month and when I try to dance around the house I'm winded in 5 minutes. So yeah. I might not be around much for a while. I still love my supplies I have left and all... just not enough to get me going like I used to...
But this too shall pass.
Oh but about the cooking thing- check out what I recently got from bobsredmill.com
Cuz I was
reading
how though we only eat, like, wheat/rice/corn for grains, there's all these others with amazing nutritional properties. Protein, fiber, minerals, amino acids, gluten-free (if you need that), amazing. Next I'm going to try Amaranth and Teff. I just love the way they sound! And I make them all in my rice cooker. AND! I'm a huge cheapskate, and I found Bob's Red Mill crazy affordable. I also like the not-huge packages they come in, which means you can try a bit of everything.
Now look at these dumb babies being helpful:
And this girl playing fetch with a very excited emu:
Spaz.
Baby duck feeding fish had me like: