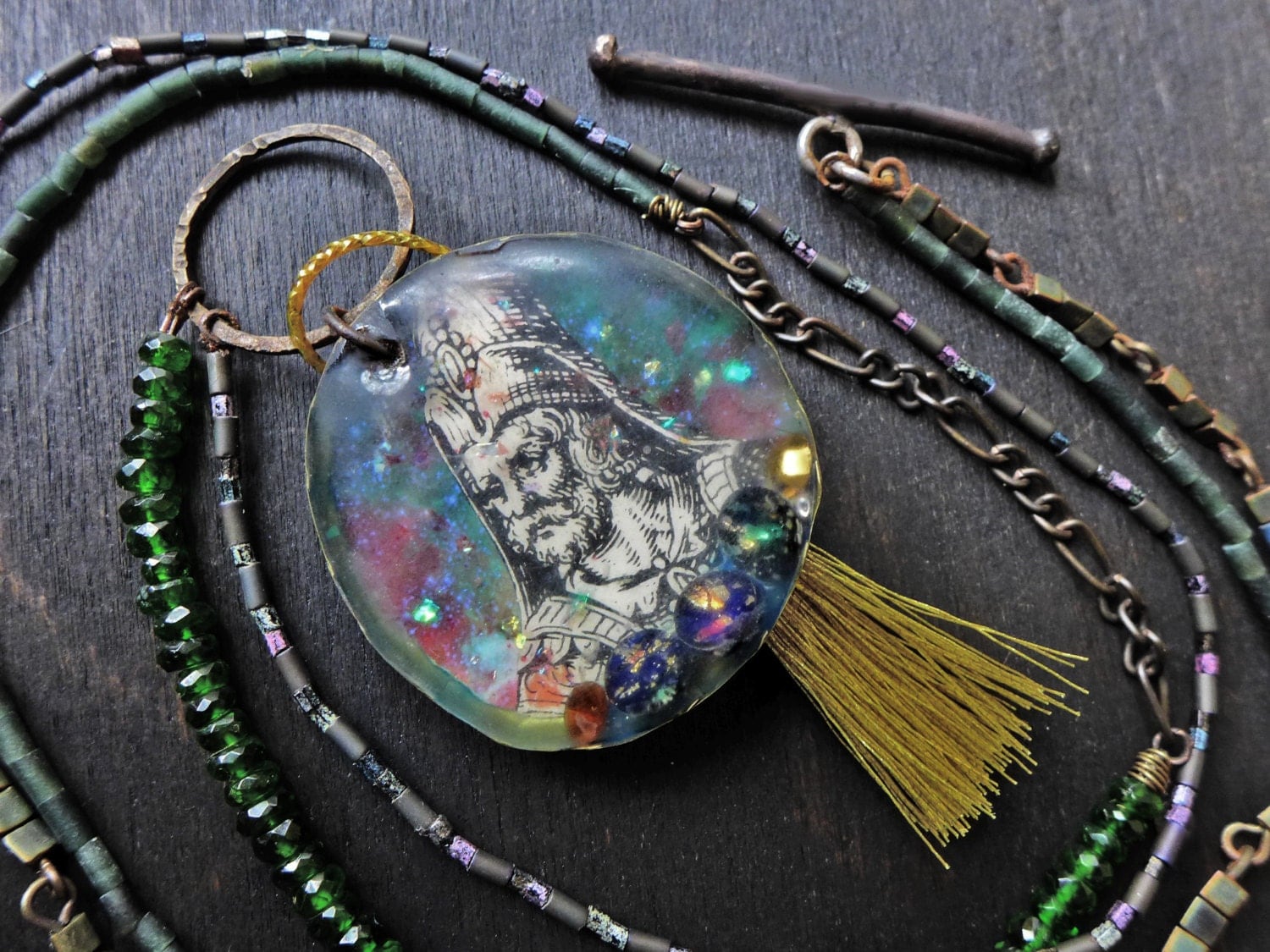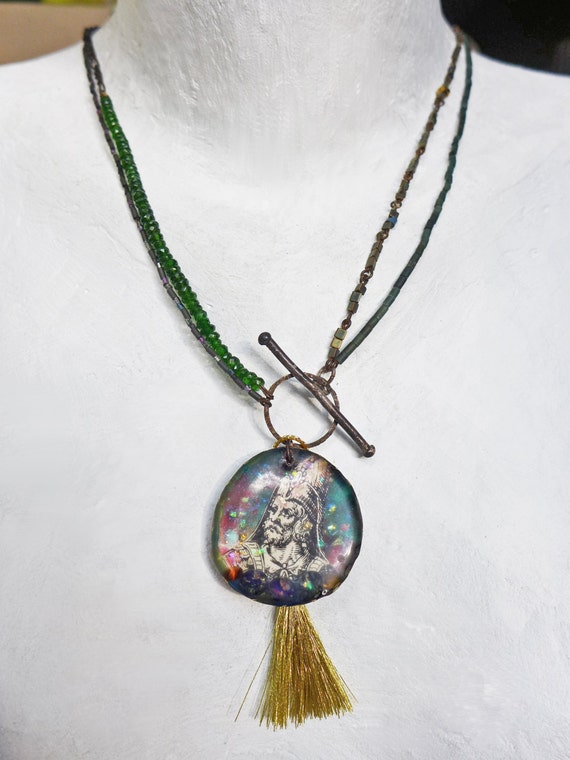 Apotropaism.
So as you can see, I'm still having a ball using my cute-ass bezels I made in my tute to make some simple, cute-ass necklaces. Like this one with a- get this- removable gold tassel! You just pull it up so the necklace goes through the tassel loop and it's off. Also check out the giant sterling toggle bar. That was actually curved into a sort of bizarre circular shape in whatever gift lot I found it in. So yeah I straightened it out and there you go.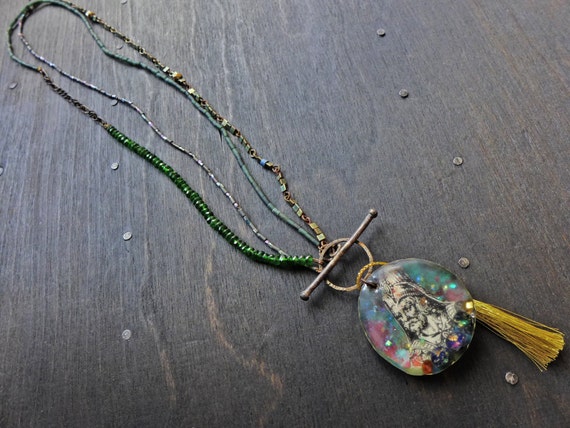 OK, but I also have another tentative invention to share...
Durga.
See these three draping strands? And also the elaborate wrap around the briolette dangle? These are actually goldwork purl wire, aka bullion, as is used in embroidery: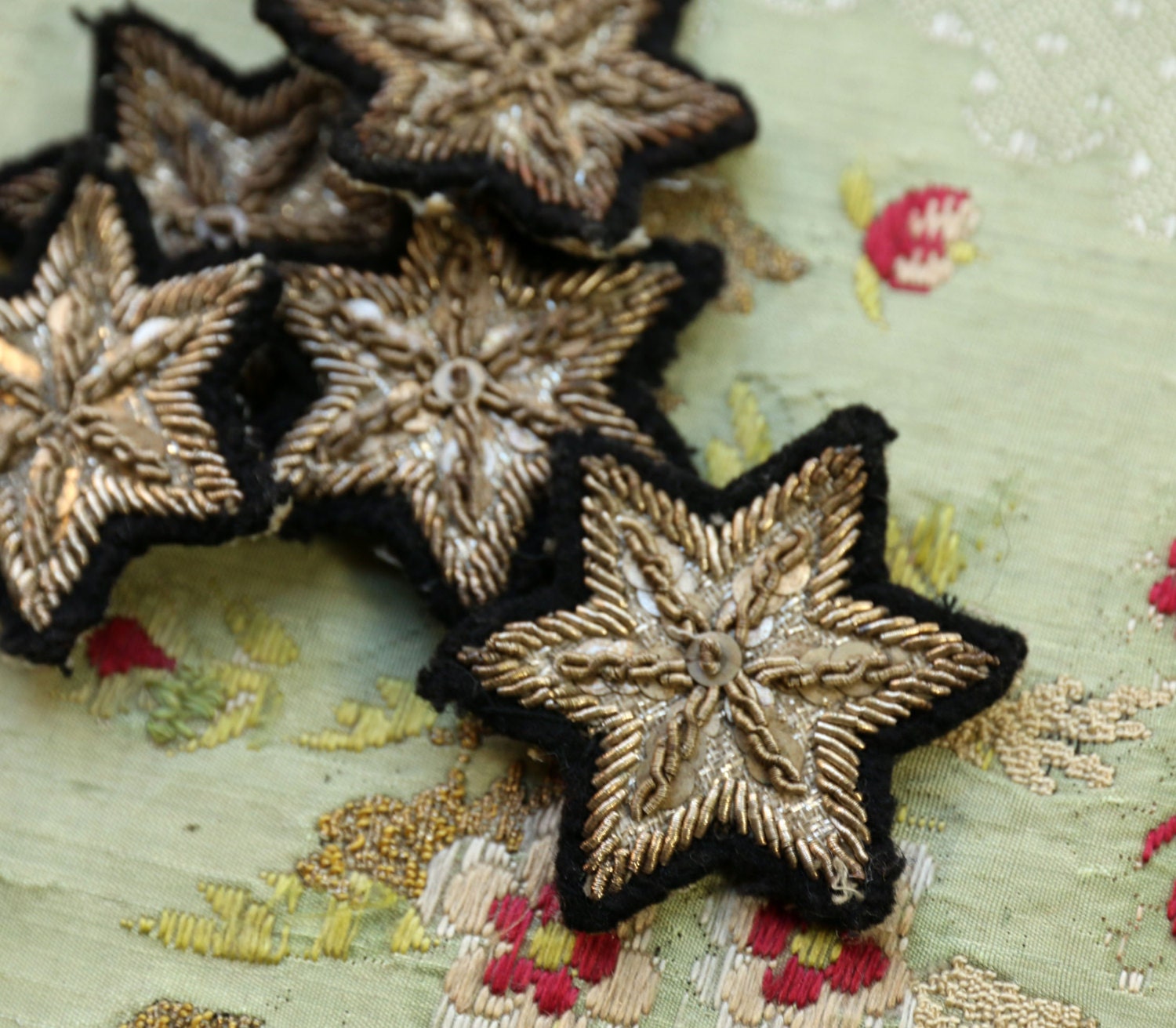 Since I love those old patches so much I became a little obsessed until I got it into my head to thread that stuff on beading wire and make simple strands from that.
My concern is that this stuff is very delicate. The ends I've glued down and the beading wire is very strong and supportive I just don't know if they'll stand up to tons of wear and tear. Like if something hooks on a tiny wire will it all unravel?
Naught but Love.
I'm also concerned that these strands will get tangled when used in longer lengths like here.
Let me say though that I wore one of these that I'm not finished with yet with multiple strands to the gym and... Well, first I don't recommend wearing jewelry to the gym. Especially to Zumba where you're staring at yourself in the big mirror and getting distracted by a necklace bouncing all around your neck. But it was fine. But I still dk. This is the problem with coming up with a lot of ideas. You're basically asking your customers to be your guinea pigs. Ugh I feel like I shouldn't even be admitting this here. Should I offer these at a discount and warn the buyers? I did mention in the listings: "Please be sure, when removing this necklace, to lay it out carefully so as not to tangle the draping strands."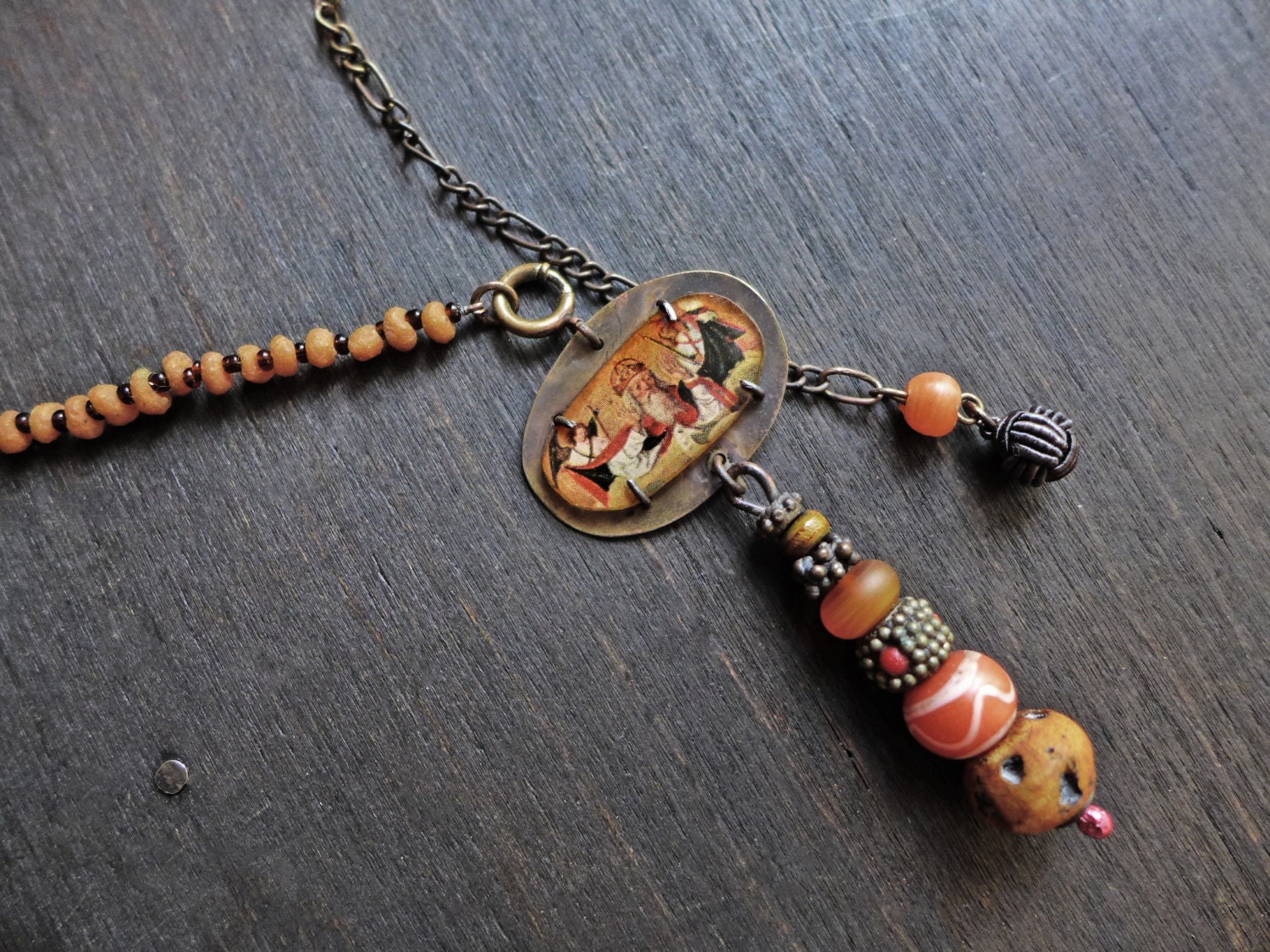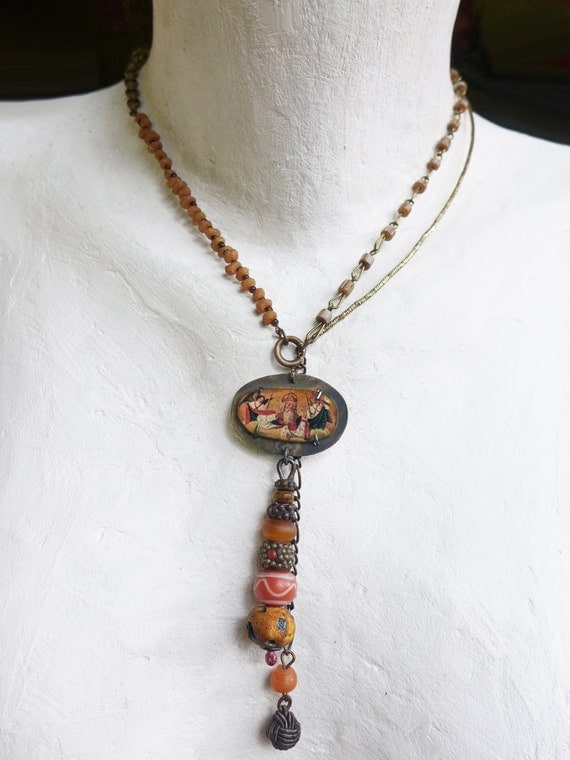 Esemplastic.
This one has one too, along the back. Look at that tiny resin bezel! Look at that cool-ass drop!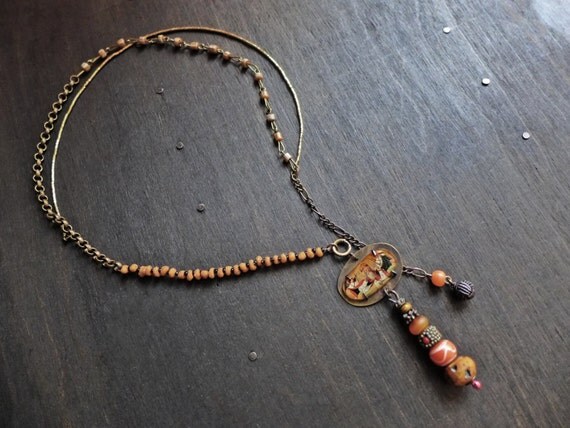 Here's a bracelet from that same series: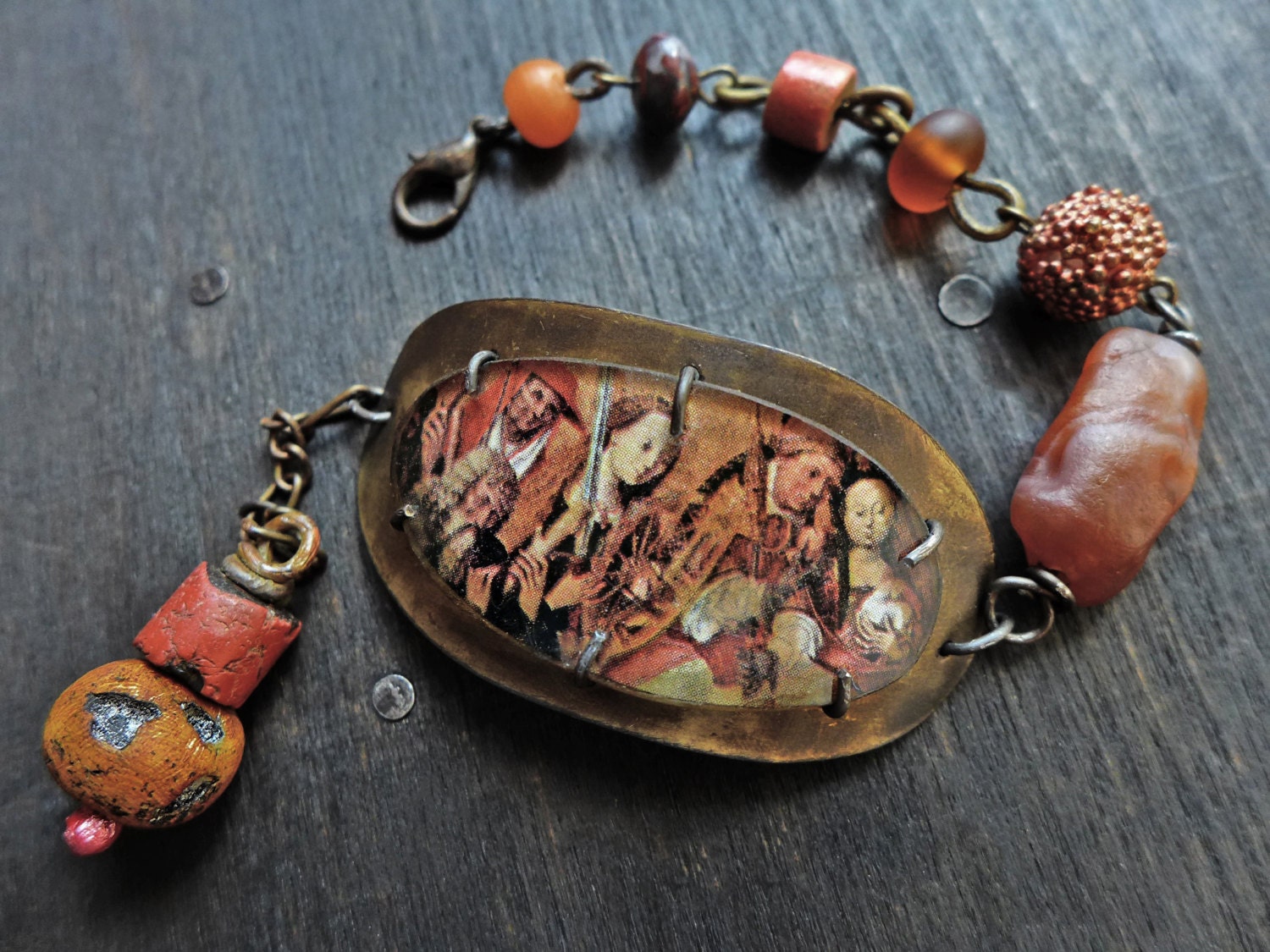 Oenomel.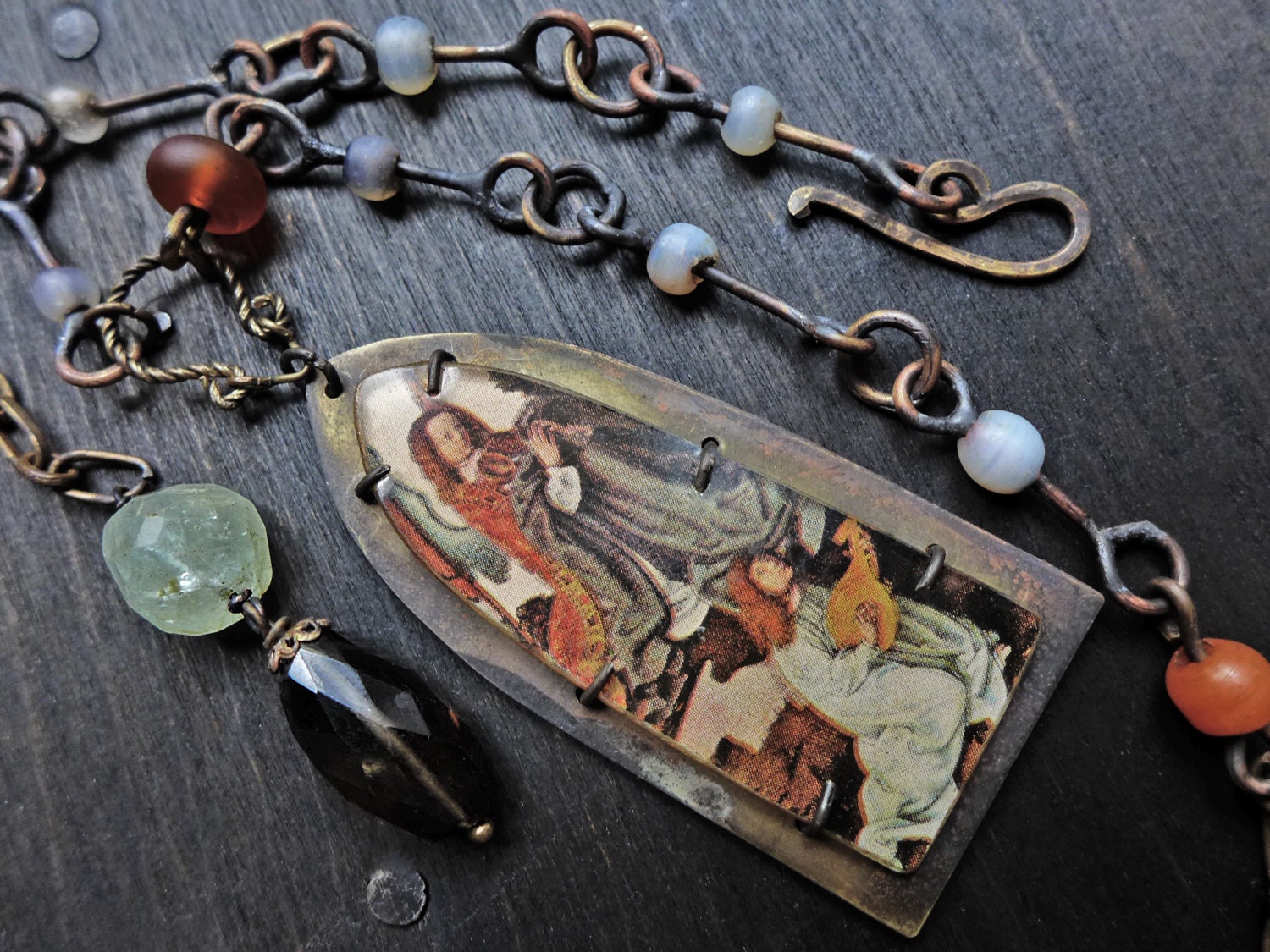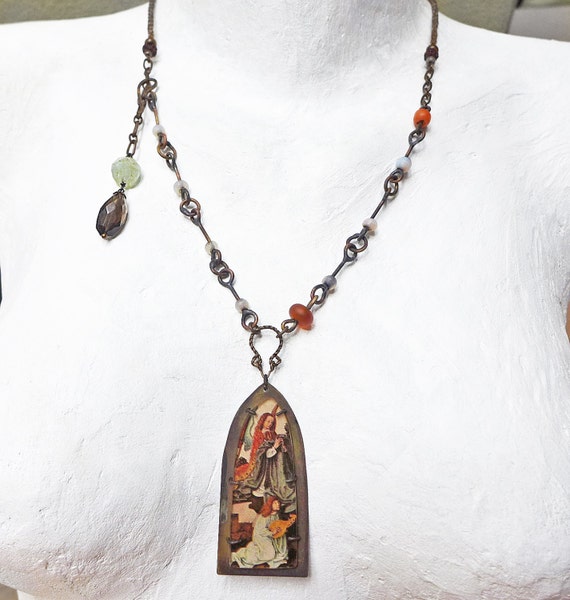 Hierology.
And this necklace too. Soldered bar chain with milky rounds. Dangle aquamarine and smokey quartz playing off the colors in the image. Even viking knit chain/cord (Which is it?!?!) along the back. Very satisfying.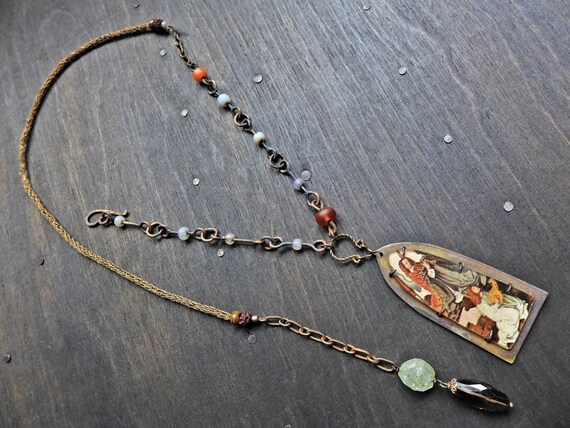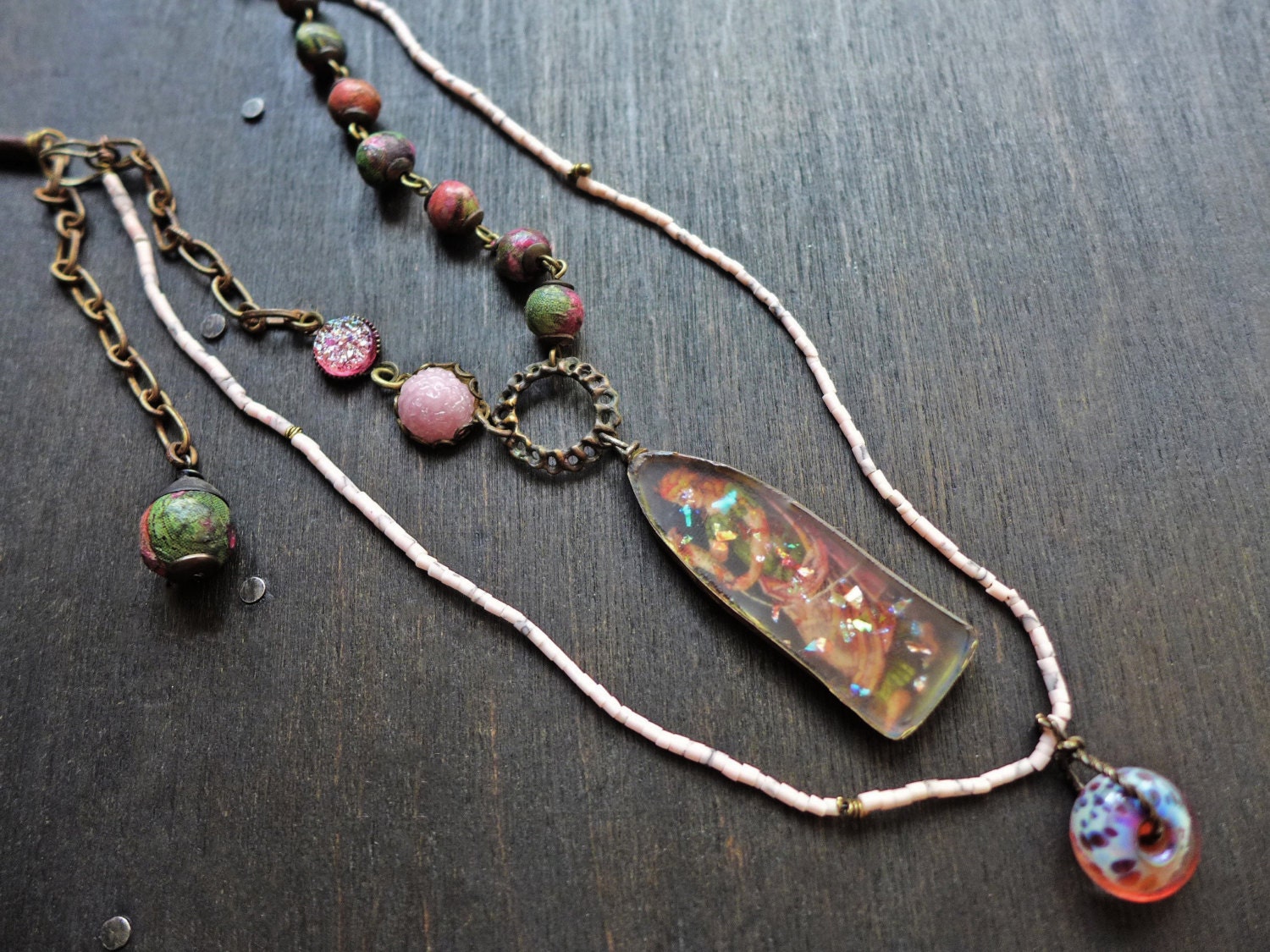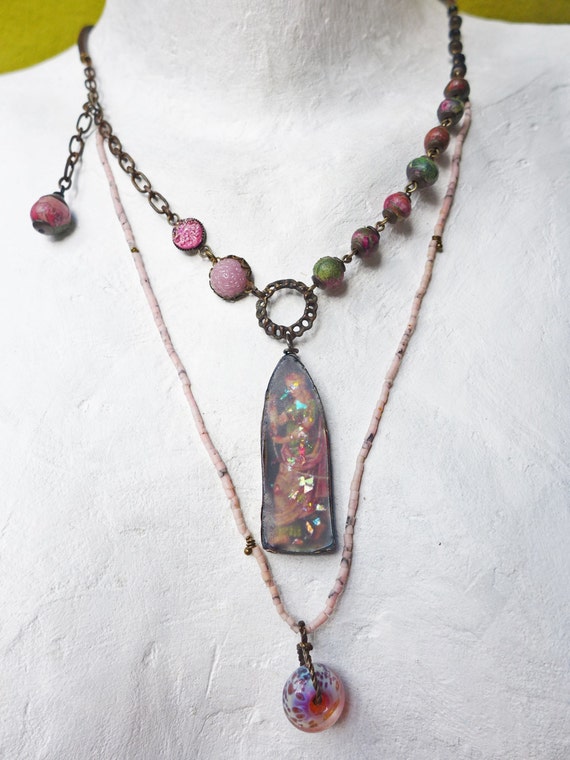 The Call to Love.
My own polymer decoupaged babies here. Also a vintage glass sugar bead that broke in half so I'm using it here as a cab. Clever.
Lampwork, faux druzy, cast bronze scalloped ring, pink strand, leather, etc.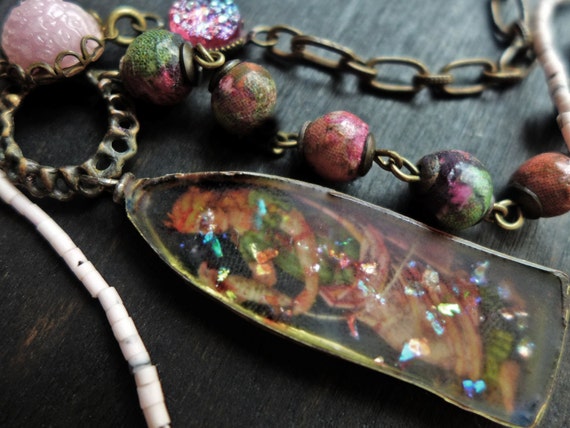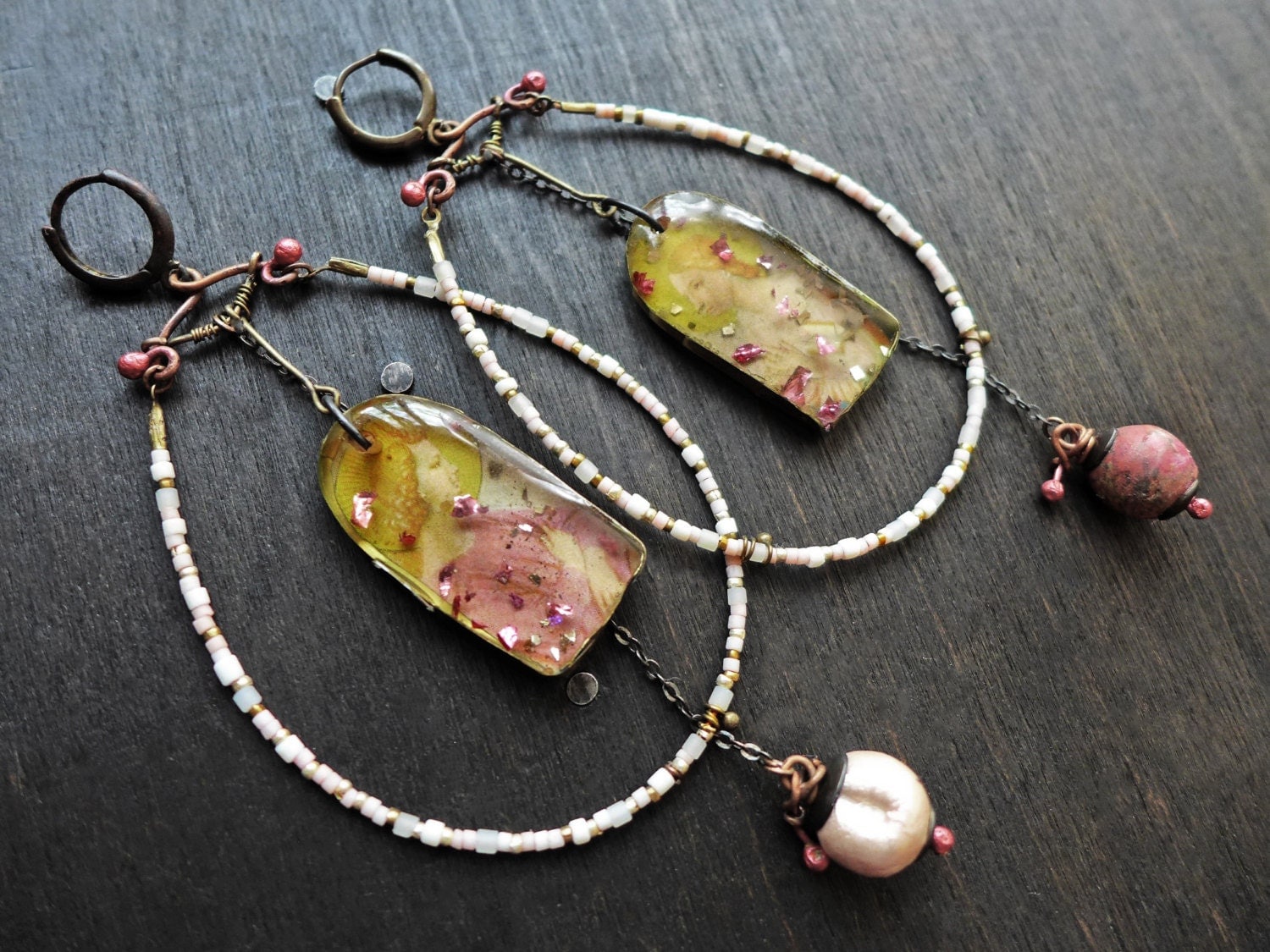 Elysian.
Check out these big-ass earrings. They're huge! But light because like atoms and my psyche, they are mostly empty space. I sure used a lot of rosey copper ball pins on this one. Ran out in fact.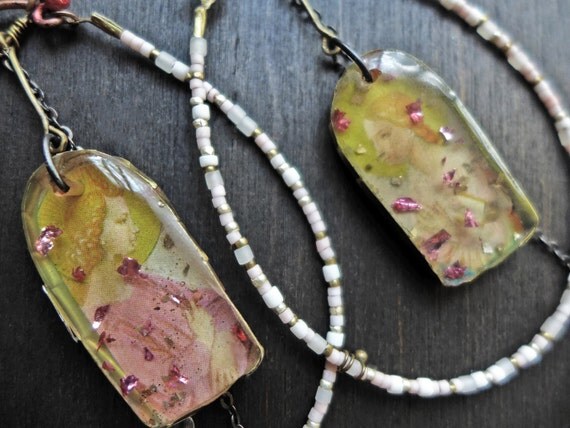 Here's the one I'm actually concerned about so I haven't listed it yet. Cuz there's two long strands of the stuff so yeah.
If any of you lovely ladies wants to try it out for me at a discounted price of $50, I'll set up a listing reserved for you and you can tell me how it goes. If it's a tangled mess you can remove them on your own, I think anyone who reads this ought to own a pair of pliers or wire cutters.
Oh I even wrote a description:
The Smallest Mercy. Yellow Mary multi-strand necklace.
Oblong bezel from my Rustic Resin tutorial, featuring delicate image in soft yellows from an old book about Dutch masters with bits of rough inclusions sprinkled in, as well as a floral decal. This hangs on a kutchi link from the right side of which emerge three individual strands. Two of these are delicate Indian goldwork wire, such as is used in embroidery, threaded on to flexible beading wire and draped to add drama. One is a length of pale gold farfalle beads that interlock for a thick, bumpy cord. This is linked to a connector featuring a vintage yellow pressed glass flower. On the far end, three rutilated gold quartz nuggets lead to a long extender chain which ends in an unusual dangle- a fiber pompom has been aged with a lot of paste wax and a heat gun, then displayed on a rosey copper pin with dark brass cap. It's surprisingly stiff. The extender chain hooks into a twisted brass clasp above the focal pendant. Focal 2.2 inches tall. Without pendant, the necklace is adjustable from 18 to 23 inches.
Please be careful when removing this necklace to lay it out so that it doesn't become tangled.
Convo me on easy if you want it.
Speaking of which, I've been getting so many amazing convos from people telling me awesome things about how my stuff has inspired their creativity and how they stalk me and all. So then I copy and paste it on to my group text with Mom and Mr. Devices and they're all proud of me. And I do a happy dance.
Just remembered I haven't listed this one yet either. I'm also concerned for this long strand here.
Although there is a coiled short strand as well and I'm not concerned about that one. Trying to make it was kind of a mess, but it's secure now. There's all kindsa rose quartz and prettiness there. Isn't it cute?
Here's the back.
It's called Pentimento which means visible traces of earlier paintings under layers of more recent paintings on canvas. If you're interested it will be a discounted $60 for you because I'm not sure about that drape. So convo me.
I'm feeling ugh again. Not terrible ugh, just ugh. I can't seem to go to sleep before 5am, is that not insane? What's wrong with me? Maybe I was just not meant to live into my 40s. Oh but my dancing at the gym is going kinda awesome though. I'm obsessed with these Korean dance videos:
(First is the teachers then the students do the same choreo.)
I used to be obsessed with this choreographer, Willdabeast Adams. He's superhuman amazing, but he's too hard to follow and steal moves from:
You have no idea how much of my life is spent watching all these videos they have up.
Just embedding those videos on here I ended up trapped watching like eight more. Stop!
In sadder news, this little fluffy love of my life has Leukemia. OK, so it's not a tragedy since he is 15 and has had a great life with no illnesses or injuries, always knowing he was well loved and wanted... On the other hand he's my baby and I can't imagine life without him. He's on prednizone right now and it's helping but he's still limping around pathetically and getting him to take his pills is a daily trauma. Also we have become those people who buy super fancy food for their dog. I think he's loosing his sense of taste cuz he turns his nose up at everything. So now we're trying organic green tripett which is cow organ mean and smells like ... like a raw festering corpse slathered in sewage. His after-meal kisses are delightful.
Anywho that's what's up with me, What's up witchu?