Oh boy, lots to share!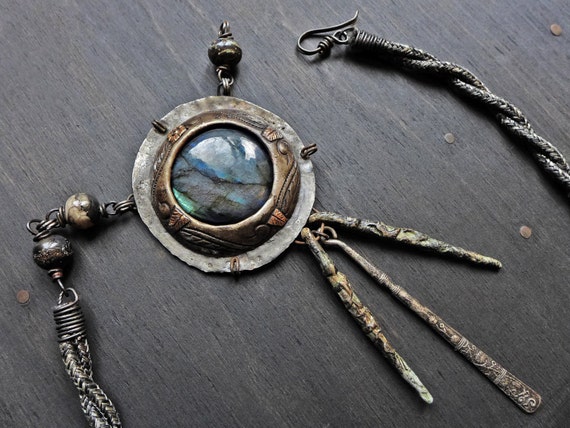 The Key to the Universe
This is a yerba mate gourd rim decoration made of sterling with 18k gold accents from Uruguay. I set a crazy nice labradorite cab in there and mounted it all fancy. There's two spikes by JBDRusticOrganic and a super-finely etched antique button hook which might also be sterling. Three beads by 4Ophelia/nearlylost and electrical cloth-covered cording.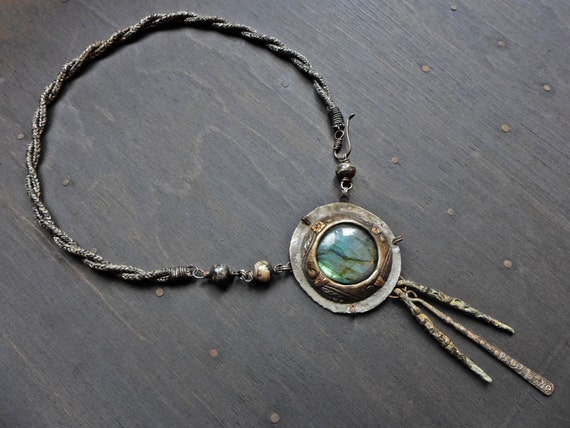 And if you don't think dis speshul right here then idk what to tell you.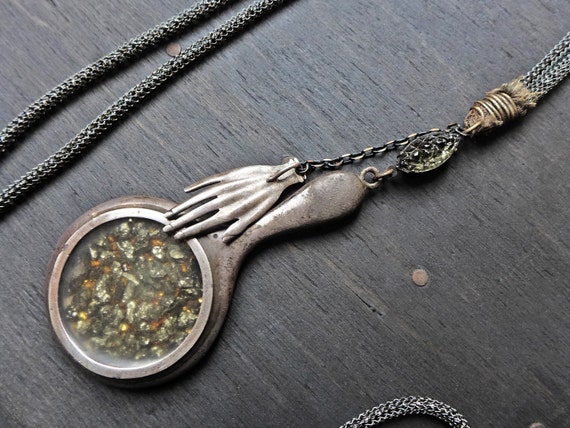 The Importance of the Self
Another super fancy one with lots of sterling and a precious hand from inheritance haul.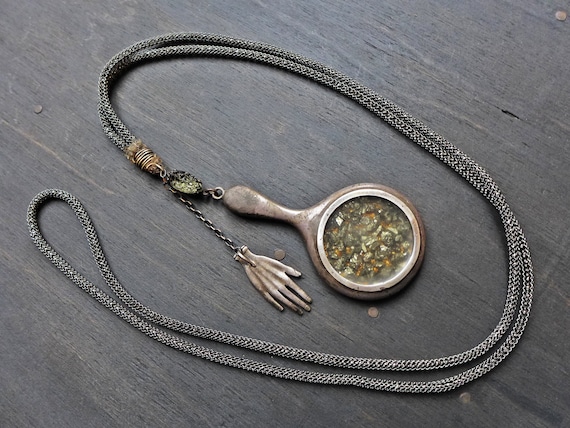 I left the non-focal part very plain. It sold.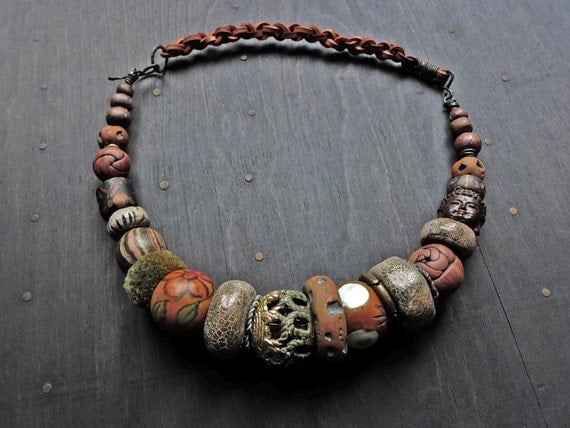 Geolatry
This one sold too and I'm so glad cuz I made almost all the beads. Sixteen! From six different series I've done. So I'm glad someone valued it as much as I did.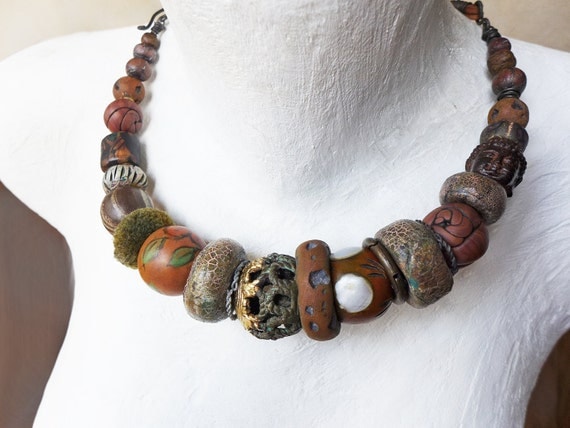 I even wove the cord in the back.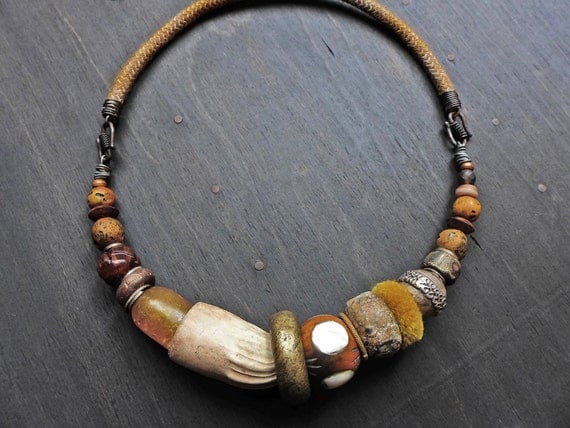 Geolwe
This ones got an ancient roman ring, a clay pipe found in the Themes and seven of my polybabies. And like the last one, it's deceptively light weight.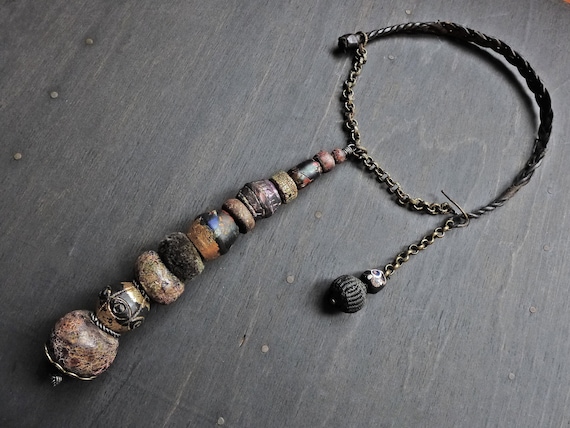 Passage from the Other World
Another chunky sold necklace!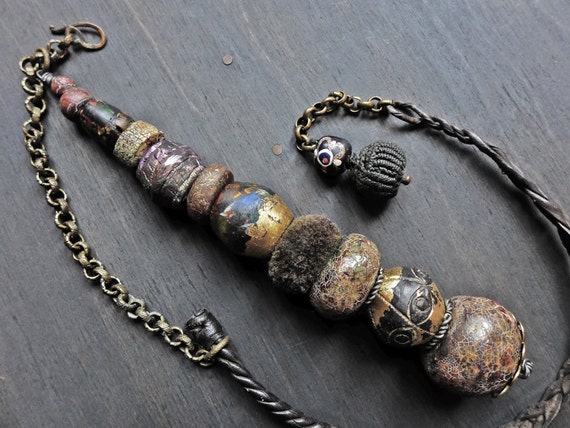 They actually all sold to the same lady.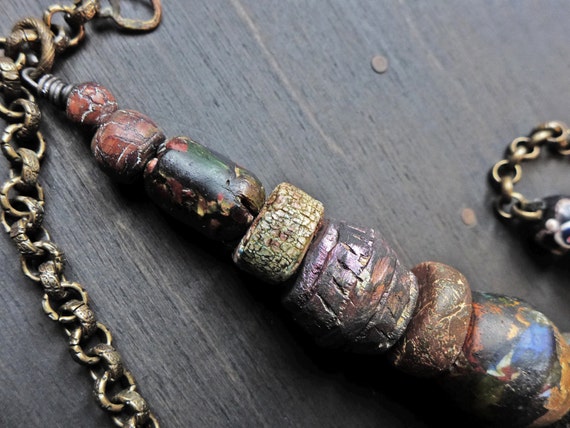 This one's also very light.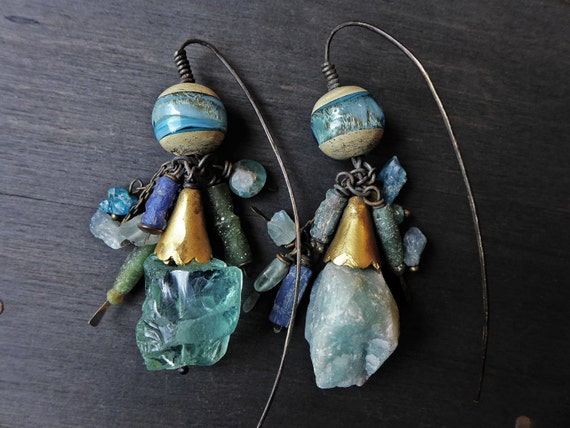 Light is in Both
Look at these! They're actually from back in my Patroness days but someone returned them to me cuz she said they were heavy. They are. But I was glad at how much I still liked them.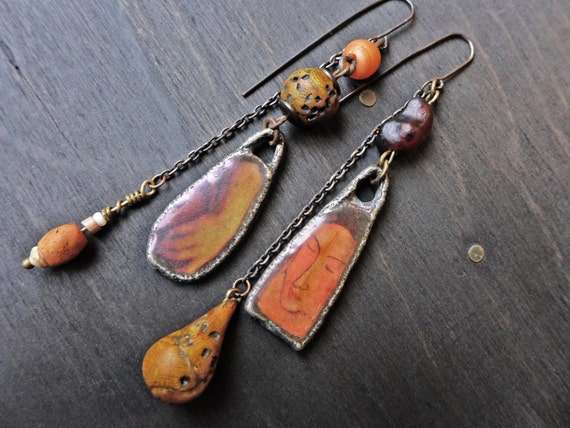 When you Appear
Here's me in the description trying to come up with a reason why I put two such different art styles together with this mismatched set of bezels: "Two contrary depictions of femininity to question our beauty ideals." They're inviciti bezels from the huge lot they sent me, more coming soon. Note my Faux Ancients and a little Gobi Desert Agate.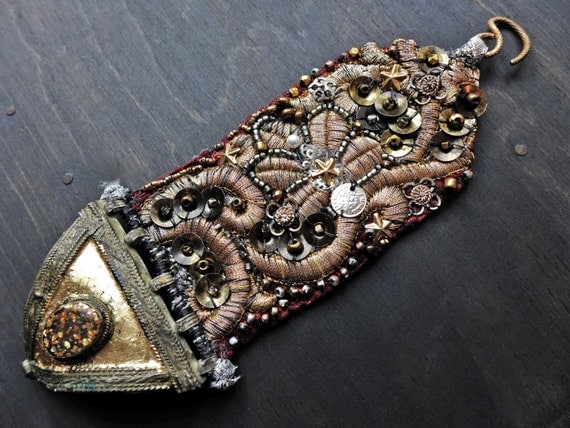 Holy moley textile cuffs!!! I got such an itch when I saw this gorgeous antique sari trim on eBay.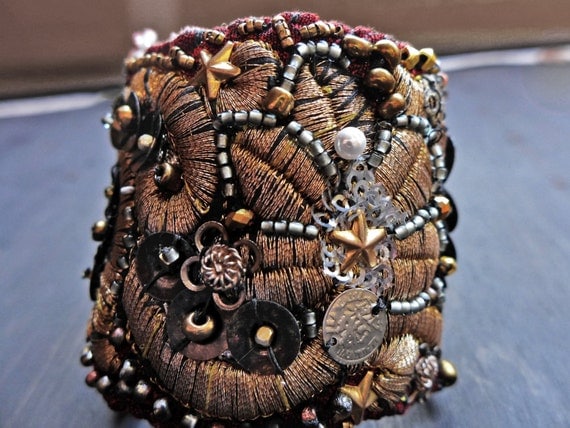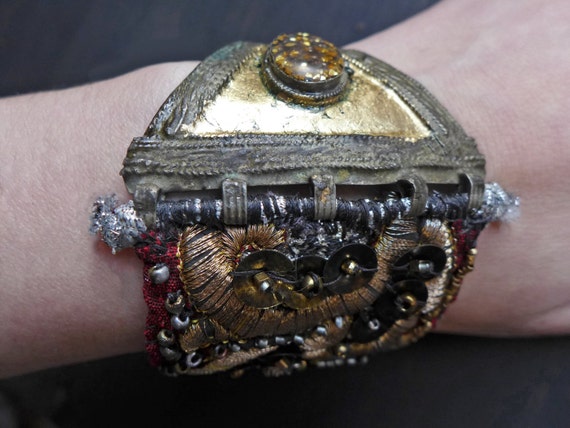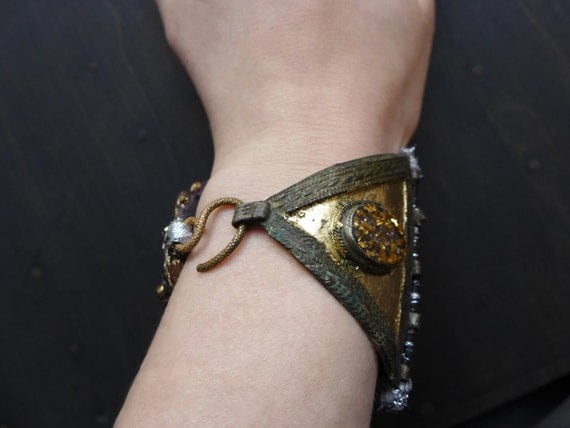 I only meant to embellish it a little, thinking the trim could carry the day but next thing I knew...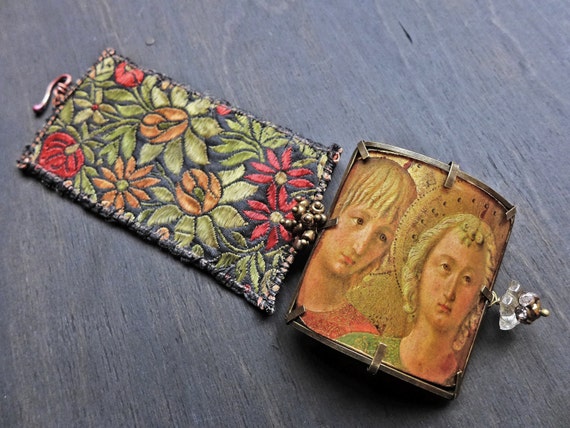 We are Visitors
Oh jeez look at this baby! More sari trim and a big square resin piece that would've sucked if I had to cut into pendant-sized bits. I found this old staple bezel I've had forever and curved it, perfect.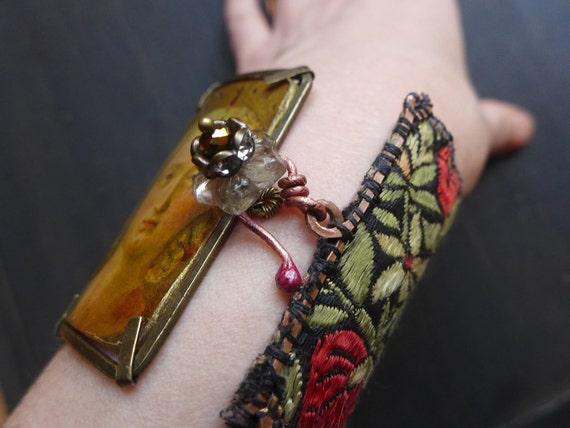 Also hammered me the edge bars for the trim. Also coated the trim in paste wax and polyurethane cuz the silk fibers seemed to want to fly up from the leaves and petals. Now its nice and flat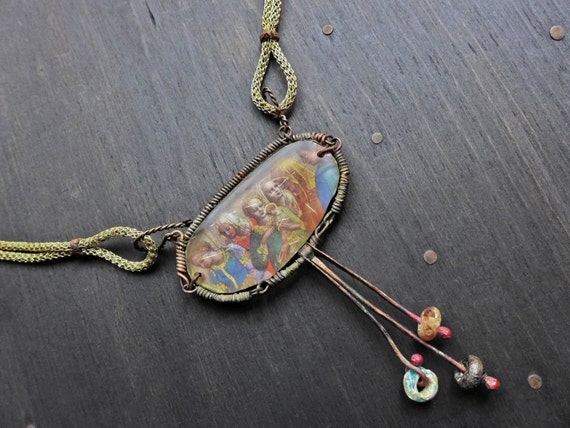 As Long As We Have Voices
Speaking of resin.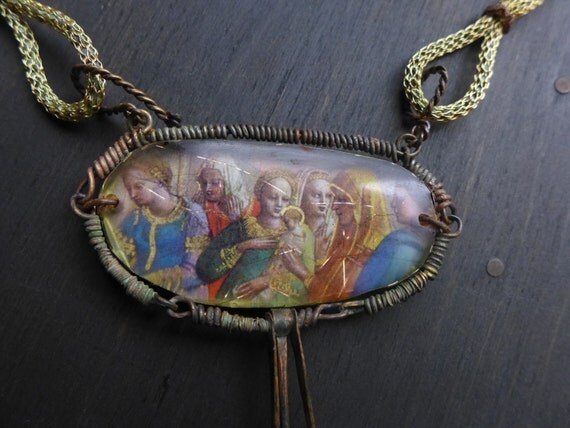 Check out that wound-wire frame oh yeah.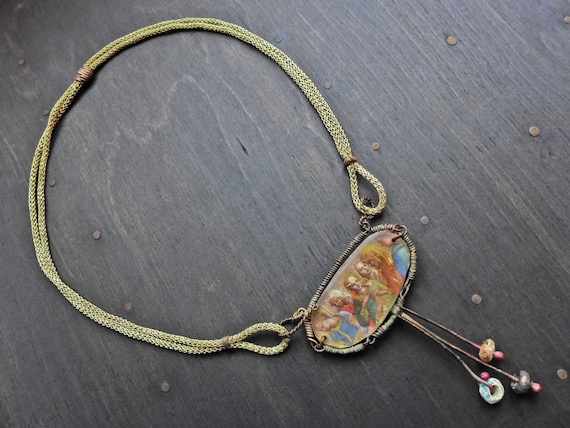 Check out the three ancient beads all dangling on slightly different pins.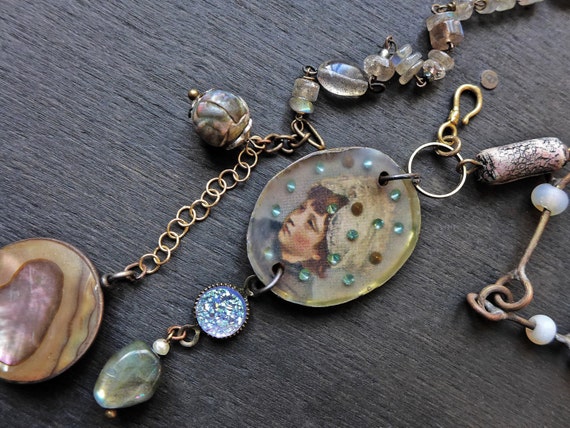 Everyone has Lost Something
AKA "Abalone Mahoney." Not really.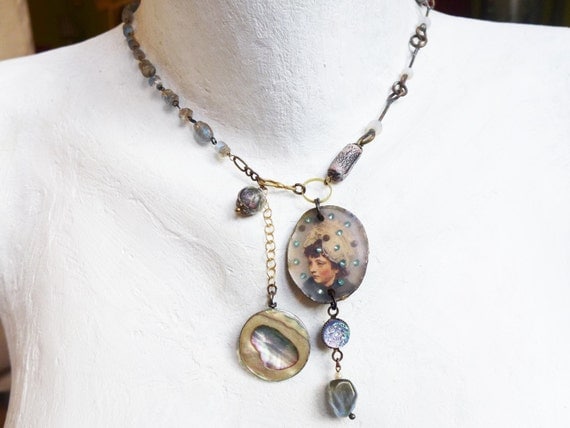 But I was extra proud here when Sparrow who was helping with listings couldn't recognize that three of the beads here were my polybabies.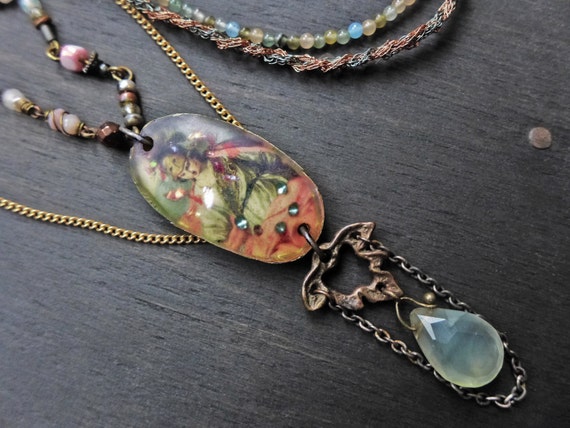 Truest Victory
Can I be honest for a mo? I really love everything I make.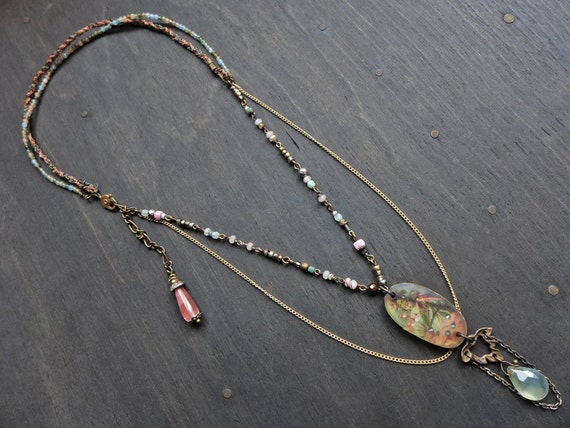 I like that lately everything is either way delicate or way chunky.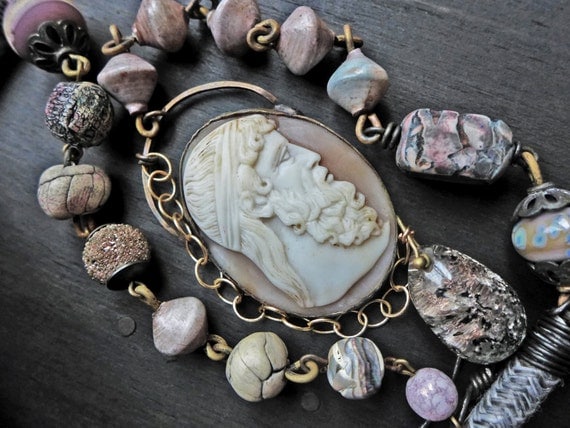 Cronos
Maybe this guy's a bit in between. Look at that halo I gave him! Gorgeous bi-cones by JBDRusticOrganic and some turbans from shipwreckdandy and also three of my own.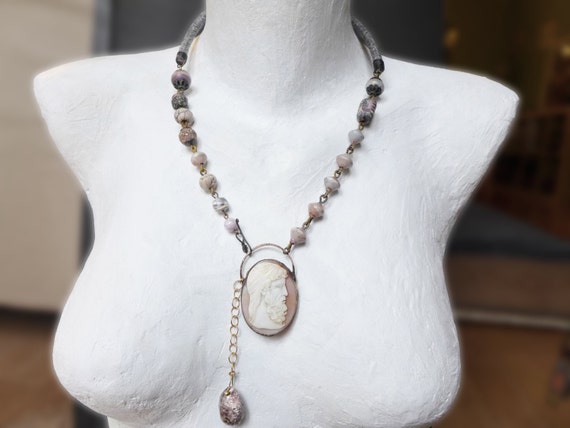 All of these have some snippet of matte gold chain.
💛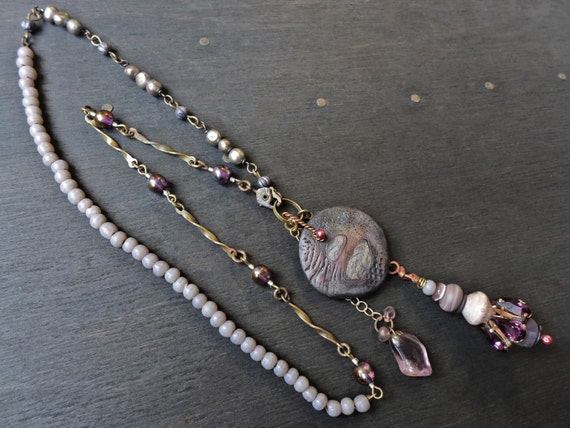 A Mind Stretched
Look at this! I found a stillpointworks disk- - - swoon.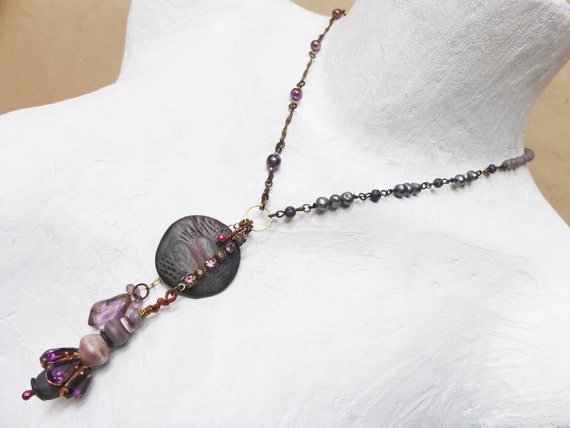 It's so organic and abstract next to the fancy rhinestones.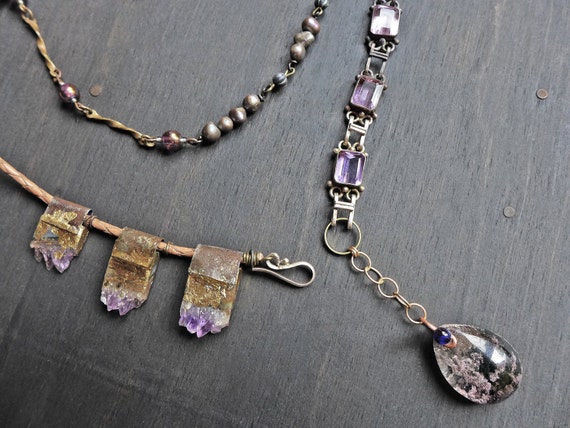 Old Ways
Three rough slab amethysts from Uruguay I've set in tin with a bit of metal leaf.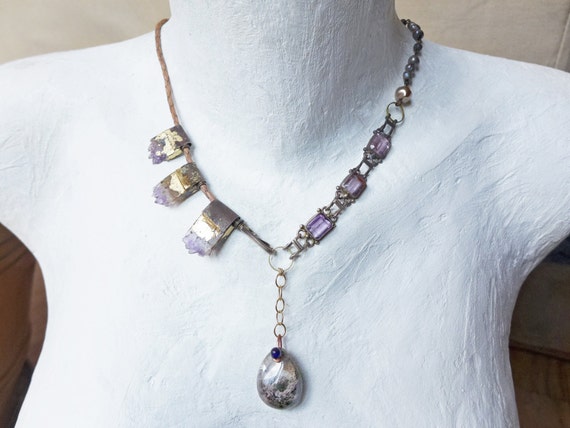 A section of a fancy sterling and amethyst bracelet, a ghost quartz.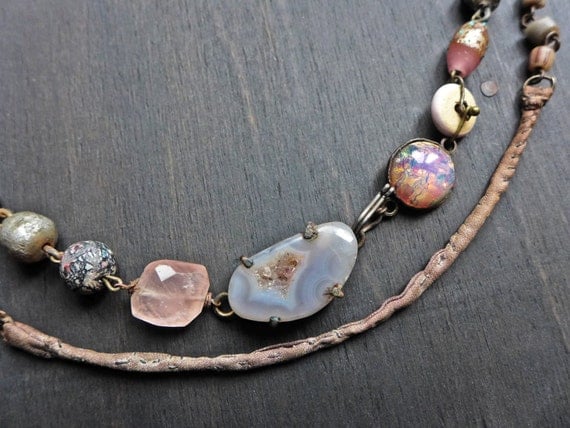 Hesychastic
I think I'm obsessed with focal-less chokers. Even did a delicate one.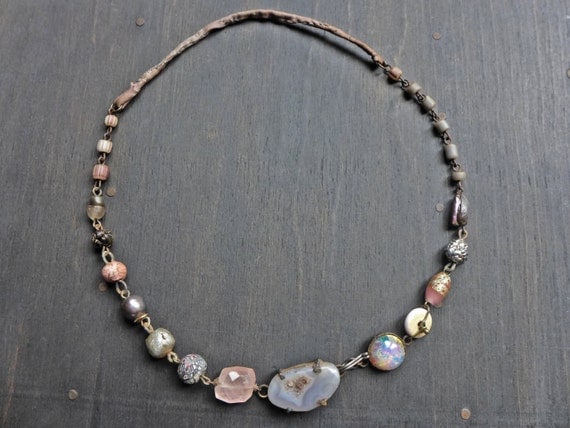 You guys I'm just getting over a cold that had me in bed for a week cuz my niece and nephew germed me. It feels so good when you finally get better and breathing is a thing again.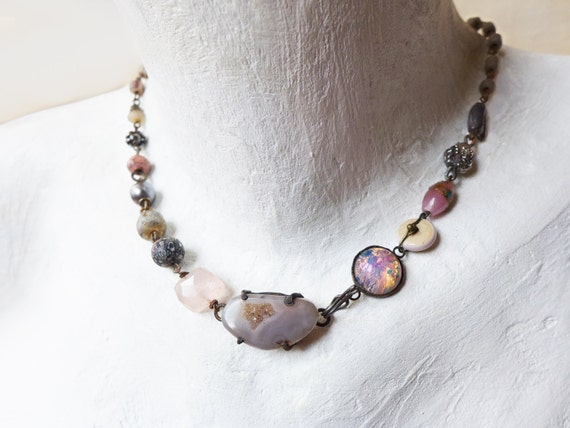 I'm thinking of getting a cloth dress form. They're much more plentiful and economic now and I hate the way this mannequin's collar bones and boobs stick out, warping the hang on everything.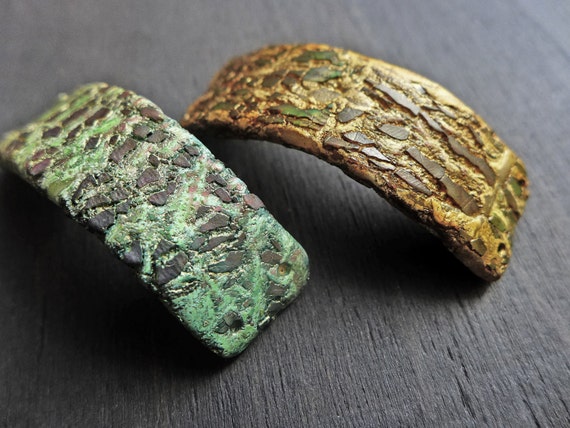 Polymer
connectors
But I also hate making big bulky purchases that will take up room in the house.
But look a these cute connectors.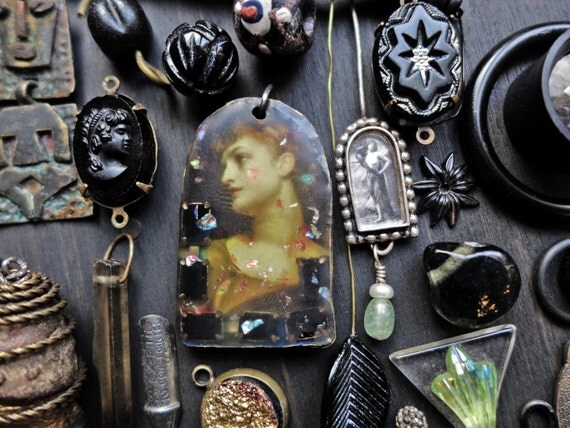 And this black creativity lot that I stupidly undercharged for cuz I was just listing so much stuff so fast.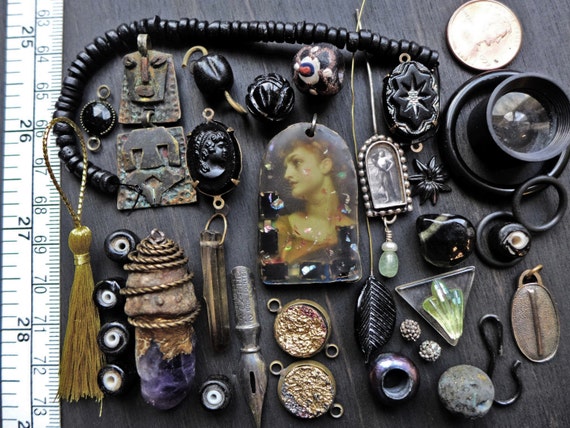 Here's what's coming on our next episode:
Lots of inviciti bezels on delicate guys.
Do you all go on little obsession-journeys? Personal fixation trends? I recently discovered these very rough ancient cameos and they're just doing it for me:
I was thinking if I could reproduce them in polymer but they'd just look plastic-y and lame.
I was looking through etsy trying to remind myself I don't have to be a cheapskate re supplies anymore and I found these guys:
Imna start adding them to everything I make. Y'all are gonna be like, "Are... are you ok?" And Imma be like, "If you can't support me on my journey then get out my way!" Oh man those cracked me up.
Now turn up the volume guys this is really important:
Save
Save
He falls asleep when she says so!
Save
Save