So even though I haven't been able to get a thing completed in the last few days, I can't have the wails of defenseless fur babies on my conscious. So here's what I'm working on.
I have to start trying to incorporate my birthday haul into my other stuff, which isn't easy. I made this out of all birthday haul stuff and a ton of steel wire. Still needs oxidizing and a clasp.
It's a bracelet, duh. But yeah maybe I should add some tribal dangles. The oxing will make it look more me. More Me! That's gotta be the name of my new garage rock/Neil Diamond cover band.
In the haul there were a shit ton of huge beautiful stone beads. But again, nothing like the things I usually get.
So here, still in desperate need of oxing, is something using those beads.
Had the little shoe forever. Though a long think necklace might pair well with it, I dunno. I arranged the one side for the stones to graduate from darkest to most transparent, which is fun...
As for my attempt to physically incorporate the trays into my studio, well...
Among the haul were also tons of broken rhinestone chain links. I got out some random empty bezels and used them with resin.
Here with some microbeads up top. Yup, I happened to have a buncha heart-shaped bezels, so what? I'm secure in my manhood, damnit.
Plus I used a lot of blues and stayed away from too much pinky-reds. You can see some scratches where I attempted to remove the resin that cured on the outer surfaces.
Resined posts onto some kuchi coin parts.
Experimented with several open-back bezels. The mailing tape I have isn't good enough to keep the resin from leaking out though. This is why I tried to let the resin set before pouring. That at least got me some pretty decent doming. So yeah I put gold leaf directly on to the tape, then some cut up fusible film, poured resin, added more film, mixed in gold perfect pearl powder, added microbeads.
And you can see I did one just rhinestone bits. I have a ton and I have to use them for something. Plus, there isn't always great stuff to put into resin, you know? These work.
You can see a lot of dimension in the experimental ones when you move them in the light. I shoulda included more gold foil in the higher layers... Hm. Need to fold down those tabs, need to de-shine all surfaces.
While I had the resin out I used it on these guys. Knowing these would be for earrings I of course couldn't let myself use the same exact color rhinestone.
Look how different these look just because the top one wasn't fully oxed beforehand. I need to wipe off the excess pearl powder on both these pairs. The top set I used the teeny seeds pipnmolly sent me.
While I was at it I resined this cool bit I had le
ft of Hieronymous Bosch on to one of the crystals etsybud Claudia sent a while ago. Looks good!
As I mentioned, I wanted thick, partially cured resin for my bezel experiments. However, this is NOT what you want for just resining paper on to glass cabs. So these looked like a mess.
However, once I cut them out and scraped off the top with an exacto knife, they came out fine.
Small miracles.
This is to show all the art that gets wasted as you look for the bits that can make good (as well as maching-ish) bezels. I mean, generally girls don't want just a bunch of bearded dudes dangling off their ears. But I think I can do something with all those hands, so this isn't trash yet.
What else? Managed to snap some more bangle pix: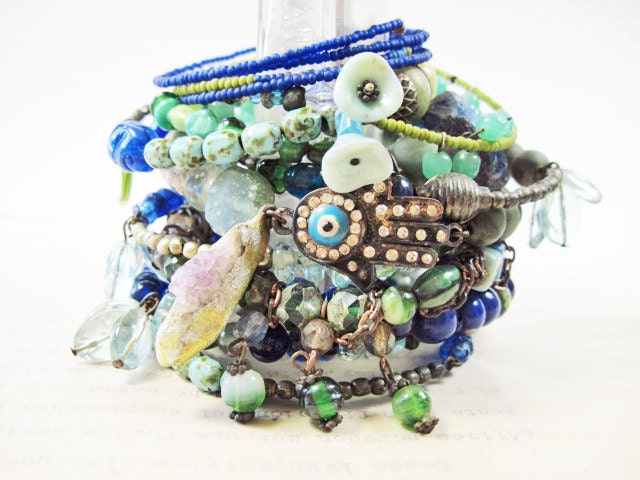 Did a re-make for someone just because I thought it might not be too painful in this one case, and it wasn't.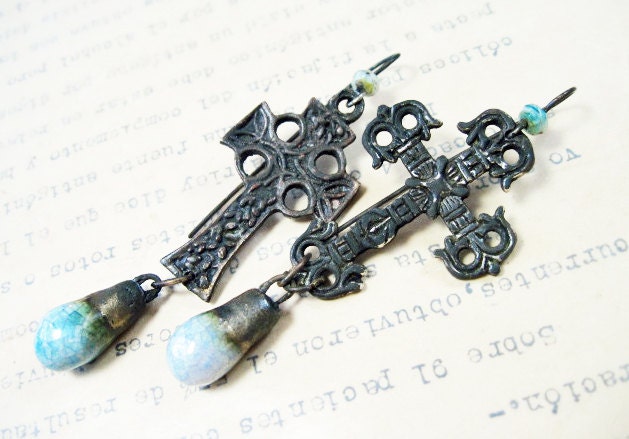 And another remake below, just because I happened to have the parts readily available. Don't expect more of this. Rare cases!
"For the life of me, I can't figure out what / how / which part was soldered/ filed....? Shed a little light, could ya?" Maybe the image above helps. It's... all soldered. Except for the earwires and jumpring connecting to the ladies. Here's a doodle of what it originally looked like. The wobbly mustard-colored lines are the original, unsoldered wires. Do you see my mastery of line and color? THIS is why I am an arteeeeest!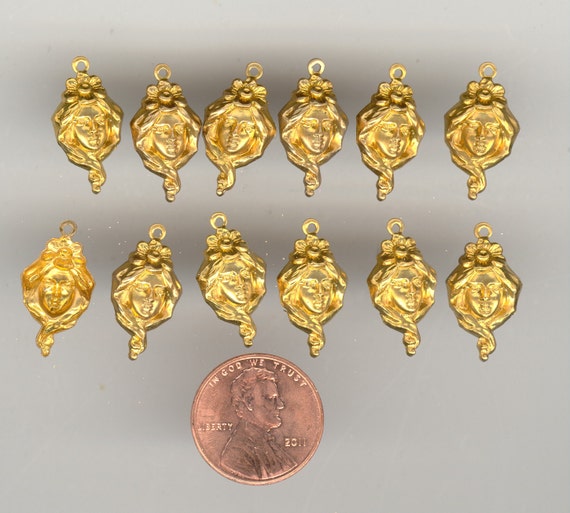 Oh and Jorji of the crying canines asked where I got the ladies- etsy of course!
Here
. See the difference some ox makes?
Oh another fun bit- I recently reached a mind-boggling 2800 sales! Hooooray!
Happy birdie is happy. Look at that spaz. That's for you fadeandremain.
But no special giveaways in celebration. I just fucking packed twelve big ass boxes of giveaways. I'm tired.
Sad kanga looks into the distance pensively.
Now lets look at some more redonk.
How much better is this when you realize that's a potato?
Muzzles.
Spazbun.
Das all.