You know what's not sexy? Feeling like the anthropomorphic embodiment of over-heated mucus.
Guess I tried to do too much on too little sleep. The takeaway is to never leave my house again.
While I done been sick, I've been playing with a shit ton of dried out poly Shipwreck sent me.
I meant to mix it with non-dried out clay, but I ran out.
And since I dont have the wherewithal to leave my house or even decide to be lazy and just order it all even thought there's a Michael's 3 blocks away, I've just been painstakingly mixing thin slices of the dried stuff with mineral oil to make it workable.
Resulting in 10x more work for me oh well.
So anyways, all the clay I got is crazy bright so I'm experimenting with the mix of neutral/grey with neon. The results are nothing like what I do in jewelry, I don't think.
But fuckit, I find it intriguing.
The colorway is very contemporary and the stratum thing is primordial. Yeah.
It's based on this tutorial, part of a
little pack of tutes
I got for the faux raku one:
Volume 014 Back Issue Package

To see the following Volume 014 Preview Clips and to order this Volume 014 Back Issue Package…

Click Here:

Jupiter Beads | Faux Raku Smooth Pt1 | Faux Raku Crackle Pt2 | Torn Clay Watercolor


Or… If You Already Own This Volume:

Then go here: Polymer Clay Tutorials Vol-014

Recipe 014-1A:

Cornflower Blue


Recipe 014-2A:

Butterfly Gardn


Recipe 014-3A:

Tea Rose


Recipe 014-4A:

Wild Rose

Video 014-1:

Using Your Extruder and Some Scrap Clay to Make Jupiter beads


Video 014-2:

Faux Raku Smooth Pt 1 – Using Pearl Ex Powders and Alcohol Ink


Video 014-3:

Faux Raku Crackle Pt 2 – Add Deep Texture Effects To Your Beads


Video 014-4:

Beads Layered with What Look Like Small Tears of Watercolor Paper
Vol-014 Add To Cart ($9.95 US)
So yeah wanna hear about my runny nose, headache and fever?
When you're sick you kinda feel high as well. And it's hard to see clearly so all these beads are sort of surprises that I have no control over.
But plus I discovered that white paint adds more details to some that I felt were too simple. Maybe guilder's would be easier because then I have to polish all the white paint off it's a whole thing.
That one there has little glass microbeads all worked in. Just cuz.
What else? Some more meteorites.
That I made with rock salt.
Here's some early attempts at the extruded Jupiter beads that I didn't like so I turned them into faceted beads.
Which the extruder is this thing by the way:
I'm an idiot I shoulda gotten this one with the turn thing:
Cuz sometimes you have to push soooo hard... But you know me I had to go for cheap.
I'm having trouble keeping myself from buying every polytute out there.
Even though I know most of the info is findable for free on youtube and stuff.
There is something about having it handed to you on a platter.
I know y'all are used to seeing jewelry and I thank you for indulging me on this new obsession. I do have some jewelry projects laying around but right now I'm just amazed I was able to operate my camera through all the snot. And I have to insist again that if you had a question I didn't get to either here or in convos to just ask again, I loose track. All answers are probably findable in past posts. Which you can also peruse if you miss the jewelry anyways.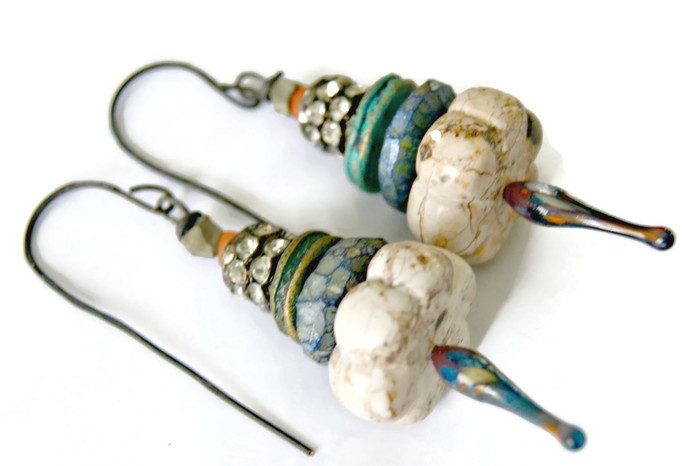 Look what
Emmanuelle
made with some of my beads! Plus a ton of other cool shit. (Someone else sent pix of something made with my tutes that I was gonna share and now I can't friggin find them anywhere.)
And I haven't been answering convos from feeling sick. Somehow it's too much effort even though I was able to put this post together. Responding to others is harder than just spewing shit out I guess?
Gotta go sling my snot around some more.