mine
from Malaysia but you know, land of cheap things produced
en masse
.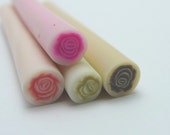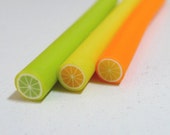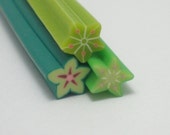 So I picked some who's colors I liked, sliced them in flakes lengthwise instead of perpendic like you're supposed to, chopped them a bit and mixed them up with some translucent clay that isn't
that
translucent, it's just sculpey. Anyways, when I faceted and painted them, now you can see all these neat bits that give it a whole extra layer of complexity.
But that's just cuz of the paint I happened to have on hand, I never have a plan. Then when they were done I remembered my plan was to facet. (Did I just say I didn't have a plan?) Oh well, all that painting and texture for nothing, but who cares, I'm experimenting. But then as I started faceting I saw that when the previous treatment was just left between the facets it looked 10x awesomer. When you experiment, and really any time, you have to let go of your previous work. It's part of letting go of that "I don't want to ruin it" instinct I'm always railing against. "I don't want to ruin it" will keep you in the ranks of the amateurs. But it will also keep you from doing this---
"These look fi-
OHMYGOD Penis Heads!"
I thought I was being clever coming up with a sort of split top thing. Next thing I know, wieners! Wieners everywhere! But hey, every mistake is a learning opportunity and here I learned not to make wienercaps. Maybe I should call them wienercaps. Cuz we all know how much we ladies like to have shlongs adorning our necks and lobes... ringing like bells, ding-dong. Shlong-a-dongs.
And you've seen these. Is it weird all these beads are already wired? Cuz I'm so used to, you know, wiring beads I ended up doing so in the making process, just to have something to hold on to.
Now for some you haven't seen-
Or maybe I'm just random. But also don't worry the super strong sealant keeps any cracks from just plopping off. What else?
Oh but plus I also have to destash in bead soups, inspiration kits and something I am marinating on which I'll call Stack Starters. Cuz the bangle stacks. Eh? Eeeeeh? Why hasn't anyone told me I'm clever yet?
I'm thinking of this one as an 'inspiration kit' because it has some very singular items that might cause you to make something you wouldn't normally. It includes a bead I made and this amazing antique rose carved bone from Kathystash as well as a gold-leafed shell and a bone cab with a leetle flower bud. So it's not destash in the sense it's not just a buncha things I'd just as well toss. Plus how it's united in color and mood. So how much should this cost?
Oh plus I gave those rose some pink glowy highlights. I need to crowd-source my prices, y'all. Or are you guys gonna be too polite to actually chime in with price points? How about you can say, "I imagine you could find that on etsy for $5 to $98" except you know, less of a range.
OK, the final inspiration kit might be too big. Cuz really there are really nice things here and it ... might end up being too expensive for a bead soup.
So yeah guys help a sister out.