Well, I got my new iPad y'all. I've been binge-watching Orange is the New Black- OMG the hype is legit, that show's amazeballs. And that's from someone who usually likes escapist shit like Dr. Who. So do yourself a favor and don't stream Netflix you'll never see your loved ones again.
The Angelic Ones. Resin charm and connector set.
All I have to share is some more resin things.
Imna sell these as a set because it's easier for me to do so.
Lady and Baby Toes. Resin charm and connector.
Even if the set makes absolutely zero sense as a set, like this one.
This one has a bunch of smuges and crap trapped into the resin layers. It might be too grungy.
Maybe I'll just lower the price? Or sell these together?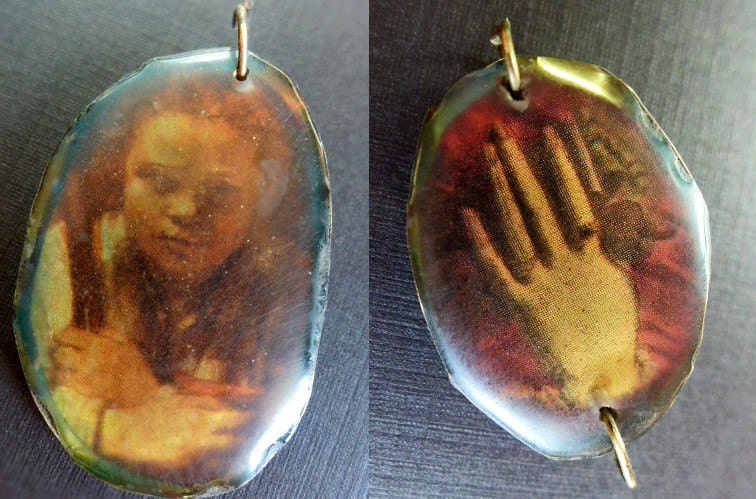 Take Her Hand. Resin pendant and connector set.
I've gotten requests to make these into my next tute.
Idk, there's more steps than I'd like to be honest. But yeah I know I'm proly due for another tute.
Exultant. Resin shrine charm or pendants.
I really like these shrine-shaped ones.
The Perfect Child. Resin charm pair.
Ok so then I ran out of brass and made these just using aluminum foil for temporary bezels.
Mother and Son. Resin charm pair.
Which is a terrible idea, never again.
Though look at those puffballs! They look like beach stones!
But yeah these took like 12 different resin pours and tons of sanding and shaping.
And the aluminum foil (or as the British say, football) gets trapped in the sides. Plus, as I emphasized on the listing, they're a smeary grungy mess. But idk, I'm embracing it. It's part of the appeal I've decided.
Baby Blorp. Resin charm pendant, inverted teardrop.
Look at that Blorp.
Why a headless baby? The head ended up in some other charm, it got away from me.
Lady. Resin charm pendant.
Some Vermeer.
Jeebus and sheep.
Faith. Resin charm large teardrop pair.
But yeah I need to order more of that very thin brass sheet for embossing. Dry embossing, metal embossing, like I used to use for my milagros.
Here's more I haven't individually photoed yet.
These used to be a big magic lantern slide Sparrow sent me ages ago. I gold leafed the back, broke it into pieces with a glass cutter:
And then as I resined the other stuff I'd pour very small amounts on the glass, small so as to not overflow. Still did on the top-left-most piece, it's a mess. But yeah then I very carefully and patiently drilled through the layers of resin and glass with my dremel.
Earring pairs?
Then I bailed these big teeth I got in the U using my cosmic rocks method. Turns out it was easy! Some had a bit of a hole, some I drilled a groove around so the wire had a place to sit snug and wouldn't easily break off.
I was showing my niece and neph some of my "new old things" when Carlos found the camera.
He told me to smile, so...
Marcela's golden locks.
Bingo decides what this party needs is his big grey ball.
He likes to oversee the operation.
This is how everything ends up with dog hair all over it.
Carlos turns the camera on himself.
Here's his feet while Marcela and I watch some Cartoon Network, our favorite.
So, I can't get the computer and iPad working at the same time because the computer won't recognize the AirPort device. I thought I'd just keep it plugged into the modem but the modem only has the one plug hole. Goddamn it. I even went today through the 90 degree heat to get the plug and only realized when I got home fuckedy fuck. AND I need something called a USB hub and I can't understand what my printer ever got plugged into this is impossible.
Don't you love reading about that shit? Anyone who likes the kind of eye-candy this blog provides, I'm sure your eyes just glazed over while reading that last paragraph. Pray for me.