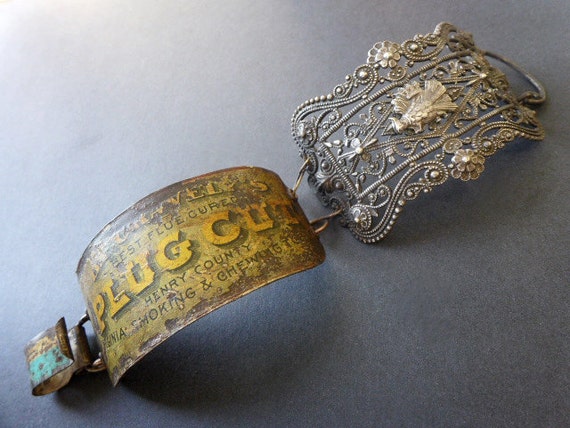 Mutalibun.
Cuz beeatch, I got yer bracelets right here.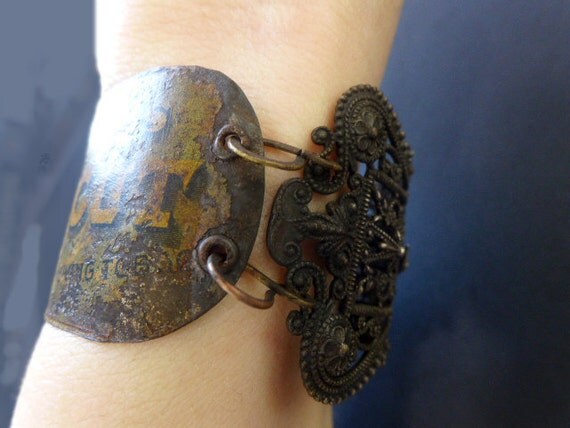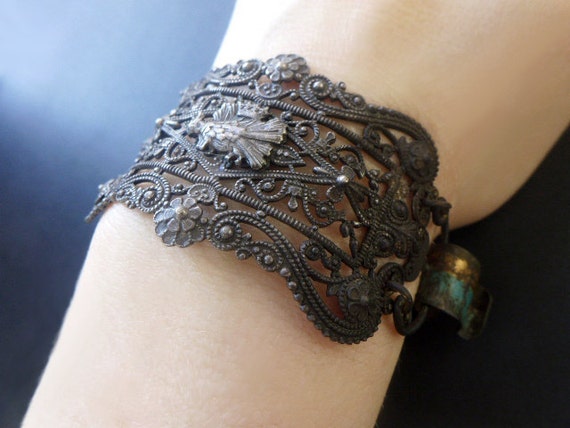 Here's a cuff with filigree from
Kathyhaul
(yeah, I'm still chipping away at it) and Uruguayan tabacco tin. How much stuff did I ruin before it occurred to me to just use a nice chunk of tin with the filigree? Idk, lots. But also check out the little eyelet rivets I put in the tin holes. Thats a new thing for me and I need to do that more.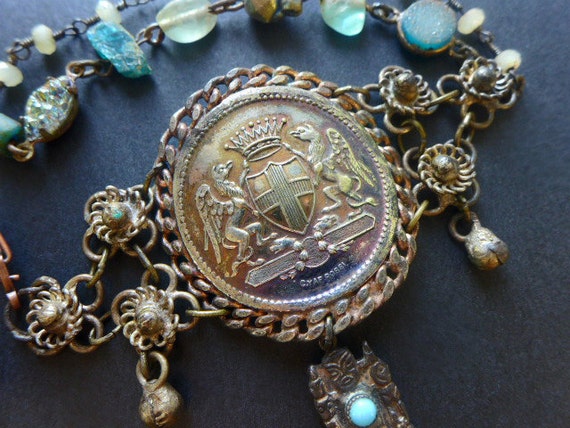 A Dream of Glory.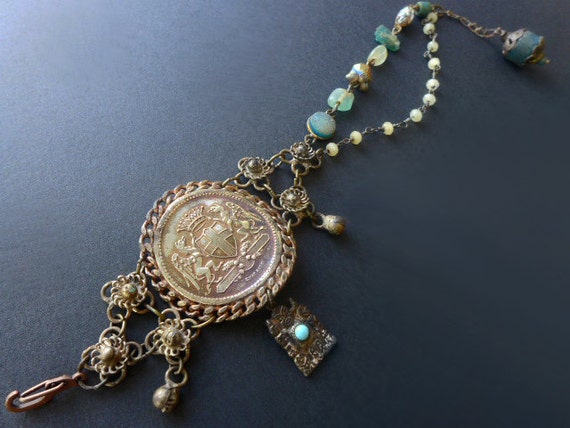 From my huge stash of Uruguayan medals/coins/round shit. But this one came with its own connection there with that strange cable trim. I linked it to these little kutchi then added all kinds of delicate little blue stones.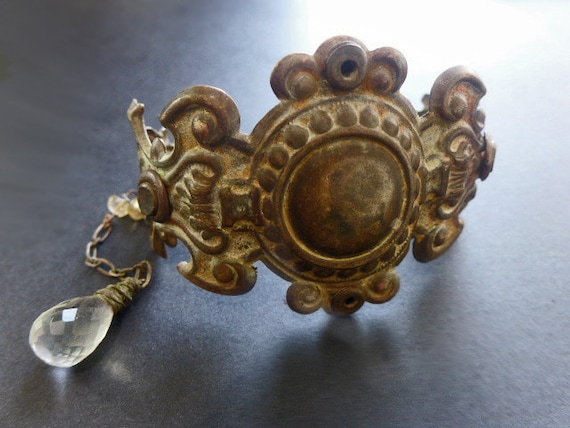 Barakah.
Another Uru-haul. I discussed this with y'all months ago- what to do with the holes in this escutcheon. Here's the originals:
Leaving the holes alone certainly didn't work, adding decorative crap didn't either. Then I hit upon just filling them with a variety of eyelets and rivets and did a dance of glee.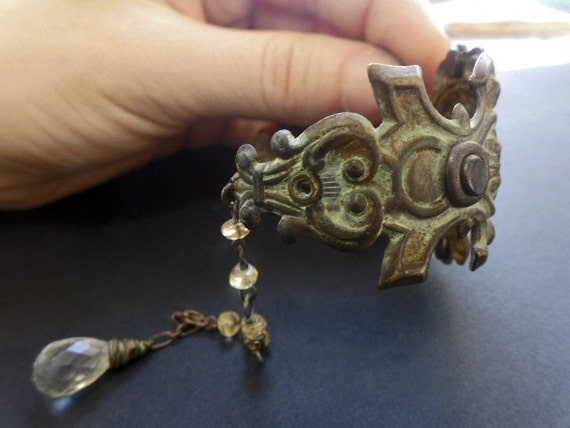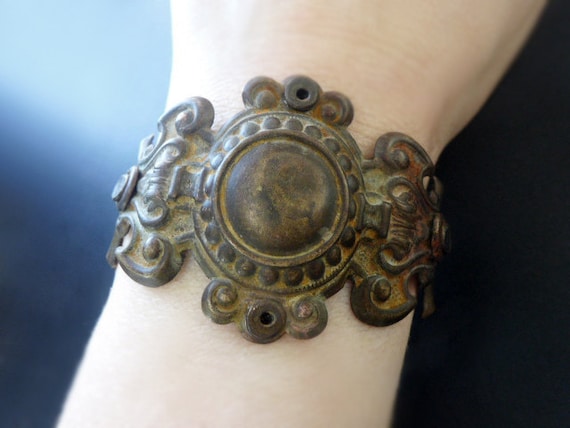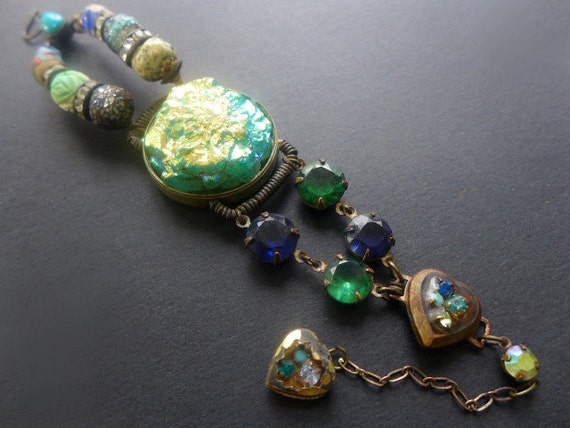 Superluminal.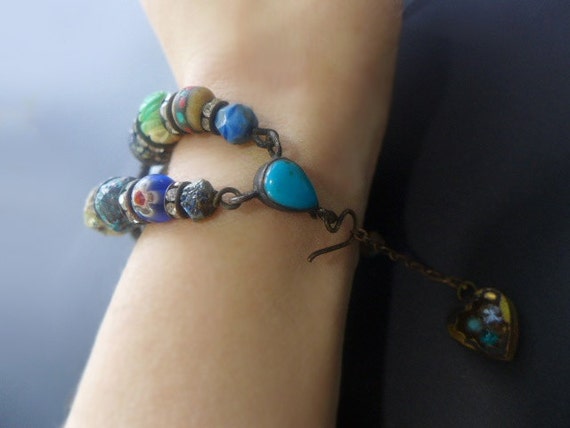 An old watch frame from Kathyhaul was the perfect bezel for this huge Patroness-abandoned stone. And I just went fully over-the-top with this, adding everything blingy I had laying around. It's weird cuz one side is thick from the chunky beads and one side lays flatter against the wrist but idk, it's big and redonk and yeah.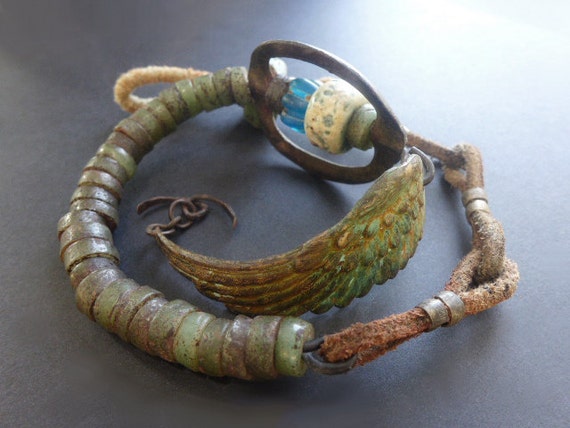 Ragnarök.
Getting back to rough and rustic, a double wrap baby. I do so love a double-wrap. I feel like each bit doesn't have to be as amazing cuz I have twice the space to make an impact.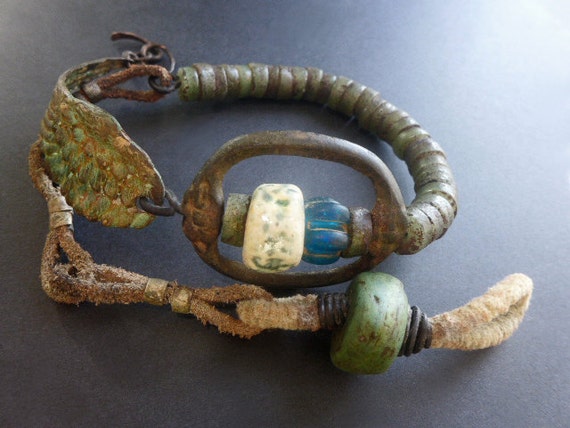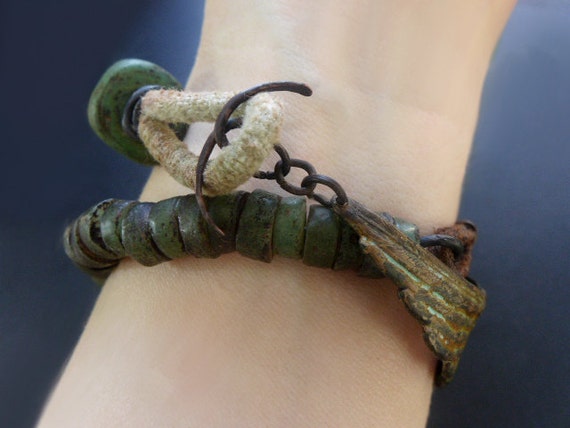 Like here the long bit of leather links I made from some cord shipwreckdandy once sent me. Aren't those cool? Like leather chain. Something to do with leather cord you might have too much of?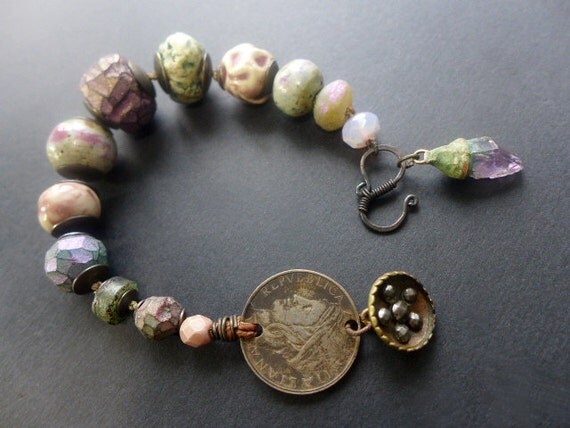 Eudaimonia.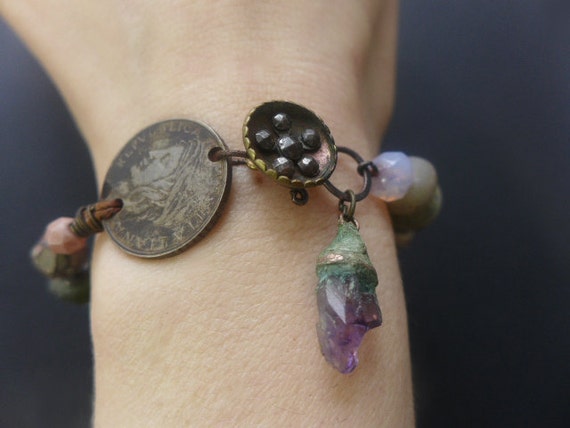 But I am enjoying trying my hand at these bead and bits type bracelets the type you see more on etsy. For sure,
Lorelei Eurto
is the queen of these. And while her style is 1000% different than mine, I still love her stuff and am super inspired by it.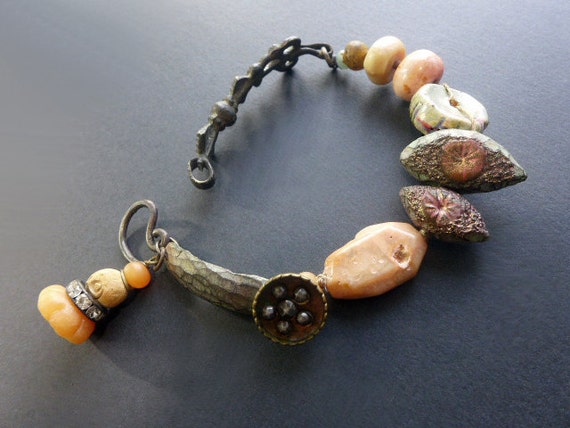 Visitors in the Universe.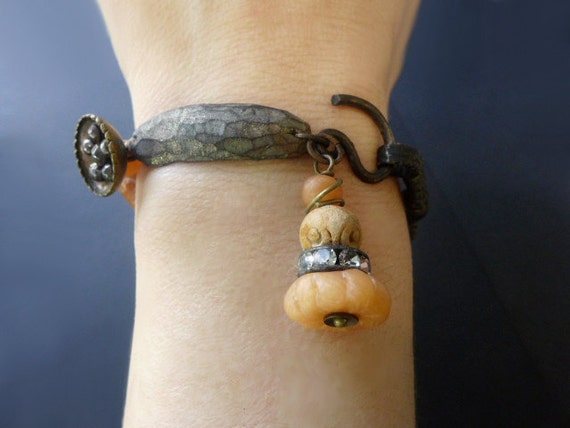 Here's another in that style. I tried being creative with some poly elements- like a longish connector and the eye-shaped beads.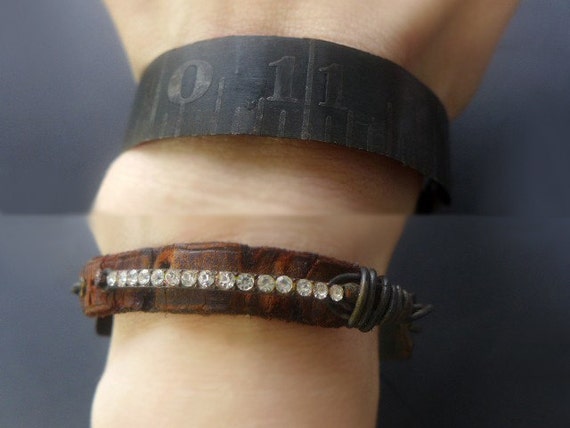 Measure of Darkness.
But yeah, I still make stuff like this one that's all me. Very simple piece really, maybe one to add to a collection of bangles.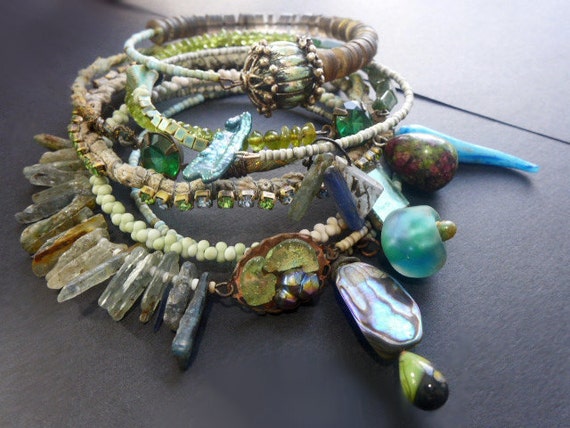 Underwater Tribute.
Speaking of which- gasp!- a stack. I had tired of making these as they had become just a sloppy way to use up every random bit of destash I had. But I made these with more care and less stuff. And better stuff I think. And less bangles making them easier to photograph and manage.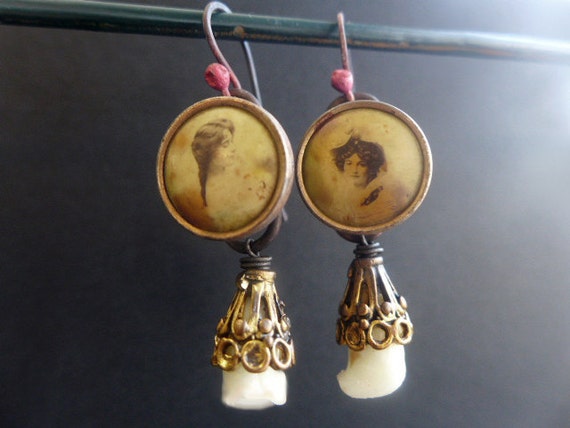 Ingenue.
You might remember these Uru-haul buttons- finally used them. Had to be small and simple because the buttons alone pack such a punch.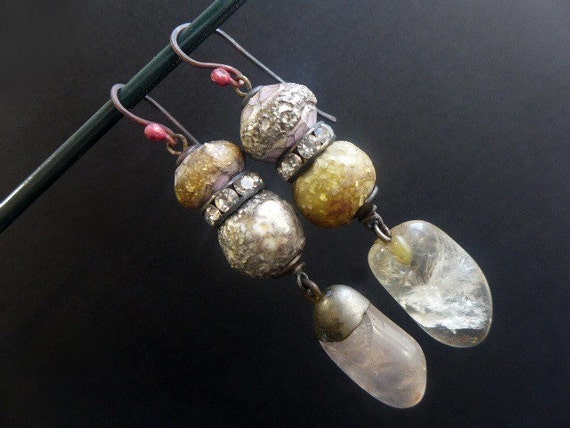 The Lover.
Here's some poly experiments with large grit glitter and liquid poly. They ended up pleasantly inverted. The colors 'n shit. And some lovely tumbled quartz from Uruguay, the rose with sterling electroplated bail.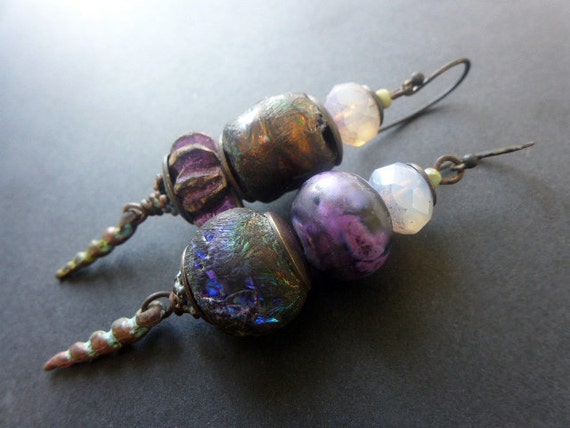 Celestial Light.
So yeah, I managed a little time for some earrings, though they haven't been my main focus lately. Here, asymmetry which balances color and form.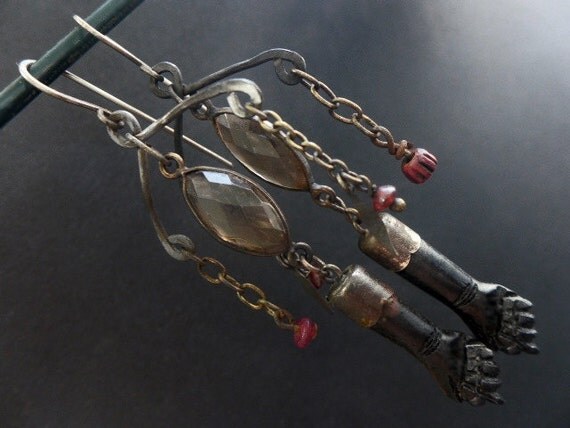 Figa.
And the figas from Uruguay too.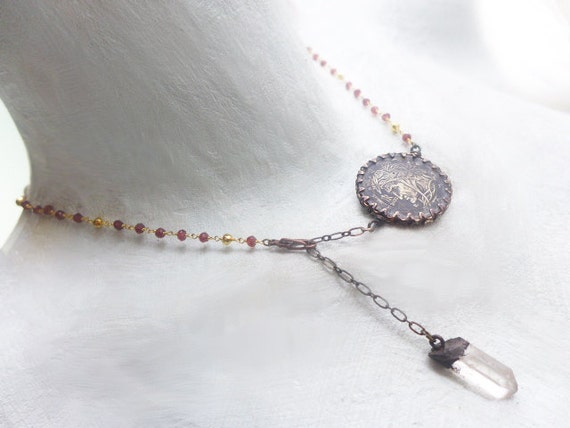 Among the Lost.
And I listed this guy. Oh I forgot to mention the prongy stuff from last post? You can get it on etsy. You gotta search "gallery bezel wire."I'm so glad y'all liked that, yay.
And now we gif party.
Here's some owls upon hearing music from a cellphone:
This kitty after her bud came home sedated from the hospital:
And finally, parable about the price of covetousness (maybe):