Yeah I know I've been not that chatty lately. I have blogged super consistently for several years now and I'm thinking of taking a hiatus.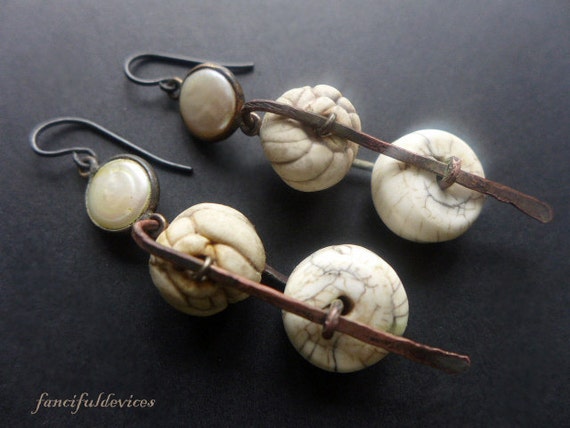 Achroous.
Remember those shipwreckdandy turban beads I raved about? Look at them now! Squeee!!! I actually had to cut the back of one of them down to make it flat enough for this, it was a whole ordeal. But it's like they were born to end up in the above construction. Three white circles- pearl, poly, naga chonch. Sigh.
Inspired me to make some more of my own.
With inclusions and textures...
And pits and striations.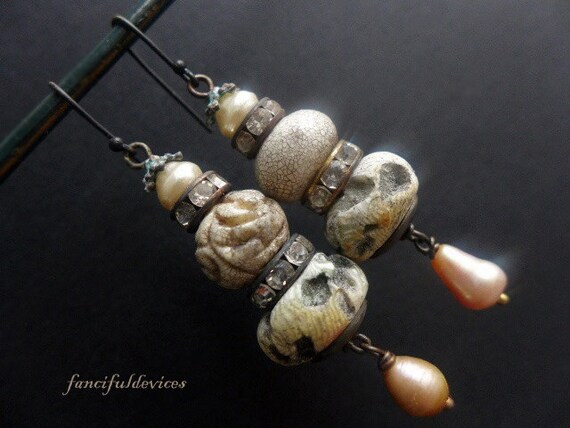 Yuputka.
I used some already here, along with a carved bone bead that I used a crackle finish on just cuz I was experimenting with crackle. Grungy enough to balance out a buncha bling.
Also found a way to make some big dramatic crackles.
I pressed a little channel into two of them and then stuck these glass micro beads in with liquid poly which I then heat-gun cured.
I pressed texture into some then painted black then sanded off then did crackle over that, some just facets. Really ridiculous amounts of steps, especially since I forgot to mention a wash of grey acrylic to tone down the bright colors. But polymer is only worthwhile to me if
I'm experimenting. And experimenting you don't go in thinking 12 steps over 5 days is a good use of your time, you just mess with it, having fun until you've messed all you know how to mess.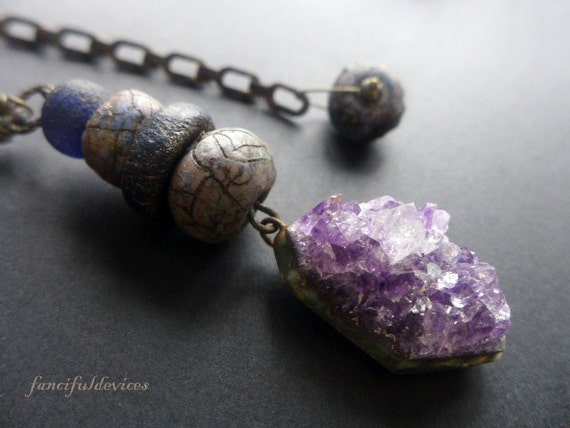 Abodement.
I used some of the crack pastels on this pendant and also below.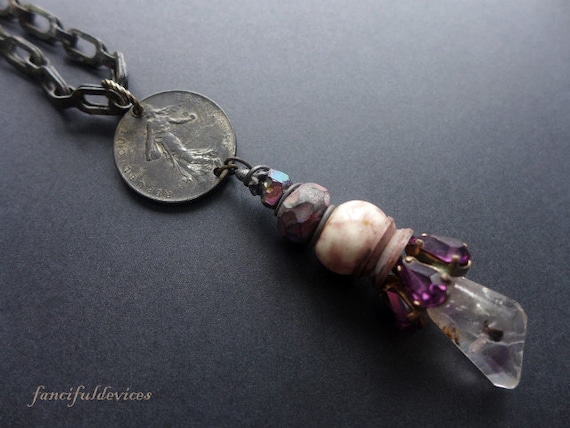 Acatalepsy.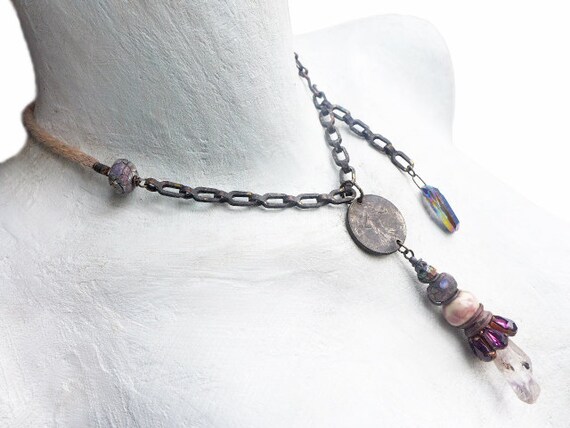 I've also decided I prefer to use my polymer beads myself instead of selling them. I don't know. Photographing and listing them is a lot of time for the small amount of money you can charge, and I also feel like I make good use of my results in my own work. Of course, if any of you guys want to purchase any of these polybabies, just etsy convo me. That's right, I'll sell my own babies!!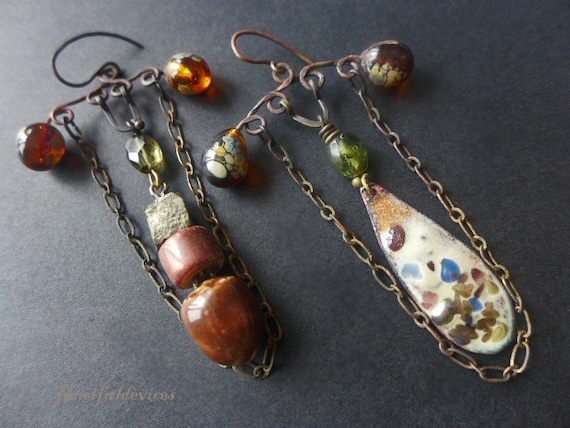 Komorebi.
Oh and those NuminosityBeads double headpins I told you about? Voi-la. Above with a 4ophelia enamel drop.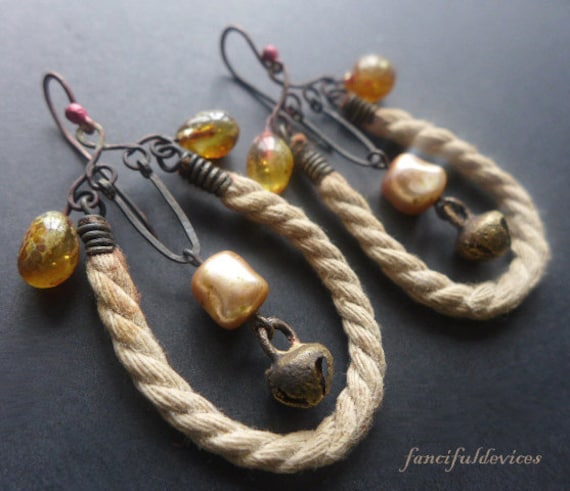 Hygge.
Here I had the wacky idea to make cord hoops. I don't know but I just love them.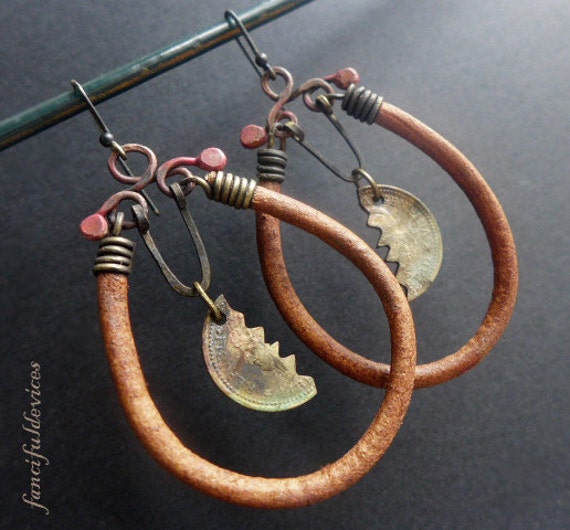 Abask.
So I made another pair with the findings made from double-headed rosey copper pins. And a cut coin from Uruguay.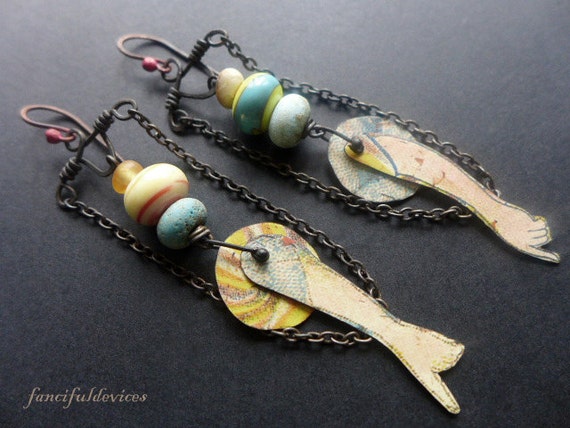 Cafune.
Now talk about balanced asymmetry. There's even a tiny baltic amber on one side perfectly balanced with a teeny polymer bead on the other which shipwreck sent me. I even like the wire findings I made at the top. Gotta make more of my own earring findings.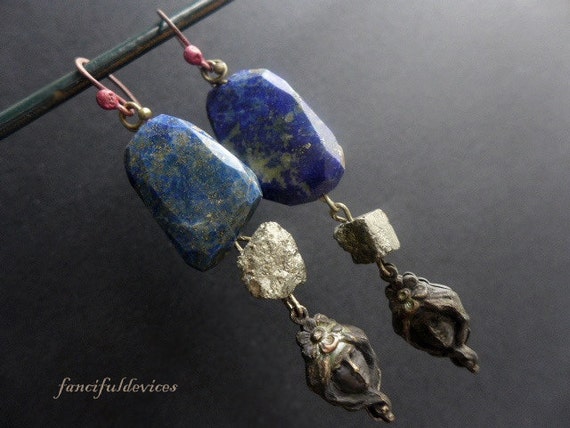 Acronical.
Little lapis.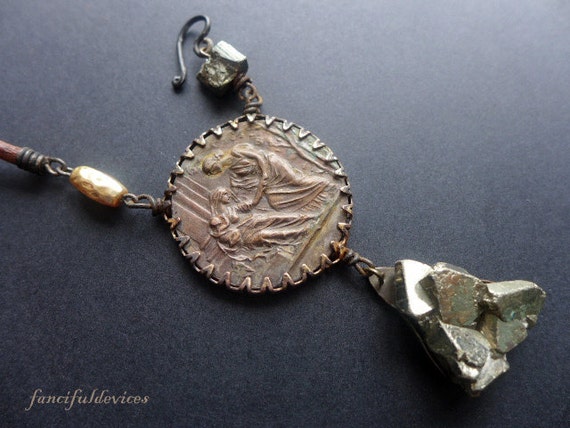 Protect the Mothers.
Oh and that piece from my post about setting coins?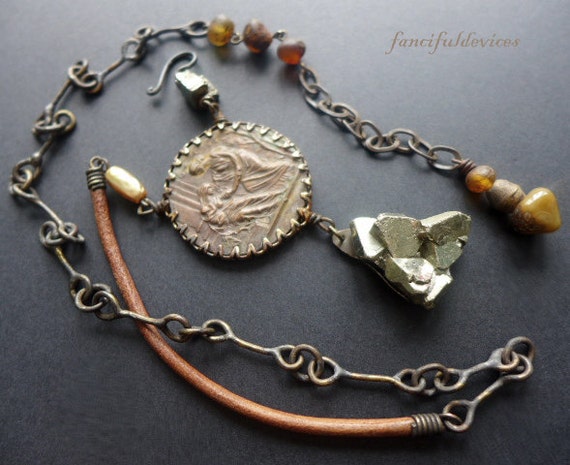 With this amazing chunk of pyrite from Uruguay, my own handmade chain, etc.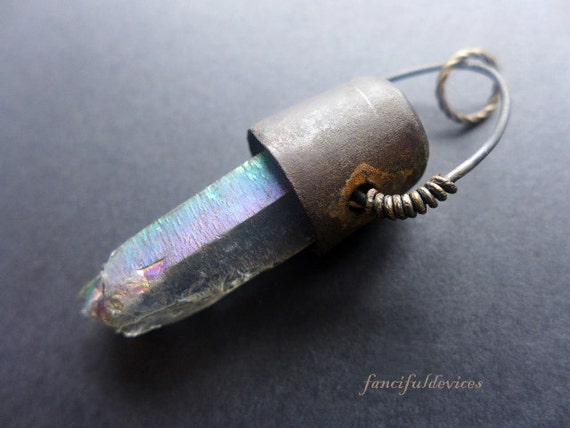 Even made this little guy here.
What else?
These aren't for sale. Remember good ol' Patroness from way back? I decided to make her a couple pieces from precious bits she'd left me with that I don't feel quite right just using for myself.
I consider it payment for all the stuff she gave me. Also those are real rough rubies and that shit's ridiculous.
I'm showing these three pix in my fancy new Instagram format. Everything on IG is vertical to accomodate phones, whereas everything on etsy is horizontal so my images aren't really translating. It's a whole thing.
So yeah that's what I've been up to. That and just being crazy stiff from exercising for the 1st time in my life at 40. I've been using the sauna at the gym. It's just like sitting in an oven. Now I know how my polybabies feel.
Might be our last gif party in a while so I'm gotta make it good.