I used much of what's left of my dark beads here: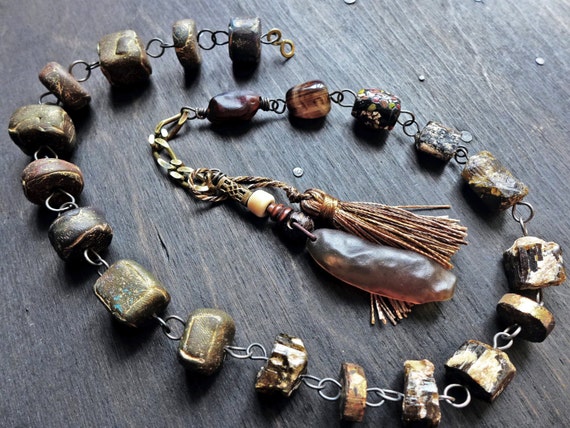 Soil and Sacrament.
Those Chunky garnet tourmalines were part of Kathystash. Also a long Gobi Desert Agate and an awesome tassel from TeapotandTelephones' shop.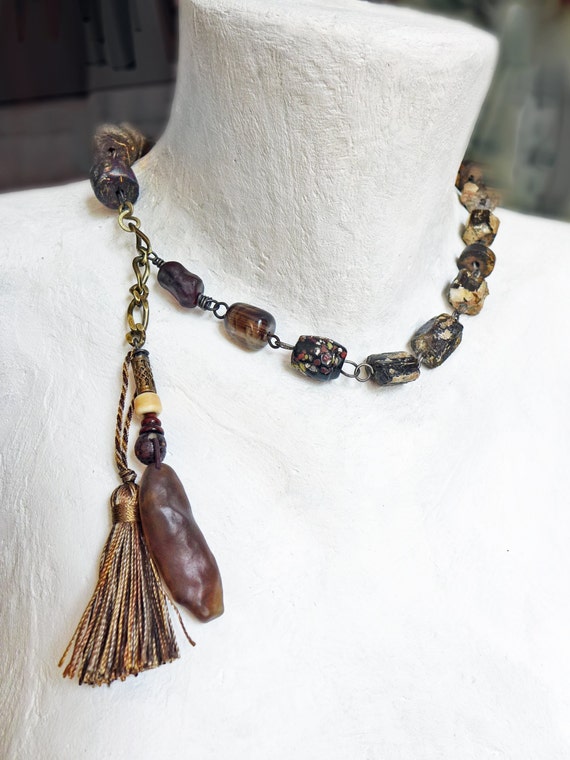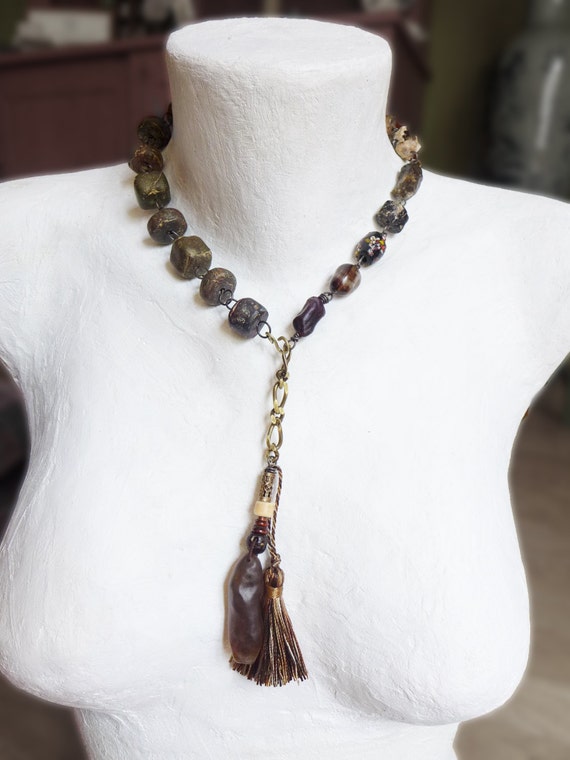 I even show three ways to wear it. That side one works because the stones are heavier than the polymer.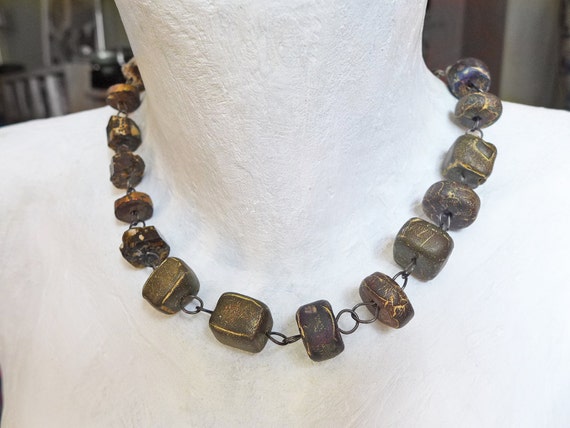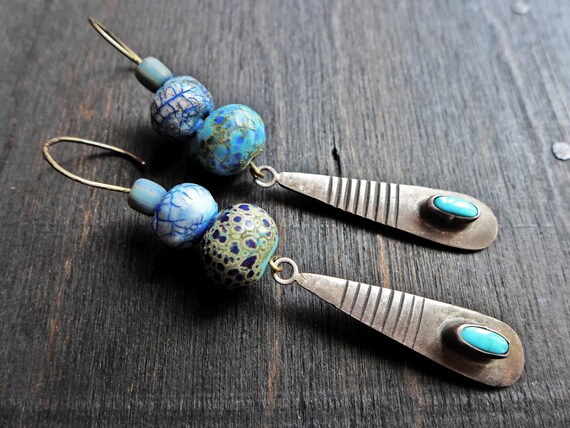 Nephefliad
I made these with two of the special sterling bits from Inheritance Haul, as well as lampwork and my own polies.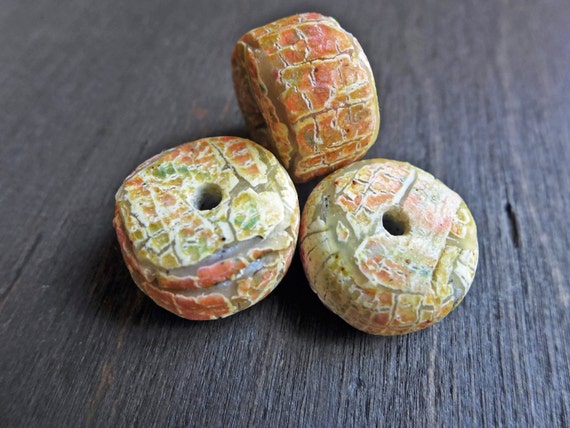 Citrus
I put more of these up, which I now call my Citrus series.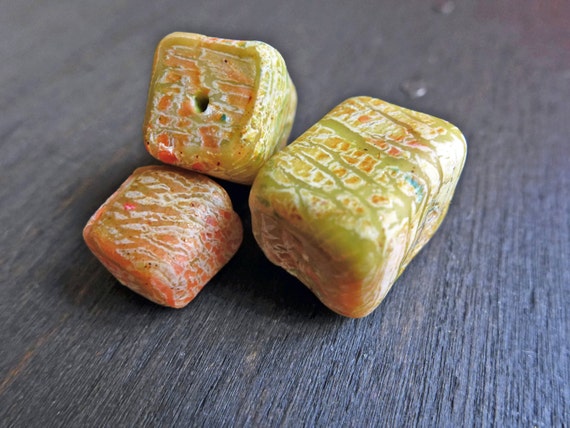 Citrus
I'll proly never sell any since I had to make them pretty expensive because of the time they took to make.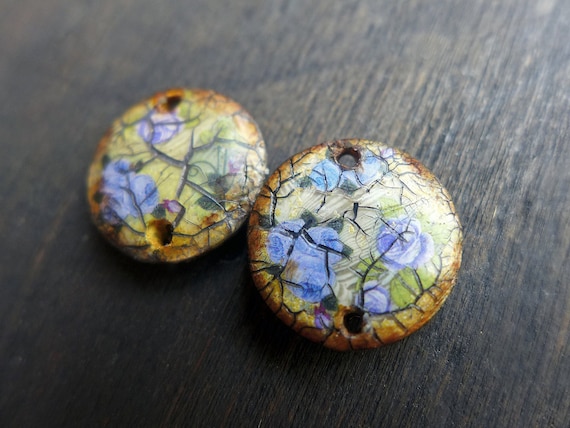 Crushed Bouquets
I was actually able to sell a few of these, mostly to the same lovely lady who gave me the idea to put them up for sale in the first place. It literally hadn't occurred to me. I thought I'd just make like a million different things with these. Then this gal convoed me about them and I was like, with the time it took to make I'd have to charge about $15/pair and I can't see anyone paying that. And she was like "I would!"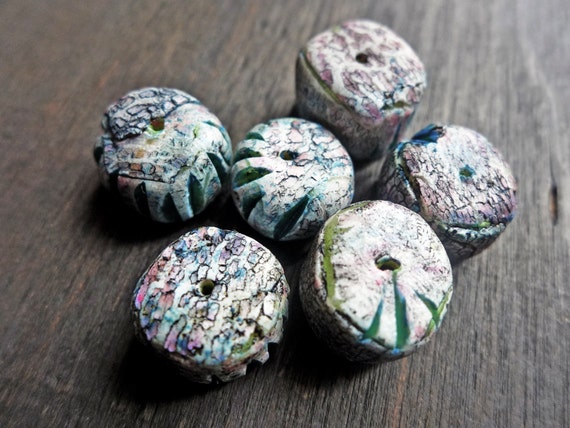 Broken Rainbows
All the different bits have a series name now. Like these are broken rainbows.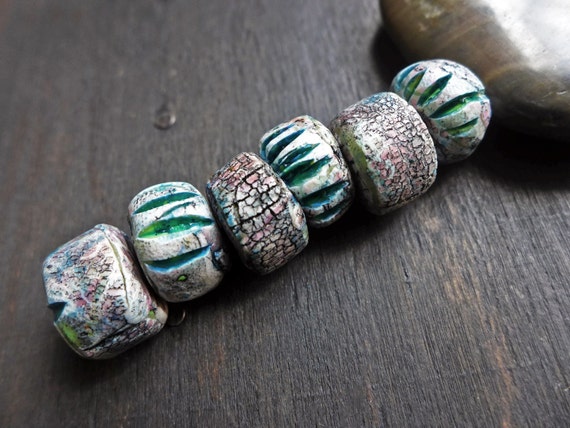 I put glass paint in the cuts.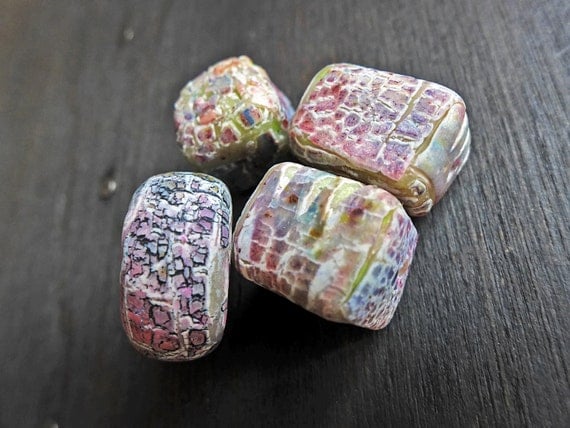 Broken Rainbows
The wheel above has been back-painted with black.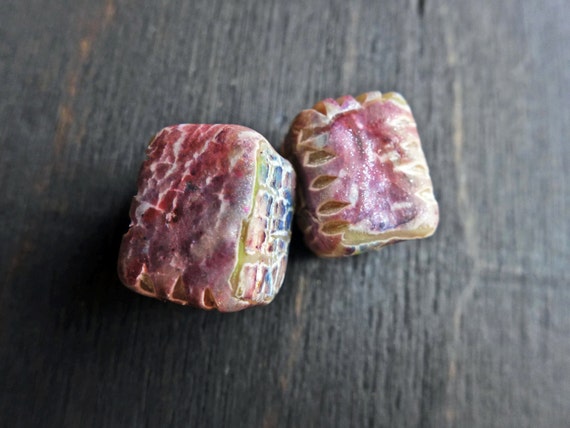 Broken Rainbows
Back-painting is what I call painting then spending five hours removing the paint in all but the crevices.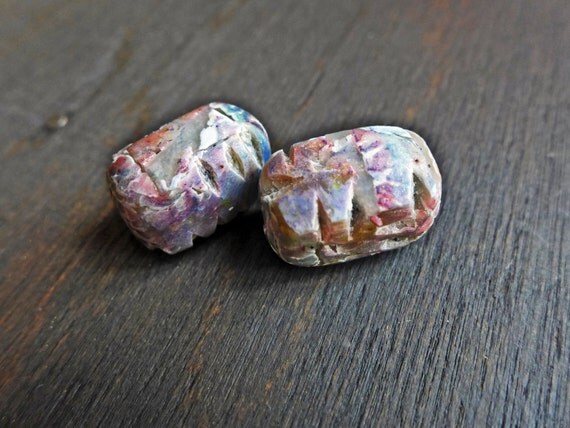 Broken Rainbows
If anyone knows a real actual term for that, please let me know.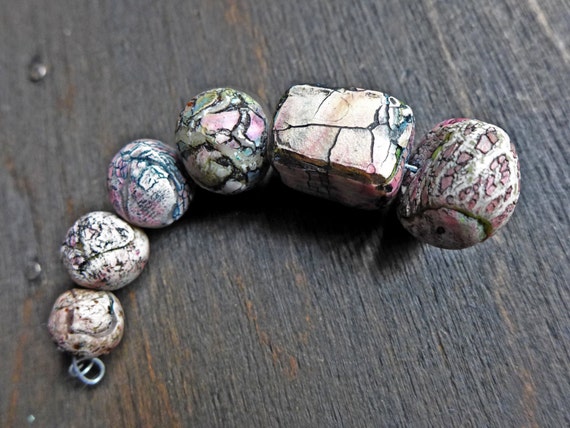 Broken Rainbows
Here, all these were back painted.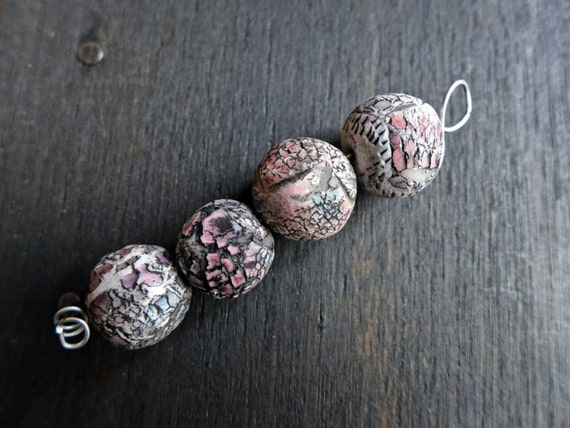 Fractured Stones
It's an amazing technique, brings out ten times more detail than you could see before.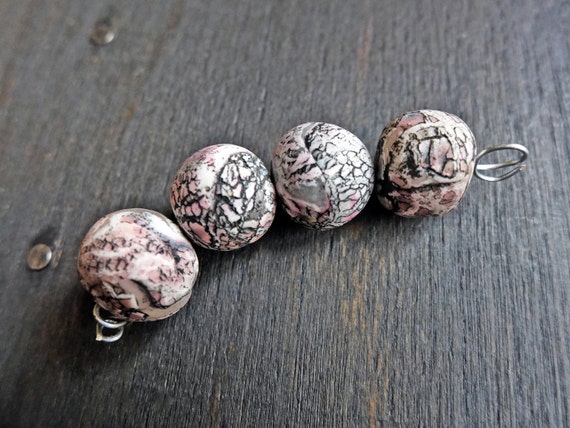 Fractured Stones
If I ever manage to sell anything in this Fractured Stones series I'll have to make extra sure I'm packing and sending off the right ones.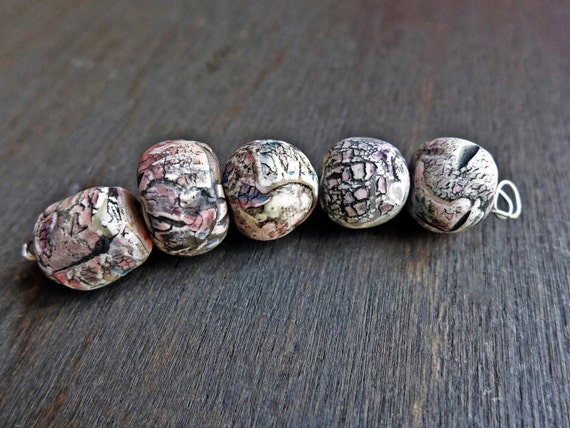 Fractured Stones
Small beads are harder to make in polymer, since your hands are your main tool and fingers are clumsy, lumpy logs. So yeah, no lower price for smaller beads like in Czech glass.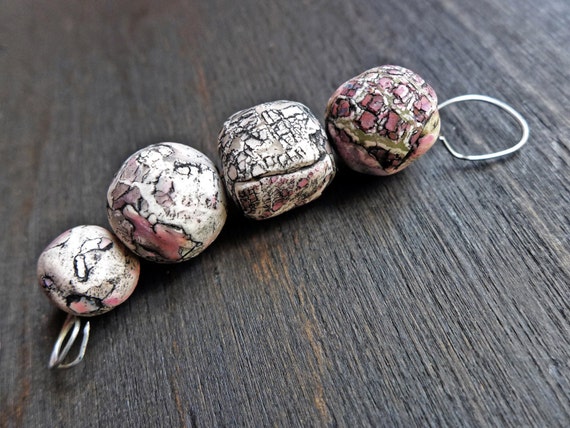 Fractured Stones
But I find smaller beads more useful, more in keeping with regular sized jewelry, so I make the effort to make them.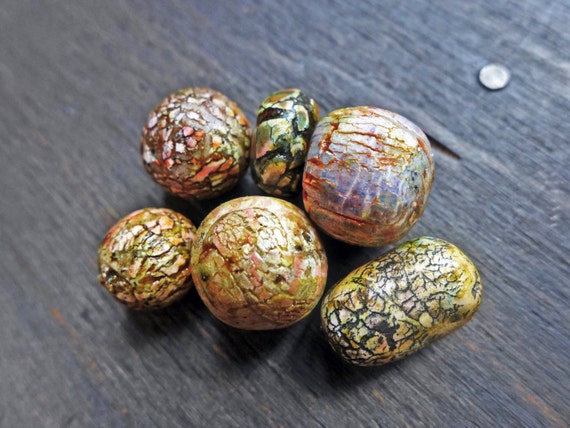 Crackling Embers
Ok, these, are quite different. They take much of their color from glass paint.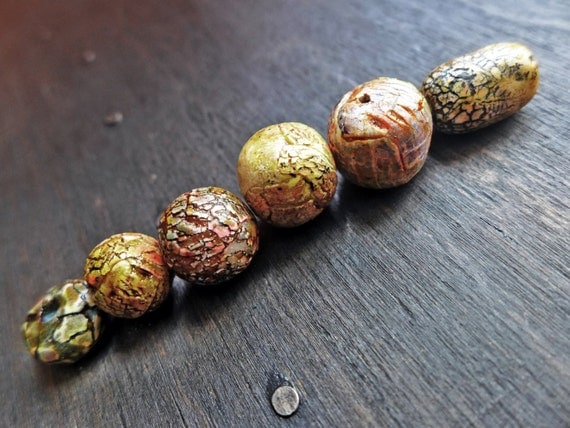 There are so many things to try! I came up with all the above by blending together several different techniques from several different tutes. Polymer clay rewards experimenting rather a lot.
I still haven't listed these.
I was going to make Them into earrings like this doodle but then I realized I could just sell them as-is as a set of earring pairs or earrings almost ready to go or something... Like, I already put a bunch of work in, you do the rest. That could appeal to crafty etsy types? I'm just way backed up in my regular studio stuff.
Here's a bracelet connector that was a conglomeration of failures.
It has a wire base within and was baked in two stages...
But if you're wondering why it has a weird yellowish edge happening, yeah. I'm wondering too. So I either get rid of that or add it to the center. Good thing I went through the trouble of taking and editing all these pictures for no reason!
I kept some babies to make something finished myself. Here's what I have so far:
I figured out how to make a four-strand flat braid:
This is before treating it to my technique of tightening it up by getting it wet then running it over an open flame. But I did add a bunch of alcohol inks to even out the color. Here's the back without that, see?
I was about to list these:
But then I decided to make something with them instead.
And I never showed y'all these:
Which I haven't listed because I've been needing beads to go with a bunch of brownish things lately so I'm hoarding. The two lone beads in the middle I totally forgot to pierce before cooking.
Anyway, that's what I've been up to.
Thank you guys for your sweet comments about my beads. It was a real moral booster when the price makes a lot of sales unlikely. Especially
Fade and Remain
who wrote, "Those beads are everything. Forever and ever amen." I love you! She also asked for a tute. Sigh... OK... if you're talking about the brown ones, they came about because I failed miserably at
this
-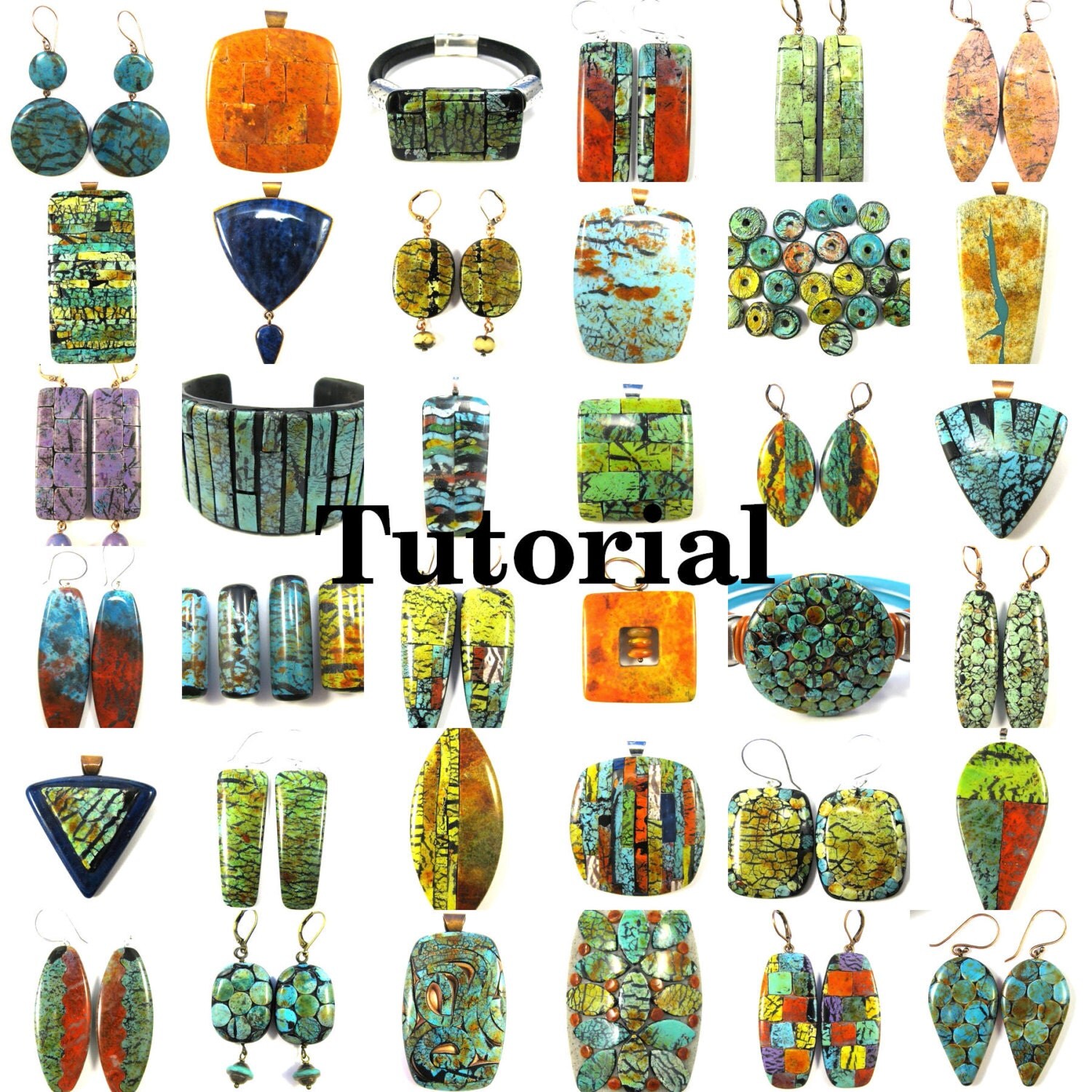 -when I did the one thing she clearly stated not to do, which was to use translucent pardo clay, cuz it'll turn your colors to mud. So then I back-painted with pale gold paint after those were a terrible failure. So there's your tute?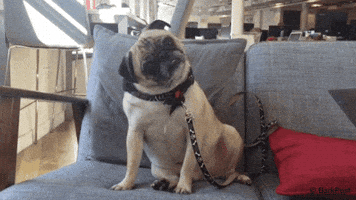 So much for my plans for shorter blog posts with more updates. I don't have the patience or wherewithal to plan that much.