These above I have to re-work the round charms.
I've been having earring diarrhea.
These feature bracelet links given to me by anvil... wait I already told you about that.
My doc-diggety is lowering my brainpill dosage so I'm groggy right now. But it's the pill that always makes me blurry-headed, so the hoped-for outcome is less of this. Anywuh ... if I sound like I'm drooling down my chin, it's cuz I am.
These are mis-matched-er than my usual mis-matched pairs.
As you can see, I'm still workin' the cosmic shimmer.
Here's whatever happened to that soldery pendant.
And there's this one.
OMG! Finally remembered to tell y'all. This thing?
How to End an Era.
Was a container given to me by
Beads on Pie
who also gave me some gorgeous horse hair. Thank you girl!
And these are all listed.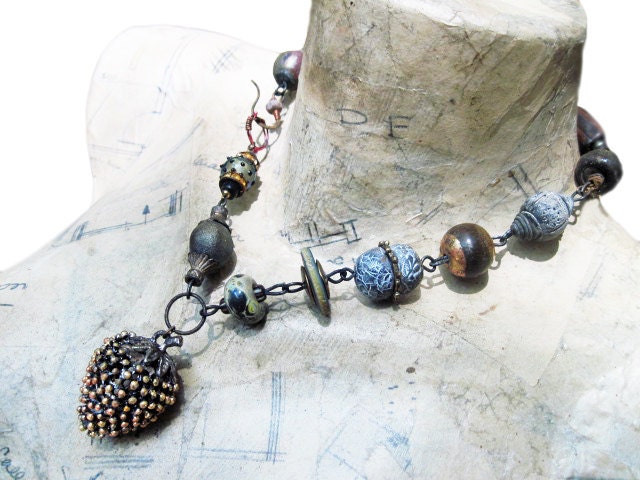 Querent.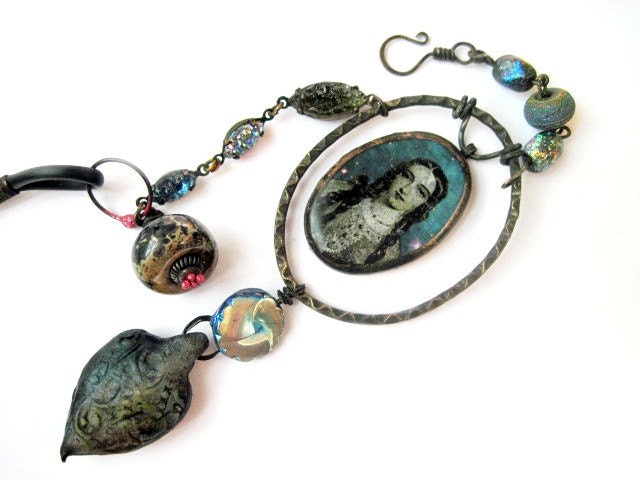 We are the Miracle.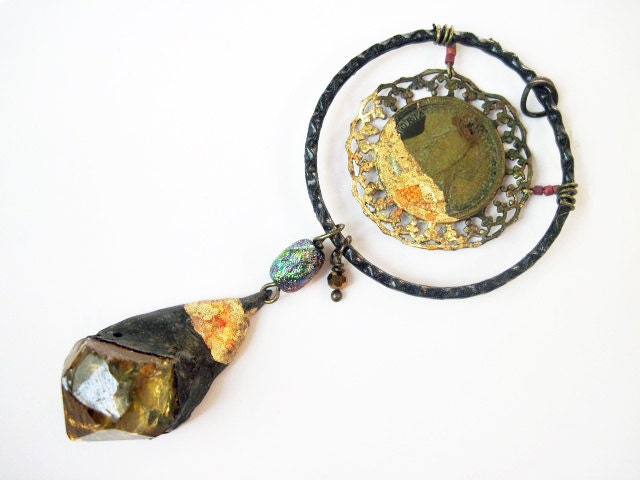 Queen of Heaven.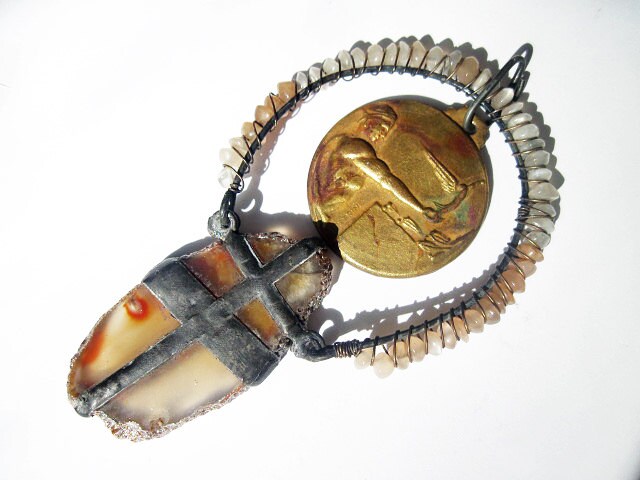 Victoria.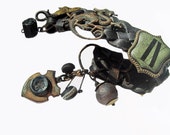 Black Ruthenia.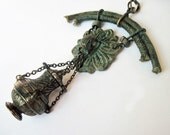 Behind the Veil.
I'm thinking of mailing some of my higher-end non-selling-forever necklaces to be published, because basically
this
post by
Anvil Artifacts
made me feel like I was being left out of the party. Go check out how my ladies are taking over the world.
And no, stregata, I know
you
guys aren't all decked out in suits and pumps. But you're all weirdos like me. And thank you for ruining Uruhaul for me. And what is Uruk-Hai?So quisnam, embossing powder with nailpolish? More invo please. Just sprinkling it in? Heat gun/no heat gun? And what does any of that have to do with metal stitching? And do you recommend the book?
Gallery 13
, starry iridescent lady is very starry and iridescent? Reminds me of:
And yes, I was also surprised that there was handmade nail polish- but then there's all kinds of novel things that you suddenly stumble upon on the internet only to find there's whole factions, sub-factions, movements and countermovements in the world of said novel thing.
(This?)
Sparrow, show me a cheater's tool and I'll show you me using it. That was poetic, hu?
betweenreader
ain't you just Rhymy Mcrhymersons today! Thanks for the vaseline on the bottle threads tip- that sounds awesome.
Flotsam, I don't know that it really does end neurons, it only feels that way. And surely not all are as noxious as these. In fact, if you look up low-odor nailpolish you'll proly find entire worlds with factions, sub-factions, countermovements and yeah.
"We represent the faction of head-splodingly cute mismatch shmanimals."