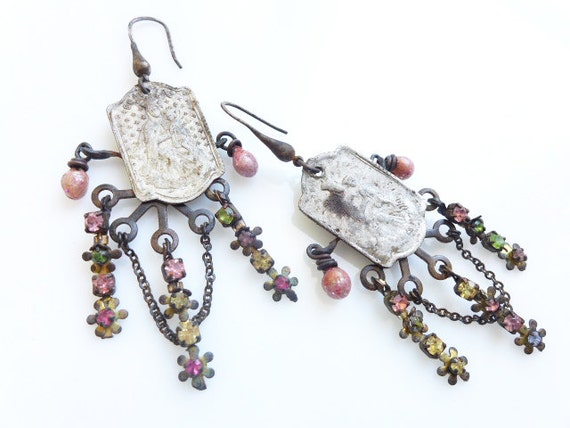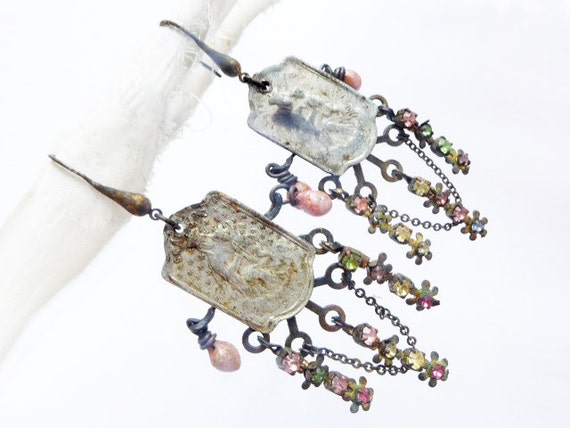 Thank you guys for all your lovely comments. I really appreciate the time you take out to leave them. Every single one of them is a little treasure to my heart.
Mr. Devices said reading the Gordita post over and over again has made him feel better and he's apparently sent the link to every person he works with. My mom was also comforted by it and that made me so happy.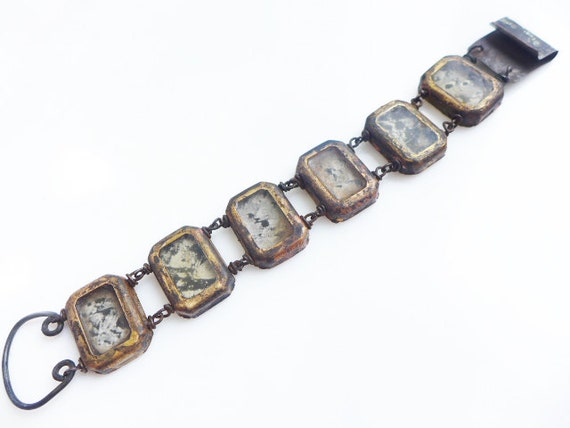 The Desire to Weep.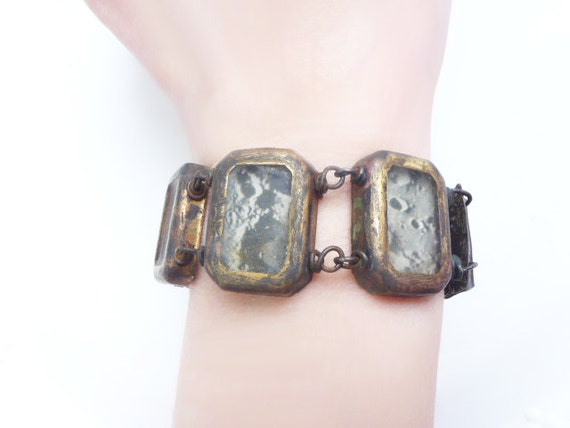 I've been making away, inspired by the simple act of putting a ton of things on the floor from my formidable stash and diving in.
Here, bits of antique bookplate moon shots under, like, an inch of resin. I used the backs of these octagonal bezels and they almost look like little old fashioned TVs. (And it came out a perfect 7.5 inches- woo-hoo!)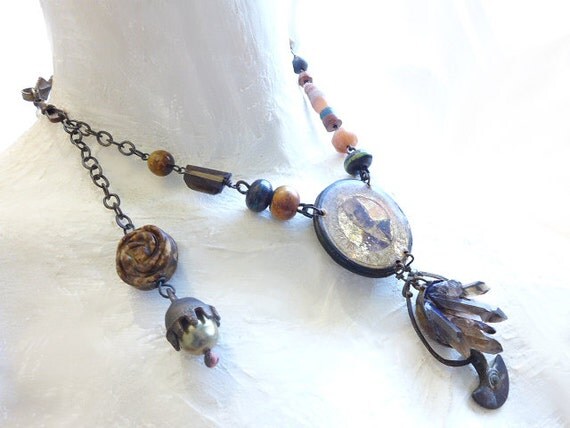 The Curse.
This was a celluloid container lid from
Kathystash
I leafed and resined. Smokey quartz cluster in archeological find metal...
Do you see that long peach bead? It was made by
4ophelia
who is taking her first steps into lampwork and sent me a bunch of gorgeous wonky bits. Hats off to her bravery. Hats off to all the ladies who make magic with fire. (I'm looking at you Numinosity.)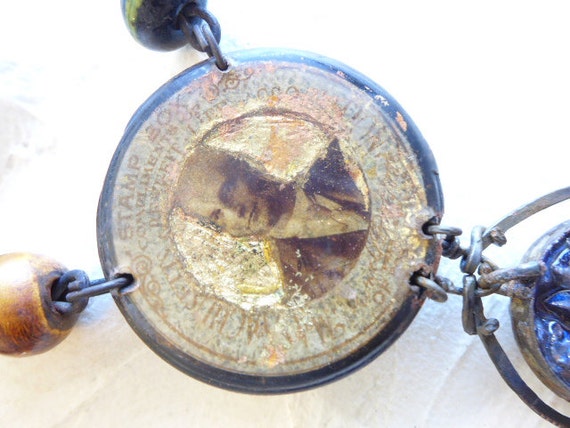 The following piece creeps Mr. Devices out but I frackin' love it.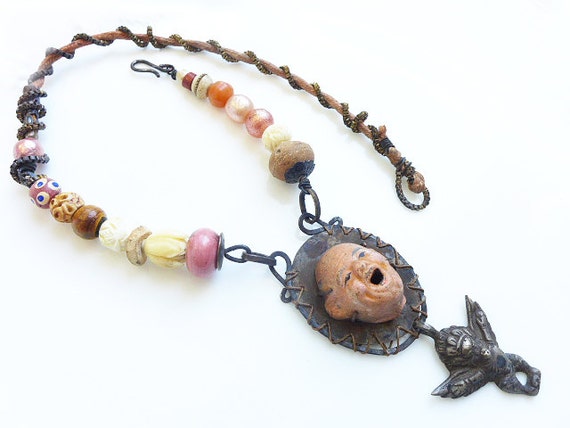 Singing Praise and Jubilation.
And I put a shit ton of work into it. I put a shit ton of work into all of these. I have so much amazing stuff, I have to do it justice. And yeah that means higher prices and necklaces that will never sell oh well.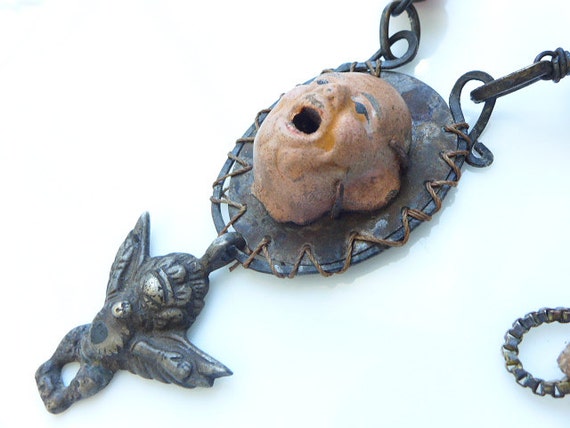 This little face was given to me ages ago by SacredCake and I adore him.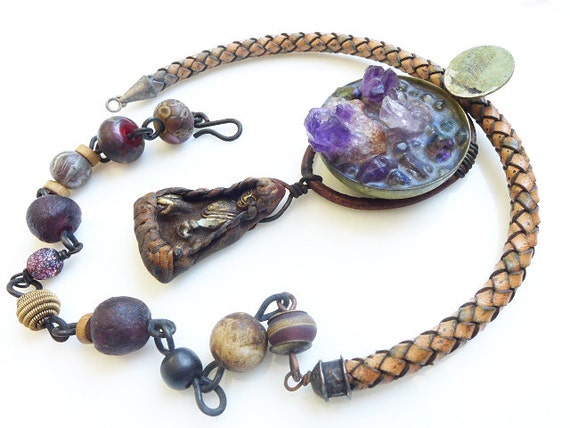 Delight in Solitude.
Here we have a teacup from Kathystash and an antique amulet from Patroness. It's a show stopper.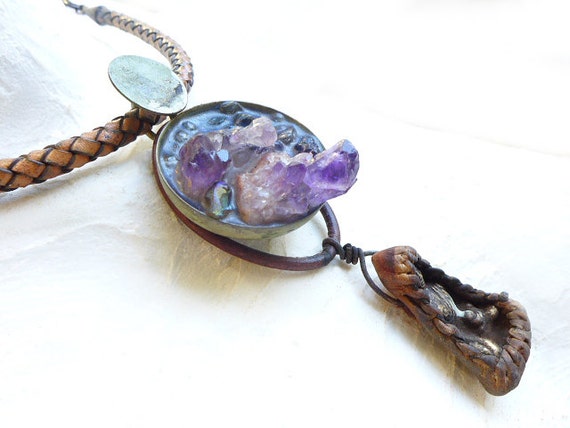 Well, I think so but what do I know? I don't go around stopping shows as a general rule. I don't even wear this stuff. (I'm working on a choppy, layered mohawk and lobe-stretching coil plugs. Because I'm a 20 year old boy, apparently.)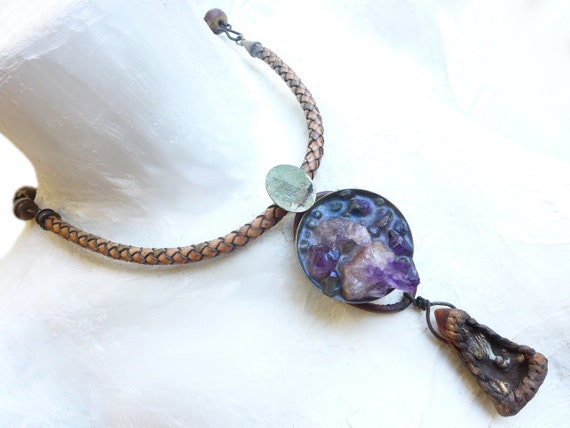 Also I really love the quotes I found for this batch. Go look if you like deep dark words and their etherial evocations. If not just go
here
for redonk tumblr goofiness.
(P.S. I'll do the giveaway winners next, I promise! You can still comment
here
to enter.)