artistic rejuvenations
said...
oooo. what's your favorite makeup? i don't mean brand, but do you do lipstick? eye shadow? eyeliner? rouge? a lot of a little or a little of a lot? what's your favorite color of what you do choose to put on? i love makeup! but not on me. photo?
LOL. Ok, this doesnt win a free tute because it's so unrelated. But being as pale as a ghost I need good foundation and a lot of black on my eyes so they don't disappear. And something on my lips so they don't disappear. But my fave is a shimmer of silver I put right under my tearduct- it adds sparkle for realz. Picture? OK.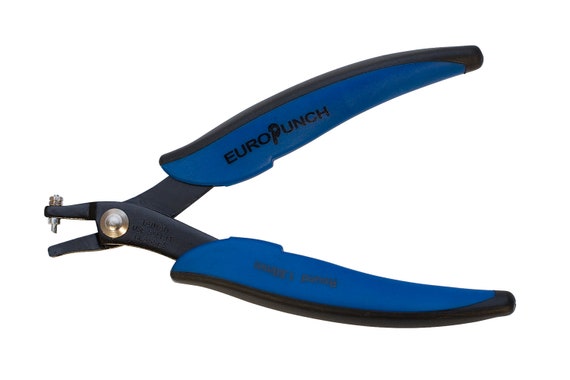 belvedere beads said...
I have questions about drilling. It looks like you make a lot of holes, in all kinds of things, to use in your pieces. Do you Dremmel? Tell us about your (drill) bits. Your set up... give us courage, and maybe a bit of insight into making holes in found objects.
Eurotool hole punch pliers. So easy. Especially good for tin and thin things. Convo me for a tute.
Aimee/Relics Revisited said...
Hi Fanci: What type of wire do you use? Is it steal, what gauge? It looks like you just loop the end and don't twist it around itself for security. I use a lot of wire but always have the twists at the ends. Aimee
Every kind. Well, brass copper and steel. I have a variety of gauges and I don't like to wire wrap because it takes too long and I'm impatient. If it's thinner wire, like thin eyepins, sometimes it needs some wrapping. Each metal has it's merits- copper is soft, but doesn't oxidize as easily, steel you can get super duper cheap and you can get it in the dark shade which looks awesome, but it's brittle compared to brass and copper. Brass is good, oxidizes well and you can even solder it. Really, I guess brass is best, but I like having them all. And full hard sterling for ear wires, though sometimes I also just use brass. Convo me for a tute.
dawn said...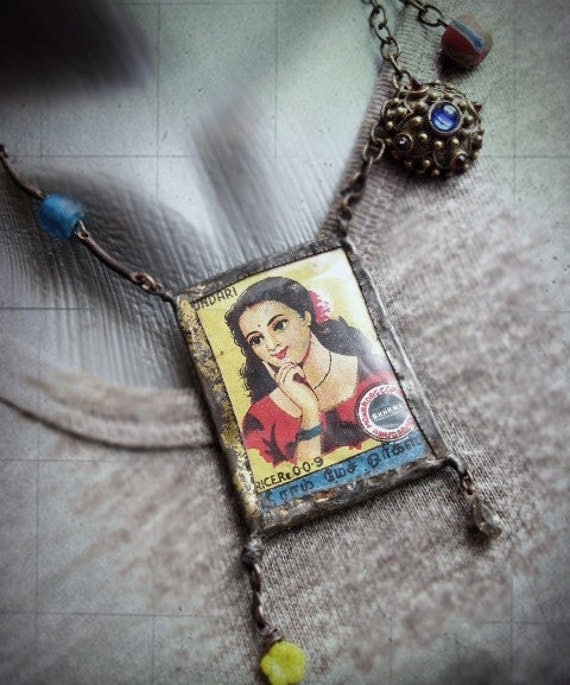 martinisfor2 said... geezzz, my knees are weak from your stay-cation creativeness. The custom earrings are so freakin' cool. Linda's things bracelet is gorgeous. Was that a medallion or metal plate and how did you bend it? I have an old metal plate from a dresser that I am dieing to make a bracelet from. I'm thinking of trying gold leaf on it but am scared to death... any suggestions to make it work? Keep on creatin' to inspire us to get the hell out of the box. I still want to spend 24 hours in your brain. Can you create a tute for that???
Why thank you sweetheart! I didn't know if bracelet was too plain. Like if it needed an iridescent

treatment on the back beads or something. I bent it with my hands. And at some point maybe pliers. The background around Mary-n-child I needed to tap the hammer against the back a bit over a wood dapping block, It wanted to stay flat or concave instead of curving out. Things are easier to shape than people think. It was originally this.
It stood up like an easel. Now I just have the empty easel. As for the 24 hrs in me brains, isn't that what this blog is? You know, without all the hours and hours of internet porn? Convo me for a tute.
_______________________________________________She said yeah.
angi eharis said...
I wanted to ask a question about your ms. Perky model, when u made her awesome body or 1/2 body, did u start with a wire cage as the form, i have been wanting one of these for years but first they r hard to find and then they can be expensive, i just realized u made yours, of course, when u mentioned she needed a paint job, i am so excited, i think i can do this! Tx for the help and inspiration, aloha, angi in hana
No I didn't make her! I'm not made of patience. I got this plastic babe on ebay. $24.99 +$12 shipping in this listing. You can also find flesh color, white and black. But necklaces fall into that valley and her collar bones protrude like some kind of butte. Maybe I'll get that stuff that goes inside quilts and cover her in that then fabric over that and just staple gun it into the back or sumpin. Convo me.
Beatnheart said... whatcha gonna do with the 6 million questions yer gonna get now.
Listen you smartass. I'm gonna roll around naked in them. Also, I think that's enough for now, unless someone comes up with an especially good one. Can y'all tell I used to teach Japanese and Mexican students who were too terrified of being called dumb and humiliated to ask questions? So I was constantly encouraging questions nonstop? Like if someone was all "Um, I know we've been over this a zillion times but when do you use 'do' again?" I'd be all, "Did everyone hear Miyuki's awesome question? Everyone? Does anyone want to try to answer? (elicits response from class.) And why is it an awesome questions? Anyone? That's right because to learn anything we have to review it 20 times to even begin to absorb it, so thank you Miyuki for giving us a great chance to review 'do.' Cuz of
course
everyone's forgot it again but no one else was brave enough to say so."
Except I'd be yelling it all in my too-loud voice and gesticulating wildly all over the board. Then confetti would fly out my ears as I chanted M-I-Y-U-K-I with a line of Rockettes that manifested out of my rabidly spraying saliva. Good times.