Here's what I made with one of the
Ragged Robyn
bell pairs. A simple carved pair of bone? celluloid? rounds from
Kathyhaul
that I tinted the outer ridges of with gilder's. Really brought out the complexity of the shape. Then I felt obligated to add that same patina color to the bells and now I feel like it's too bright maybe... In any case, I kept it simple because the bells themselves are complex enough to stand alone.
These are the last of my Roman glass/garnet soldered links. Unless I make the effort to make more which I doubt because I'm up to my neck in projects... I'm concerned the gold leafed tin backing to the lady faces are too big and compete with the shape of the glass.... Wait. I'm not concerned, I know. Damn it. I'll have to go in and cut them way down... Ugh. Damn my eye for detail! Damn my spot-on inner critic!
A new pair with
ScorchedEarth
drops- plumb crackle luster. *wipes drool off keyboard*
Here's another pair from Robyn. I added German Silver color to lighten them. Rectangular druzy in gold leafed tin...
Another little pendant necklace from my
tutorial
.
And a big honkin pendant from the tute which I've incorporated these other chunky elements into.
Look at eeeet!
Look at eet some more! Polymer pin from
stillpointworks
, fat gems from Kathyhaul, top gems from Patroness and button from
Pipnmolly
. Oh and key from
LuciTales
. Damn, so many etsybuds! But wait the pin I bought. So that's one thing. Apatite, Roman glass, carved pink tourmaline, what's the next one? Moss agate I think.
With tribal bell and Roman glass which I think came from a bowl bottom. You're welcome for making you look at 50 pix of the same thing. Indulge me.
Made an armload of bangles for a lovely lady who asked for a 10 inch diameter stack. Have a couple custom orders in the works even though, you know, I don't do custom. How did this happen?
It's why I haven't been around for a few days and won't be for a few more.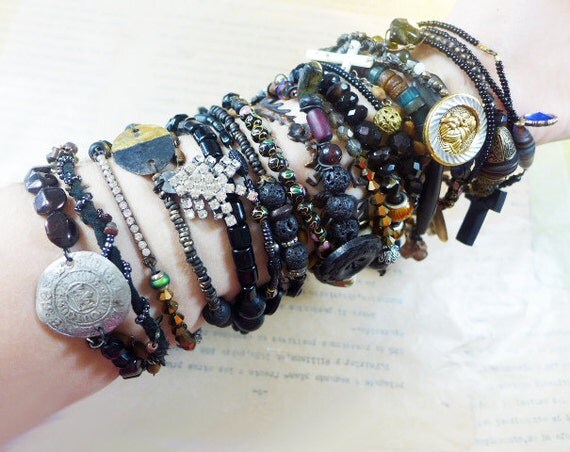 Look at these beauties- do they not look just like candy?
A lovely lady from Norway sent me these pix of her UTEE pin makings after getting my
pin tute
.
So do you guys remember this:
An honest-to-goodness
book that I'm actually featured in
? (Like, more than just a picture or two in some gallery but like in-depth with special projects and thoughtful Q&A.) Well, it comes out this month-
eeeeeeeeeee!!!!!
That was an ear-shattering squeal of nervous excitement. So all this month there will be a book release blog-hop/celebration you can read all about
here
.
My day to be featured is the 11th. That day, the wonderful writer of this book, Seth Apter, will feature me on his blog and I'll... say a couple things about the book here I guess. Now I just broke out into a cold sweat because I don't know what I'm going to write... And there'll be more eyes here than usual and someone from Amazon.com is surely going to knock on my door and say, "Excuse me ma'am but, you're much too ridiculous to be in a real book so we're going to have to remove you immediately." I'll be hauled away by men in white lab coats...
Look at all these amazing artists that will be involved. Click on them. Be amazed. (He used my dancing girl etsy avatar for my image! Yeah, it's a lot more exciting that my actual face.)