I got an actual question: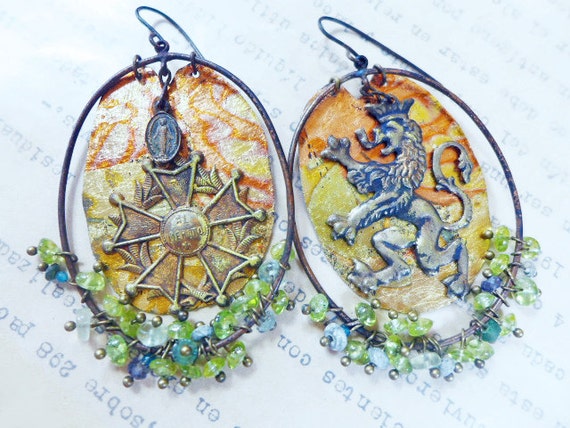 When I asked for questions, Beatnheart said, "That "paper" or whatever it is behind earrings with lion ...yellow paper..how'd ya do that ...what is it."
It's just gold leaf on tin! But now I feel like it's all mysterious an' shit. I put some variegated red with some variegated green, just cuz that was on hand.
For that question you win the tute of your choice! Convo me. Reader, if
you
want to win a free tute (or a $20 gift certificate if you have all the tutes) you have to ask a question. But it has to be a real question, not why is the sky blue. I'll decide if it's a real question.
Like
cjasin
wrote, "Say can you help me find where to purchase the bangle bracelet forms again? I cant remember, and want to make more. Thanks girl!" Which if you mean the fillers, the best place is
here
in
TeapotsandTelephones
run by my etsybud fancylinda. Now, is this a prize-worthy question? Hm... It's good, it's a legitimate question.... But I'm gonna say no, cuz reasons.
I've been on a mini stay-cation. Sorta distracted for the 1st time since started making julz. I did manage to make some things but they're photo-ed under horrible artificial light. But Imna make you look at it anyways.
Dis da custom necklace I was asked to make.
Deez da custom earrings.
Then I made this from Kathy's things.
And this below, though the focal bidness is all mine. Also painted some of the wood beads. Been painting beads.
Also this. I'll have to take some daylight pix so you can see all the iridescence going on here.
Now I'm going back to reading johnlock and listening to music. Oh, I've also left the house the last two days- with make up on and everything! Forgot how it felt to be a normal human and not some kind of art hermit ogre.