OK, enough silliness.
Lets get to down to business.
These are almost all gift materials.
SacredCake
,
elertsted
,
Happyfallout
. All except for the pearl. And the ear wires and paper. And glue and oxidizer. And magicsauce.
I'm really into these sideways earrings right now. What would you call them? They are similar to hoops or blades, so what would you call them? I mean for the tute I'll be making for these, of course...
Oh! Check it! SacredCake (again?!?!) sent me this bird ages ago. It's made of potmetal and has the consistency of a slice of mozzarella. So I made it this bezel.



But I didn't want to solder or nuthin' so check it: It has hammered wire bendy prongs! Can you see them? Here's the back:
See how it works? I actually put the bird (backwards) against the back side and outlined it. Then poked the holes. Then cut the wire by just holding it up against the holes to see how long it would need to be. Then again hold up the wire and bend at the point of the holes... Ok, this isn't making sense. Let's try this:
And once I got it to this point, I hammer the tiny poke-through bits using the method I shared earlier with the bulbs-->
Though I had to put the metal bit on the very corner of my block. What's next? Sanded them. Fit the bird in place. Bent the wires to hold bird snug. Brushed on lots of Jax oxidizer. Yup.
Can't stop thinking about my new line of kits at Hobby Lobby. I think they're going to have an array of pre-mis-matched earring beads. There will be rusty tin already cut and sanded to ring or bracelet size, but the designs on them will be a variety of stickers you can pick from, including one of gold foil. And papered filigree rub-ons.
There will be these: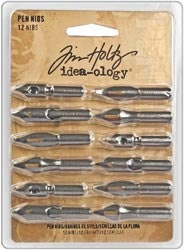 Because why wouldn't there be? Really anything Tim Holtz makes, I'll have my version. There will be pre-crushed bottle caps, BoddlKaps™, and an array of plastic eyes, JeepersPeeperz™, you can glue inside them with Fancibond™. The best will be my one-step grungy finish that will just be brown paint : Rustic Crust-Stick™. That will be part of my Rustyc Gipsee™ line. . . There will be entire isles devoted to wings- both avian and insectile....
OK, ok, enough! But it's so hard to let go the ridiculousness!

Anyways.
Y'all remember
happyfallout
, yes? Well, she's back, her awesome
shop
is open and she's still an astrophysicist. She sent me this graphic:
And it made me laugh so much that I actually wasted God knows how many hours --during which I could have been making you more eyecandy-- making this:
But I forgot to add one more category. What Anonymous thinks I do:
But please, anonny, feel free to express your opinion some more. It's the only contribution you've made so far.