Here's a thing. The mounted coin I got from a guy on the street who made lovely wire work. I curved it, tried the whole background thing I did with the Elizabeth coin. But actually, I did a lot of photoshop to make it look even. In fact it didn't work so well, cuz the relief is lots shallower, so using the alcohol ink blending solution got it everywhere... So I ended up using a Sharpie. And it's too uneven. I'll figure something out.
I feel like I've made this bracelet before. But still fun to make again.
Look at this- I'm totally on a dusty pink kick.
Ok, so these aren't done. But I can't think of how to make them more interesting. So I'm thinking of maybe a lariat.
Or:
Hang the bead dohickies on dangles below? Hmm, not bad...
Speaking of dusty pink, this one is both pink
and
totally girly. What with the teacup and flowers and smooshed velvet strawberry.
Here's what I'm having issues with.
I'm totally psyched about making a cuff with hinges.
I'm totally psyched about these embossed tin anatomy plates.
Substantially less psyched when realizing that this is is sooooo wide that I either have to hut it- heaven forefend- or angle it to make it more of a cone. Which sucks because it took enough effort just to make it cylindrical. I kinda can't handle the idea of having to cut it up and re-shape. Ok, but besides that, how bizarre is my pairing of the skeleton with the kitchy polka dots? But it does match.
And to think I coulda just:
Well, next time.
Anyhow, thank you
anvil
for alerting me to the alcohol ink sealing I think I have just the thing...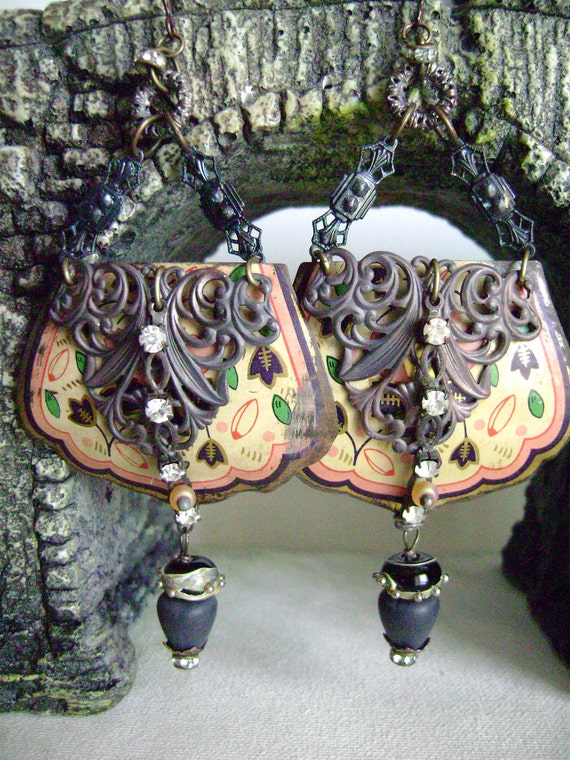 By AnvilArtifacts
And the bracelet below is not only pink but
plastic
! Well, some of the beads are plastic. And the copper part is a part an earring by the same guy who made the mounted coin above.
Oh and anvil, in
her latest post
, also alerted me to some interesting goings-on about town (ie, our neck of the blooogs), the most interesting of which I think is a whole series of posts by
pipnmolly
illustrating her very unique process. She's carving bakelite and making killer
inro box pendants
... Shesh. After looking at them I felt like a flippin' assembler. But it's cool- I'm a
bricoler
.
See the process of making these starting with
this
post.
(Oh, and Alice- I make my husband open enverything for me, even plastic soda bottles. The anvil is, like, 3 inches tall. And hammering actually means
less
muscle is necessary. I can out-wimp any of you!)