OK, so these guys are up: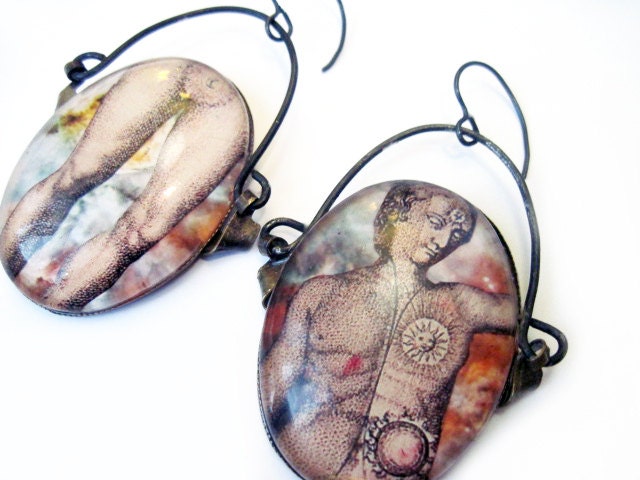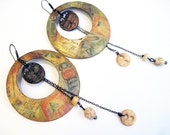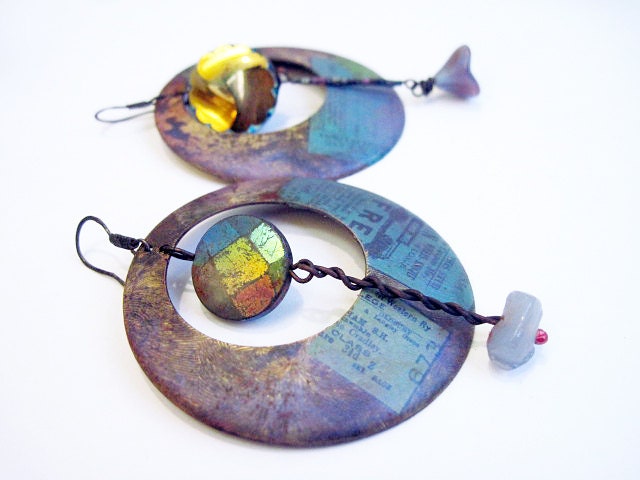 Ask All.
A River in You.
Let the Sea.
Which, I gotta share this most hilarious comment about them: "And your creations are also brilliant, of course, but look out for too much scrapbooking :)" I believe this was in reference to the ephemera, lol! Can I just say, I agree
Star of the East
, and how refreshing is a bit of creative criticism in the comments? Also, welcome to my blog.
And some new babies:
Youthful Glory.
One of my resy bits with some thangs. And a bezel setting with text at the bottom, filled up with Utee. Kinda neat. And these phantom quartzes someone just mailed me. Was it
Tribalis
? Can I really be this spacey?
I've been getting into combining two photos into one slot lately. I guess because bracelets are so hard for me to photograph. I added these images to
this
listing, where the pictures of the bracelets in piles really gave no idea as to how it would look on:
Here's another newly listed bracelet though it just sold:
Terrible Truths.
Mind you, it sold to someone with a 50% off coupon I gave her in apology for a shipping mix up. Hadn't done that in a long while.
And here's the double pictures. Two sets. Wow, super interesting, I know.
I also used it on this lariat:
Isn't this one sorta cute? Different for me. The caps are by
BHClaysmith
(and she's kinda brill). I sewed it this weekend. while letting the kids watch TV all day.
Bitter Blood.
This is actually a copper dollhouse miniature platter from
Tribalis
! How sweet is that. I embellished the crap out the back.
Conciunctio.
So here's what I made with these babies from my resin/utee/tin-backed batch I previously blogged about. Though I didn't add these in the pictures so you don't know what I'm talking about. So I'll stop now.
Where there is ruin.
Some tin babies from a Uruhaul tin.
Speaking of which I just found and bought this little pearl from
this
etsy shop:
It's so flippin' cute it's flippin retarded.
Published in 1943 in Chicago, of all places.
The final sentence is worth sharing: "Uruguay, though small, is now an up-to-date country which takes care of its citizens and which is respected everywhere." Aw, shucks.
Cherub.
Oh I had this up previously but there was a patch up top that I'd rubbed off too much and it showed right through, which was distracting. So I bronze rub-n-buffed the back, see. Lately I'm all about eliminating distractions. Is there a distracting shine to the metals? Eliminate it! Is that dangle distracting from the overall design? KEEEL EET! Is the cord zigging when it should zag? Are you saying to yourself "No one will notice"? Well, they will. So fix it! That is all.