So I guess I forgot why I never did auto-sharpen in the Process Multiple Files option in my PS Elements. I end up with such an insanity of crunchy pixelation it hurts to look at. However it saved them all like that and I have my camera on lazy erase-as-soon-as download setting.
So the rest of the day was spent blurring pixels. Here are some simple earrings made w/stones and shells. I dunno, they're different. I'll price them low.
Here's a STATEMENT NEKLUSS.
The hope was that I'd return from VA itching to make and I certainly did.
I've been all about the necklaces, even though they never sell because they're too expensive. Who cares if I'm happy. This one has faux mercury effect on the big glass cab, see?
What else?
Here's something interesting. I gold leafed the wells of these deep bezels, then made five magic symbols (or so I deem them) in steel wire and sealed them in there with encaustic wax.
I'd sort of forgotten how opaque that wax is, even though I was using the supposedly clear stuff. So I had to keep removing more and more so that you'd be able to see the gold bottoms.
Now I'm pleased. As long as they are not left on the dash of a locked up car on a very hot day it'll last many lifetimes. And I will mention that in the description. Also will go into the significance of each symbol and call it something like Five Principles for the Modern Day Occultist. I really love it!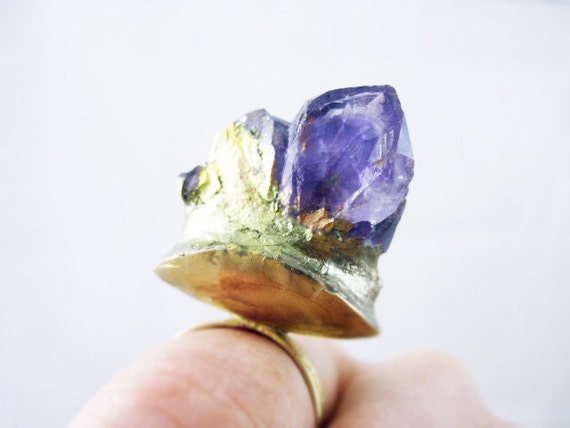 Ages ago one of you ladies (it's on the tip of my brain...) advised me to oxidize the matte gold base of this-->
But I was lazy and kept forgetting. Finally I did though.
Aaaand it looks much better. So that's it for now. Gotta list stuff. But hubs is grilling Uruguayan food for Dad's b-day so maybe later.
i was teaching my grandma to use computer so we can talk on skype and such but today she went kinda mad at me because "i didnt show her the knitting programme" and i was like what
and it comes out she accidentally opened ms excel and found out its a great way to create knitting patterns
my grandma is 82
(See, just to emphasize that this is not
my
grandma, I added quotes. My grandma is in Uruguay and, at 90, still rules like a boss.)