How you all doing this unseasonably cool June?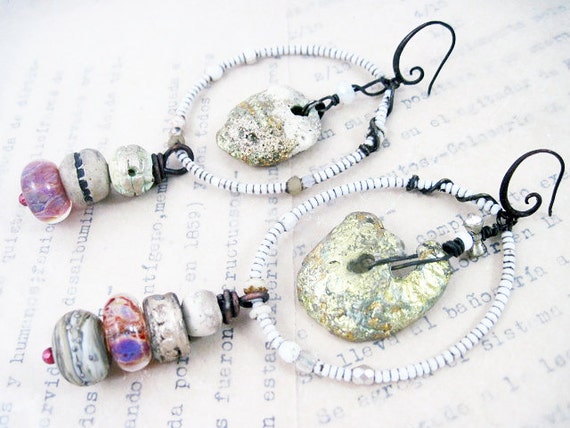 Phantasmagoria.
I'm sidling back into my mess after my absence.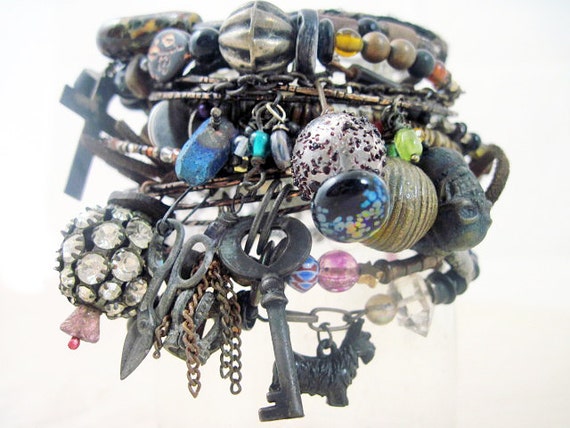 The Past.
Can't even call it a studio, it's just a pit. Finished these dark stacks in any case.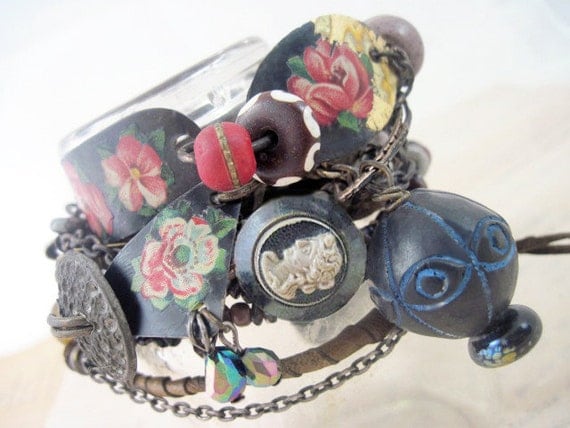 Beats in Me.
Had some Vintaj findings beadybaby sent me so I put these adorable vintage decals I got from
TeapotsandTelephones
on them. Couldn't resist the cute.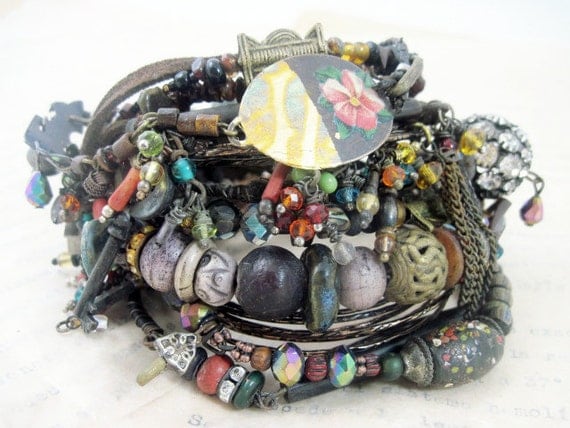 A Second Heart.
Another etsybud sent me a million tiny bead dangles and instead of doing anything clever I just jump-ringed them all into little clusters on this guy. Why bother thinking of clever things, really?
Also I've been doing some repair work. Did you know one of the very 1st people to "discover" me when I started was
SacredCake
? She bought these redonk things I made early on and still wears them. Like this in January 2010: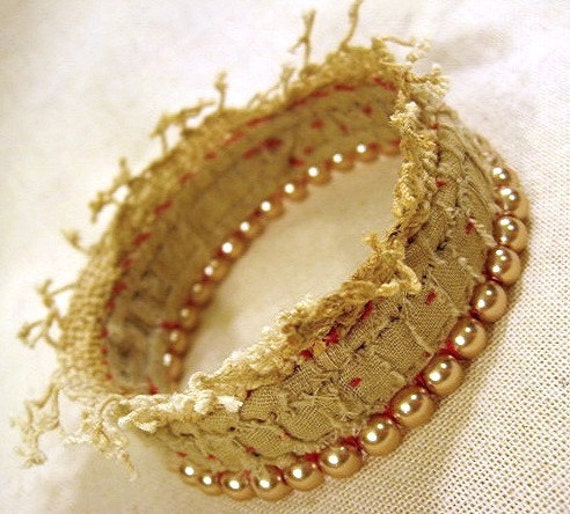 Look at that yellow-ass photography. So on the notes to seller she wrote, "
I can hardly wait to wear this....I know it will be a favorite of mine for the rest of my living years. Blessings, Jennifer "
How sweet is that? And sure enough she wore it to bits. Mind you, in terms of my jewelry education 3 years is eons ago so I didn't know better than to use regular sewing thread to affix heavy glass pearls. She sent it back with a bunch of pearls missing. This gave me the opportunity to fix and even improve it a bit:
I added Indonesian glass and gave it all a heavy wax coat. Knowing the
importance of her faith
I took the liberty of adding a little crucifix where wires link.
I trimmed the crotchet fibers that were annoying me and only later thought to consider she might not want that. Oh well. Where I tried to oxidize the wire affixing the beads I managed to make the fabric verdigris. Er.
On October of 2010 she got this wacky thing: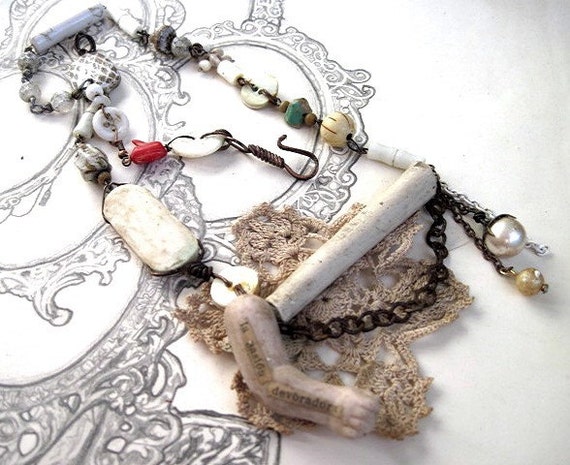 At least now the light is white. Nice blur though. So a couple links broke off and I decided to fix it with some added bling.
Cuz why not? Actually she didn't ask me to fix these, but I will always fix anything from me that needs it. Even if I
was
just starting out its cripplingly embarrassing when something of mine breaks. And Jennifer has been such an amazing supporter and dear friend. (Tho even if you aren't a pal, always send anything back to me that needs fixing!)
The text on the arm says "the devouring passion." To me, that would be all this bidness. Devouring these last few years in a frenzy of happy making. It was such a trip to once again handle these beads and bits from my creative past. Funny in a way because so many of the beads were plastic or plain glass, yet so lovingly grunged to try and seem something perhaps mysterious, something with character, with a past.
Finally
Numinosity
sent me
this link
to make me pee my pants. It's from
Gizoogle
, which will translate any website into Snoop-style slang. My beloved C.S. Lewis quote that appears on my upper left sidebar, for example, translates thusly:
"
If I find up in mah dirty ass desires which not a god damn thang up in dis ghetto can satisfy, tha only logical explanation is dat I was made fo' another ghetto. Right back up in yo muthafuckin ass. Y'all KNOW dat shit, muthafucka!
"
-C.S. Lewis
And with that I bid you all a fond farewell. My bitches.