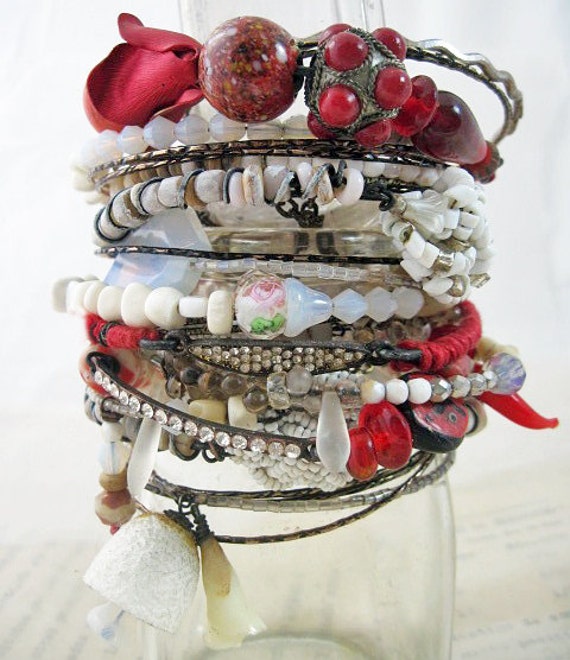 Build a Fire.
New stack. Red and white. Obviously. Can I share the quote I chose for it?
Build a man a fire, and he'll be warm for a day. Set a man on fire, and he'll be warm for the rest of his life.
-Terry Pratchett
I made some new faux mercury glass and thought I'd take some pix as I did so. We all love these step-by-step photos, they're just a pain to take.
Though in the case of this little slide I did rub off a lot of the silver after it dried because the ephemera I'm using is interesting enough not to need much more.
See? Now I'm thinking I shouldn't have done anything to the glass at all. Damnit. Oh, what you see here is some gilder's on the tin as a failed experiment. (And photos taken under dining room lighting, very weird yellow glow.)
Anyblerg, here's some locket lids.
And a close-up on one of the the triangle glasses.
Here's the wire and tin.
The bottom corner was fine, but the size of the tin and my stupidity made the top two look like so~
So I thought I'd secure and camouflage with some wire wrapping.
Like such.
Better?
Meanwhile I also did a ton of resin.
Here's as much as I was able to get off with my hands, next comes scissors, exacto knife and lots of sand paper.
Which I will need to do to all these. Though it's a very satisfying process and I don't really mind. I can't believe I even said that, I'm usually in such a rush.
Did a couple tin bezels.
Basically I realized the glass I have is WAY too thin to withstand the pressure applied by my pliers as I shape the tin around it. (by the way, once I sand and oxidize the tin it will look much better.)
So here I added a thin layer of resin over the top to sort of heal and protect the crack. Worked Ok.
Did the same here. As you see, the resin made its happy way under the glass and produced a massive air bubble.
The only way to save this I can imagine is to thy to get resin under the glass to completely fill that bubble. Even if that were possible, now the tin is resined in place... ....So fuck.
I think it took longer to take and (sort of) edit the photos and write this post than it did to do any of the work described. Also Dad-in-Law came into town last night so there was a whole cleaning and cooking extravaganza. (Full disclosure, Mom did all the cooking. I mean, please. I was busy covering up the fact that we live in a pile of dog hair.)
Meanwhile in owl news.