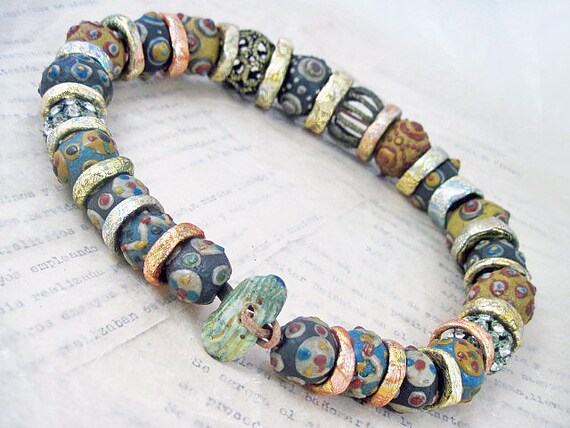 So remember this lady who sent me beads to make her something a la patroness? I've been working on two more pieces for her, trying every combination of absolutely everything in my pit o' bitses.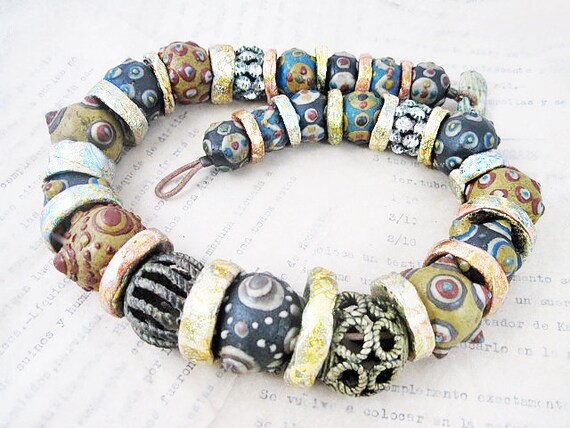 First I made her a relatively straight forward
one
with these gorgeous stones she sent.
True, I did have to make each link as tribal stones are always too thick-holed to use eyepins.
Also those three super iridescent ones were sent by an etsybud inspired by my
these
made with utee over fusible film.
For each of the first two necklaces I made her I tried to add a bunch of little dangles and things and it didn't work at all. So I think I was trying to incorporate all those failed danglies into the third piece when my tired brain came up with the following hot mess...
She very nicely suggested I remove all the crap hanging off it and after a good night's sleep I arrived at a much improved
this
:
It is not easy to photograph enormous pieces. You wanna go close for the details but then you loose the overall effect. Please forgive me if I indulge in some multiple images of the same damned thing.
Hmm, which one should I pin now? Maybe this one directly above? Whatchu think?
Kuchi from actual patroness, tassel from TeapotsandTelephones. Pod from stillpointworks, rough amethyst set in plumbing putty with gold leaf.
Some of the failed bits ended up here:
This one's just for the shop.
Witness.
...
So you know how people are always blogging about critters that visit them? Well some people on my blog list do anyways. I finally have a critter to share about! I looked out my window this morning... first Mr. Devices woke me up for it and I was very unhappy with him until I saw...
This little guy taking a nap in our tree while the crows yelled at him! Here he was starting to wake up. I should proly share some of the bun-festation that's been happening for the last couple years around here. Buns everywhere. And when they're little and their ears haven't started to sprout it's nutballs. But the crows killed one and left it in our patio which was traumatic for me. Mom thought our Bingo did it and Mr. Devices was very offended. After a neighbor said she witnessed the crows get one in front of her, he texted Mom to say, "Bingo has been found innocent of all charges."