It's been a week of family visits and out of town friends and I haven't had a minute to sit in the pit o' makies with my bed-head like I like to...
Made Patroness II these by tossing on some kuchi tassels. Why none for the shop you ask? Way heavy. She likes heavy! I need to start making earrings for people who want to stretch their lobes.
Was gonna name this post "Nothing's Ever Truly Fucked Up" and share the story of how I made this: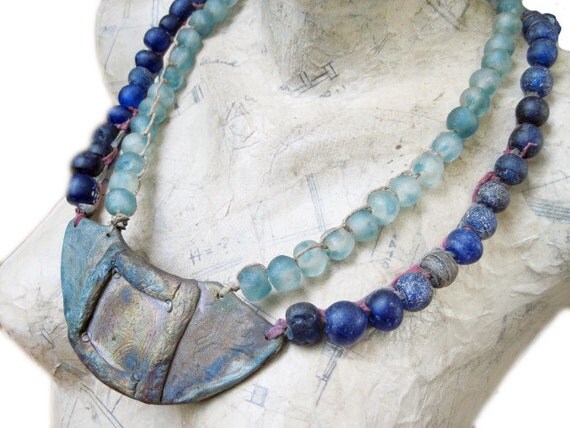 Then I packed it crappy and it broke en route. Patroness didn't want to send it back because she said it was shattered and irreparable but I insisted. Noticed these skull beads had a similar finish and had all kinds of ideas of how I was gonna fix it...
Then it turned into this mutant thing. Actually I forgot to photograph a whole other mutant step when the plumber's paste all over my fingers got all over this piece. So me with my brain, I'm all, lets get smudges aaalll over to even it out. Then there was a minor panic attack... Then there were alcohol inks. Then there was this hot mess. Then I was laughing at the thought that I was gonna name this post "nothing's ever truly fucked up."
Really should have shot this before the inks it was so insane... Especially since my idea of adding some raku-like glimmer was this crazy shiny foil leaf stuff... ... I can't even. Like a Halloween/ heavy metal backdrop or something.
Then there was lots of dremeling.
Then there was a stage between the dremeling and before the more alcohol inks which I also should have photoed...
Really the whole weird globular lower portion shoul dbe taken down in size even more. but I'm too antsy to make a whole other butt-ton of stuff so.... maybe if I'm feeling more chill some other day. Still! It's not too bad, considering how it was... Ugh, no. I got to sand it waaaay down.
Ok so Patroness told me she needed to stem the tide of jewelry coming her way so that she could financially focus elsewhere. And that was good since all these huge pieces had me developing tics. But little by little the itch builds in her and she starts buying necklaces intended for general consumption out of the shop. So I decided it was time to make her something again.
Pain-in-the-ass settings. Some on desert-found metal, some on brass blanks. Two-part epoxy and cheaty prongs with wax paste/dirt mixture to cover up the shiny and give that 'sealed-in' look of age.
Claudia, the etsybud I'm aaaalways mentioning because she's always sending me beads and gilder's paste and dangles and tin and stuff, asked for more close-ups is why you're getting these. Not cuz I'm full of myself. I mean, I am.
That's an aluminum dog tag under there, hammered and leafed.
I'm selling these as singlettes since all my necklaces are so expensive lately and these don't need much more than cords. The guilder's in the center of this one maybe wasn't the best idea. I thought to freshen this worn-out leafing that I must've never sealed...
Mirror compact and big-ass rainbow titanium quartz. Steel twirled and then sort of hammered straightish.
Here's a buncha rocks set in an archeological find. Cuz I'm cray-cray!
And a cuff with matchbox labels. Puppies!
(~~~Insert clever
seguey
seg way
segue.~~~)
Here are some things from my
sale
section that I'm really wanting to get rid of. Rock bottom prices.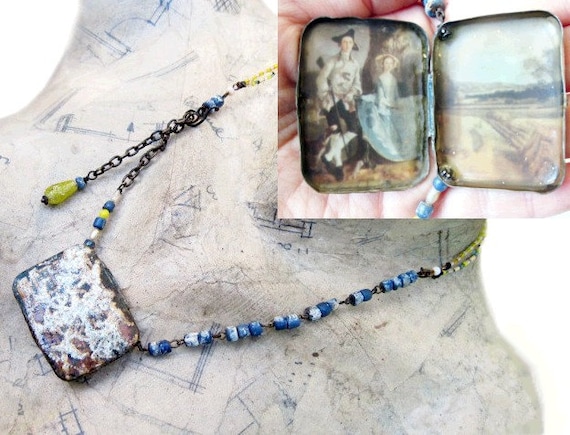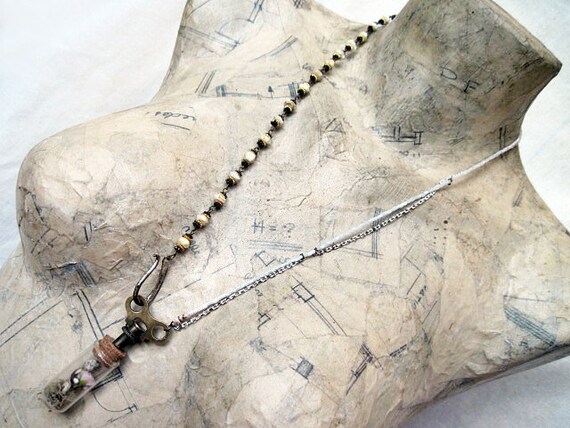 In a Little World.
$45
When the Child was a Child.
$64
I always feel sad for the poor little pieces that no one buys...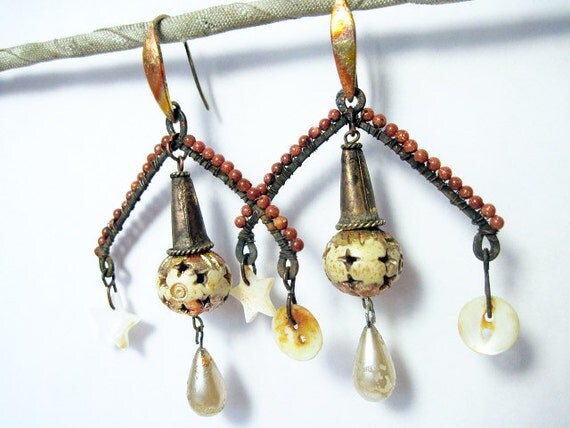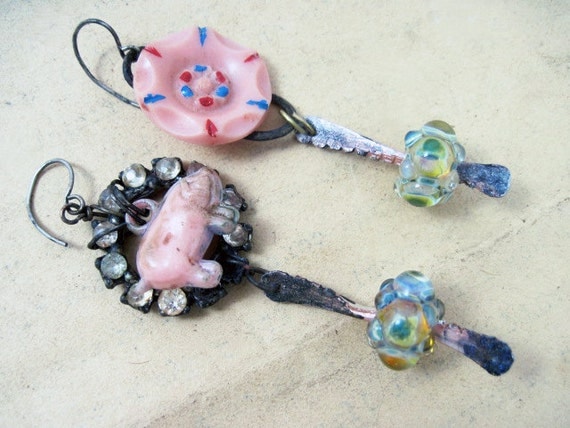 The Stars that Shudder.
$35
Dirty Pink.
$35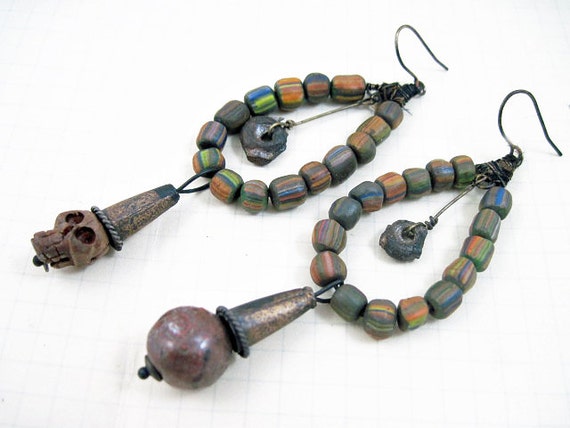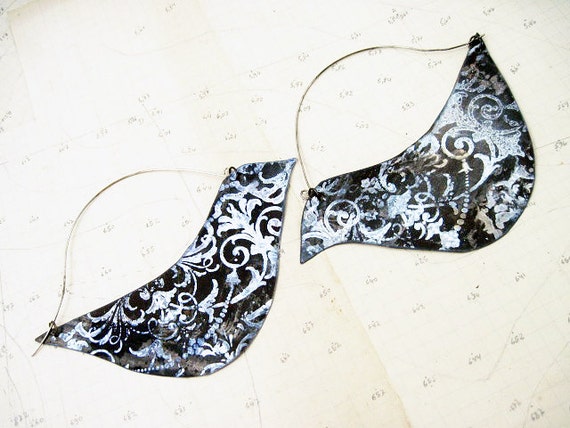 Things as they are.
$35
Secret Sky.
$25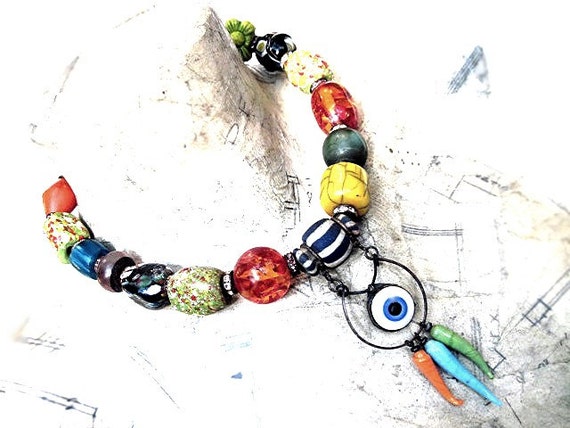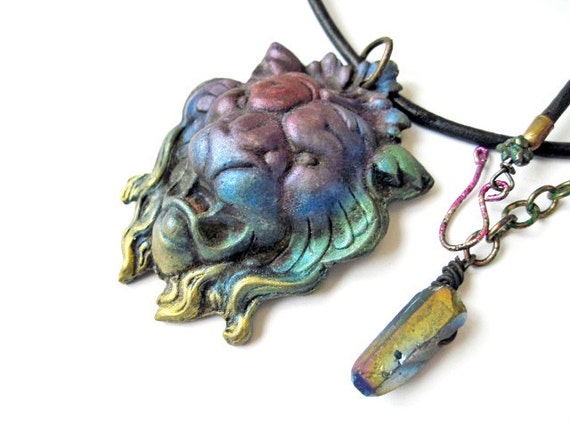 Evil Eye.
$69
A Lion, a Star.
$35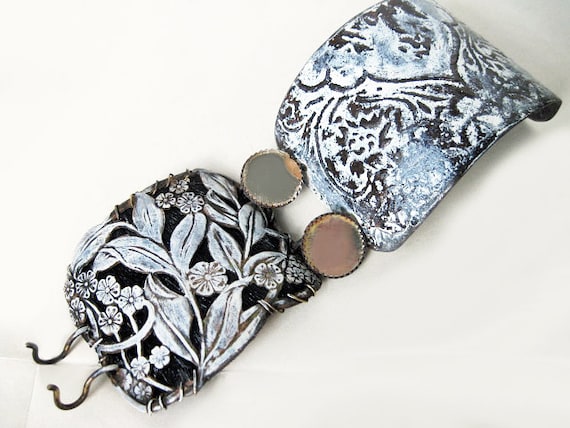 Sophia.
$69
Oh, I have a question for you guys. You may have noticed my changed avatar. Some people change their avatars and shop banners like they change their undies, but mine have been with me from the first, coming from these awesome ancient books I found in the depths of grandma's cupboards. However one day I had the brilliant idea to write SALE on my avatar since no one ever reads shop announcements and I wasn't about to add it to every listing. Did that once, never again. So. I THOUGHT I saved a clean copy, short story long, I lost my avatar.
Since I'd been recently told by one of you guys that they thought it was a picture of some hippie dude I was cool with the switch. I chose this lady who I created from that original.
However... I dunno, I don't know if she really represents me. She's so ...
bejeweled
. I
know
, I'm baneyneys. Why do I wanna be the tomboy seller of joolz? ANYWAYS... shipwreckdandy went to this magical place called the
Wayback Machine
and found my avatar! So now I have to decide if I should go back to the original fancifuldevices. And you all have to chime in, guys. No lurkage for this. Nope. Not allowed.