Some WIP, pre-oxidizing.
I had a mess of key rings which some geodes and bits from Uruguay had come on. I had no use for them but before tossing it occurred to me that I'd been looking around for ring things with all the lariats I've been making. Lightbulb moment: I soldered them.
Some I just wire wrapped (top), some I wrapped with stones (right, with steel wire- it's solderable!) and some I went full solderbonkers on. The key is trying to apply the solder in balls, not peaks. I'm still not 100% sure how to manage it. I know the solder, iron and surface need to be super clean. I think the surface needs to be non-molten so the solder doesn't just blend right in. If anyone knows more, help a sister out in the comments.
(Solder.)
I've also been having some serious fun making chain. It's always easier than I expect and I wonder why I don't do it more. But here too I struggled a bit to get solder globs instead of peaks and had to sand some sharp bits away.
Here this cuff needed buttons for a closure, so I made some with antique African cocowood discs, leafed tin, Roman glass and soldered pin. This is one piece of wire that connects on the underside. I need to get some stretchy fabric/cord/lace (?) for the loops now.
Some caged baby the original way, just cuz.
I'm working on a triple wrap bracelet and a lot of the links here are soldered. I have a very minutely stitched strap to finish this. But then I wore it today and realized that the mop hearts with arrow are going to have to be cut in half because they simply don't curve enough. I hate bracelets that have long flat elements, I find them unacceptable.
The bail kept popping off this heart. I tried several different epoxies before I realized I'd have to solder hammered copper there after sanding the top of the heart til I got to bare metal. So now I guess I have to retake all those damned pictures just for this bit! I can be grateful it didn't pop off after being in the hands of a buyer though.
As I've mentioned, I'm all about the lariats at the mo. That and my exercise classes.
The other day I was in spinning class and I was up in the standingish position, checking myself out in the wall o' mirrors and thinking, "Damn, I look just like one of those badass people that do the ... thing that I'm doing right now (!!!)... OMG am
I
one of those badass-- no wait, calm down." Like, I'm not but I'm super getting there. What was I talking about?
Here's
this
amazing treasury Pricilla of
yesdearsister
(previously readbetweenlines) made for Wildthorne:
And Theresa of
thoughtfulhands
shared her awesome results from my tute: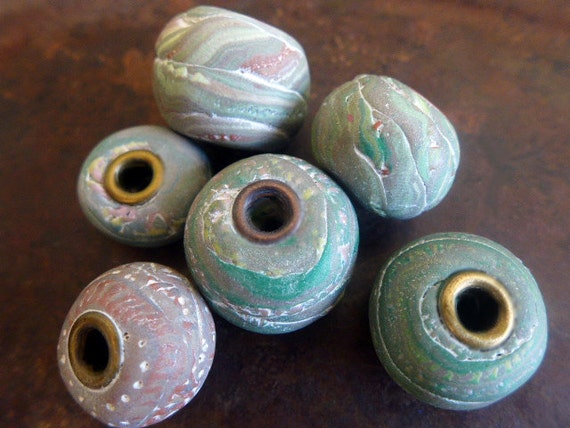 Aren't they awesome?
OK, finally here's today's raffle for these babies:
And the winner is: Cindy's Wicked Good Beads! Etsy convo me to give me your address, etc.
How did this turn into such a long post? I'll save the gifs for next time.