Sparrow
and I have decided to start doing something she named "Failure Friday", since everything on makey blogs is always so cloyingly upbeat.
My failure comes in the form of a few items that I thought were really cool but then never sold. These I thought were such a cool little collection of bits, sort of a cabinet of curiosities. And I've had so much luck with earrings where things dropped off in a row.
One solution I considered was adding a buncha pretty chains:
Whereas Sparrow suggested re-doing them on some hoops, which I'm sure she's right cuz hoops sell-->
What do you guys think?
These
are what I think of as 'slab' earrings, hanging straight down off a post.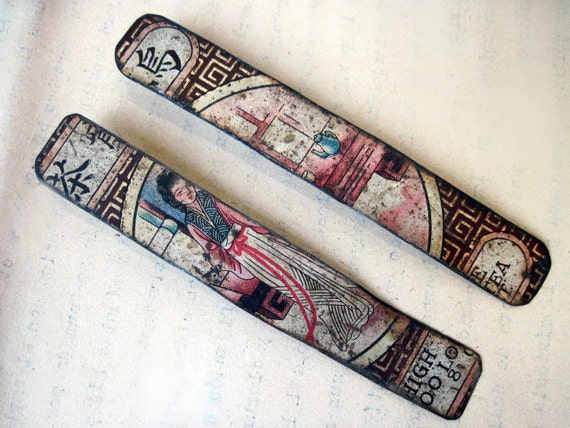 Little Red and the Dragon.
Maybe I need to model them to show how sexy they look when worn? Sparrow suggested curving them into hoops, but then you'd loose the lady somewhere under your ear.... I also priced them quite, I think, low for how hard it is to have found such perfect tin pix.... Suggestions?
There are other things that haven't sold (like
these
,
this
,
this
,
these
,
these
,
this
,
this
... and everything else in the shop) but maybe cuz a lot of them are expensive necklaces.... But these are the real stand-outs. Any suggestions, peeps?
I'm suffering from da pims something awful and I'm a bit scared to go into my overcrowded studio. Yesterday i took a 5hr energy to clean it out and ended up cleaning some but mostly making lots of stuff... today I'll ox and tomorrow share pix. I love your guys and your supply envy. These huge ass beads are kinda kicking my ass tho.
And now to re-instate an old tradition. Cute animals for when fanci is feeling shitty.
This cat is achieving sudden self-awareness:
This one's just awesome:
I know I'm overwhelming your 'puters about now w/all these gifs but come on! This must be shared:
Ea
ch ball weighs differently, causing each one to bounce to a specific height, and when precisely placed in the dust pans and thrown down… 2013
(
doilookgay
)