So right at the end of March/beginning of April this year, I went off to my little ol' Uruguay to gather up supplies. While I was looking for something in my sold section, it started dawning on me all the stuff I've made and sold since then. Or even before then! So, but, yeah for whatever reason I started strolling back through memory lane- since on the interwebs several months is a lifetime, and looking at stuff that sold rather quickly, before I had a chance to quite absorb them in my memory. So, since all my studio's packed up while it's bathroom is being remodeled, I thought I'd share.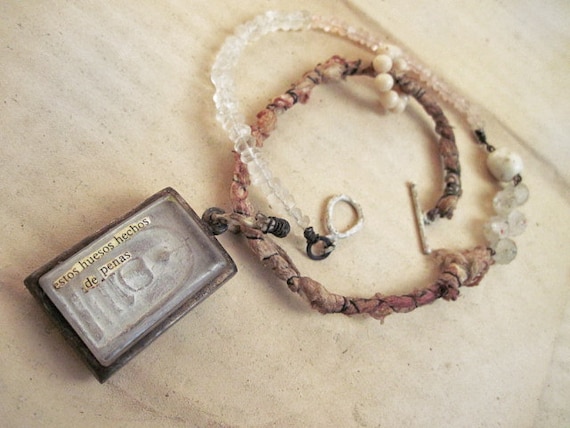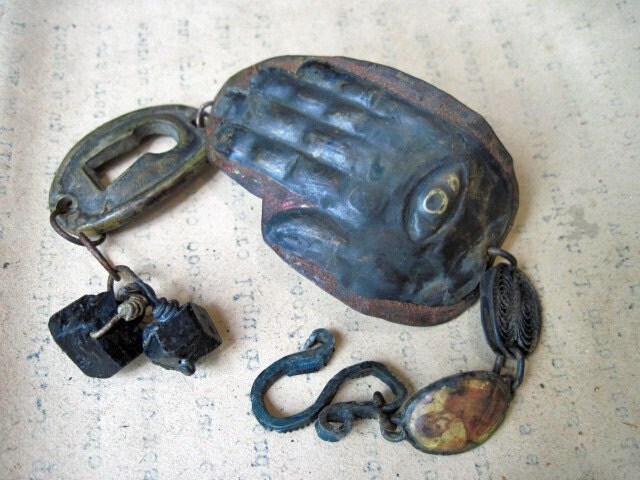 I should make a few more embossed metal bits, they turn out very rich looking.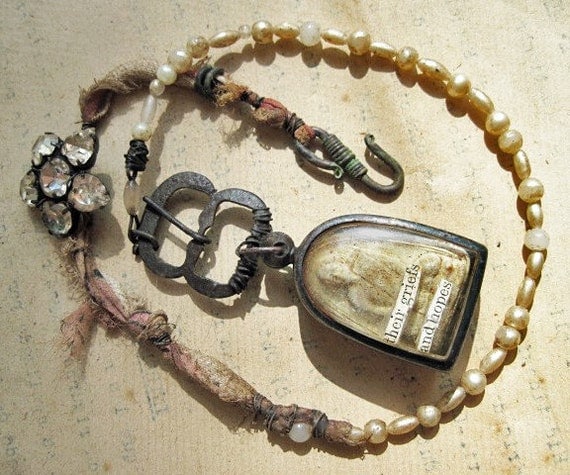 These Buddha reliquaries were a huge hit.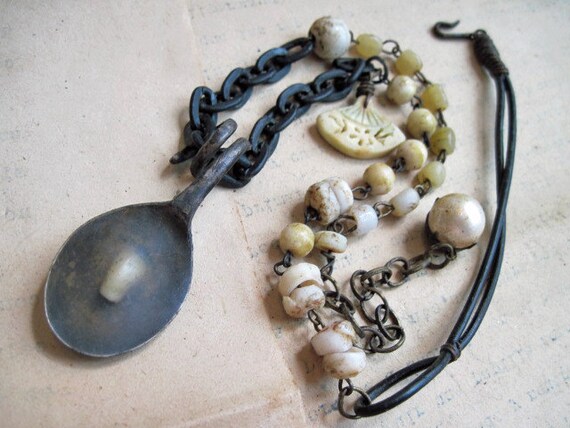 Aww, I'd forgotten about this little guy. Oh,
Sparrow
just revealed to me anything with teeth freaks her out so much she usually can't look at it! I mean, I wanted them a bit creepy, but, wow.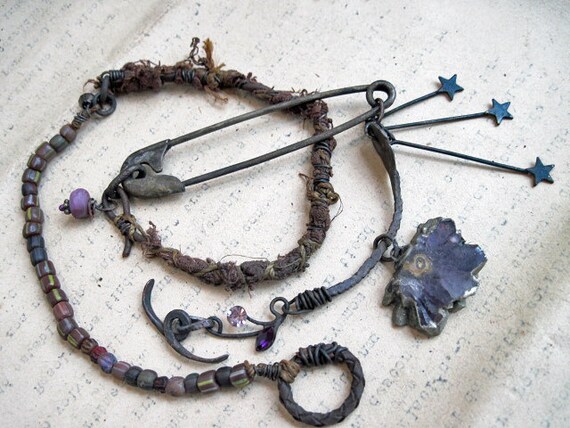 Oh I forgot this one! I liked this one.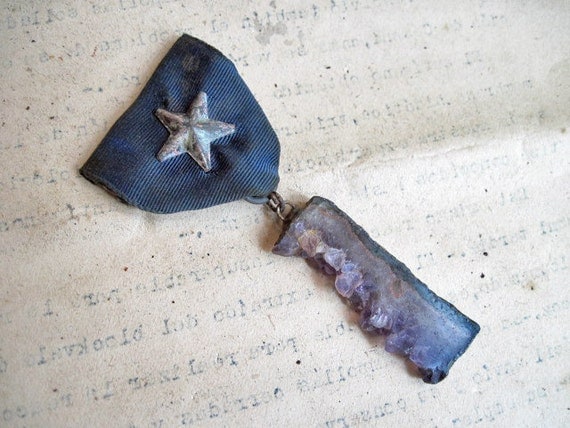 And this one.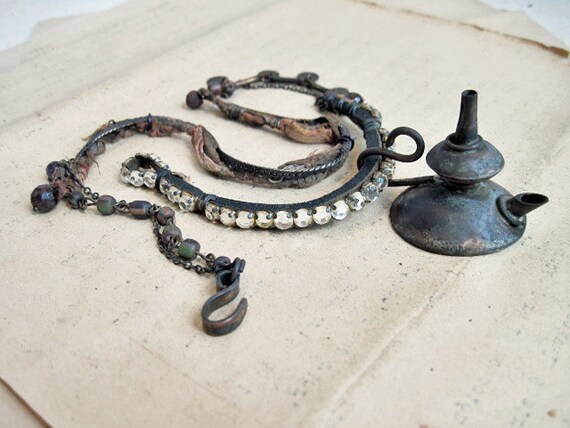 And
this one! This one was special.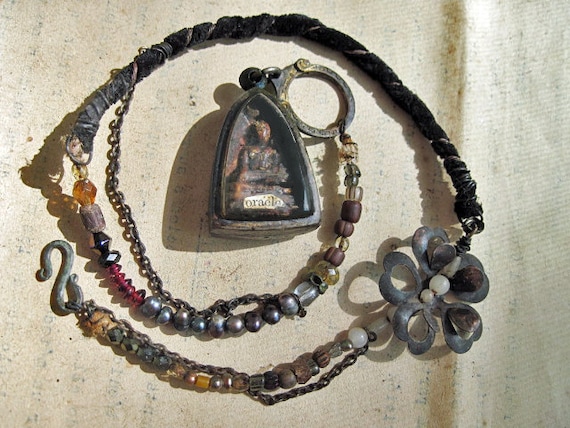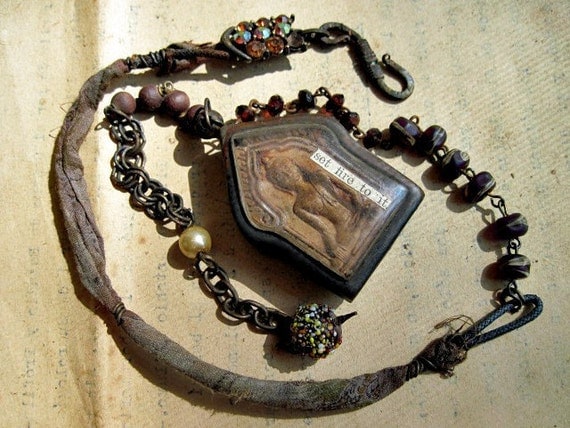 Like I said, these were quite the hit.
These surprised me how fast they sold.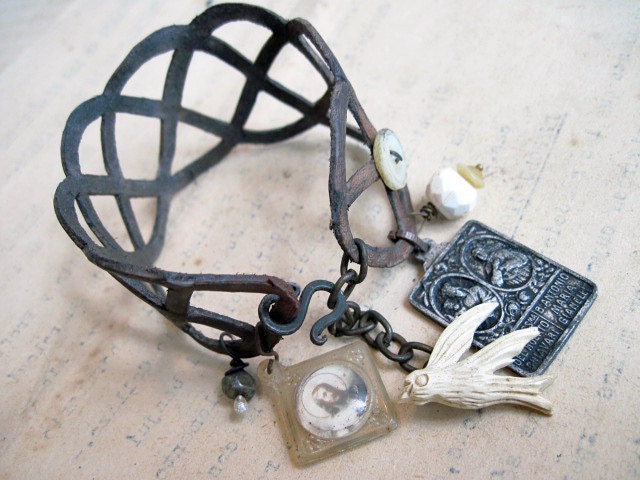 Aww! the little bird was from Opulent Oddities. And the charms from Uruguay...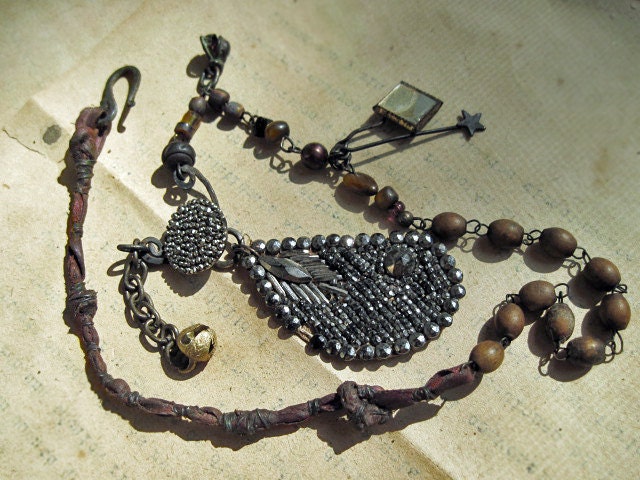 Oh this is from an old rosary.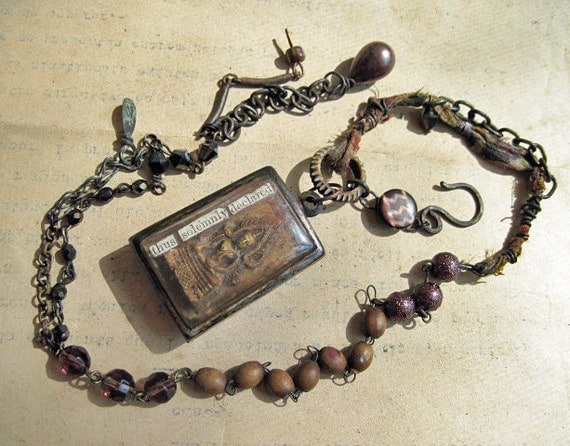 Another of these!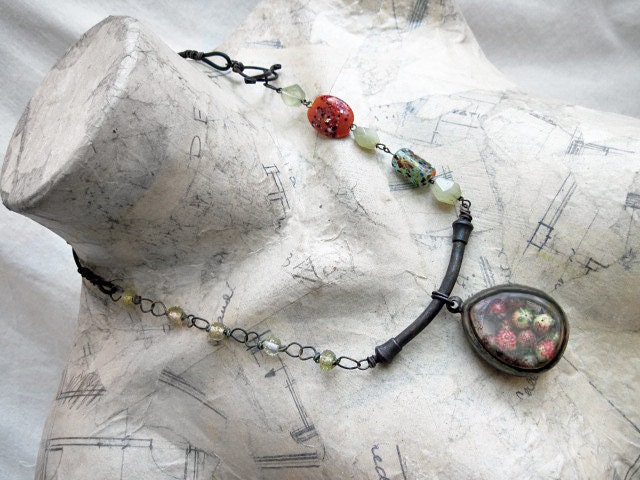 So this was the first of the reliquaries, but I removed the little Buddha and filled it w/these gorgeous little apples that had not holes.
The 2 red dog collar double wraps I made popular, too.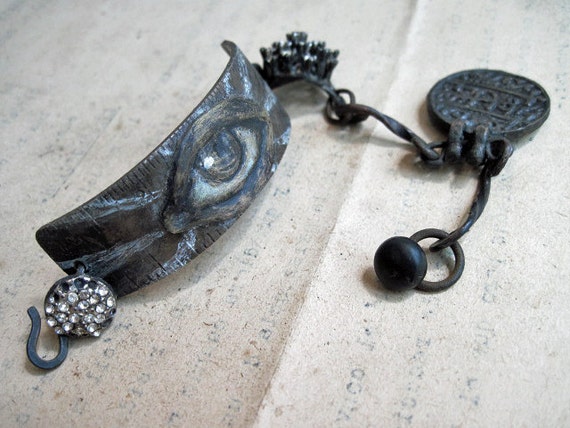 I totally intended to make more like this. Again, this involves embossing some of that thin metal. OH! I could do some of this while I'm without a studio! Wow, I'm a geeeenius.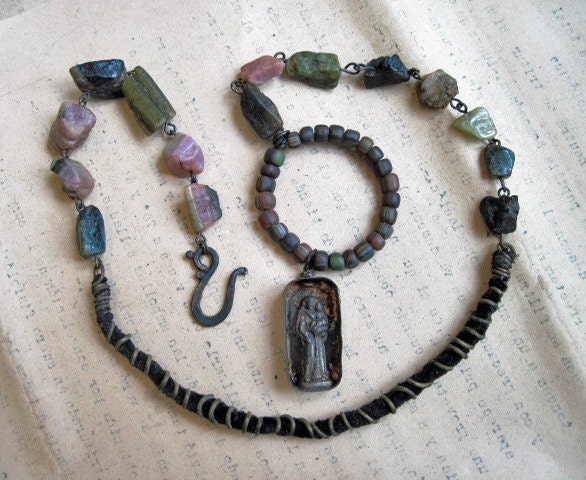 Man, I love me my simplicity when it works out. Those raw chunky tourmalines were a gift- a totally unexpected, free gift. I know, all gifts are free, duh. But I'm still shocked when I get supplies for free. Gifts are supposed to be, like, a fugly sweater from Mom for Christmas. My mom who I love, respect and owe my very existence to, of course.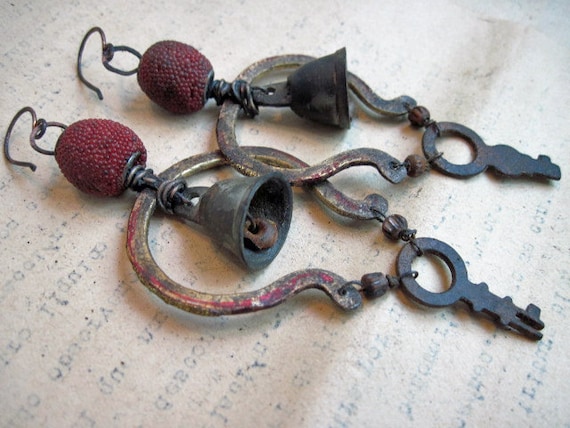 Very ethnic look.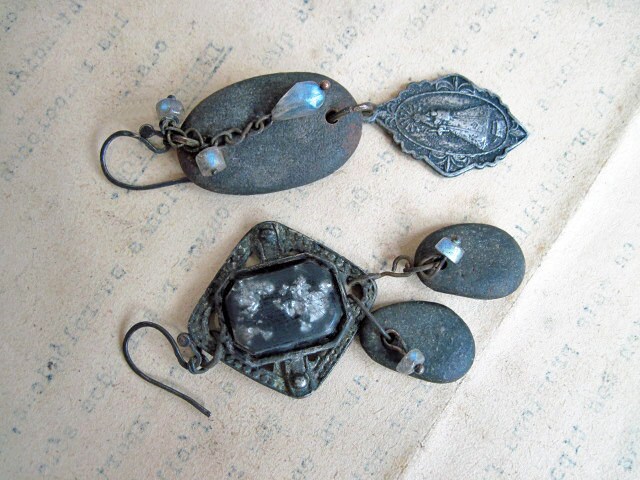 I was surprised to sell these rather fast.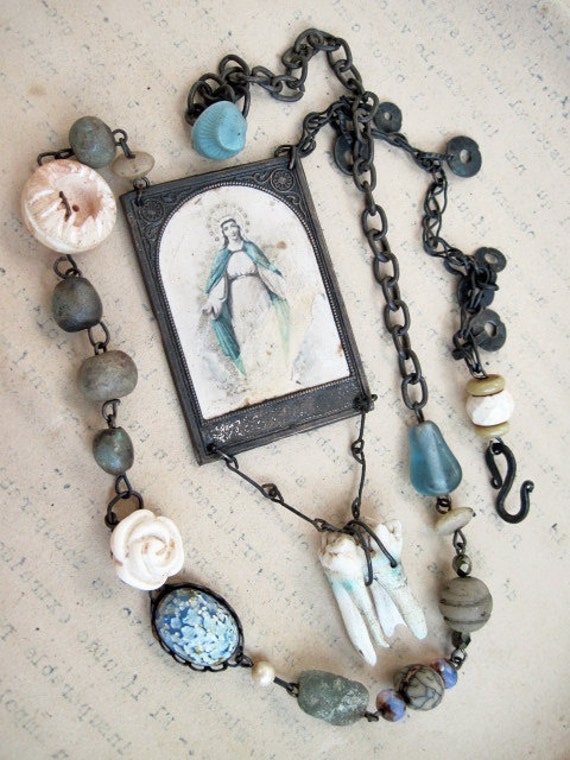 Oh, yay, tooth. Sorry, Sparrow.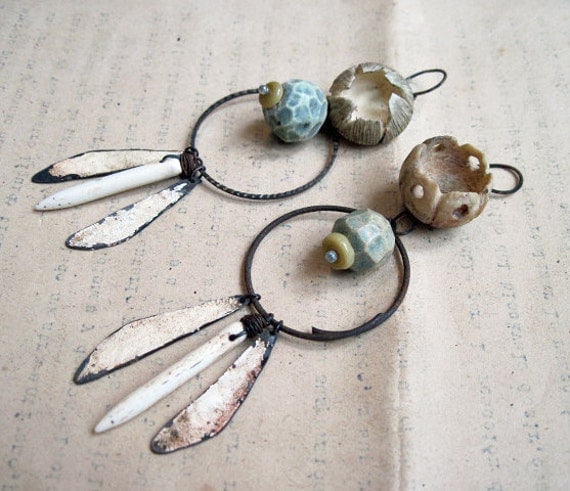 And these- don't they just look like they were meant to be? Like all those parts were destined to end up together? Even though the faceted beads weren't even from the same maker!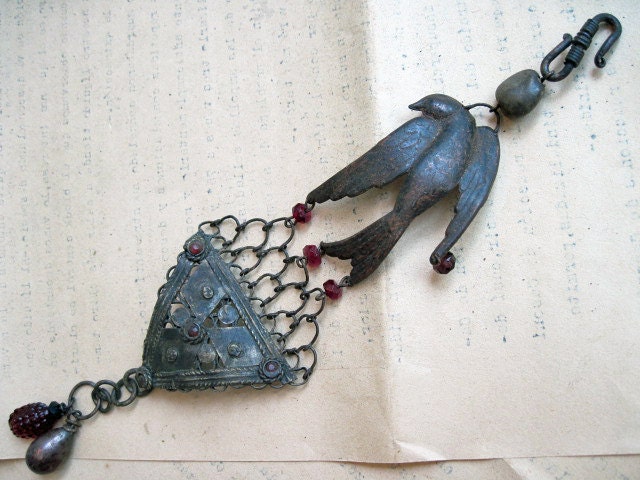 Oh, this one several people wanted a remake of. I could do a sorta remake... I should.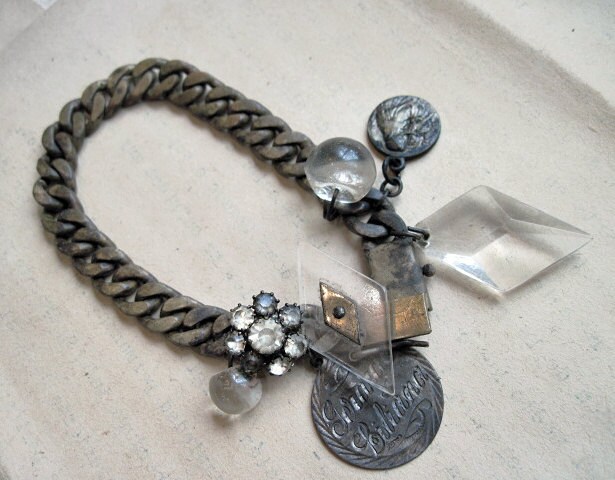 This one was so fun and effortless.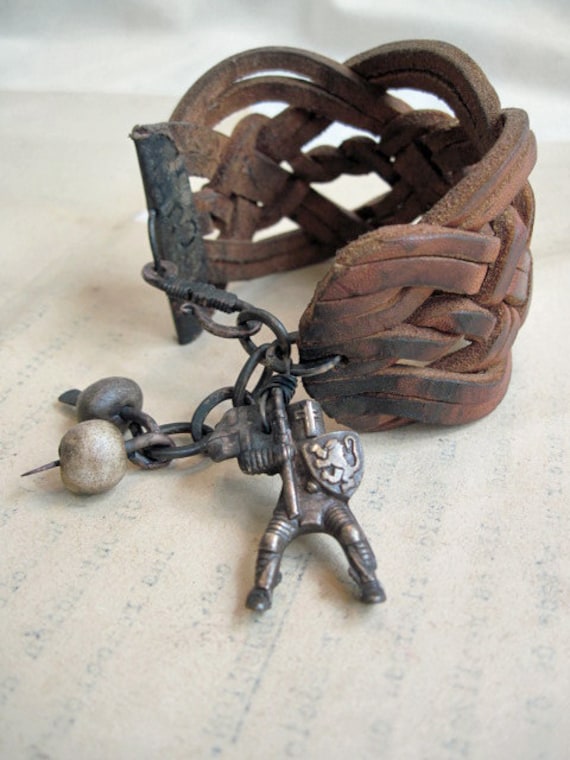 Chunky guy.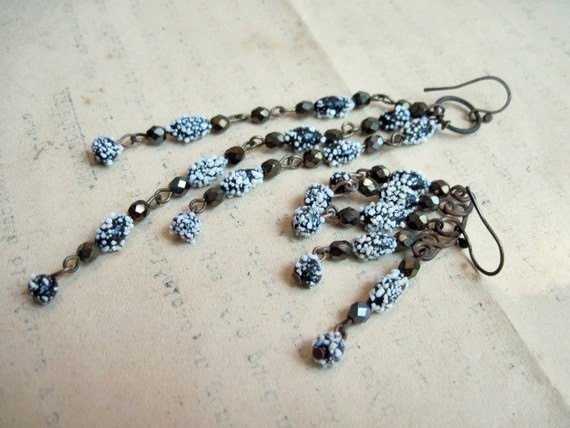 Oh, yay... totally forgot these.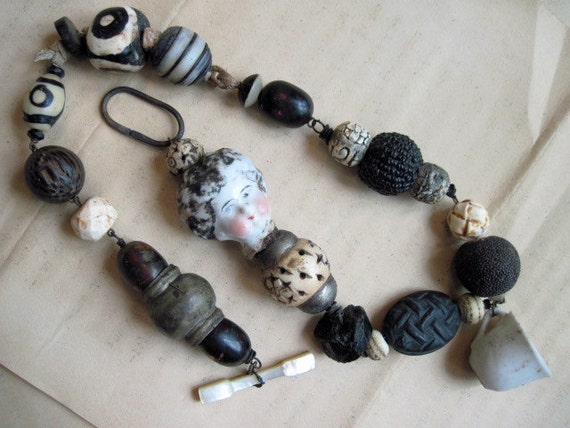 This was a big ol' thang. Head and cup from same amazing gift box as those rough tourmaline.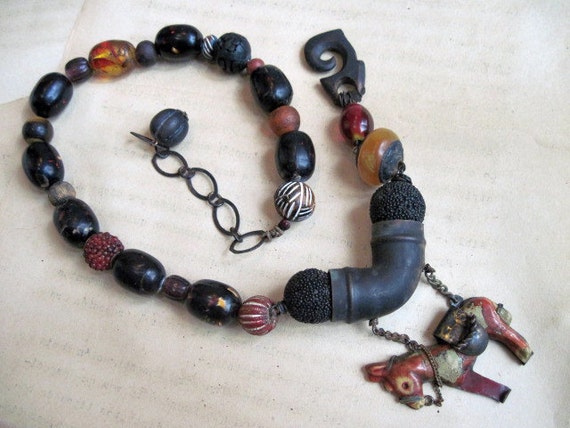 Chunky chunk chunk!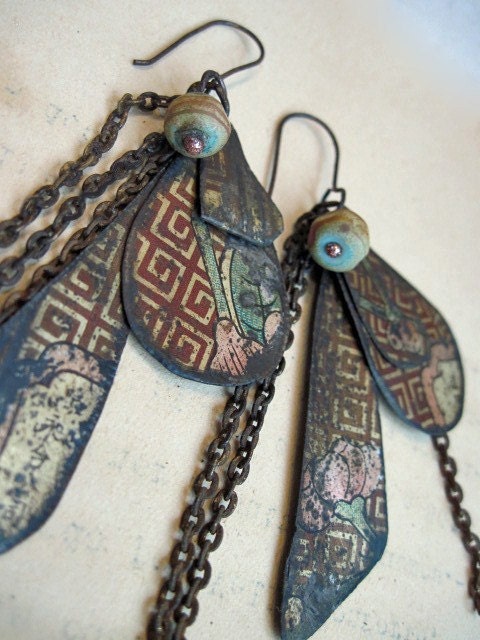 Oh, hi guys, I remember you.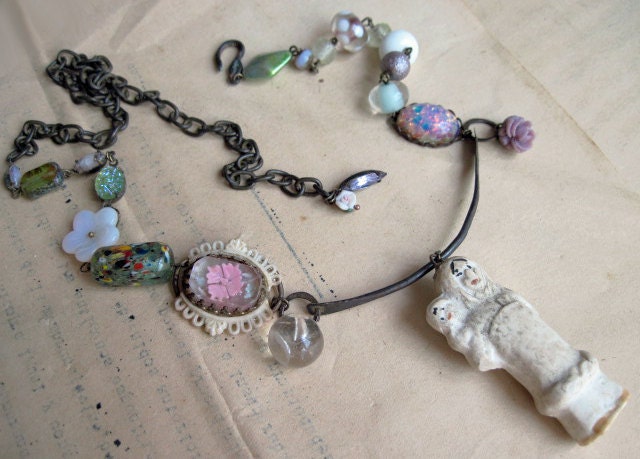 And you! I had Momma and Baby Eskimo forever. Did you know in Canada, where most eskimo live, the term 'eskimo' isn't considered at all offensive? Because if you call them 'Inuit'- they're not all Inuit!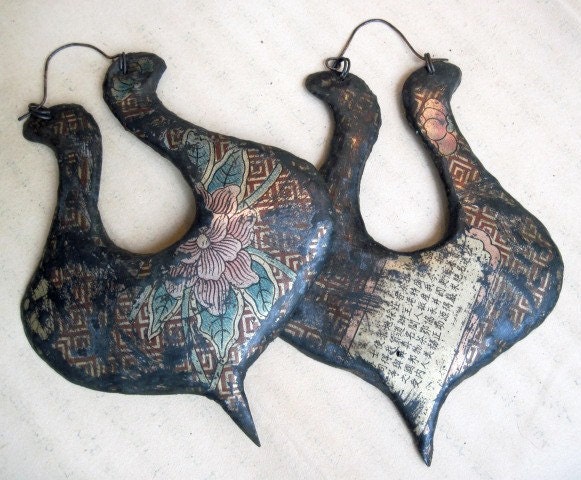 CorvidDelights
snapped these up before they were even listed.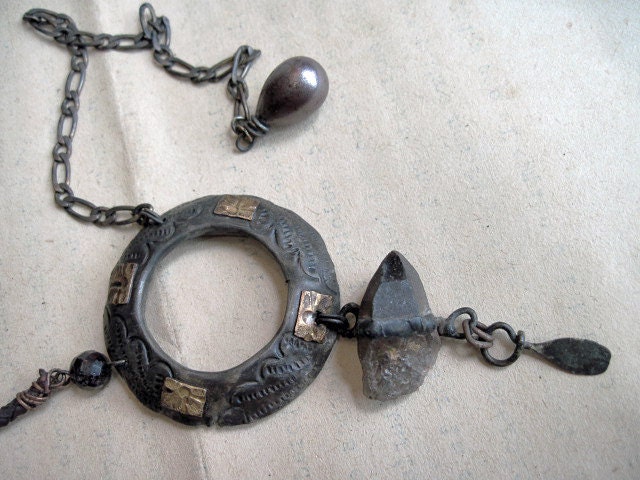 Oh, hello little
mate
guys!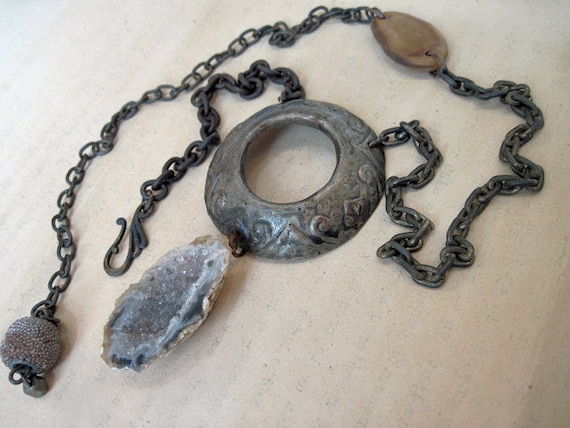 And the rough geode gemstone minerals... Time to pull some more of those out to incorporate.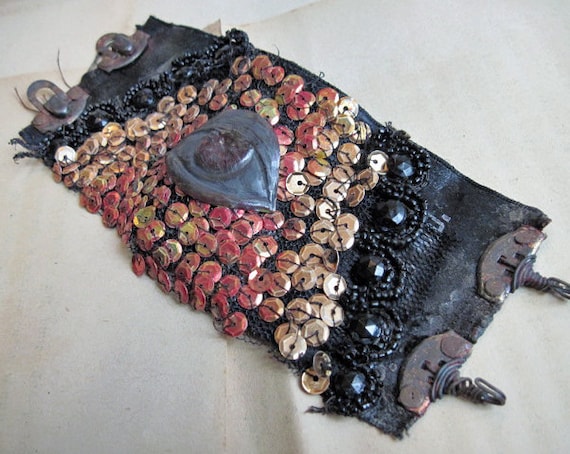 This one was weird. I just glued it together because this was when my hands were killing me too much to really use. Except those hooks connected to the ribbon base I'd had forever, quite ready to toss.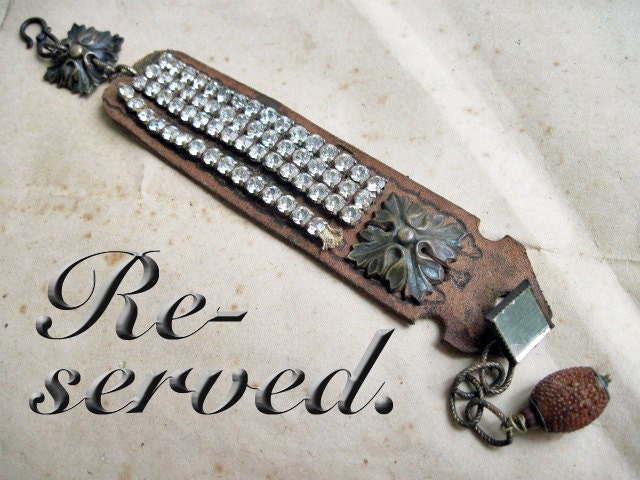 Couldn't find the picture without the 'Reserved" lettering. OK, I didn't actually look. Too lazy.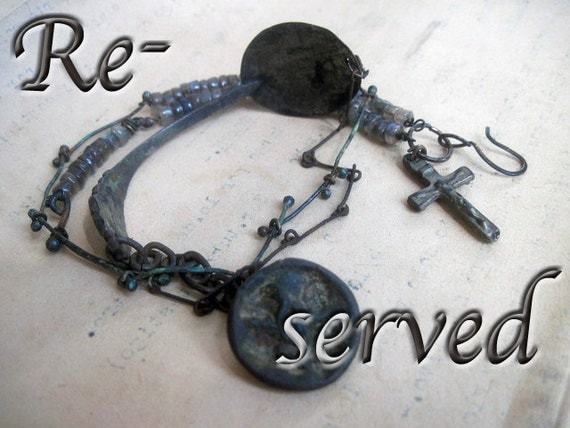 Ditto. Man! I should try making some more chain like this.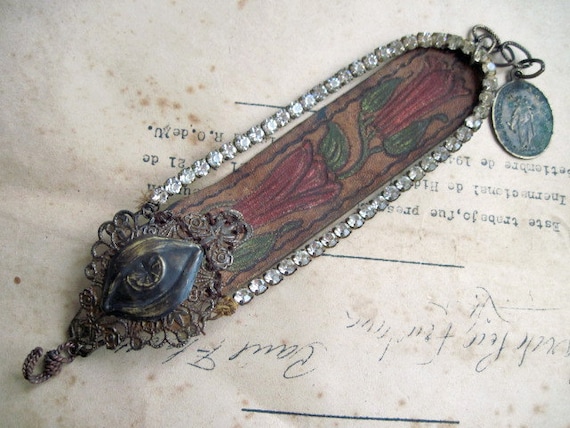 Loved this leather bookmark.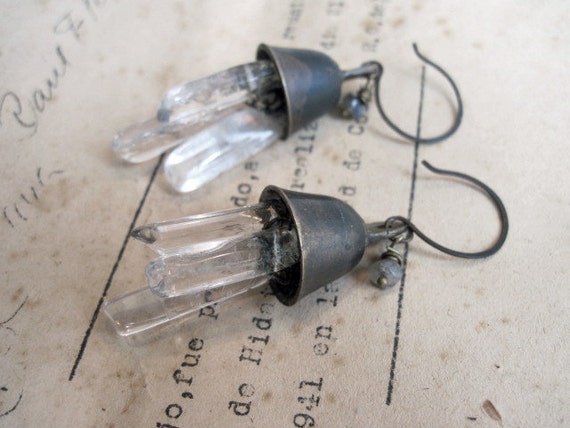 Hello little twinklers!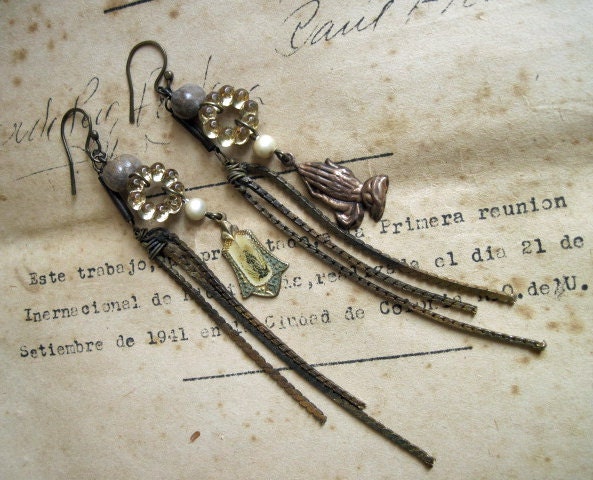 Hi there!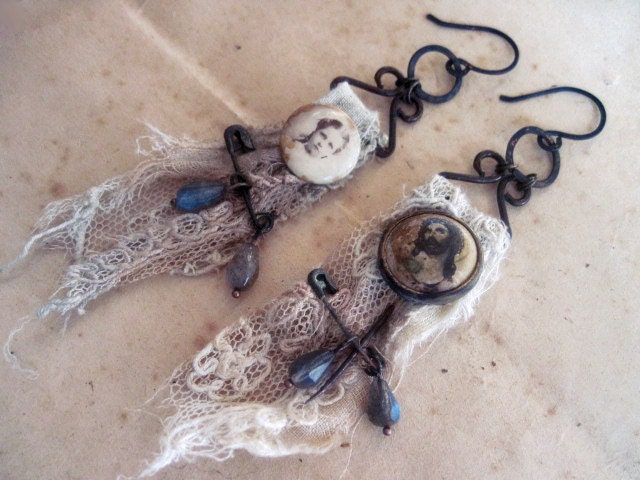 Oh, yeah, these sold crazy fast. I should try something like this again. What would I use for the focals?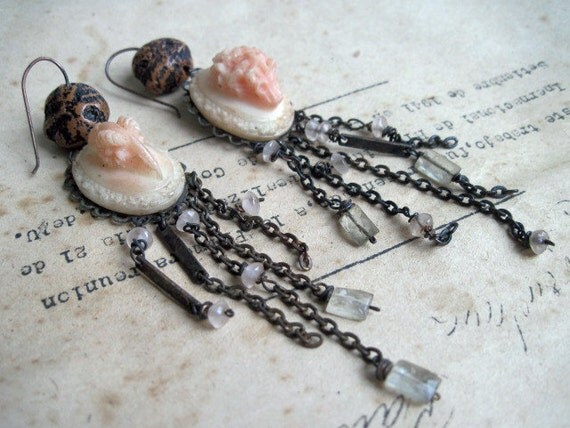 I was also surprised at how many people liked these. I mean, I never know. Something I think is brilliant stagnates in the shop forever and vice versa.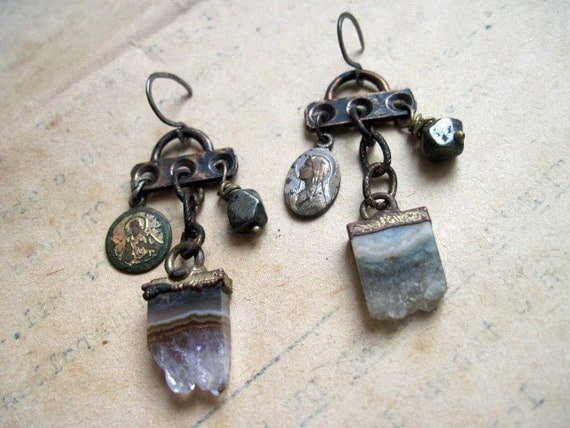 Oooo! lookit! Leeettle things! Man, those stone slices!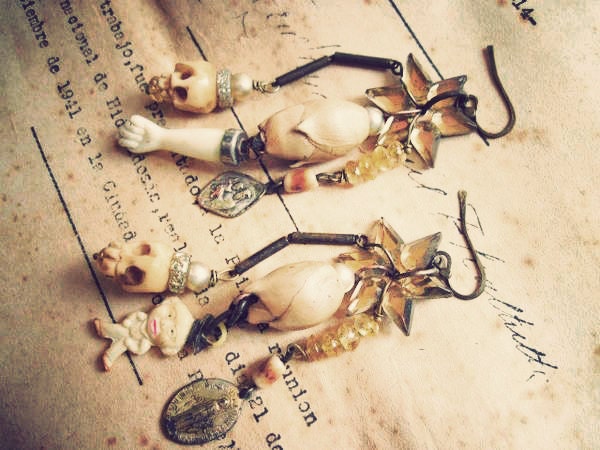 Here's another that was snapped up by Corvid. She went earring crazy for a while. I miss having all those tiny medals. I thought I had an over abundance. Next time, I'll have to get even
more
tiny things.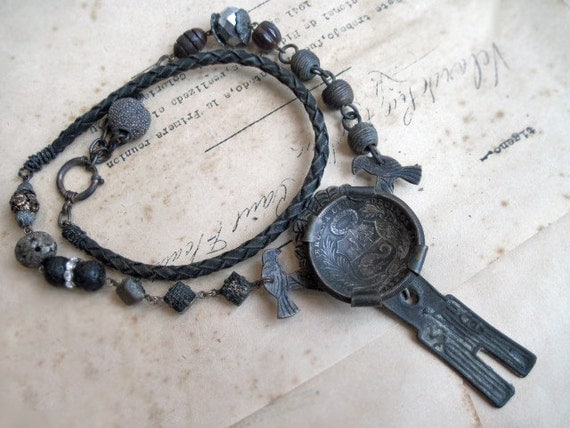 Awwww! This one was special. I actually had it mostly made before leaving for Uruguay. I need to get more cord next time too. I know, you can get it here, too. It just feels special from there.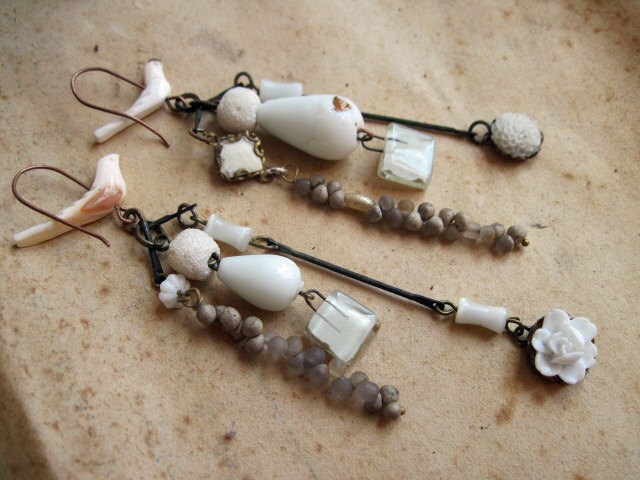 Another pair Corvid got. The little squares and birds were from a cheap little bead store in U.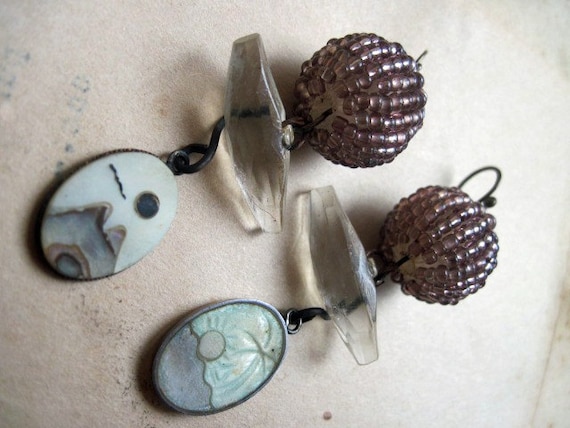 OH! These were the very 1st thing I made when I got back. I'm still keeping a pair of these beaded beads and I think I have more of those glass buttons.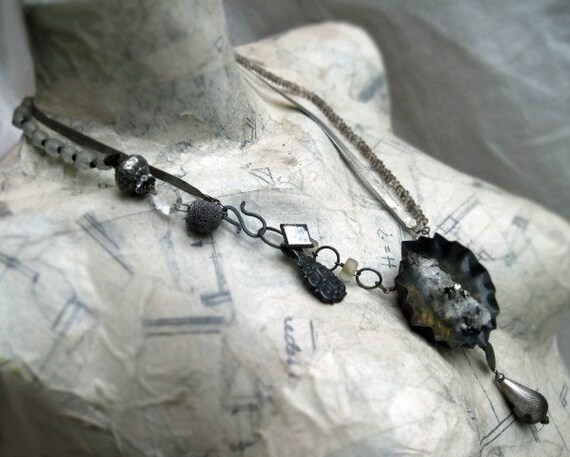 This was actually from before I left.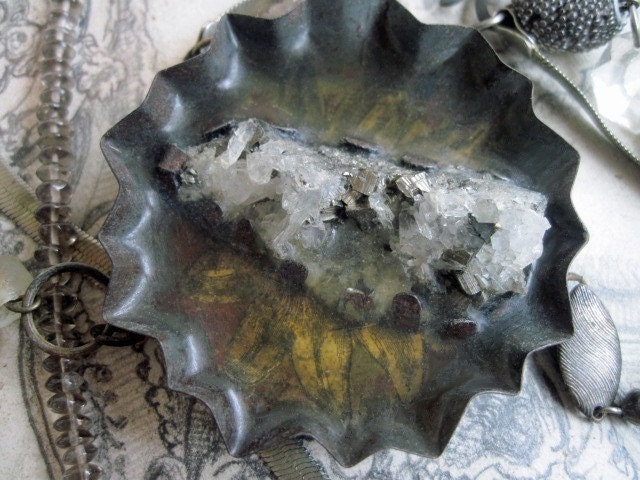 It was when my hands were killing me and I was supposed to be laying off them.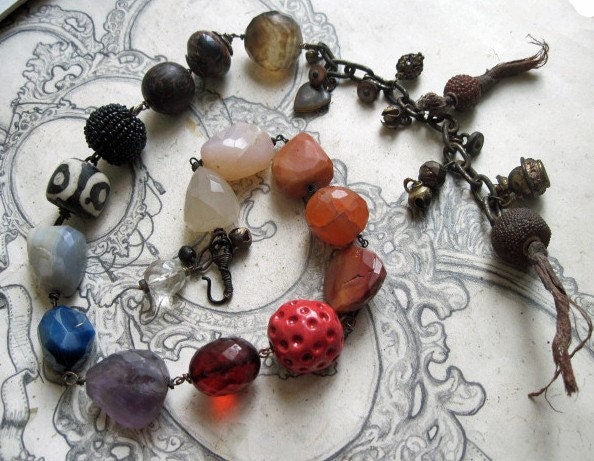 And this one was before leaving too. Squeee! Look at it! Man, I need to try something without a focal again. That's just a neat idea.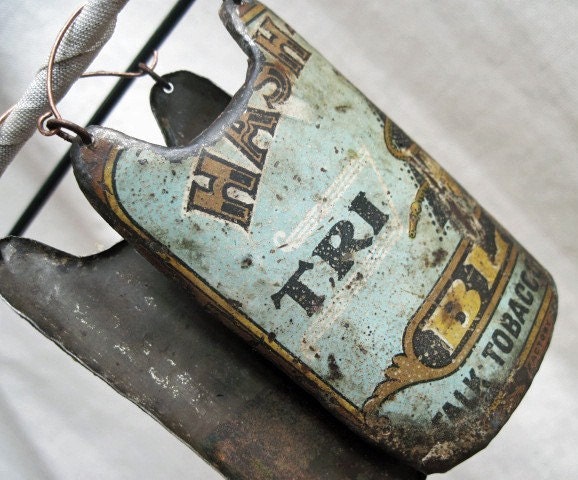 I gotta make more tin earrings. Like these mamma-jammas.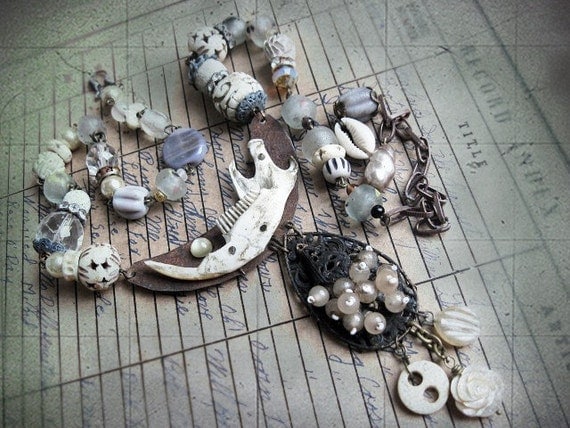 And this one. I whipped it up surprisingly fast. Though it's too... For right now I'm thinking of something more primitive.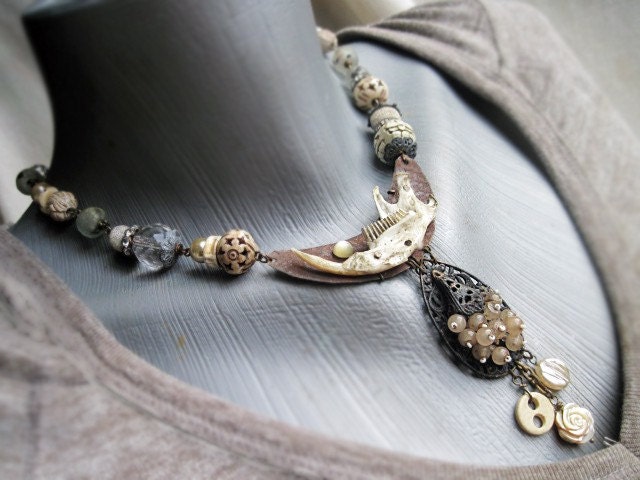 Still. Pretty damn cute.
OK, thanks for putting up with this totally self-indulgent extended nonsense. Just that these were bought way fast, so... I'll stop. You can all get back to your families and jobs now.