The lovely Kim of
FlotsamTide
asked me recently if I'd ever experience her national cuisine, aka, Vietnamese food. While I remember a superb restaurant from my youth which introduced me to such wonders as spring rolls in delicate rice paper wraps, my most recent experience was not quite so that. I told her about a place my family and I went to in California when we were there about a year ago and she insisted I share with you all.
Thing is we were in Cali for a memorial service so we were all kinda bummed. We needed to eat though and we'd found ourselves in a vastly Vietnamese neighborhood, which I insisted we take advantage of.
We randomly stumbled into a large and empty neon-lit situation way past their busy hours and started trying to make sense of the menu.
When we were ordering, Mom asked the guy what meats they had for the pho or whatever it's called and he was like, "Sure we have pork, beef, chicken, fish."
Except with his accent it sounded like, "Po, bee, cheekeh, fee" and at his speed it sounded like, "Pobeecheekehfee."
He saw Mom staring at him and didn't even wait for her to go 'Hu?' but just started repeating himself all over again slowly. So what he actually said was "Shoo, we ha pobeecheekefee, po... bee... cheekeh... feeee...."
Well me and my nerdy inability to stop myself correcting pronunciations and my English teacher's need to make sure everyone understands each other all the time... my head just exploded right there.
Later on in the meal, Mom didn't want her food and she told the guy she wanted to order something else, something, like... my sister held up her bowl "Like this? Mom, like this?"
Yeah, everyone around the table was saying, yeah like that!
The guy was like, "Yeah ok."
He grabs my sister's bowl and plops in in my mom's place and plops my mom's bowl in front of my sister.
And was like 'Ok!' and wanders off.
We were all sitting there in stunned silence trying so so so hard not to explode into laughter for the rest of the meal.
And that was my experience with some ghetto-ass Vietnamese food. If you ever go to Kim's house, you should expect it to be just like that.
Here's a cuff that's not done.
I don't know what the hell I'm trying to do with this thing.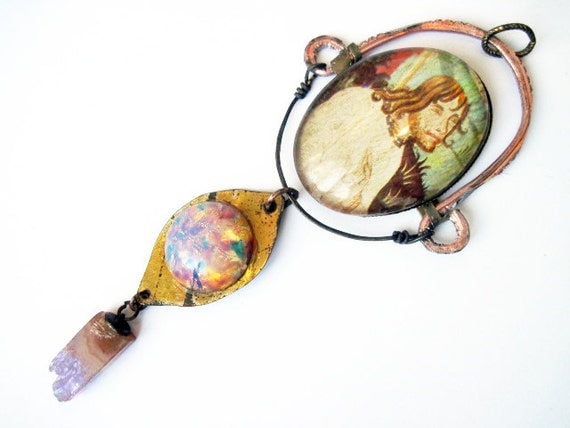 Finally, here's a piece I reworked for a buyer. Original--->
After I jazzed it with cunks from some unloved jewelry:
Oxidized the settings, look at that gleam.
One final thing, someone asked me about setting things in prongs. I'm a cheaty-cheat so
here's
where I describe my quick-n-dirty system.