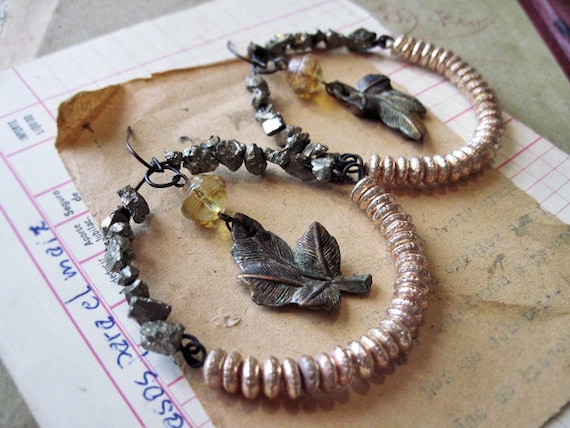 Giveaway prize #1
OK, first and foremost, we have ANOTHER muthafucken giveaway. This time it's to celebrate a true milestone- 200 followers on this here blaag! Dude. That's tons. When I started, I didn't even put the follower widget on the sidebar because I didn't want to think about the fact that I had no followers- and proly never would. Or so I thought. Then one day I suddenly realized I'd been getting a comment here and there and just fell out of my chair. Later, I realized I had
18
followers and I was so blown away I ran through the house yelling "EIGHTEEN people committed themselves to my blog!!" and etc. I have to say I had previously made a concerted effort to have a serious blog, back when I was trying to do Art, and it went nowhere. Same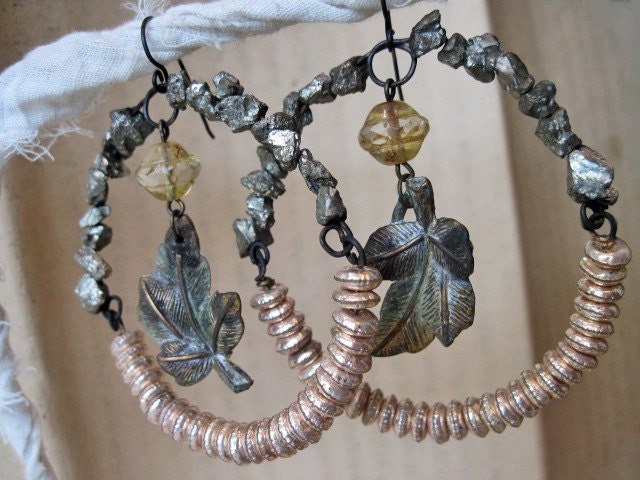 with a previous etsyshop. I approached all the jewelry stuff with much diminished expectations. And as the buddhists say, when you let it go is when it comes to you. Or something like that.
So, to celebrate the glory that is this bloog, I'm giving away not one but two sets of earrings. So there'll be 2 winners. Just leave a comment.
Corvid Delights
- Ouch- joke failure on my part. I mean to say "Oh you
do
go on, you flatterer you!" In an old-fashioned Southern lady accent. Like an old movie. Not like, 'you babble endlessly.' Honey, I know folks who babble endlessly and you ain't it.
Man, joke failure hurts.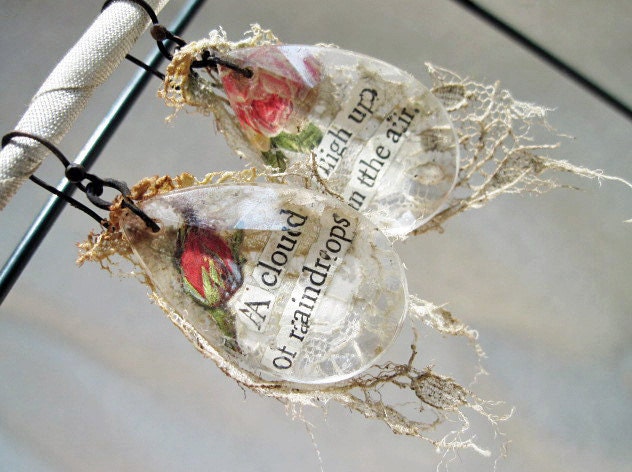 Giveaway prize number 2. These because they've been sitting in the shop untouched for forever. And yeah, it's a bit shabby chic compared to my usual stuff, but damn it. I'm not all tough and cynical.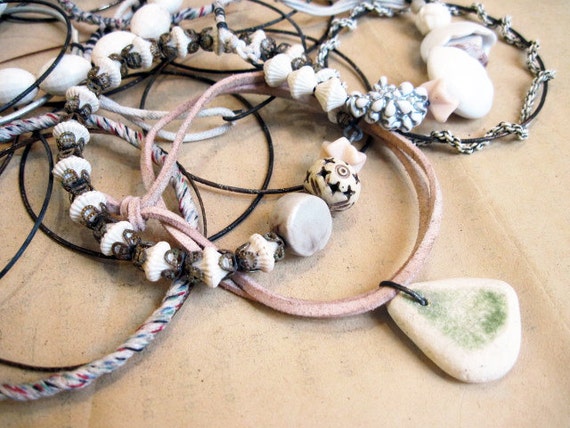 These bangles are up in the shop. They're the more earthy ones.
stregata
- But I can't find any links to FAUX shmnuchibluchi. But I think if I meld some solder on the copper sheet and smoosh it with something, I can faux it up with the best of them. Except that I have no copper sheet and have been too lazy to pull out the solder works for quite a while now. And by 'lazy' I mean overwhelmed by other projects.
Janet
- Huh-hu. Skidmarks. Yr gross.
NuminosityBeads
- If you actually ask for wire at a hardware store, they'll show you their telephone wire or something. Wait. I have a follower in Mexico? *blush*. So to her I quote:
"Andale-andale arriba-arriba!"
- Speedy Gonzalez. (That ought to impress any Mexican, right?)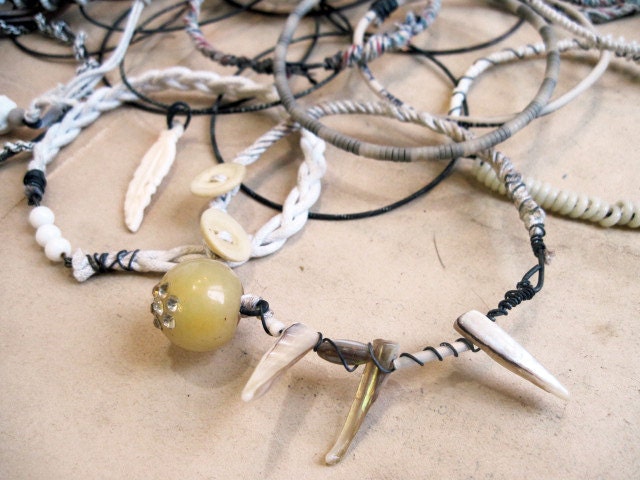 Petra Carpreau
-Yeah, the 1 time in 10 years I managed to exercise was an
OFF
day. That was actually 3 days ago and I haven't exercised or showered since. Maybe I'll get my ass up and do some now. It was Zumba! Tanned, buff people in skintight fluorescent exercise clothes? Sheer eye-pain.
Bring it!
Anonymous
left a question on the post before last- "Do you still want questions?" To which I say "Grrrrrl! You
know
I do!" I just love to hear myself talk, haven't you noticed? I went from encaustic to jewelry via collage. Encaustic was too hard, collage I couldn't find a direction in and suddenly I got the idea of gluing some of my cute papers on bits of wood and linking them up together.
Here's something I dug out of my virtual attic for you. Man, sends shivers down my spine to remember all the ugly crap I made. This isn't even the ugly crap. Not showing you that. But also- I used to work 10x harder back then than now on everything. Because I had no clue what I was doing. And don't get me started on the photography. Ugh, unwelcome trip down memory lane. Sometimes for no reason it freaks me out to go back to a previous headspace. It'll freak me out to find that my high school still exists, and music I listened to then will literally make the hair on my arms stand up. This goes for almost any period of my life I haven't recently had to re-acquaint myself with. Those of you who don't like to watch movies more than once might understand. It's like you don't want to have to live through it again.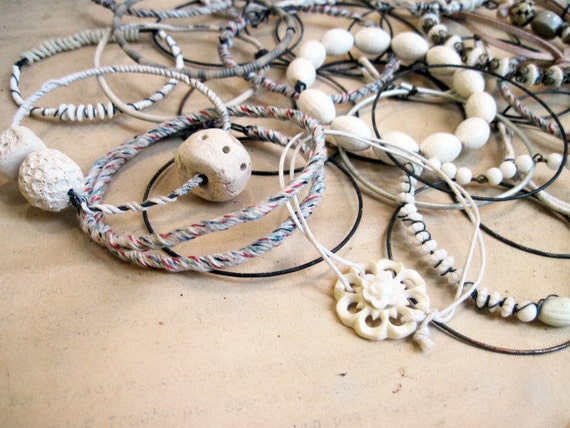 Another image of the bangles that are up now.
But ANYWAYS, y'all should always try to leave comments to the most recent posts or else I might miss them.
And drop a comment here for the earrings. Or don't!
Jeeze
. Don't make me no nevermind!