So my benefactress charged me with re-doing this paper bead piece that she loved but the red beads were plastic and even worse than they look in this 'before' pic. Plus you can't tell but there's bright gold links all throughout distracting from the goodness. So yeah I took a strand of this amazing coral or whatever it is and re-made it.
(OK, excuse the uberboobs.) I added dangles to each tip, which the original just had empty hoops as the tip ends, and to me that is a no-no.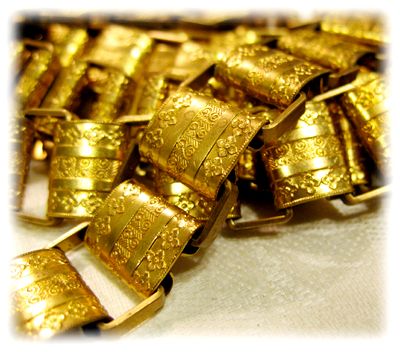 I managed to use much more coral than the original had used plastic red bead, so I ran out. However, this gave me the chance to add a touch of Victorian to the tribal- a length of book chain. Did you know this stuff is called book chain? I didn't. Another lesson from the wild world web.
Oh and I made some earrings. These were little pendants. The tops slide open. I removed the bottom dangles and the boring glass stone cabs and filled with my own.... my own patron's goodies.
Finally got my mitts on some real-life basha beads. These photos don't do them a bit of justice.
But they're all mixed in with rough apatite, aquamarine, pearls and Roman glass. Even a couple dangles I took off those previous earrings. Finished with a set of spikes from
ScorchedEarth
. Have you seen some of the awesomeness our little Petra's been coming up with lately?
My last pair from LydiasLampwork, which I had a lot of fun with.
That's all.