I toned down the jarringly primary color of the glass cabs by dabbing them with a champaign colored metallic stamping ink pad. Then spray sealant, cuz it didn't wanna stay. I love champaign, it's like the exact point between gold and silver. I gave the kuchi a verdigris patina by using oxidizer mixed with water and letting it air dry. After I waxed it for protection, the verdigris rubbed off. No prob. I ran it under the sink and again let it air dry. Added Roman glass and book chain, and I even used the foldover clasp as part of the hook closure.
Shiny silver kuchi hoops got oxidized without, leafed within. I punched a bunch of holes and hung iridescent crystals which I wrapped using a 10x easier system of wire wrapping that I devised my own self. Gives them a bit of swing.
This big square druzy pendant was too damn square. I had to sort of cut and bend down the back to punch holes in the bottom because after dremeling it for an hour I'd made no headway. But I hammered it back and oxidized and it's barely any worse for wear. I mounted an old photo brooch on a cross metal bit using a little slab of plumber's putty to add height and dimension. Then I dangled this African bit at the bottom. I also filled that bit with putty cuz one good sit-uponing and that thing would squash like a fly.
Now I feel like it's nice and strong and will last tossed in a careless lady's purse. It happens.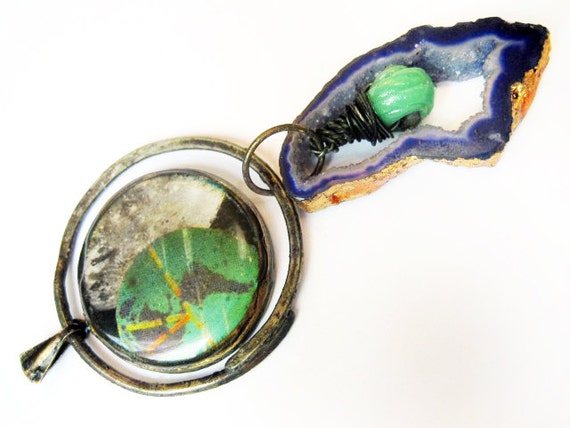 Finally, she purchased this pendant just because she couldn't see it go unsold for as long as it had. Pity purchase? I'll take it! She asked me to necklace-ify it. Didn't realize how difficult that simple request could be. Especially for things I'd only envisioned being tossed on a chain.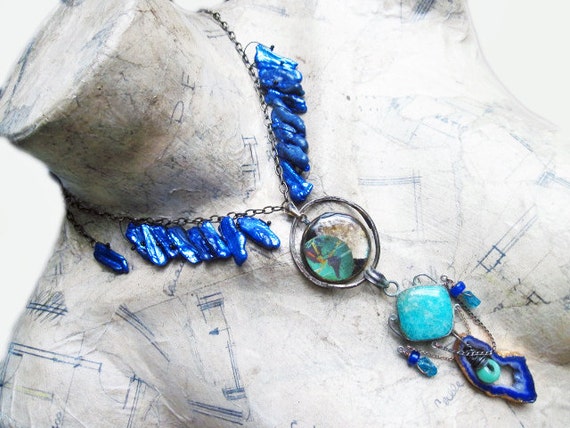 Anywho, I used her own materials to come up with this. The biwas use the same wire link as the crystals above, effectively chaining them from center-drilled to drops. For some reason I can't abide center-drilled biwas. They just never work for anything! Ever! And as I said, this connection is super cheaty easy. Yeah that's right, I said "I can't abide" like some Jane Austen novel. I'm fancy.