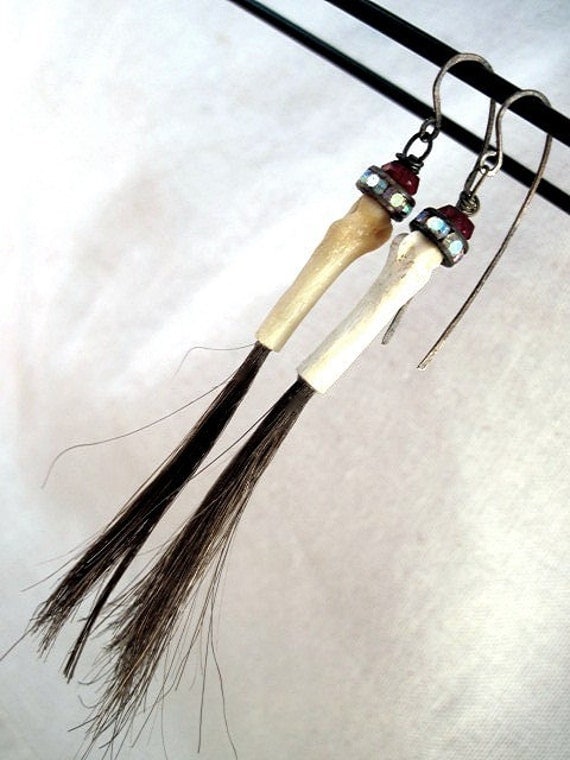 Skye asked, "What do you think is some of the strangest stuff you've ever used in your jewelry work?" Oh I dunno. I used my own hair for a couple pieces way back.
Lela asked, "What are the three "nevers" of your life?" Not sure I understand the question... I've never beaten a menacing opponent at table-tennis? I'm never going to climb Mount Everest? You should never stick your hand into a garbage disposal while it's on? Yeah that should do it, lol.
Wildthorne asked, "1. What is your husband's Kale diet? Does he juice it? Eat it raw? Kale only?" OK, I now am forced to tell you all the boring tale of my hubs and his continuing hernia pain. Cuz he had an operation, but it was hurting more and more. So he went to the doc who prescribed, like, 9 Advil a day and who discovered he'd gained TWENTY EIGHT pounds since the surgery a mere, what, 3 months ago? So Mr. Devices, who'd basically been living on frozen pizza and snacks and soda and crap, did a 180. He now drinks only water and yerba mate and the fresh juicer juice I make every couple days. He eats tons less and every day for lunch he
has a big tupperware container stuffed with fresh kale that he sticks in the microwave for a minute then puts vinegar on. He loves it and claims its very filling. His snacks are fresh veggies and nuts. He eats plain white rice with parmesan cheese on it. He dropped a TON of weight crazy fast and no longer looks like a pregnant man by the end of the day. At the beginning our whole house smelled like kale farts. Now, its only when he eats meat that he farts. So weird. And stinky.


Montevideo. I mean look at it.
Wildthorne continues, "2. What is your favorite animated cartoon series and or movie?" Adventure Time! Omg I just wasted an hour looking for the perfect Adventure Time image.

"3. Where is your favorite place to visit in Uruguay? (not the antique markets cause yah that is a given)" Not fair!.... ok, the capitol. The whole city. Montevideo. Also, the Old City, a section of Montevideo. Also the parks. They have ducks that run up to you wagging their tails to beg for bread crumbs.
Sparrow said, "There's lots of questions on my blog! Go see, go answer." OMG guys- you have to go! There's an amazing conversation developing about pricing. Her questions are inspired by the ever-useful Etsy Seller Handbook with some very interesting answers in the comments section.
Beatnheart asked, "When you do go to bed do you fall asleep or do you toss and turn?" Well, yeah, but that's when I turn to a book. Which I hear is bad because the light wakes you up more. But when I was little and the whole house went to sleep at 10, I'd lay in the dark tripping out for hours going deep into my madness and it never helped my sleep cycle to regulate so there.
"Briefs or boxers?" Um, I wear girl undies. Hubs wears multi-colored breifs and Bingo goes commando.
"How do you hammer and pound and make noises in a condo?" I don't hammer that much and as long as I keep it during the day. More than anything it bothers Mr. Devices on his days off. The neighbors recently told me they missed my hammering since they hadn't heard it in a while! They claimed it gives them a cozy feeling to know that someone's making something. I'm baffled, too.
"Do you make something and then undo it or do you just go for it?" I undo it if it turns out bad or if I see a way to improve it that requires undoing. But even that IS just going for it. I used to resist, ie, "ugh I put all this work in" but now I can tell it'll look better and know it doesn't matter the work, the end result has to please. Plus it's not that much work, c'mon.
"When are you going to do another tutorial and what will it be on?" Soon. Setting raw stones with plumber's putty and gold leaf. Don't get all excited, it takes a while.
"Are you making more money this year or less?" Every year a little more. Oh do you mean now that I don't have the day job? Do you know how little you make in a non-profit teaching English to Mexicans? More
Maggie Zee said, "Oh no! Don't you be puttin no onuses on me!" Ok, Ok, let me take that back. I was wondering were it'd gotten to. Sorry 'bout that.

Star of the East said,"Those wire and pins bezels look fab. Care to share how you do it?" Yeah, um... I just bought them. There. Now you know my shameful secret.
gretchen said, "Have you read Terry Pratchett's Good Omens?" That's the book that got me into him in the first place!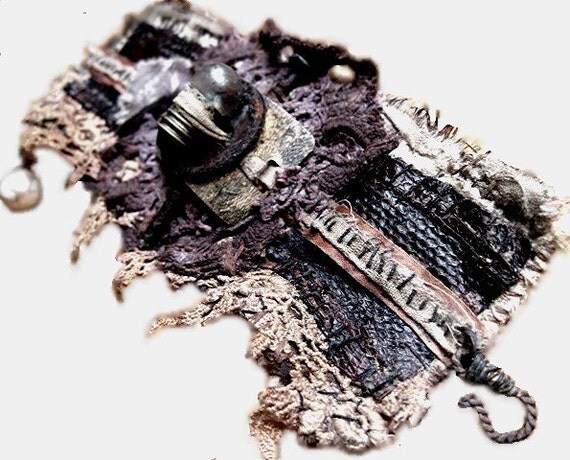 Kathy Barrick said, "Can you please share your Subconscious Dad?" Lol, take him! And by the way he totally did suggest, in passing, that I should only do this part-time so as to not burn out on art. He doesn't even remember the myriad of baffling suggestions he's made. Like that I shouldn't have a blog because it takes away from my shop's mystique! Once I made a bracelet using stuff Sparrow had sent me and he suggested I call this Victorian cuff "Outback Connection." Because Sparrow is so Outback. She's practically Crocodile Dundee. And so was the cuff. And that name is so in line with my evocative titles. And, and, and!