For starters, the comment that made me laugh out so suddenly and loudly that it scared my dog:
"I can't believe I used to think you were a man."
--shipwreckdandy
What's wrong with me that that so made my day?
Jennifer Valentine: I seem to have no volume control, people are always shushing me and telling me, 'You don't need to scream, I'm right here.' Also one time I answered the phone and the guy on the line asked if my mom or dad were home. Yup.


Abeille à miel: Congratulations! Same here!


Patty: Oh, come on! Right now, we're in a conversation that
spans the globe.
I just clicked on your
site
and you're
teaching art journal-making classes
from the comfort of your own damn home! That is waaaaay cooler than flying cars. Amaright?
vintagegreenvy: Several classes in high school, I'm pretty sure time stopped and part of my soul is still trapped there. But I've decided that time flying by is a sign that you're happy. Think about it.
0storm0: Wait, hu?

alek: What's the Gate of Horn? I have flying dreams all the time where I can't get back on the ground.


Jackie: WTF is 'do a "legal"'? Or wait... wtf is a '"legal' I can't believe'? Yeah, that's the wtf....

Tina: You're 25. You still haven't hit bottom enough to, like, know what to do with your life. Just wait.

accusedredemption: Are you just being weird on purpose? Or are you a teenager that's actually been grounded? Like, by parents?

SpiritedEarth: I agree, but.... What does walking upright have to do with it?

Lorna: Make several more blogger profiles so you can enter as all your alter egos.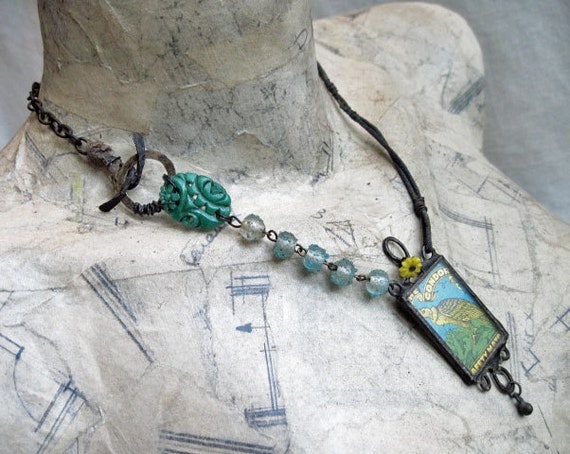 As for the rest, we all seem to loose touch with our age after reaching the ideal 20-something. It's like we're all programmed. When we're little, we want to look 20, when we're old, we remember being 20. So depressing. And the rest of the rest of you- 'congrats' is not something one can't believe! Unless you're stunned about the fact that I'm approaching 1000 sales. Which I am, so I guess that's fair.
So, the winner picked by printing names out, cutting into strips, throwing in the air then carefully selecting the one I wanted to win: KATHY BARRICK! Write me at marinarios@yahoo.com so's I can get yr address and all that good stuff.
ANYWAYS, 2 days ago I thought I'd add a line to ALL my mudderfookin listings saying to come on over to me blag for the giveaway. I dunno why, I guess I'm a glutton for comments... So I cut 'n' paste the line : "I'm celebrating my upcoming 1000th sale on my blog w/giveaways" blah blah blah. And I go thru all SIXTYFOUR listings to add that fugger in there... only to realize as I finish that I hadn't written '1000th', but rather '100th.'
Thats right. I'm a 'tard.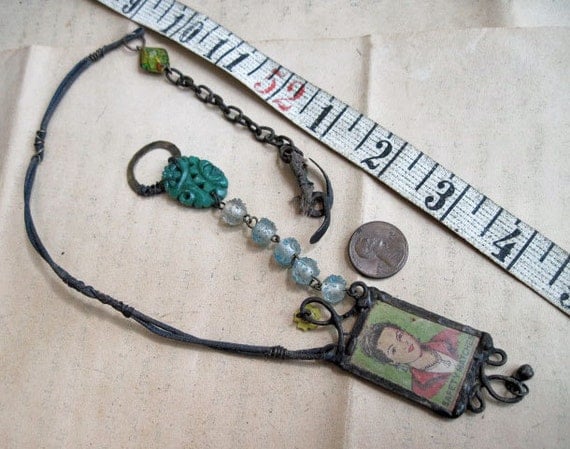 And I had to go back and do it ALL OVER AGAIN. To all my listings. Dearlordinheaven.
And that, children, is why you shouldn't drink a Monster and then go on line. What else shouldn't you do? Leave a comment telling me to enter this next giveaway.
This time, I'll choose randomly
after whittling it down to the comments I like best
. Oh that's right. It ain't random baby. It's a meritocracy up in this! A meritocracy of dumbness.
Aaaanywho, these pictures show today's prize- a double-sided necklace with a soldered pendant featuring different antique match box labels on either side. Good luck ladies. And lady-like gentlemen. (Why else would a dude be lurking 'round these parts?)