OK, I never thought I'd hear anyone say I don't blog enough, but
Sparrow
said just that last night! Or convoed it. She said I didn't blog enough for her! I was all:
Even though she blogs, like, on the equinox exclusively.
So here I am, as ordered.
Now that there's no giveaways, it'll proly be all slow and useless around here.
Well, I finally put up these mofos: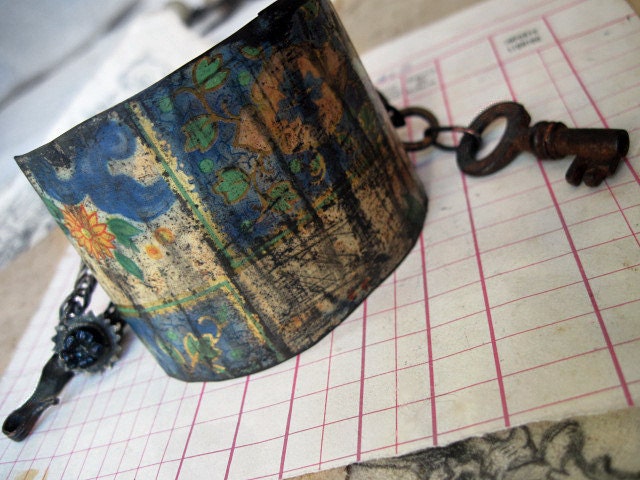 Behind the Seal of Sacred Writings.
Do not leave anything that breathes.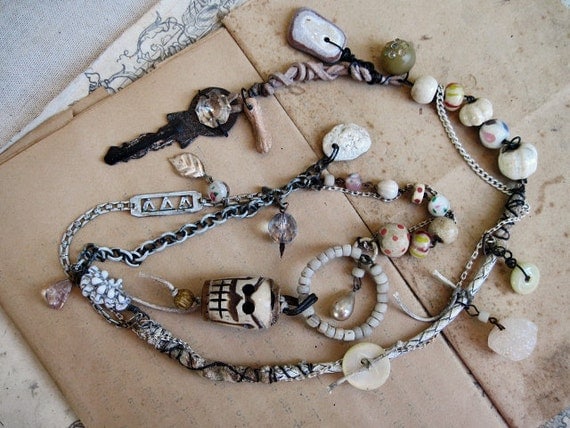 I decided to just up and slap a bible quote on this baby. One of those scary ones.
Phantom Limb.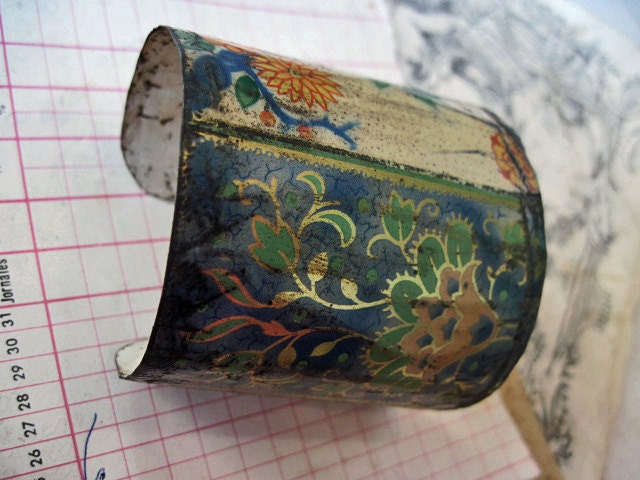 Why do I name all my cuffs Phantom Limb, you ask? Cuz I'm lazy, I answer.
I got like 20 people asking about this guy: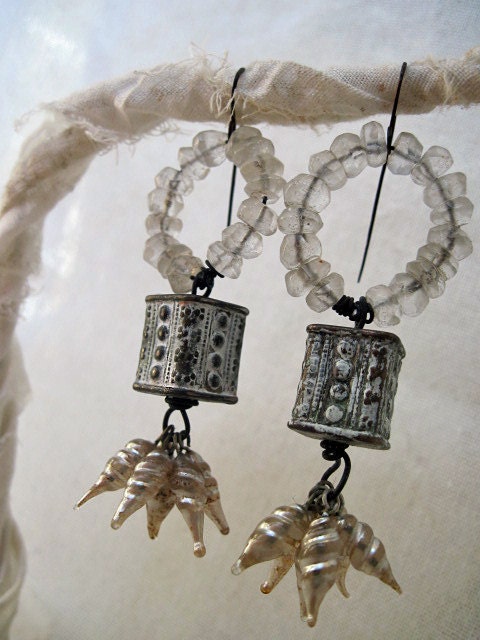 Which makes
me
ask- what's the magical formula these guys hit upon that other things don't? Cuz I need to exploit it!
I made some more bangle stacks.
These are earthy in an amber/brown color range.
(My usual disclaimer, pictures were taken under crappy artificial light at night.)
Next is a more fancified black and grey set:
These are very big stacks, but to only descent images are close ups of some details.
There's a velvet wrapped piece on the upper right...
Finally, a slightly more colorful stack:
This has some rusty and some blingy.
Next, some earrings. Keeping in mind how much the populace loved the pearly dangles:
I've been hoarding these pieces of bone (ivory from a piano key?) forever. M'kay, these photos are crap but I'm really in love with those little pieces. Even though ivory-which I'm not sure thesee are- is beyond bad. It's just that they're so teeny and amazingly old looking... aw, screw you! I didn't kill no elephants. And no one's going to see these and be all- 'Let's go elephant hunting!' I also don't believe in Jesus but I use crucifixes all the time. It's more about taking the past as is (as was?) and using it all as fodder for whatever I'm doing. What the hell am I doing?
And another thing! Anyone out there- you have my permission to copy whatever you see here. Artists are all inspired by the work of other artists. It's all a churning ocean of inspiration and theft. It's all good. Hell, we all say 'bling' and that started as a rap thing. Are we stealing, or does culture just disseminate itself like a living organism?
Rant over. As you were.
OK. Work's over. Time to gather the family around and share some entertainment.
Call the kids in.