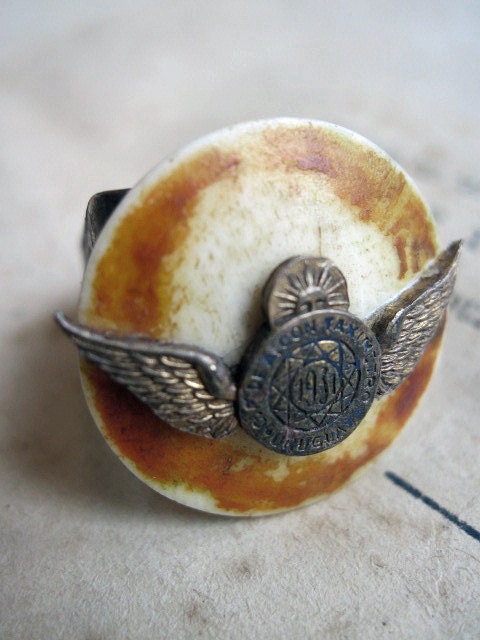 OK- Gardanne wins the little ring and the slide collage! Next up to giveaway: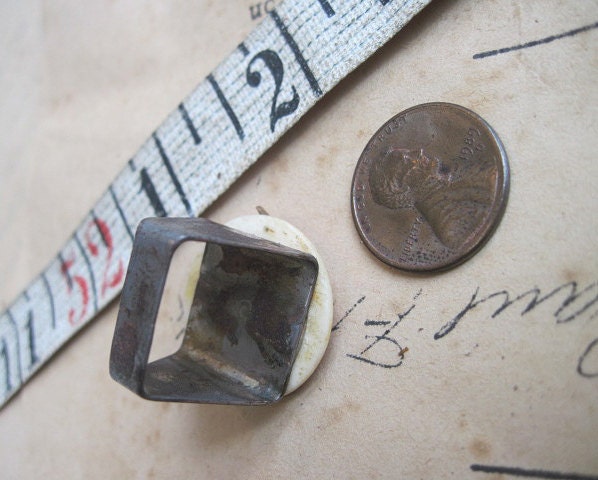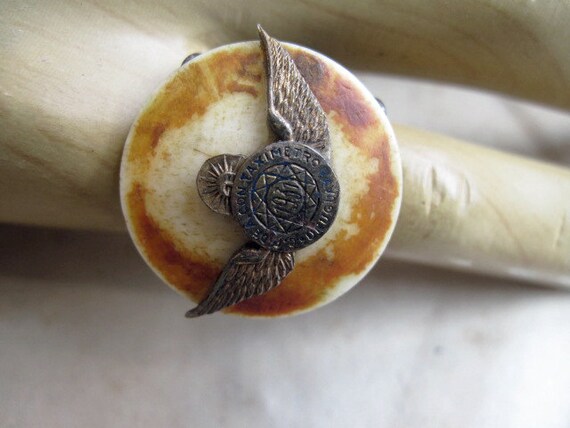 It's a little ring from bits I found in Uruguay. The base is square. To that is affixed a bone game piece, and to that is affixed the top off a little pin from the Uruguayan taxi driver's association or some such. I believe it will fit a size 6-7 finger.
To enter, you must do the Hokey Pokey and turn yourself around. Then leave a comment.
ANYWAYS...
While I was soldering the POESIE necklace and the 2 other soldered pieces I listed at the same time, I actually also did 3 more soldered focals out of that bunch of lenses:
These 2 from the antique trading cards depicting queens, and this one with some African men and some Victorian scrap roses. Which I thought were a good combo, in keeping with my balance of feminine/masculine I'm always going for. (As you can see, I'm planning the queens to have these rustic dangles of clay shards found on a beach, adding a rustic edge. I also think I'll add a lot of black cording...) Oh! Also, the African fellows are from the same book where I found my avatar image (depicting an 1800s Chinese peasant who you all think I am apparently) and my banner. I found it deep in an unopened-for-decades cupboard of my grandmother's in Uruguay.
So, my plan was to finish these up next. Instead I did no such thing, of course. I have creative ADD and just get caught up with whatever bits are directly in front of me. So I'm almost finished w/these earrings:
Here thy're just laid out but I did all the wire work and all thats left is some heavy oxidizing. As you can see, I seem to be trying to use all the glorious gems
Bloodmilk
sent
here
. It really is different to use high-grade gems. I mean, the flash in the labradorite is out of control. They look like they're made out of magic.
The pyramids here I got in Uruguay on separate occasions. The findings above are actually from a heart locket. I removed the bit inside that frames and keeps the pictures in, reshaped a bit, and there you go. I actually put tons of oxidizer on it and the fact that its still yellow means it's gold! The boxy charms are from the big lot
Sparrow
sent.
Here's what I did with the heart locket. Well, I'm planning to sorta hammer and shape them around the swords to look like... well, swords going through hearts, somewhat a la sacred hearts. The swords are appetizer picks given to my mom as wedding gifts. She doesn't even remember them.
I realized I had all these crazy metallic geometric pieces, so I'm planning something with them, also including some square rhinestones on some mirror buttons.
I did manage to work on one project that I intended to. This is a bracelet stack requested by one of my oldest regulars, ShesSoWeird. I don't mean
oldest
oldest. You know what I mean.
But also, somehow this got made. You can't tell from the picture, but it's ... actually somewhat attractive. That's what you can't tell from this awful picture.
Same goes for this one.
I even started laying out a third one.
And finally this mess. It's to show you that for every good idea, I have several crap ones. I wanted to paint some elements, specifically I wanted something mint colored to go with the soldered pendants I showed up top. So, I thought I'd go and use nailpolish as paint for an enameled effect. Turns out, nailpolish is rather unwieldy. It is also the most toxic substance I've ever inhaled. 10x worse than anything I've been exposed to while soldering or oxidizing. Especially if you're trying to get up close for detail work. And it got all over my hands. And the effect isn't that amazing- might as well use regular paint.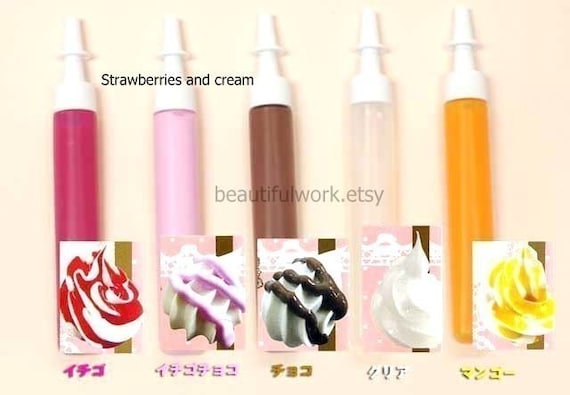 But another thing I tried might still be a good idea. That
tube of pink
is actually from Japan. It's made to look like a strawberry glaze on miniature desserts they make.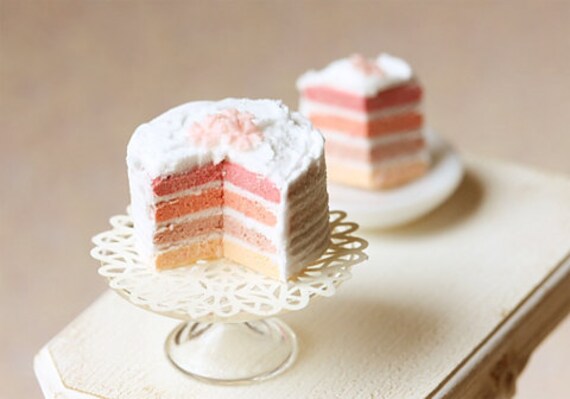 OK, I'll admit it. I have a minor obsession with the miniature food. Something about miniatures just captivates me. A tiny world you can hold in your hand. Something close and safe. A certain tenderness it elicits.
(
from
)
Richelle... you're shipwreckdandy, right? Well, your story made me laugh. Sounds like countless conversations between my hubs and my mom. What's up with the arthritic knuckles? Aren't you a young damsel as depicted in your avatar? Yes, I have a tendency to think people's avatars are what they look like, too.
OK, next time I'll have some of this stuff finished. Oh- but my Father-in-law is here for hubs' birthday, so Ima be busy for the next 2 days. Please don't put this unspoken, psychic pressure on me to get a bunch of new things done and listed like y'all always do! I need to say that to my own subconscious, hu?