Janet- Automatron? LOL. Imna assume you meant automaton and not auto-matron. OK, today, as an example, I woke up at 3 pm. OK? And didn't even consider showering. That's how much of an automanomanon I am! As I've said before, I just do absolutely nothing else other than make. That includes not cooking, cleaning, having a normal job, leaving the house, procreating, paying any attention to my poor, attention-starved husband... and often I will be in pain from hunger before I can tear myself away to eat something. Or my bladder will be seconds from exploding.
Mmmmkay? Let all be disabused of any belief in my efficiency.
It's all because I'm so terribly obsessed with making and coming up with fun new ideas for how to put things together.
OK, Dad, I should have said "that's why I allowed myself the trip to Uruguay so soon after the previous trip." Cuz I was due for more goodies.
ensourdine- 1. I'd like it to be 'primordial.' 2. I can't count that high.
Emakersart- I'm so glad you liked it! Yeah, if I weren't so obsessed with making stuff every minute of every day, I would focus more on that idea. There are only so many hours in the day! Especially when your sleep schedule seems to have become 5am to 8am, then take a break to read a while, then sleep from 10am to 3pm.
lucia- I've talked about this before somewhat but I guess I focus on balancing between rustic/refined, masculine/feminine, high-end design/spontaneity, European/"tribal", bling/grungy, etc.
OK, enough questions! Forget the questions! I think most of these are answered in previous posts in any case. Sure you'll have to go back through thousands of posts....
So I started making some bangle stacks after folks basically DEMANDED I do so via convos and such. Turns out they're beyond easy and before I knew it I'd used up almost ever single light colored item in my stash. Know what that means?
Shooo
- Piiiing!!!
And I finally finished these necklaces:
As for the giveaway: the winner is Louise! She won the necklace by asking a simple question: 'What's the first thing you do in the morning?' First, I was like "Oh, I know the answer to that one!" Then I had to analyze why I liked that question so much. I think when someone says something as over-the-top flattering as Jodi's "How can one person be so brilliant and amazing and all hail the mighty you!" (I'm teasing, It was a lovely thing for you to say.) When you get something like that your down-to-earth defenses know to come up right away. With Louise's kind it sneaks in- soon you're thinking you're important enough that it matters what you do first thing in the morning. The fact that you pee as soon as you wake up is significant. Ooooh, you got me good!
Anywhoo, I think I got one last giveaway in me:
It's a simple choker. There's a vintage cab on a velvet leaf and some dangles, some floof and some wrapped black fabric.
To enter, leave a comment telling me something interesting you know. Ummm, something that I can use as a narrative in a listing description. A quote or a historical or scientific tidbit perhaps?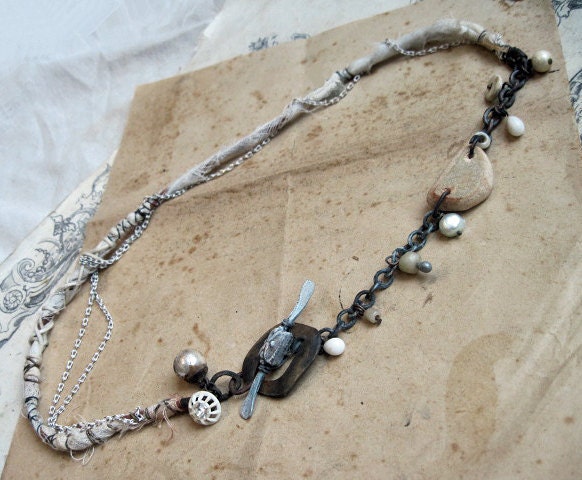 I made one last thing. A necklace with no focal. Weird. But it works. Hopefully I'll be listing the bangles and necklaces tomorrow.