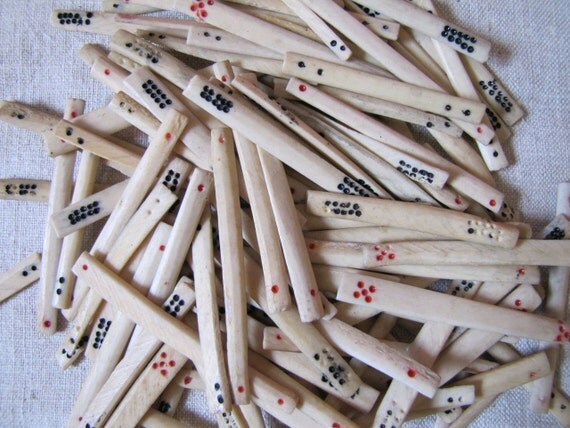 Since my giveaway is ending, I'll let you know of another: lizmathews.blogspot.com- but don't go! I don't want any more competition. Speaking of, she has this shop selling these
Bone Counting Stick
s which are making me pant. But damn, I don't need 150 of them! for $75... I need, like, 10 of them for... um 150 divided by... yo mama....
Anyways, here's a new thing:
It's like half a cuff with a closure. Is that photo too dark? Dang, I just realized I forgot to take a picture of the thing closed...
What else? Oh, I tried to make another no-focal necklace since I've already had queries about it. Instead of being a necklace w/no focal, though, it seems to have become one with, like, 50 small focals. I'm a maximalist, you see.
BTW, I wanna share a tip-"The Lava Bar is the original heavy-duty hand cleaner. Since 1893, do-it-yourselfers, coal miners, and oil rig workers have depended on the power of pumice in Lava to cut through even the toughest grease and grime.
Lava's name was derived from one of its key ingredients-pumice. A by-product of volcanic activity, pumice is used in combination with other cleaning and moisturizing agents to clean and soften even the dirtiest of hands."
My hubs just got me some. His dad's a roofer so he knew about it. Alls I can say is wowza. If you live your life with oxidation-crap-covered hands, you need
this
. Also, lately I've been painting- and who has the patience for brushes? Though it also works on brushes!
No, not
painting
paintings, just painting beads. Thus, paint all over the hands. Thus the Lava soap.
I do recommend painting if you need elements of a certain color. I painted 2 of these chains:
Well, they're behind the neck... But as you can see, this is a lariat.
And here's a cuff. A full cuff.
So, as for the winner of the final giveaway. I liked
Brittany
's comment the most because they
are
the kinds of things I could actually put on a listing. However, I have to reward
Chelsea
for A- commenting on almost every post, B- giving me the
craftopolis
'edit express' tip that's already making my life easier, and, C- The eagerness with which she answered the query with such impossible-to-work-into-one-of-my-listings as the fact that cats are allergic to lilies, or that cow hearts make extra noises. Those datum
are
interesting... If I ever make a cow-heart-themed or cat-allergy-themed piece, I'll totally go with that. OK, that sentence took a sarcastic turn. It really was interesting. So etsyconvo me so's you can gimme your address.
Brittany
- etsyconvo me so I can give you a coupon. Cuz I'm gonna steal the crap out of your ideas. "Pillars of Star Creation" totally sounds like the name of a piece I'd make. Piece o' what? Piece o' yo mama. (I wanna see if I can work at least 2 'yo mama's into each blog post. We all need goals.)
I haven't listed any of these yet. I'm way too lazy right now. I think da pims is coming back. A
gain
.
Are these pictures too dark? When I do layers everything turns out so dark.
The eye connectors and hoops here are, of course, the incomparable
stillpointworks
.